Will Steger's Solo Canoe Expedition Through Minnesota
Paddling through Minnesota's springtime ice break-up is nuts. What is Will Steger thinking?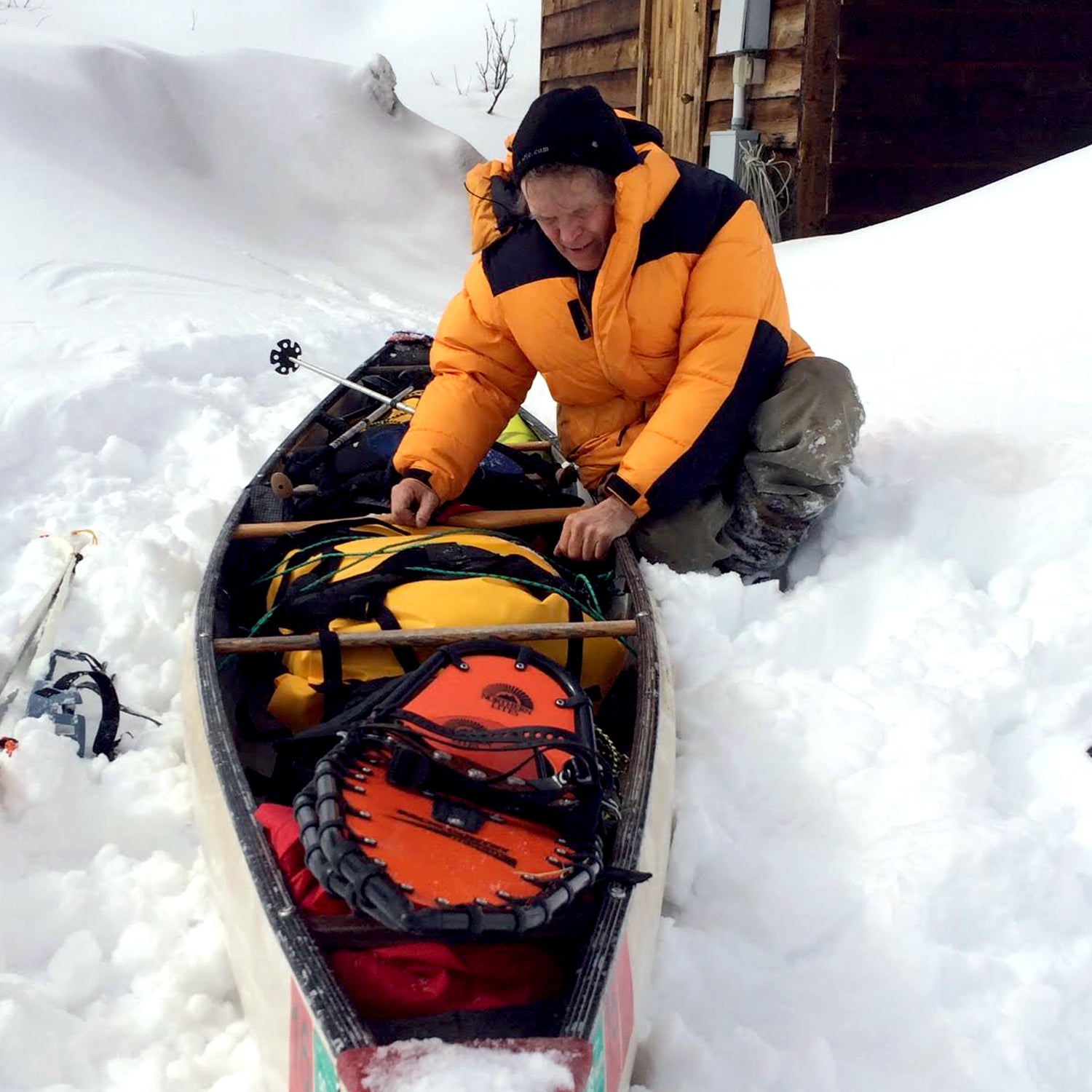 Will Steger(Photo)
Heading out the door? Read this article on the new Outside+ app available now on iOS devices for members! Download the app.
In late March, polar explorer Will Steger will embark on one of his trickiest expeditions to date: a 200-mile, month-long solo voyage through Minnesota's Boundary Waters Canoe Area Wilderness and Ontario's Quetico Provincial Park. He's going during ice break up, a notoriously fickle time of year when weather can run the gauntlet from blizzards to freakish thaws.
Steger's margin for error in conditions like these is close to zero, but that's exactly how the 70-year-old legend likes it. At age 15, Steger kicked off his exploratory career by boating the length of the Mississippi. In the 55 years since, Steger has led or co-led dozens of expeditions, including the first dogsled journey to the North Pole without resupply in 1986; a 1,600-mile traverse of Greenland via dogsled in 1988; and the first dogsled expedition across Antarctica in 1990.
After a near-fatal solo expedition to the North Pole in 1997, Steger turned his focus away from expeditions and started working in earnest on the Steger Wilderness Center, the centerpiece of which is a soaring five-story building he calls "the castle" on his homestead outside of Ely, which will serve as a think-tank for climate change policy makers when he finishes it in the next few years.
But Steger can never stay away from expeditions for long. In the last decade he has led major journeys across Nunavut and Baffin and Ellesmere Islands, and also kite-skied across Greenland. In the last four years, he's quietly slipped out his back door in northern Minnesota to travel solo during ice breakup.
So what makes his latest endeavor unique? We caught up with Steger where he lives in the winter—a houseboat on the Mississippi River—to learn more.
OUTSIDE: Most explorers steer clear of being out on the ice during spring break-up. What's compelling you to do this risky expedition and live-blog it?
STEGER: I want to express what goes on in my mind, why I do these things from moment-to-moment. But another reason to do this is the beauty. The beauty at break-up is utterly incredible. You have to be in the moment all the time, which is a cliché, but that's how you survive—being ever-present 24-7. The energy and vision I receive from that is incredible.
"It's not like I'll be going down Niagara Falls, but the problem is if I do get swept over one fall, I'll go down several."
Lay out the expedition for us. Where will you be going?
I'm leaving from Saganaga Lake at the end of the Gunflint Trail in northern Minnesota and heading up the Falls Chain in Quetico Provincial Park. I'll follow the Falls Chain north to Sturgeon Lake. At Sturgeon I'll travel southwest down the Maligne River across Lac La Croix and west down the Namakan River. At Namakan Lake I'll make a decision as to my next step. If conditions are really bad I can go to International Falls. But I want to return on the Border Route because I want to end up at my cabin. I'll be going upstream by then, which is much safer because I won't have that danger of being swept over a waterfall. The whole route has 20 waterfalls. It's not like I'll be going down Niagara Falls, but the problem is if I do get swept over one fall, I'll go down several.
What do you expect the conditions to be like?
Spring breakup expeditions are perfect because you get a whole variation—thaws, blizzards, and storms. The rivers are very complex and full of ice that's ever changing. The lakes are easy to read, but even in the lakes there's a current. I'm always learning, always computing, always adding to my knowledge base, and all of that makes my intuition stronger. I have a deep respect and fear of current, but I try not to let that fear override my common sense because fear short circuits thinking. The basis of survival is respect and humility.
What essentials will you be bringing with you?
I decided this year to go as light as possible. The sled load will be 200 pounds and I weigh 140 pounds. Ted Bell, the owner of North Star Canoes, who I've been working with for almost 20 years, designed me a new Kevlar canoe sled that weighs 37 pounds. We cut off the sharp bow and stern and made it more of a battering ram that goes up and over snow. It's basically like a toboggan canoe sled. I'll also have a compass, a smaller spare compass, an emergency SPOT Tracker, a cell phone, three 32-ounce Hydroflasks, a 32-ounce tea kettle, a Kokatat dry suit, and small things like lightweight carabineers and two light ice screws. Any decision I've made, I've thought about it a long time. I have this postage scale and I'm always around it thinking and weighing.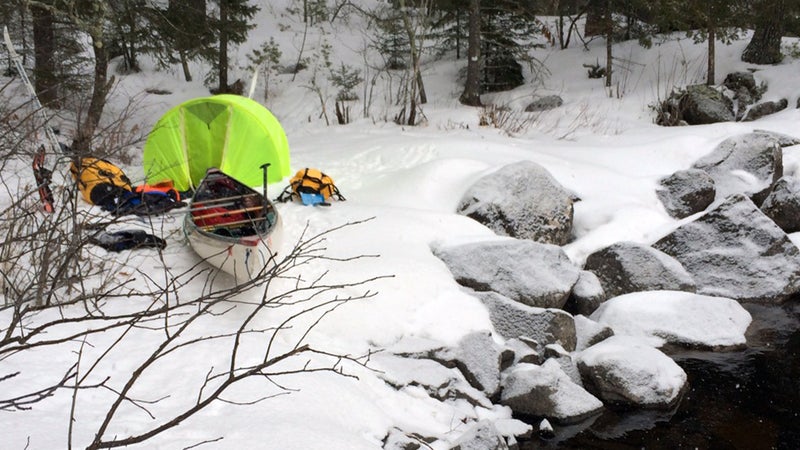 What will you eat?
In the morning it's almost always oatmeal with almond butter. During the day, I'm burning up to 8,000 calories a day. I've really never found a protein drink that I like, so I use this whole instant milk that was never sold in the U.S. but I can now buy it on the Internet. I bring 10 pounds of that, which is 27 percent fat, high protein, easy to digest, and tastes good, and I make a thermos of hot chocolate. I can get a good three hours or more off of that. Then I eat energy bars with almonds or cashews.
You have led some major expeditions, including the International Trans-Antarctica Expedition, a seven-month, 3,741-mile journey on which there were six explorers from six different countries and 42 dogs. What draws you to a solo expedition?
Most of my dangerous trips I do alone. On this trip it's too dangerous in a canoe to do with two people. It's safer to do in one. Leading international teams were one of the best experiences of my life, but there were always other people that you had to take in consideration. When I'm alone I can react spontaneously and I'm able to be in the present moment all the time. But on a solo there's also very little margin for error. You've got to have your act together. People will tag me as a loner, but this is not an escape, it's just an intimate personal experience that I am having with myself and my surroundings. I come out totally fresh, with clear-headed views. Everyone should take a solo if they can.
You'll be traveling mostly at night. What is that like?
It's one of the most beautiful experiences in life. You feel like you're the sole occupant in the universe. I use the stars to guide me. For some of the time I'll have a moon. It's beautiful but I prefer total darkness with shooting stars and Northern Lights. Then I move through first light, to the sunrise and travel until around 11 A.M. and sleep for two or three hours. I don't go by the normal clock. I have to travel according to what the weather dictates.
You turned 70 last fall. How has that changed the lens through which you view your expeditions?
I have to say that birthday wasn't my favorite birthday. It was for the first time in my life a reality check. Yeah, it's a sobering decade to look ahead, but my health is good and strong, my endurance is the same, and the important thing is that I'm agile and I move as quickly as I did. If I were slowing down in terms of reaction time, I might have to ratchet down, but since that's not the case I figure I'll just keep going.
Lead Photo: Will Steger