A Brazilian Surfer Died While Riding Big Waves at Nazaré
Marcio "Mad Dog" Freire perished Thursday while tow-in surfing at the famed break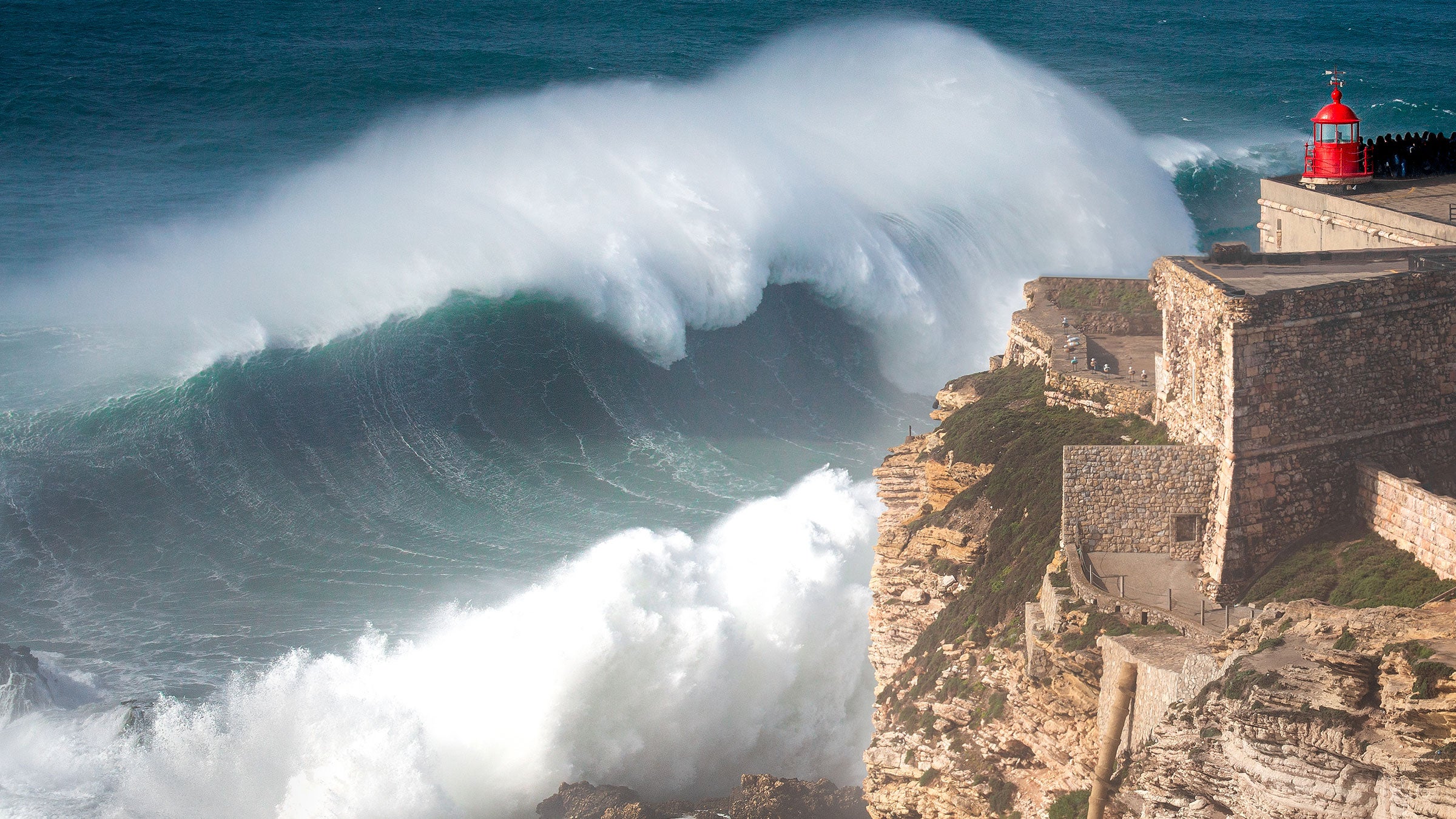 Heading out the door? Read this article on the new Outside+ app available now on iOS devices for members! Download the app.
Brazilian surfer Marcio "Mad Dog" Freire died Thursday while riding winter swell in Nazaré, Portugal. The news was reported by multiple outlets on Thursday evening.
Freire, 47, was reportedly practicing tow-in surfing when he fell from his board and died. According to a statement from Portugal's National Maritime Authority, rescuers located Freire in the water and brought him to the beach where lifeguards administered CPR, but were unable to revive him. Authorities have not released Freire's official cause of death.
"The rescuers found that the victim was in cardio-respiratory arrest," read a statement from the agency. "After several attempts, it was not possible to reverse the situation."
One of the stars of Brazilian big-wave surfing, Freire rose to prominence in early 2000s alongside countrymen Yuri Soledade and Danilo Couto. The three men earned the nickname "mad dogs" for paddling into the swells at famed Hawaiian big-wave surf spot Pe'ahi, or Jaws. In 2015, film director Roberto Sudart chronicled their exploits in a documentary called "Mad Dogs."
Multiple surfers honored Freire online after learning of his death.
"Márcio was a very experienced surfer. I have long admired him for his courage and technique," wrote Brazilian star Lucas "Chumbo" Chianca on Instagram. "He was a paddle surf pioneer in Jaws something of which very few surfers are capable. Without a doubt, he is a huge loss to our sport and surfing's future generations."
According to multiple outlets, the tragedy marks the first death of a tow-in surfer at Praia do Norte, the famed surf break at Nazaré that has risen to prominence over the past decade. Profiled in the 2020 HBO documentary 100 Foot Wave, Nazaré has become a global destination for the world's top big-wave surfers due to the huge swells rolling in off the North Atlantic. In 2011 American Garrett McNamara rode a wave at Nazaré estimated to be 78 feet tall, and images of the ride attracted the collective gaze of the surfing world.
In 2020 the World Surf League launched a tow-in surfing competition at the break, furthering its reputation as a hotbed for massive waves.
Other surfers have suffered accidents in Prata do Norte. In 2013 Brazilian surfer Maya Gabeira was hospitalized after she fell from her board and was held under the water until she was unconscious. In 2020 Portuguese surfer Alex Botelho nearly drowned during the Nazaré Tow Surfing Challenge. Botelho, 32, was hospitalized after the accident and spent months undergoing physical therapy to recover. In 2022 he filed a lawsuit against the World Surf League over the incident.
Lead Photo: RichardALock/Getty Images