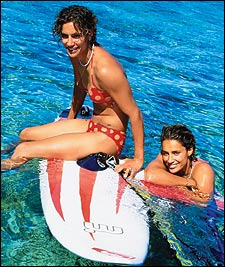 Heading out the door? Read this article on the new Outside+ app available now on iOS devices for members! Download the app.
Daida & Iballa Ruano Moreno [25]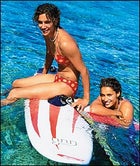 The Ruano Morenos at the Roxy Pro, Fiji

[WINDSURFERS]


Las Palmas de Gran Canaria, Spain

Five years ago, the best female windsurfers in the world were only as good as an average pro male. Then came the Ruano Moreno sisters. "The twins completely dominate women's windsurfing," says Josh Stone, the 1999 and 2000 freestyle world champion. "Their incredibly aggressive talent has set a new standard, and it has re-energized a tour that was stagnant with sour personalities and a level of sailing that hadn't changed for years."


All this with virtually no formal coaching. The Ruano Morenos honed their skills by mimicking the acrobatics they saw at Pozo Izquierdo, their hometown beach. If they saw local stud and 12-time world champion Bjšrn Dunkerbeck pull off a push loop, they were soon doing the same, launching 30 feet into the air and flipping backward with a twist. "They go higher and land better," says Kevin Pritchard, last year's tour king, "with more speed and more reckless abandon than the other girls."


Now, as leaders of the Professional Windsurfers Association tour, they're gutsy with a mission: to reign supreme and inspire young sailors. In the months ahead they'll focus on the season's first competition, to be held in March in Miami. Their odds are solid. Like tennis champs Venus and Serena Williams, the twins routinely swap in and out of the top spot in virtually all the women's freestyle and wave competitions, and each remains the other's biggest fan—though not at the expense of good old sibling rivalry. "I'm a little bit stronger, physically and mentally," offers Daida. "I was born five minutes earlier." —Eric Hansen


Kelly Clark [19]


[HALFPIPE SNOWBOARDER]


Mount Snow, Vermont

X Games medal? Got it. Olympic gold? Ditto. U.S. Open? Uh-huh. There's more, but you get the idea: In the male-dominated world of halfpipe snowboarding, Kelly Clark was this year's alpha girl. No woman flies higher out of the pipe than Clark, and now that the huckstress has polished her acrobatics, she could be untouchable. Not that she'd admit to dominating. "There are so many good riders out there, it's just a matter of whether you crack under pressure," she says. With the Olympics wrapped up, Clark plans to extend her range beyond the halfpipe, entering more quarterpipe contests (she won the U.S. Open QP in March) and slopestyle events. She also hopes to snag afeature showcase in an action video—the true stamp of approval from snowboarding's authenticians. That doesn't mean she's about to eschew her pipe-competition roots, and this season she'll face down worthy rivals: Burton teammates Nicola Thost, the German who won gold in Nagano, and Anne Molin Kongsgaard, the Norwegian who's the only woman to pull off a 900 in the pipe, are back from injury. The three push one another in competition, yet remain friends, which is a good thing, since they'll be spending a lot of time sharing the winners' podium this season. —E.H.


Andy Irons [24]


[SURFER]


Hanalei, Hawaii

Ask the pros on this year's World Championship Tour whom they'd least like to surf against, and you'll hear the same name again and again: Andy Irons. The Kauai native, who spent his wonder years riding double overheads at Oahu's Pipe, stunned his peers when he opened the 2002 season with back-to-back victories—in the Rip Curl Pro, at Bells Beach, Australia, and the Billabong Pro Teahupoo, in Tahiti. Along the way he usurped reigning champ C. J. Hobgood, 23, as the tour's top threat. "Most guys excel at certain kinds of waves," says six-time champ Kelly Slater, "but I'd throw down money on Andy almost anywhere." Surfing the reef beasts of Teahupoo, where mere survival is a triumph, Irons transformed late drops into high-scoring tube rides on some of the heaviest waves ever ridden. Success, however, hasn't come without a few wipeouts. Four years ago, in his rookie year, Irons succumbed to the pro circuit's late-night temptations and didn't requalify for the 1999 WCT. But he's cleaned up his act and tweaked his ride, switching to wider boards that add classic rail-burying power to his new-school aerials and fin-slipping slides. Although his 2002 lead has narrowed recently, Irons is pumped for this December's tour-closing leg at home in Hawaii: "I always do better when there's something on the line." —Steve Hawk

Keala Kennelly [24]


[SURFER]


Honolulu, Hawaii

In the May 2000 semifinals of the Gotcha Pro at Teahupoo in Tahiti, by far the gnarliest break on the pro tour, Keala Kennelly paddled late into a wave that heaved out of inky deep water and onto a barely submerged reef. She lost control and wiped out. "I thought my leg was broken," she says. "But luckily I could stand on it." She could also surf on it—well enough to win the contest. Although she's yet to finish higher than fifth in the tour's year-end rankings, Kennelly, ranked eighth as of early October, remains the boldest female rider on the circuit. She's won three of the past five events at Teahupoo, largely because she's willing to claw her way onto waves that her competitors would rather watch from a nice, safe distance. "Some of the other women have as much courage, but they still seem to hesitate in the moment," says big-wave deity Laird Hamilton, 38. "Keala doesn't wonder whether she should take off. She knows she should. I don't think there's another woman surfer right now with that kind of intensity." —S. H.



Shaun White [16]


[BOARDER]


Carlsbad, California

In July 2001, skateboarding icon Tony Hawk approached Shaun White at the halfpipe they frequent in Encinitas, California. "You know that 720 melon you just pulled?" Hawk asked. "No one's ever done that before." White's response: "Really? Cool." The I'm-too-hip-to-care comeback may be a direct lift from the punk-ass handbook, but in this case he was sincere. "I don't follow skateboarding that much," White confesses. OK, but the skate stars sure as hell follow him—the Birdman ranks the kid among the top ten vert skaters in the world.


If the freckled, floppy-haired grom is out of the San Diego skating loop, it may be because he's been spending so much of his time in the terrain park at Snow Summit, near Big Bear Lake, California. Here, for the better part of a decade, White has stunned snowboarding fans with intricate spins and massive airs. In April 2001 he emerged as a world-class threat when he won the Arctic Challenge in Norway. The prestigious, invitation-only affair—hosted by Scandinavian single-plank legend Terje Haakonsen—draws a dozen of the world's best halfpipe specialists, who take turns on 20-foot walls and then vote for a winner. "Shaun doesn't have as much power and strength as the rest of us, but he can still go as high," says Haakonsen, 28. Eleven months later, White capped his Arctic Challenge victory by demolishing the field in the Vans Triple Crown of Snowboarding, a traveling series that includes halfpipe, slopestyle, and big-air events. His prize? A new Ford Ranger pickup that he wasn't old enough to drive. —S. H.