Mark Visser's Quest to Surf a Rogue Wave
Surfer Mark Visser has a can't-miss formula for becoming cable's next action hero: crazy stunts, against-the-odds luck, and a growing Internet fan base. So why isn't it working?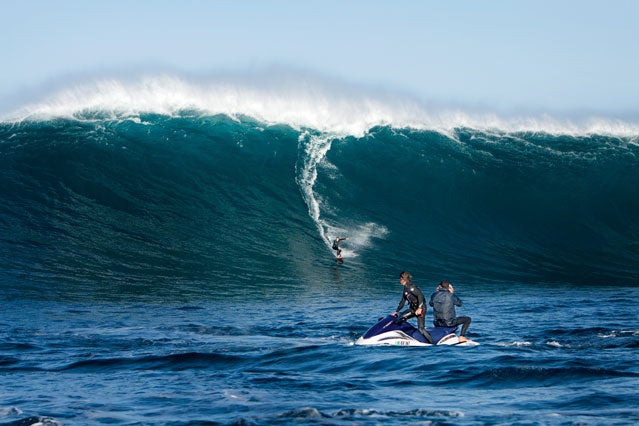 Jamie Scott
Heading out the door? Read this article on the new Outside+ app available now on iOS devices for members! Download the app.
"GO AHEAD, HIT ME with a medicine ball," Mark Visser says, sounding like Rex Kwon Do from Napoleon Dynamite. The muscular Aussie surfer is crouching on an exercise ball inside a Santa Monica gym, where I'm tagging along to watch his daily workout. At five-eight and 180 pounds, Visser is built like a can of tuna. I huck the six-pound ball at his left thigh. He grunts but doesn't budge.
Visser in Australia

Preparing for a tow-in session at Australia's Outer Bombie break
Mark Visser

Visser hatched his TV plans while recovering from a broken foot.
"That's why I do these workouts," he says, "to mimic the conditions I'll experience during each of my projects." Visser, 29, explains that the ball simulates an unexpected hit from a monster wave—good preparation for gonzo stunts that combine athleticism, creativity, and pure self-aggrandizing spectacle. Visser completed his first "project" last January, when he repeatedly towed into Maui's cavernous Jaws break at 3 A.M., with a set of LEDs embedded in his surfboard illuminating the wave and a pair of helicopters overhead filming the action. That is to say: he rode a dozen 40-foot waves in the middle of the night.
Footage of this became a one-hour television special, Night Rider, which ran on a small Australian cable channel. But it was the Web that put Visser over the top. Within three days of the stunt, a Vimeo clip had been viewed 250,000 times. Good Morning America and CNN picked it up in the U.S., leading to what Visser claims was a staggering 100 million views in the month after the footage went online. The Australian 60 Minutes will feature Visser in an upcoming segment, which he hopes will lead to a stint as TV's latest outdoor action man. 
To that end, Visser has already planned at least eight more similarly outlandish—and, for the time being, mostly secret—surfing adventures that he plans to package and sell as a primetime cable show called Nine Lives. It's the same day-in-the-life formula that's worked for everyone from the Kardashians to the Swamp Loggers, with Visser positioning himself as a guy who inhabits a world where Mission: Impossible meets Riding Giants. "I see him trying to become the Bear Grylls of the ocean," says Ant Williams, Visser's breath-hold coach.
Trouble is, while Visser might be ready, few producers—at least for now—have shown any interest. Visser has a pair of big-money Australian backers who've committed to fund Nine Lives based on the success of Night Rider, but there's no guarantee that what he's doing is as marketable as he thinks. So far, he hasn't found a U.S. producer willing to buy the series. Carrie Regan, a former executive at National Geographic Television, thinks it's unlikely that a network would fund such risky exploits in advance. "If the footage is already in the can," Regan says, "it's an easier sell."
The Discovery Channel's most prolific producer thinks even that might be a stretch. "Bear Grylls teaches people how to survive through his misery," says Thom Beers, who created the network's runaway hit The Deadliest Catch. "Shows about surfers feel like you're watching somebody else on vacation." Beers adds that the danger of Visser's stunts feels contrived. "It's kind of like, 'Yo, idiot, if you kill yourself doing this, it's your fault.' "
Then there's Visser's image problem among fellow surfers. He's a charming enough guy, but some of the sport's top pros and insiders have written him off as a sellout. They dislike the fact that Visser, a middling competition surfer who washed out of the minor leagues after a 2010 jet-ski accident, suddenly hit it big with an Internet video. Greg Long, arguably the world's best big-wave specialist, says that Visser "rides big waves only when there's a good chance that the photos will end up on the front page."
Others are more open to his act. "I love what he's doing," says Sam George, the former editor of Surfer. But, he adds, "he's a stunt surfer who does the most shocking things possible to get paid."
Visser, sensitive to that sort of faint praise, disputes the word stunt.
"You wouldn't call an Everest climber a stuntman, would you?" he says. "I've spent years preparing for these projects." According to Visser, he doesn't chase after media attention. It chases him.
Back in Santa Monica, I'm doing just that, trailing Visser after dark on a longboard-paddle straight out into the Pacific. As we stroke, he explains the genesis of his projects. After his injury (he broke his foot), he used money he'd saved from sponsorship deals to hire world-class trainers: a gym coach from the Special Forces, a nutritionist who won the World's Best Figure Award in 2010, and Williams, who is Australia's top freediver. Visser packed on 20 pounds of muscle and learned to hold his breath for six minutes. 
In the hospital, Visser had sketched out drawings of the nine craziest adventures he could think of involving a surfboard. The first was riding Jaws at night. The second, which he recently revealed, is even more audacious: along with his surfboard, a jet-ski, and a cameraman, Visser will parachute into the sea from the back of a C-130 cargo plane. The goal is to surf one of the huge, anomalous rogue waves that sometimes appear on the open ocean during a storm. In January, Visser staged a training mission with the C-130 for the 60 Minutes camera crew.
When my arms grow too tired to continue paddling—about a mile from shore—Visser tows me in. I ask him about the characterization of his endeavors as less than authentic, and he seems to bristle at the slight. "I'd be doing these projects whether or not people are watching," he says. 
After returning the rental boards, we stand in front of the surf shop while a college kid from UCLA closes up for the night. "That's less than 10 percent of the training I do every day to prepare for these projects," he says. He pulls out his iPhone and shows me a picture of himself jumping out of a helicopter with his surfboard. He didn't miss the opportunity: "What do you think? Could it be the cover of Outside?"