The America's Cup Death: A Predictable Tragedy
It's a tough day for sailing and the America's Cup, but the news is hardly shocking.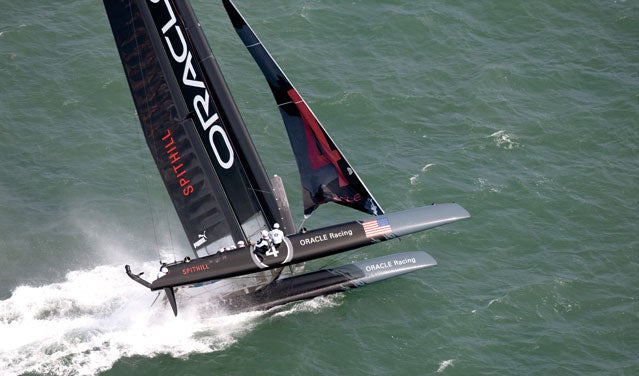 Heading out the door? Read this article on the new Outside+ app available now on iOS devices for members! Download the app.
So far, we know little abut the accident that killed British sailor Andrew "Bart" Simpson today on the San Francisco Bay. Simpson, who'd won two gold medals in Olympic sailing, was training with Artemis Racing on the team's AC72 catamaran when the boat capsized sometime shortly after 1 p.m. local time. He was trapped under the boat for roughly ten minutes before rescuers pulled him from the water. Efforts to revive him failed.
Here's one other thing we know: Simpson's death is hardly shocking.
The new America's Cup boats, ultra-light, high-speed catamarans that feature giant, rigid carbon wing sails, are designed to go scary fast. They are inherently prone to dramatic crashes. The sailors are required to wear helmets. Larry Ellison, the Oracle CEO who's used his position as the current Cup defender to rewrite the event's rules so every team has to race on the new boats, has said his goal is "to convert sailing into an extreme sport." And he has.
When legendary skipper Russell Coutts flipped an Oracle Team USA catamaran on the Bay back in the summer of 2011, sending him smashing through the wing sail, a video clip went viral on YouTube (two million views and counting). That fall, in Plymouth, England, at one of the first America's Cup World Series events, which had sailors racing on 45-foot catamarans to help them develop the skills and fitness required to handle the 72-foot boats, there were two violent collisions in a single fleet race.
Last August, Oracle was the first team to start training on an AC72 and they quickly rain into trouble. On the boat's first voyage on the Bay, the centerboard broke off. Then, in October, a crew capsized spectacularly, destroying the wing sail.
When I talked to sailors for my March 2012 Outside feature on the new boats, they all acknowledged the very real possibility of serious injury or death. At a World Series event in San Diego, I spent a couple hours hanging onto the back of an Artemis Racing AC45 during a practice fleet race and saw firsthand how quickly the crew had to react. It looked more like gymnastics than sailing. Afterwards, I interviewed crew member Morgan Trubovich, probing him specifically about the risks sailors would face on the AC72s. I asked about the worst-case scenaio. He averted his eyes and said, "One day, someone is going to fall through the wing and not have an OK landing."
Now, of course, the worst has happened. It's a tragic day for sailing and the America's Cup, but it's one we knew was coming.