An Anatomy of the Wipeout that Nearly Killed Garrett McNamara
El Niño is bringing gigantic waves to the Pacific this winter, priming big-wave surfers for a season of epic—and dangerous—proportions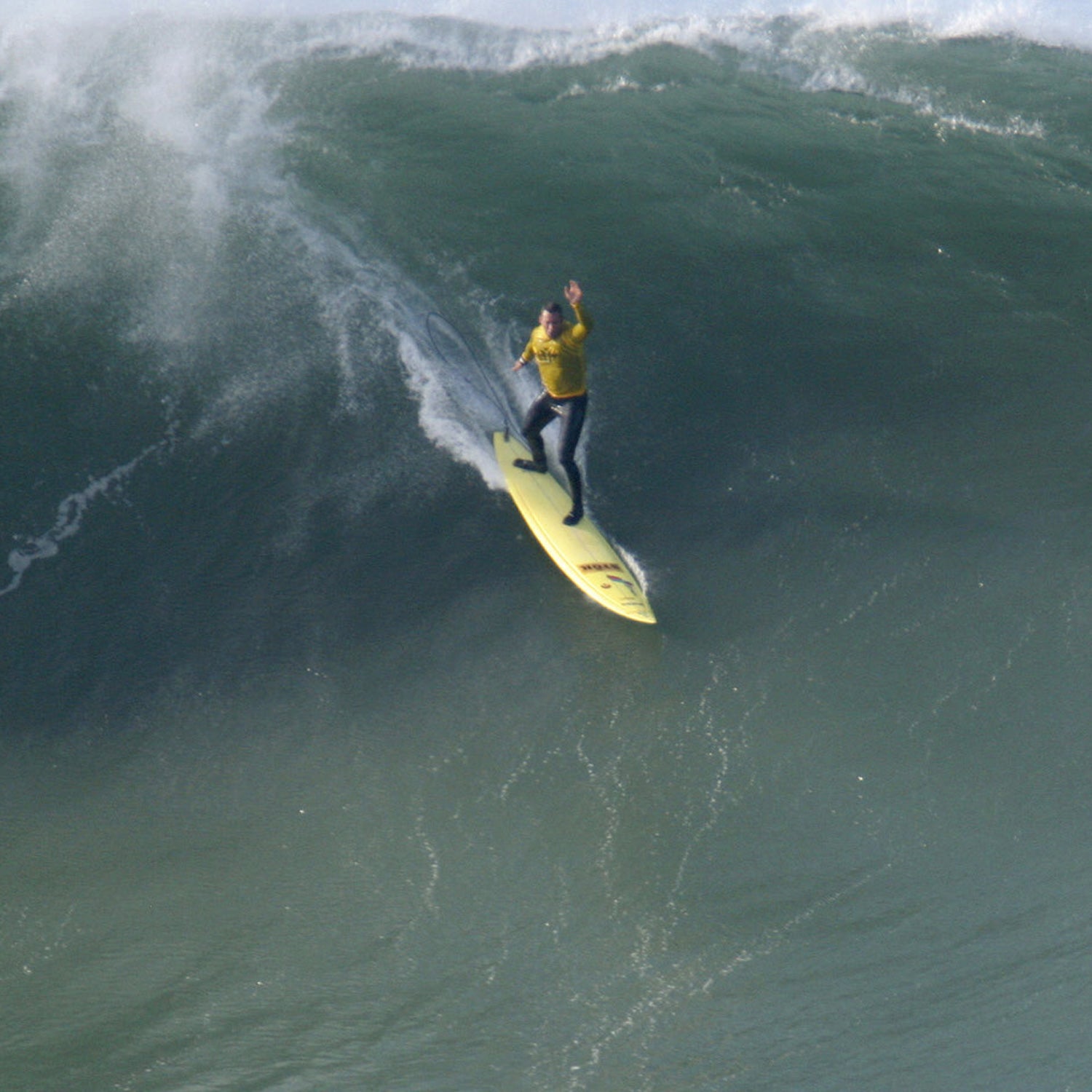 AP(Photo)
Heading out the door? Read this article on the new Outside+ app available now on iOS devices for members! Download the app.
Yesterday morning, Garrett McNamara went down on one of the heaviest waves a human being has ever attempted paddling into, and nearly paid the ultimate price. It was the first paddle ride attempted that day at Mavericks, the break off the Northern California coast known for producing waves as high as 60 feet. After sticking a fins-free air-drop, McNamara went over the handlebars, then skipped across the water like a flung stone before being obliterated by four stories of rampaging whitewater. Filming the wipeout was videographer Chris Wilson who can be heard on the clip, uttering "Oh my God" when McNamara goes under.
Veteran Mavericks rescuer and photographer Frank Quirarte has seen–and endured–scores of brutal beat downs during the course of his heavy water career out there. After he posted to Facebook that this was "literally one of the worst wipe-outs I've seen in big wave surfing in a long time," I rang up he and fellow lensman Curt Myers, who assisted in a perilous rescue of McNamara right before he was slammed into Mavericks' Mushroom Rock, a protruding boulder on the south end of the break. "It was like some Hollywood scene," Myers says. "I couldn't believe it."
The day had begun the night before when, out of the blue, McNamara phoned Myers to see if he'd help run safety and document a surf session at Mavericks. Hardly anyone, it seems, had even planned on surfing because of an El Niño storm bearing down on the coast: predictions had showed onshore winds and bumpy, choppy waves. But at the last minute, the wind forecast switched offshore. On Thursday morning, a small crew that included Quirarte, Myers, McNamara, and Mavericks surfers Ion Banner, Nic Vaughan, and Brazilian charger Everaldo "Pato" Teixeira went out.
At first, it looked like the conditions were too wild and wooly for paddle-surfing, so the surfers started towing in—using jet skis to propel the surfers into the waves. McNamara slung Banner into a monster, and the Mavericks local was nearly obliterated. "Garrett was itching to paddle in," Quirarte says. 
McNamara had told Myers he wanted to try to catch a wave off the "bowl," the spot right where the waves first stand up over the reef and pitch forward. It's the trickiest and most treacherous place to catch a wave because if you don't get in early enough to charge down the line and escape, you'll either be flung into the air, or buried by the avalanche. "He wanted that wave," Myers says. "He was stepping it up a notch."
"He wanted that wave. He was stepping it up a notch."
Texeira and McNamara paddled over to the peak, watched closely by the rescuers. Quirarte says the video doesn't do the conditions justice. "There was so much water moving out there," Quirarte says, adding that it was high tide, which tends to confuse the ocean and make the spot the waves break less predictable, "and the swell was all warbly and seemed to be coming from all directions at once. It was so fast and so big, there would just be no getting in early."
Then a huge set darkened the horizon, and the 48-year-old McNamara put his head down and paddled hard. "It looked like it was made for him," Myers says. But the wind blowing up the wave's face was just too much. The nose of McNamara's 20-plus-pound board lifted into the air.
As a safety precaution, McNamara had partially inflated his rescue vest. But this meant that, when he hit the water, rather than penetrating, he bounced. The wave landed on him, breaking and dislocating his shoulder and plunging him beneath a cascade of whitewater.
Banner skied in to snatch up McNamara but came away empty. McNamara hadn't reached for the rescue sled. His arm was dangling by the skin and sinew. Then Myers went in. "The thing to do when a surfer's immobile is to grab him by the hand and pull him up,"  Myers says. "But I wasn't expecting that his arm was dislocated. It took a couple of passes to realize that he couldn't do it. By then, his back was almost up to Mushroom Rock with the high tide draining off it. It was just frightening."
Banner, at great personal risk, leapt off his ski and dragged McNamara onto the sled, then throttled out of the impact zone. Soon, a disoriented McNamara was loaded into an ambulance. "He asked, 'What happened? What did I do?'" Myers says. "He was still concerned about making the wave." McNamara underwent surgery for a badly broken arm and shoulder on Friday.
This winter, with Godzilla El Niño in effect, is shaping up to be a far more wild and critical one for Pacific surfers than the last monster storm season, in 1997-1998. "It's been chunky, angry and doing mean things out there," Myers says.
"It's actually playing out like most El Niños," adds Quirarte. The waves are going to be big, but the storm systems makes them choppy and dangerous. "Everything is unsettled right now," Quirarte says. "That perfect day just might not happen this season."
*Update: This post originally included the wrong video. It's since been updated.
Lead Photo: AP