Avast Ye, Matey — Find Your Own Damn Cove
The Maine coast has more landmarks than names. Much to the delight of possessive types.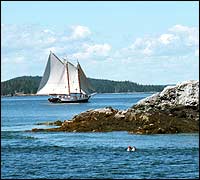 Heading out the door? Read this article on the new Outside+ app available now on iOS devices for members! Download the app.
I grew up on Long Island during the era of great suburban expansion, when New York City burst into the countryside. For me the suburban conversion meant a loss of a lot of the landscape of my childhood and a disturbing loss of the power in names—so many names no longer fit.


Years later, in middle age, I came across a place on the midcoast of Maine, a small, tide-washed salt river near Penobscot Bay. I like to imagine this river as a replacement place. Its navigable section extends only 12 miles inland from the Gulf of Maine. It's less like a river than a narrow embayment. It doesn't flow just toward the sea, but in and out on the tides. They rise and fall about nine vertical feet on the average. You could fit a house's first story in the space between high and low tide. Strong currents run past shores where trees vastly outnumber houses, past little islands and coves where ospreys preside from the tops of firs, scolding intruders, who aren't very numerous, even on August afternoons—mostly lobster boats puttering in the channels and hunchbacked clam-diggers moving slowly across the mudflats. On flood tides, a smell of fecundity rises out of the whirlpools below the Narrows, a sweet smell, almost too sweet, almost rancid, almost frightening, a smell of all life in the waters.
Nautical charts don't name every part of the river, so you can stake a transitory claim to various sites, as friends and I have done by applying names of our own to places, names such as Frog Rock, the Nubble, Striper Hole. The old surnames officially attached to ledges, points, and islets have great dignity. A lobsterman pulling pots off Kelsey Point may be a Kelsey, in fact. Other places on the river are named for qualities and animals that they still possess—Salt Marsh Cove, Seal Cove, Merry Island. I think that the river is a sanctuary of names. Sometimes when I can't get to sleep, I recite them. I count birds instead of sheep: wheeling bald eagles, squawking great blue herons, the shy hermit thrush in the woods by my dock, singing its flutelike song.


One evening some years ago, I was returning at low tide to my favorite cove in a small fishing boat when a voice called to me from across the water, the voice of a yachtsman who had ventured too far into the channel. He stood in the cockpit of a large sailboat, maybe 40 feet long. He had gone aground in the mud, had gotten free, and now was impatient to leave. "How do I get out of here?" he yelled.


His voice was imperious, and the legend on the yacht's stern, below its name, read "New York." But I swear I meant to be obliging. I wanted to show off my local knowledge. "Follow me!" I called, then I led the man out of the inner cove, into what I thought was safe water. Suddenly, I heard a crash. I looked back and saw the sailboat's stern suspended high in the air, the yachtsman lurching across the cockpit.


"What was that?" I yelled.


"A rock. Obviously!" he yelled back. He sounded angry.


I apologized. I hadn't known that rock was there. I hadn't known his keel was so deep. The yachtsman powered off toward open water, scowling. The memory still embarrasses me. Then again, I remind myself, many yachts have bathrooms that empty overboard, and after dinner some dump charcoal in my cove. Yachts don't anchor there in large numbers, but I think I did the place no harm by discouraging one from returning. I also think that the Indians were right in believing that names have power. And I admit that I suffer from what on Long Island used to be called "the last house syndrome," the wish that one's own house will be the last built in a place. So I think it's better not to name my cove. You'll have to find the place for yourself. If you do, be careful.


Tête-À-Tête with Penobscot Bay

Though Tracy Kidder would prefer that you steer clear of his river, the thing about summer in Maine is that such solitary waterborne experiences are not hard to find. The official count of islands off the Maine coast, for example, is around 3,000. Combine that with 3,400 miles of shoreline, a dash of gruff-yet-charming Down East hospitality, and you'll understand why kayakers, sailors, and hikers rush headlong into the state at every chance.


Getting There: A centrally located hub for playing on the Maine coast is the 17th-century French village of Castine, on a point jutting into Penobscot Bay. From Boston, take I-95 north to Brunswick, U.S. 1 east along the coast to Penobscot Bay, and then Maine 175 south to Castine.


On Your Own: Weather permitting, try the 11-mile paddle from Castine to Warren Island State Park, a spruce-covered isle in Penobscot Bay with nine campsites ($12-$18; 207-287-2834). Or, head for Acadia National Park's 100-plus hiking and biking trails; for starters, from the Echo Lake Beach parking area on Mount Desert Island, climb the one-mile Canada Cliff Trail to the 839-foot summit of Beech Mountain, where the Lower 48's only fjord, Somes Sound, looms in the distance.


Outfitters: L.L. Bean's Outdoor Discovery Schools (800-341-4341, ext. 26666) offer boating workshops and guided trips ranging in price from $35 for a two-hour introductory kayak lesson to $1,095 for a seven-day canoe trip on the Allagash waterway. Aspiring sailors, meanwhile, might want to enlist in Hurricane Island Outward Bound School's eight-day instructional program in Penobscot Bay ($995; 800-341-1744).


Bedding Down: Just north of Castine, off U.S. 1, the 60-site Balsam Cove campground offers lakefront sites and hot showers ($15-$20; 800-469-7771). For sweeping coastal views, reserve a third-floor room at the Castine Inn (doubles, $85-$135; 207-326-4365). Or splurge and take the mail boat from Stonington to Isle au Haut and stay at The Keeper's House, a converted lighthouse operator's residence where dinner is served by candlelight ($255-$294; 207-367-2261).