Into the Belly of Bolivia
From the altiplano to the jungle, a soggy saga of Class V rapids, sandal-sucking mud, and a forestful of hoots, groans, and screams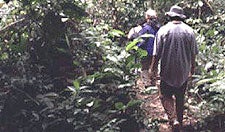 Heading out the door? Read this article on the new Outside+ app available now on iOS devices for members! Download the app.
Mario knelt by the left front tire, sprinkled it with alcohol from a small bottle, and said a prayer to Pachamama, the earth mother. Those of us who had stepped out of the truck to watch were in favor of any edge we could get. This road in the Bolivian Andes looked as if it'd been nailed by concentrated strafing, and the cliff to our left gave way to nothing we could see but darkness. As the truck descended jerkily, we focused on Mario's uncanny ability to slide around corners without pitching us into the void.





Matt, a 26-year-old from Colorado, nudged me. "You know the left rear tire is just hanging off in space, right?" I unscrewed the cap of one of our bottles of singani, a potent Bolivian brandy, took a good swig, and passed it along. Only Tim, our trip's naturalist, was brave enough to glance out his window. He turned suddenly, seized the singani bottle, and drank a steady five-second pull. It was then that we all said a little prayer to Pachamama.
It's never a bad idea to invoke some extra deities when you're traveling in the Third World—especially if you're planning to venture deep into the Amazon where there are no human settlements, no radio contact, and no possibility of rescue. Eleven of us had signed up to do just that…for fun. It was a trip that would take us across the 14,000-foot altiplano, along the eastern shores of Lake Titicaca, over a 15,000-foot pass in the Andean Apolobamba Range, and then down to its eastern flanks to the Rio Tuichi, which we'd follow via raft and kayak through the heart of Madidi National Park. None of us expected our shirttails to touch our butts for next 11 days.


Our group had hooked up in La Paz, Bolivia's 12,000-foot-high capital, which, surrounded by the higher altiplano, resembles nothing so much as a big city swallowed by the world's largest sinkhole. Still, it's good for acclimatizing. It's also good physical conditioning to weave in and out of the potential rallies that are a daily feature of the city's life. And it's a great place to leave. We did the next morning, figuring we'd sail across the altiplano, skirt Titicaca, hump it over the Andes, and arrive at the hot springs that was our intended first night's camp a bit after teatime. After all, our trip's leader and organizer, Sergio Ballivian of Explore Bolivia, had said, sphinx-like, "It's not really that far."


We soon figured out that Sergio is a master of understatement. The first night's campsite wasn't far if you're packing a compact transporter from the Starship Enterprise. Otherwise, it's a long, long way (the 150-mile route took 14 hours). Sergio had once told us to expect a little mud; we spent half the day digging out the truck and slogging through the stuff. Sergio told us that "the next day is going to be a little tougher"; this is when it became necessary to inebriate the tires and call for Pachamama's diving intervention.
When we awoke and crawled from our tents on the third morning, addled from Mario's version of Mr. Toad's Wild Ride and fuzzy from the singani, we found ourselves in a grassy field in Santa Cruz del Valle Ameno. Our trip's co-leader, Greg Findley, owner of Mukuni Wilderness Whitewater Expeditions and a veteran Zambezi guide, was whipping up some scrambled eggs and sausage with fellow Montanan Chuch Champe, who'd come along to cook and captain the paddle boat. Surrounding us were the administration of buildings from the Madidi National Park, and standing in front of them was what seemed like half the town. These people had evidently come out to have a look at the scraggly, bleary-eyed foreigners emerging from their multicolored cocoons.


As we amused our audience by trying to organize gear, our Tuichi expert, Pancho Novak, a former army ranger and mahogany logger, arrived with the porters and a string of small horses that would portage our boats and gear the 15 miles to the river. According to Sergio, Pancho knew the Tuichi like no other man in Madidi, having ridden logs down the river to the market in Rurrenabaque. Renegade mahogany cutting was discontinued with the park's creation in 1995, and Novak, like most of the curious onlookers in Santa Cruz, was hoping tourists like us were going to create a new job market by making the Madidi one of the most visited parks in South America.
It certainly has the credentials. Its 4.7 million acres (Yellowstone, by contrast, has 2.2 million acres) include Andean ranges, montane cloudforests, savanna, dry tropical forests, and lowland rainforests. The park is also one of the most biodiverse regions on earth, providing habitat to more than 1,000 species of birds, 44 percent of all New World mammals, and 38 percent of all Neotropical amphibians. We figured if we got a glimpse of just ten percent of what was out there, it'd be more than most of us had seen in years of trekking around North America.


We were an odd-looking safari: trekkers with oversize daypacks, kayak- and raft-laden horses, and porters lugging or balancing everything from paddles to pots and pans. By mid-morning, we were stretched into a line all the way across the 200-yard field. Entering the forest was a bit like a jungle version of Through the Looking Glass; one minute we were walking in sunlight and order, the next minute we'd entered a green tunnel full of unidentifiable sounds and shadows.


As the thick mud of the trail threatened to suck our sports sandals off with every step, Tim explained that we were in the Yungas, the region of humid montane slopes (aka cloudforests) of the eastern side of the Andes between 2,000 and 10,000 feet. We pulled wild coffee beans off bushes and crushed them in our hands for their fragrance, orchids that would have cost $20 from a Park Avenue florist littered the trail, and all around us giant stands of bamboo and ferns reached up to where bromeliads hung from tree branches, their broad pink leaves like obscene, drooping tongues. Escaping the dense cover along the ridgetops, we spotted Andean condors floating above the valley. The intense heat and humidity made the going slow for both pack-laden humans and horses. But at least we were spared the constant drizzle that is usually a feature of cloudforests.


"Last year on my second Tuichi expedition, the rain was so intense the porters almost mutinied," Sergio recounted when we collapsed to have lunch in a small meadow. "It was right here, in fact. The porters were going to drop all the equipment and head back to Santa Cruz. The Pancho got up and gave them a speech like was a Bolivian General Patton. They all stayed."


That night we camped on an exposed ridge above the forest canopy, where we spent hours hitting off a rum bottle and counting falling stars. Our resulting slothfulness the next morning will have its consequences: While we slept soundly, the porters filled the water jugs from the stream below camp but neglected to inform anyone of this "favor." Before the mix-up was discovered, five people had filled their canteens and drunk the unfiltered water. The unlucky parties were identifiable during that day's long, hot march through Madidi's Inter-Andean dry forest by their sudden dashes off the trail


It was on a small ridge in this habitat of grasslands, scattered trees, and cacti that Tim spotted a pair of rare harpy eagles, the true kings of Amazonia. Sanding nearly three and a half feet tall with claws like a grizzly's, they snatch monkeys right out of trees.
We hit the Tuighi late that afternoon like pilgrims to the River Jordan and set about rigging up the two 14-foot rafts, the cataraft, the paddle boat, and three kayaks. By the next morning, we were ready to boat. Well, almost. First, rituals had to be observed. In El Alto, the ramshackle antiplano city above La Paz, a few of us had invested in several large bags of coca leaves. Long a staple of Andean campesino, coca alleviates hunger, fatigue, altitude sickness, and susceptibility to cold and heat—in short, it's the perfect chew for adventure travel.


In Pancho, we had found a coca mentor. Every morning before his first mouthful, he'd offer up three leaves to Pachamama, asking her to keep us safe during our travels. After dropping the leaves one by one onto a blanket, he'd read the for a favorable sign and, satisfied, would give us the thumbs up and we'd all mumble a "Thank you, Pachamama" before stuffing in our morning cud.
The next couple of days of river travel were mostly easy going, the Class II and III rapids providing good paddling practice, getting us soaked and proving that you can indeed freeze your ass off even in the Amazon basin. Keeping up a killer pace of 30 to 40 miles a day, we finally got the knack of interpreting Sergio's assessment of our trip. "Just around the next bend" usually meant a couple of miles; "Just a couple hours more to camp meant we were probably going to be setting up our tents in the dark. Though Pancho may have known the Tuichi better than any man in the forest, the unfortunate truth is that the river changes dramatically every rainy season. We found that a lot of "perfect" camp spots were either underwater or washed away.


The river's edge is like the forest's shopping mall; every creature eventually comes to its banks. Multicolored macaws and lime-green parrots flew across the river from treetop to treetop as we floated underneath, Kingfishers skipped alongside us and herons, startled by our approach, took off in slow-motion climbs. Huge colonies of yellow and white butterflies raised themselves off the sandy banks en masse as if unseen hands were lifting up a rug. And everywhere we sighted capybaras, the world's largest rodents, which look like Labrador retriever-sized hamsters with enormously fat asses. One day when we pulled up to a sandbar for a break, clearly imprinted from the water's edge back to the tree line were the prints of a tapir, the largest mammal of this lowland forest. Directly alongside the tapir prints were those of a large jaguar with a cub. Pancho studied them carefully. "Mue, my fresca," he pronounced.


A whole new crew seemed to get to work in the forest during the night shift. After we'd eaten, downed a little rum around the campfire, and retired to our tents, the voices of the forest jacked up a few dozen decibels into a cacophony of hoots, whistles, and strange groans and screams. Together with the sound of the Tuichi pouring solidly over rocks, it produced an almost narcotic effect: The more I tried to differentiate sounds, the quicker it put me to sleep.
Day seven of our Tuichi expedition started ominously. We'd entered San Pedro Canyon the night before and there was a certain nervous tension as we prepared to spend the day running what Sergio promised was a series of Class-IV-plus rapids. It didn't help that there was a cold rain or that half of the crew was weak from intestinal bugs or that all of us were desperately trying not to create any open wounds by scratching our numerous sand-fly bites. I stood with Pancho near the river's edge as he offered his daily prayers to Pachamama. After dropping the leaves onto the ground, he arched an eyebrow, then got to his feet and stalked off. There was no thumbs-up this day.


The Tuichi had changed. There was a rumble, a growl, a force to it that we hadn't felt upstream. The river had risen significantly during the last 16 hours of rain and it was possible that rapids that had been Class IVs yesterday would be Class Vs today. Sergio had told me the night before that he'd first been struck by the idea of running the river after reading Back from Tuichi, a book by Israeli Yossi Ghinsberg, which relates the story of his ill-fated 1981 expedition. His log raft had broken apart in the rapids, and for two weeks he'd wandered the forest until being rescued. Pancho, it turned out, had lost one of his logging partners when their raft broke apart and pinned the man underwater. Sergio had made the first complete descent of the Tuichi in 1996, and ours was the fourth "official" one. "This is not a river to take lightly," Sergio told us. "Something bad happens out here, and we're on our own." If this was understatement, we were in for a hell of a ride.


Immediately after leaving camp we hit a boiling Class IV and then a series of Class III rollers. The crew in my paddle boat barely had time to catch a breath when we came upon the next rapid, a Class IV that had a hard left turn where the river slammed into a rock face and then dumped over a mid-river rock into a raft-gobbling hole. Digging in, we made the turn with enough momentum to launch over the hole. It was only 9 a.m. and we were whipped.


The canyon narrowed in places to less than a hundred feet, and the force of the water sometimes made it difficult to hear Chuck's commands. The kayakers, Beverly, Pete, and Kevin, were having a high old time, though it was a little more serious work for Sergio, Greg, Smiling Dave (a river guide in Alaska), and Matt on the oars of the heavy, gear-burdened rafts. Just after clearing an unexpectedly powerful Class IV called Bandera Roja, Matt got too close to the raft in front of him and had to backpaddle.


"It killed my momentum," he said afterward, "and the next thing I knew we'd dropped into a hole and couldn't clear it."


It might've been almost funny watching the raft slowly flip and catapult its passengers into the water if there'd been any decent eddies. As the upside-down raft shot by, one of the paddlers in my boat leaped onto it from our bow and managed to keep it close to shore until enough people gathered to flip it back over.


The next section of rapids involved some Class IIIs and easy Class IVs that provided some respite before the monster Sergio was anticipating at Puerto del Diablo. But as we got close, one of the kayakers dropped into a hole and found herself pushed under a ledge. After trying three times to roll, she decided to bail out of her kayak and swim to the surface. But by now she was exhausted and numb from the cold water. Slightly downstream from her, Sergio could see that she was no longer swimming and might be in trouble.


"I threw the safety line and then she went under again," he recalled later. "When she came up she had it wrapped around her neck. Obviously, I didn't want to pull on it, but we were drifting downstream right into Puerto del Diablo. I knew if I didn't get her in the boat before we hit it, she'd be a goner." Screaming at her to swim and pulling at the rope, Sergio managed to get her to the boat in time to swing it into the last big eddy.


It took us two and a half hours to scout and run Puerto del Diablo. The rain had transformed what was normally scary enough Class V whitewater into 200 yards of solid, terrifying froth. A series of huge waves and holes made it necessary to cut far right, ferry left, and then get into position to miss a giant slab of rock in the center of the river. Bad positioning for this final maneuver meant getting pinned against the rock by an unrelenting force of water. Not a pleasant thought. While scouting Diablo I slipped on a mossy rock, fell a few feet, and cut my leg, but too much was happening to pay any attention to it.


The run itself went by in an adrenaline blur. Though I was digging hard, looking ahead, and trying to hear Chuck's commands, I remember at one point the raft dropped suddenly off a big wave into a hole—I looked up into a sky of white foam and screamed, "Pachamama!"
About four the next morning I woke up convinced some small animal was gnawing on my shin. I turned on my headlamp. In the 12 hours since I'd scraped my leg on the rocks above Puerto del Diablo, the opportunistic organisms of the Amazon had invaded the one-and-a-half-inch cut and turned it into a pulsing, red, walnut-size infection. There was nothing I could do but squeeze a little antibiotic ointment onto it, cover it with a waterlogged bandage, and go back to sleep, hoping for the best.


Late the next day, we finally reached Chalalán, the preserve and eco-lodge built by the Quechua-Tacana from the nearby village of San José de Uchupiamonas. Our crew was silent from a combination of fatigue after a long day of paddling slow water, madly itching bug bites and assorted other ailments, and the satisfaction of having escaped the river relatively unscathed. Pachamama had, at least, been democratic.
The appearance of Chalalán at the end of the half-mile trail from the river transformed our whinging and whining into a kind of enthusiasm that hadn't been much in evidence since we'd left La Paz. Laughter erupted and dancing might've followed given half the chance. Trays of cold fruit juice appeared, and, not long after, liter bottles of Pacena beer. Even in the dark, the simple, rustic beauty of the main dining room and three traditional cabins constructed from chonta palm and jatata leaves made us feel we'd stumbled on an Amazonian Shangri-la. We'd only been away from civilization for a week, but all of us felt we had experienced something rare, something that will probably vanish from the earth before we do.


Later that evening, after everyone had either gone to bed directly after consuming the excellent dinner and Chilean wines or gone out on the lake in canoes looking for gators, I rocked in a chair in front of the dining room, nursing a whiskey and soda. The young employee who'd brought me the drink stopped to chat awhile, and asked what had happened to my leg. After I peeled off the bandage and explained, he told me he'd be back in a few minutes. Returning with a small clay pot of mud, some leaves, and a spool of gauze, he examined the cut and slapped a bit of the mud on it. He then laid on the leaves, wrapped it in gauze, and told me to leave it there for a couple of days. I thanked him and, when he'd left, downed my whiskey in a single gulp.


Two days later in La Paz, I removed the poultice and washed the cut. The swelling was down and the infection nearly gone. Later I learned that some of the mud in the forest contains a fungus that acts as a natural antibiotic. Throughout our journey down the Tuichi, all the moments of exhilaration and wonder had been tempered by my vision of the forest, with its inch-long stinging abuná ants and poisonous eyelash vipers, as a malevolent force. Now I wasn't so sure. I told Pancho about it that afternoon.


"Pachamama," he said, nodding. "For every bad thing in the forest, she makes something good."