Big-Wave Paddle Battle
In the wake of a controversial ESPN interview, big wave surfers tell Laird Hamilton to put up or shut up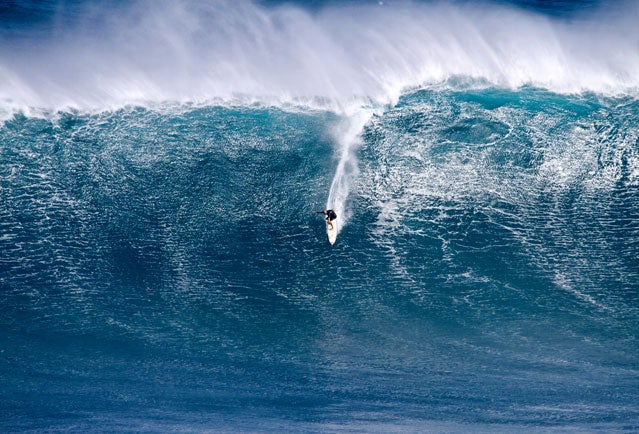 Heading out the door? Read this article on the new Outside+ app available now on iOS devices for members! Download the app.
Laird Hamilton has never been one to cloak himself in subtlety or nuance. He's big and brash, with an ego as mammoth as the waves that have carried him to fame. Whether by design or accident, those whose familiarity with big-wave surfing revolves around mainstream media coverage generally believe him to be the sport's Zeus. In short, there's Laird, and there's everyone else.
To most of the other big wave surfers in the world, this perspective would be just fine were it not for the fact that many interviews with Hamilton through the years have carried an annoyingly familiar theme. Hamilton refuses to compete in surf events and only seeks the raw purity of the experience; other surfers seek money from events like the annual Billabong XXL Big Wave Awards or hunt down and ride big waves for sponsors who demand huge risks be caught on film.
For the most part, the small fraternity of serious big-wave surfers have grumbled and chuckled through Hamilton's narrative in private. Even if they disagreed with that narrative, the man behind the story laid down a generational gauntlet with his pioneering tow-in surfing at Maui's Jaws.
That silence ended after Hamilton gave an interview to ESPN writer Jake Howard in advance of an Oprah Winfrey Network special called "Oprah's Master Class." Howard asked Hamilton's opinion on the resurgence of traditional big-wave paddle surfing—particularly at Jaws. Surfers are charging bigger and bigger waves without jet skis, in the process rewriting what is achievable with just strong arms and stronger lungs.
Hamilton answered Howard by describing paddle surfing at Jaws as "moving backwards." He said the waves were so fast and powerful that the best most paddle surfers can hope for is a truncated ride on the wave's shoulder. Thus, the best way to catch and ride them was by using a jet ski. "It's a little bit of a waste to see these guys out there trying to paddle and then so many waves going by unridden," he told Howard. "I see guys taking doughnuts, and it's really not the most productive thing."
Then he moved on to his familiar narrative.
"I guess maybe they're trying to prove a point that you can do it. But is it the most functional way to really ride that wave, and are you getting all you can out of it? You're not. So for me, I look at it kind of like a gimmick, in the sense of, 'OK, yeah, can I crash on a giant one?' Part of it has to do with the sponsors. A lot of it's stimulated by these bigger surf companies pushing their guys to be different."
For fellow big-wave surfers who have been behind the push to test paddle surfing's outer limits—like Shane Dorian, Greg Long, Danilo Couto, Carlos Burle, Ken "Skindog" Collins, and Mark Healey—this crossed a line. Hamilton has not focused on traditional big-wave paddle surfing—whether at Jaws, Teahupoo, Maverick's, or almost anywhere else—for some time. When Hamilton has been seen charging big waves lately, it's generally been atop a standup paddleboard. He was not only criticizing the practitioners of an extraordinarily difficult pursuit in which he doesn't typically participate, but also calling that pursuit a gimmick.
"I know Laird and I like him, but at the same time he is very defensive," says Collins, who nearly drowned at Jaws in 2004. "He always wants to be the alpha male—the only guy on the big-wave mountain."
Dorian says he agrees with Hamilton that Jaws is the best tow-in big wave on earth, but he also calls it the world's best paddle spot because catching a wave and surviving out there is so difficult. Last year, Dorian set a world record at Jaws when he paddled into a 57-footer.
Healey, generally recognized as the best goofy-foot big-wave surfer alive, and the most fearless freediver in the surfing world, says waves go unridden because paddling into Jaws is among the most challenging feats in surfing. It requires an intimate understanding of how a shoaling 40-knot swell interacts with the sea-floor, an ability to decipher and escape from swirling rip currents, an ability to hold one's breath for minutes at a time, and a willingness to stare down an falling skyscraper of water that you may or may not have the speed to escape. He dismissed the idea that towing is the only proper way to attack the wave and says that paddling provides an entirely different feeling. "It's such a raw world working in that environment," he says. "Just existing amidst that kind of power and energy is such a challenge. It's like working behind enemy lines versus firing a mortar from five miles away."
The soft-spoken Greg Long, who has never met Hamilton in person, expresses disappointment that a lifelong personal hero seems unwilling to recognize the achievements of others. He agrees that paddling isn't necessarily the most efficient way to surf Jaws but compares it to Hamilton stand-up paddling at Teahupoo. "I can look at how difficult that is and I've got a lot of respect for it," Long says. "I don't see why he can't look at what we're doing with the same level of appreciation."
This is the first time that several prominent big wave surfers decided to respond forcefully and publicly to Hamilton's words, which were generally regarded as an insult. Upon hearing some of the commentary, Laird seemed a bit taken aback. He points out that he hadn't targeted specific surfers and invited Healey and the boys to call him personally if they had a beef. When I pointed out that his shotgun-blast statement hit guys he may not have intended to irk, his tone softens. "Shane-O, Mark Healey—incredible watermen," he says. "Greg Long, the things he's doing? When the waves get really heavy, if guys are making giant drops, Amen. The athleticism, skill, and bravery that it takes to paddle out there when it's 50, 60 feet, no question that is an incredible thing, and my hat's off to the guys who are trying to do it."
Then he reveals the core reason for his anger. "I'm just talking about the ambiance of Peahi," he says. "It's become a circus."
Much of his frustration, he says, stems from a simple lamentation that he can no longer surf one of his favorite places on the planet in relative solitude. He acknowledges responsibility for this. He was behind the 1994 tow-surfing film Wake Up Call!, which revealed Jaws to most of the world. He graced the cover of National Geographic and performed stunts at Jaws for the James Bond film Die Another Day. He took the guest seat on The Colbert Report, appeared on numerous covers of Outside, and most recently partnered with author Susan Casey on The Wave.
Then Hamilton gets into the crux of a decision he and several of his Maui-based friends made in the mid-nineties before revealing Jaws to the world. "I think as surfers, those guys [Long, Healey, Dorian] and myself, we go through this struggle," he says. "How do we make a living from surfing and still not have to pour concrete and break rocks and dig ditches without publicizing all our stuff?"
Revealing this secret surf spot, of course, forever changed big-wave surfing, made Hamilton famous, and paved the way for a career that has earned him millions in film and sponsorship deals. He made a circle of A-list friends, flew with the Blue Angels, stand-up paddled the English Channel, and earned a small role in the hit film The Descendants. Not a bad life. But if the ultimate treasure was, in fact, Jaws, he made a Faustian deal in its revelation. Indeed, the crowds, he said, were one reason that he and his wife, Gabrielle Reece, chose to relocate to the quieter shores of Kauai last year.
"I should have never told anybody about Jaws and never taken a picture, and we'd still be riding it by ourselves today," he says. "I can only blame myself. So in the end, maybe I'm just disappointed at myself. I should have kept my mouth shut."
Hamilton adds that in a way, the paddle descent on Peahi may be a good thing, even if it is "hunting with knives instead of guns," because it helps impose some order on an out-of-control scrum of tow-surfers. When surfers are paddling Jaws, it renders tow-surfing illegal, because of laws requiring distance between skis and surfers. He believes paddling maybe be better for the break because it thins and organizes the crowds, leaving only the bravest and most hell-bent surfers in the lineup.
Those in Hamilton's crosshairs soften on hearing his responses, particularly Healey. "He's a good guy," Healey says. "And I absolutely agree with him on it being a funny balancing act between getting paid to do something so you can continue to do it, and still do it for the right reasons. It's a fine line. I would love to surf with the guy somewhere. Not to stack myself against him—that's not what we're about. Just to see him do it. You know, he's not a slow paddler and he sure as hell knows how to turn a board."
Collins and Carlos Burle wonder what heights big-wave surfing could reach if Hamilton chooses to one day include himself in the fraternity. The hardcore paddlers are in the midst of forming a sort of governing body for the sport and are competing on a nascent circuit called the Big Wave World Tour. Hamilton's involvement, they say, would be welcome. At the least, an occasional shout-out to the other big-wave surfers would be mutually beneficial. "If Laird was regularly saying, 'Look, what Greg is doing is sick. What Shane is doing is sick,'" says Collins, "it would be a win-win situation instead of a dirt clod war."
Perhaps such a connection is not far off. A few weeks after the war of words erupted, Hamilton offered an olive branch. While he would rather not surf crowded breaks like Maverick's, he's not opposed to hearing from Long, Healey, and their posse about other options. "You can make this exciting and say, 'Oh, we have a difference of opinion.' But if you sit us all down in a room, I think there's really none. I think part of it has just been a lack of communication. If some of those boys want to bring me to a new spot without letting anybody know, I'd have no problem doing that," he says. "You tell them to call me up anytime."
Chris Dixon is the founding editor of Surfermag.com and the author of Ghost Wave: The Discovery of Cortes Bank and the Biggest Wave on Earth.