Body Shots
A new body surfing doc goes to Tahiti, New Zealand, and Hawaii to tell the story of wave riding's most basic discipline
Heading out the door? Read this article on the new Outside+ app available now on iOS devices for members! Download the app.
Surfer Keith Malloy's new bodysurfing film Come Hell or High Water, which is out now, was shot in Tahiti, New Zealand, and Hawaii. The film tells the story of the flipper-wearing followers of what Malloy calls a "lost art form"—watermen who hurl their bodies down towering overhead waves. The film recently won best feature at surf-film festivals in London and New York City, and like all Woodshed Films releases (180˚ South, Sliding Liberia), it was a family affair: Malloy's youngest brother, Dan, composed part of the soundtrack, and his elder brother, Chris, worked as a consultant. MADISON KAHN caught up with Malloy while the film was touring.
Keith Malloy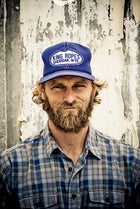 Keith Malloy

Outside: Why body surfing?
Malloy: I messed around with it as a kid. We called it bodywhomping, which basically meant we just got pounded. When I stopped competing as a board surfer, I started hanging out with Mark Cunningham, a legend of the sport, and found that it was a way to ride waves and still enjoy myself.
Why did you leave the surfing circuit?
Trying to get to the next level was consuming my life. I started surfing to enjoy time with friends and look for great surf destinations, not just to compete.
Is bodysurfing more "soulful" than surfing?
Bodysurfers are all just kids, and they're out there purely for their own satisfaction. There is zero ego, because they're the lowest on the totem pole in the lineup.
So you have to love it.
I never realized how much passion bodysurfers have for their sport. When I interviewed these guys, most of them would get choked up just talking about it. I would never get that from surfers.