Brain-Eating Amoeba Is Killing Paddlers in the South
How did a North Carolina waterpark become ground zero for a mysterious water-borne amoeba that kills nearly every person it infects?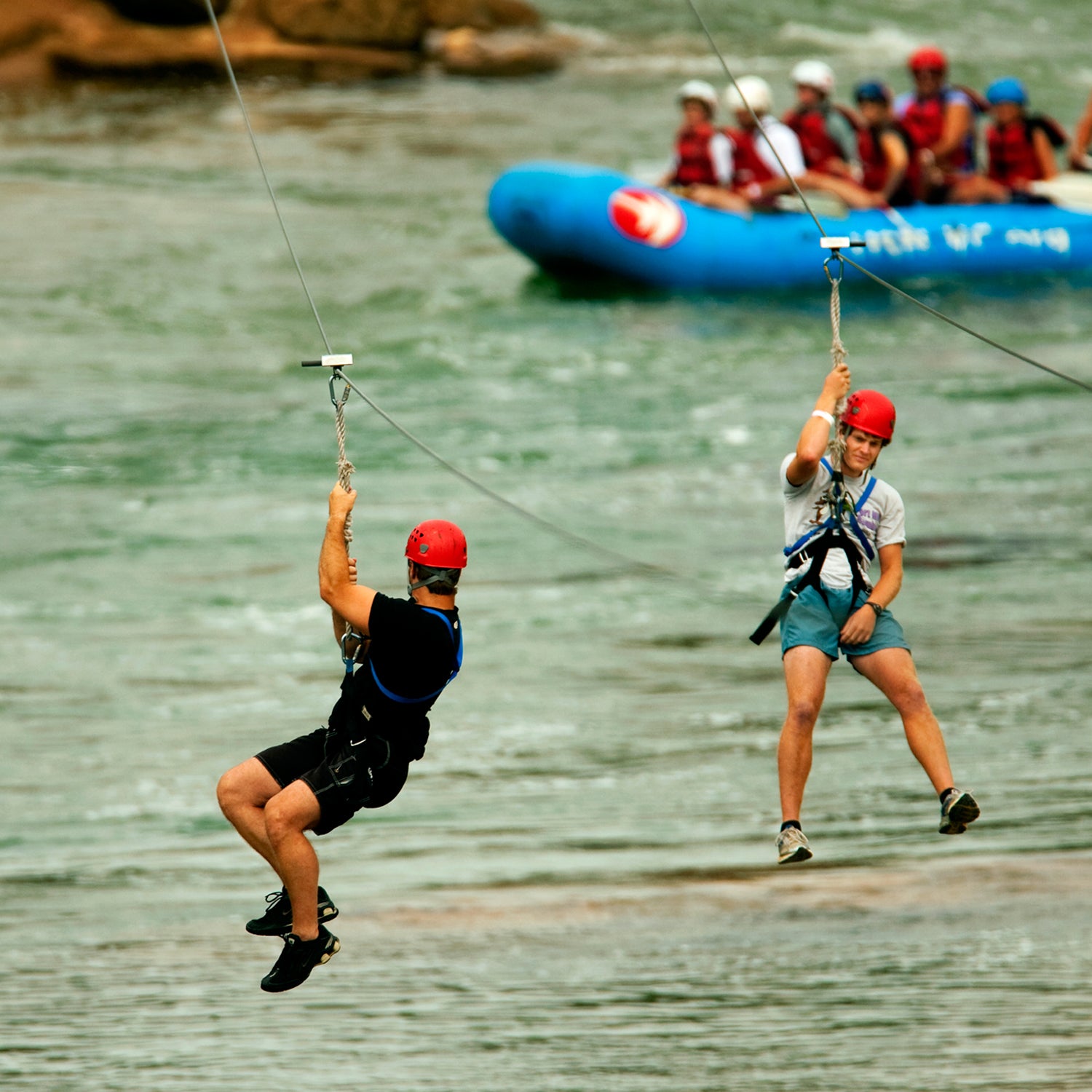 US National Whitewater Center​(Photo)
Heading out the door? Read this article on the new Outside+ app available now on iOS devices for members! Download the app.
The U.S. National Whitewater Center, a 1,100-acre outdoor adventure complex situated on the Catawba River outside Charlotte, North Carolina, features all the things you'd want from an adventure park: ziplines, rock climbing walls, and mountain bike trails. Its most popular attraction, however, is a closed-loop whitewater course with Class IV rapids that draws some 12 million gallons of municipal drinking water from the nearby river. It also has the dubious distinction of being one of only about 140 sites in the country where, over the past 54 years, a common but relatively obscure amoeba has caused a human death. 
Eighteen-year-old Lauren Seitz visited the center on June 8 with fellow members of a Westerville, Ohio, church choir. Seitz, who had recently graduated high school and was heading to college in the fall, was in Charlotte as part of a youth mission music tour. During a guided trip, a raft that Seitz and her friends were rowing overturned, and Seitz went underwater. Three days later, after she returned to Ohio, Seitz began displaying symptoms, including fever, headaches and vomiting. She died June 19.  
Health officials say that while at the Whitewater Center, Seitz contracted Naegleria fowleri, often referred to as a "brain-eating" amoeba. The single-cell organism causes an infection called primary amebic meningoencephalitis (PAM), which is rare but nearly always fatal. The amoeba is found around the world, primarily in warm freshwater environments, such as lakes and rivers. 
The majority of PAM infections nationwide have occurred during the summer in states in the southern half of the U.S., from California to Virginia, according to the Centers for Disease Control and Prevention (CDC). Historically, nearly three-quarters of the cases have occurred in Texas and Florida, although a few cases have popped up in northern states, including a 2010 case in Minnesota. 
Health officials believe that people only get infected when water containing the amoeba enters the body through the nose. While you can't get PAM from drinking contaminated water, there have been a few rare instances when people have been infected after irrigating their sinuses using contaminated tap water. The amoeba travels up the olfactory nerves and attacks the brain's frontal lobe and connective tissue, causing swelling. Once a person is infected, death usually occurs within five to 18 days.
Seitz's death is the second this summer to be attributed to PAM. Earlier this month in Texas, the CDC confirmed that 19-year-old Hudson Adams contracted the amoeba while working as a lifeguard at Lake Maverick and Houston County Lake. Similar to Seitz, Adams began to experience flu-like symptoms. After his condition worsened, he was flown to the Texas Medical Center, where he died July 13. These recent tragedies have put the deadly PAM infection in the spotlight, even as lawmakers and health officials struggle to determine how to best address the potential dangers of the amoeba moving forward. 
"This is certainly a priority for us," says Jennifer Cope, a medical epidemiologist and infectious disease physician in CDC's Waterborne Disease Prevention Branch. "Each summer we continue to see new and different ways and venues in which the amoeba is transmitted. It's important that we keep track and study PAM so we can put out the best messages to protect the public." 
The Naegleria fowleri amoeba, which has likely been around for thousands of years, is essentially a parasite that lives underwater and feeds on bacteria and other microorganisms, says Stephen R. Keener, medical director of the Mecklenburg County Health Department, which is leading the investigation in the Charlotte PAM case. For much of its lifecycle the amoeba is inactive, in a hibernation-like stage. But when the conditions are favorable for growth—such as stagnant water with high temperatures—the amoeba "wakes up." "It's only in this more active form that the amoeba infects humans," Keener says. 
"It's very common," Keener says. "It's not something that escaped from a lab."
According to the CDC, 138 cases of PAM have been reported in the U.S. since 1962, and all but three patients died. About 75 percent of PAM victims are male, with a median age of 12. "Our theory is simply that younger males are boisterous and more likely to have water go up the nose," says Cope. "We don't know if there's some other biological tendency." 
With the amoeba being so prevalent in warm freshwater environments, health officials don't yet understand why relatively few people get the deadly infection. "That's the big question and mystery around this," Cope says. "Millions of people in the U.S. participate in freshwater recreational activities, but we usually only document a few cases each year, which is fortunate given how devastating the infection is." 
When the Whitewater Center in Charlotte opened in 2006, it was the first facility of its kind, and it's not regulated under state standards that are used with public swimming pools or water parks. "There weren't any existing guidelines or regulations that could be used as a reference when the center opened," says Keener.
 
Following Seitz's death, the CDC conducted water tests at the center, which indicated the presence of the deadly amoeba's DNA in all 11 water samples. Cope said the CDC had not seen the presence of Naegleria fowleri at such significant levels during other tests conducted at freshwater venues where a PAM case had occurred. The CDC also indicated that the park's filtration systems were inadequate to neutralize the amoeba, and that there needs to be engineering and operating modifications before the Whitewater Center's channels reopen. Keener says the county is now considering a plan in which authorities would treat the water that contains the potentially deadly amoeba with chlorine. Then they would remove the chlorine once the parasite is inactivated and dump the water into the Catawba River, where it would eventually flow into a creek.
Meanwhile, the rest of the Whitewater Center remains open, and the company has posted on its website that it is working with water quality experts and engineering firms to implement additional water quality measures. "Our goal is to be rafting again in a matter of weeks," the center's website reads. (Representatives for the center did not reply to requests for comment.)
As one of Charlotte's most popular attractions, attracting some 800,000 visitors annually, the Whitewater Center is also noted for being a USA Canoe/Kayak official Olympic Training Center for whitewater slalom racing since it first opened in 2006. Wade Blackwood, CEO of USA Canoe/Kayak, says that despite this recent incident, the team will continue training at the Whitewater Center if and when it reopens. Two of the USA Canoe/Kayak Olympic athletes who live and train in Charlotte have been in Europe for the past several months preparing for the 2016 Olympic Games in Rio, so they haven't been directly impacted. "It's a tragic story, but from a paddling perspective, we know there are a lot of dangers anywhere you go," says Blackwood. "We need recreational venues like this to introduce people to the sport in a controlled, outdoor environment. I don't think shutting it down is the answer."  
In early July, the North Carolina Senate opted to delay a vote on legislation passed by the House that would have regulated the U.S. National Whitewater Center under the same state regulations as swimming pools. Dr. Randall Williams, the state's deputy secretary of health services, stressed that any legislation would be "getting ahead" of the efforts being put forth by the CDC and the Whitewater Center.
Cope added that because the Whitewater Center falls into this regulatory gray area, it's been difficult determining what the center should look like moving forward in terms of minimizing the chances of this happening again. "These are the challenges and discussions that are ongoing," she says. "This is a very scary case, but you also have to put it into perspective. People do many things every day that put them in greater risk of being hurt and dying. Still, it's important that people are aware of the potential dangers."
The U.S. Health and Human Services Department offers some common sense measures that swimmers can use to protect themselves, and there is also a new medication that fights the infection:
Limit the amount of water going up your nose by holding your nose shut or using nose clips.
Avoid freshwater activities during periods of high water temperature and low water levels.
Don't stir up the sediment while in shallow, warm freshwater areas.
There is a new drug on the market called miltefosine that that has been used to successfully treat a few isolated cases of PAM, including a 12-year-old girl and an eight-year-old boy in 2013. Both patients survived, although the young boy has suffered what is likely permanent brain damage. The drug, known by the brand name Impavido and approved by health officials in 2014, is commercially available through a company in Florida.  The Amoeba Awareness Foundation is working to make the drug available across the country.
Lead Photo: US National Whitewater Center​