Can Michael Phelps Win Again?
There is nothing we'd like more than to see the most decorated Olympic athlete of all time return to the five-ringed stage. Can he make it happen at age 31?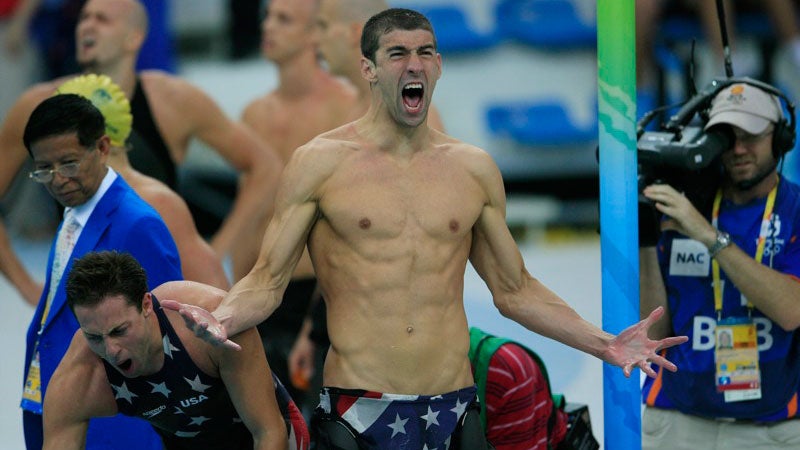 Heading out the door? Read this article on the new Outside+ app available now on iOS devices for members! Download the app.
Just before the 2012 Olympics, Michael Phelps told Anderson Cooper in a 60 Minutes interview, "Once I retire, I'm retitring. I'm done." Phelps went on to win six medals in London, bringing his total medal count to 22, then promptly threw in his Speedo. Or so he said.
 
Today, Phelps' longtime coach, Bob Bowman, announced that Phelps will compete at a swim meet in Mesa, Arizona on April 24-26. It will be the first time Phelps has competed since London. "I think he's just going to test the waters a little bit and see how it goes," Bowman told the Associated Press. "I wouldn't say it's a full-fledged comeback."
 
Bowman's effort to lower our expectations didn't work. There is nothing we'd like more than to see the most decorated Olympic athlete of all time return to the five-ringed stage. So we asked Stanford exercise physiologist, Anne Friedlander, what it will take for Phelps to kick ass in 2016, at the at the ripe old age of 31.
Less Volume
"The biggest thing he's gonna have to think about is training smarter," Friedlander says. Phelps famously swam 80,000-plus meters a week (that's about 50 miles) leading into the 2008 Olympics. That extremely high-volume regimen may not work this time around. "He could need more recovery time," Friedlander says.
As people age, their tissues become less resilient and more susceptible to damage. "The body was very forgiving when he was young; now he's going to have to have a smarter training plan—decrease the volume a little bit and higher intensity with more recovery time."
 
Watch the Power
"He may find that he doesn't have quite the explosive power that he used to," Friedlander says. As athletes age, they tend to lose some of their Type II, fast-twitch muscle fibers, and neurological signaling from the brain to the muscles slows down, though the difference in explosive power between the ages of 27 and 31 may be negligible.
 
In a sport where hundredths of seconds count, however, a minutely less explosive start off the blocks could knock a swimmer out of medal contention. The lineup Phelps is scheduled to swim in Arizona—the 50- and 100-meter free, and the 100 butterfly—suggests he's testing out his speed rather than his endurance.
 
While it'd be easy to say swimmers, like runners, move on to longer distance events as they age, history says that's just not true. Dara Torres became a worldwide celebrity when she competed in the 2012 Olympic Trials at the age of 45—in the 50 free. She finished fourth in the final heat.
In other sports, athletes with decades in the game have also managed to stay on top. Like Phelps, Brazilian soccer legend Pelé was a teen superstar. He was nearly 30 when he played in his fourth and final World Cup, the quadrennial international soccer championship. The plays he made during that game helped secure his team a victory, and are cited as some of his most famous. He was even named player of the tournament.
Olympic gold medalist, Andre Agassi, turned pro at 16. By the age of 25, he was ranked the number one tennis player in the world. At 32, he became the oldest player to rank second in the world. It wasn't until he was 36 that extreme back pain forced him to retire.
It's Going to Be Mental
"Experience really does play a role in this, knowing when to push, when to hold back, what to do in between races, things like that," Friedlander says. "Understanding the competition, having been in those events before. Just being able to deal with the stress" could give him an edge younger, more resilient athletes don't have—as long as he stays cool. "For him, a person who's accomplished more than anyone else, is this gravy, or does it increase the pressure because expectations are so high? I don't know, that's in his own head."
 
Want More?