Chesapeake Bay
Where the water is calm, the camping great—and the sea kayaking takes you to a world of beautiful swimmers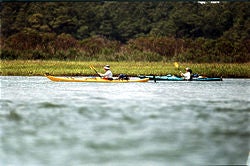 Heading out the door? Read this article on the new Outside+ app available now on iOS devices for members! Download the app.
IN THE MIDDLE of Chesapeake Bay, just 20 miles as the crow flies from the eastern seaboard megalopolis, sits a strand of marshy, nearly deserted islands where great blue herons, ospreys, and black ducks thrive, and where, in fall's cooler temperatures, you'd be crazy not to launch a kayak. In October, you'll miss the last Indian summer tourists and have the Bay almost all to yourself.
Surfing

Ocean City's coast is no exception to the East's infamous mushy breaks, but October brings offshore storms pumping head-high swells. K-Coast Surf Shop has surf reports and rentals ( per day; 410-723-3330).


Canoeing

Wild ponies roam Assateague Island National Seashore (410-641-3030). Launch a canoe from the island's South Ocean Beach, located at the end of Route 611 about 15 miles south of Ocean City, and paddle the marshes and coves to the south. Camp on the beach.

Salt marshes at the southern tip of Chesapeake Bay

Set out from Tangier or Smith Islands, the only two inhabited landmasses in the Chesapeake's southern channels and you'll commingle with a smorgasbord of sea life: rockfish, herring, bay anchovies, oysters, and the legendary, though sadly depleted, blue crabs. Paddle north across Kedges Straits to the dozen or so uninhabited, privately owned stretches of land not much bigger than sandbars; they're great places to embrace a quintessential Chesapeake pastime, "proggin'". From the verb "to progue," "proggin'" is localese for combing the shores and shallows for arrowheads, antique bottles, and other treasures left over from the Algonquin Indians who fished here more than 400 years ago and the colonial fishermen who ruled these waters back in the 17th century.


In spring, summer, and fall, you'll find shells left behind by molting blue crabs—a local delicacy you should resist for now, since this past summer saw a deep decline in the once-plentiful crustacean's numbers. Instead, look for littleneck and cherrystone clams, two small, succulent varieties found in the shallows of the southern Bay. Holes in the ocean bottom the size of a quarter give them away. Just pick 'em out of the mud, rinse, steam, and eat with melted butter. Heaven. Ready to go?


The Southern Bay Islands

The point of kayaking Smith and Tangier Islands isn't to paddle around them, but to paddle into them. Both islands are etched by canals (Big Gut Canal, for example, the "main street" of Tangier village, runs the length of the island's southern side). From Smith's northern shore you can kayak into the eight-square-mile Martin National Wildlife Refuge, where one of the largest groups of East Coast great blue herons nests. Another option: The seven-mile stretch between the two islands makes for a perfect day trip across Tangier Sound. Plan on at least six hours of paddling, and allow time to stop off on Goose Island along the way for an excellent round of progging. Be sure to choose your route based on the tides, which flow at up to three knots (check the weekly Crisfield Times for local tide schedules).


North of Kedges Straits

Paddle north of Smith across the deep, fast-flowing Kedges Straits, and you'll reach wide-open water, where the only traffic you'll see is the occasional oyster or crab boat. Since virtually all the islands in this area are privately owned and the trip is too long to paddle up and back in a single day, you'll have to hook up with an approved outfitter who has permission to camp. But the paddle alone is worth it: The islands in this part of Chesapeake Bay sit two or three miles apart, most of them just long, narrow strips of cordgrass and sand so small that they aren't mapped. Many are slowly eroding and may not even exist in 20 years. A few yards off the shore of one northern beauty, Holland Island—once home to a fishing village that was abandoned in 1920 and now a popular campsite for outfitted-kayaking groups—you can paddle over tombstones and the submerged brick foundation of the former houses.


The Virginia Islands

Along the southern Atlantic coast of the Delmarva Peninsula (a skinny finger of rural farmland that is part Delaware, part Maryland, and part Virginia) lie 13 barrier islands whose 45,000 acres make up The Nature Conservancy's Virginia Coast Reserve. You can visit all but three of the islands and paddle your heart out through preserved salt marsh on the eastern shores, where you might see ospreys, pelicans, egrets, or a bald eagle. Or paddle along the pristine Atlantic-side beaches and scout for dolphins.
THOUGH THE WATER IS OFTEN quite shallow—sometimes less than a foot deep miles from shore—paddling the Chesapeake isn't always a mellow trip, thanks to 50-mile-per-hour squalls that blow in without warning. Unless you're experienced in ocean navigation and rough-weather paddling, stick within a mile of Smith or Tangier, or go with a guide. Tangier Sound Outfitters offers two-day kayaking trips around the northern and southern islands ($150; 410-968-1803).


GETTING THERE: Delmarva is about an hour's drive east over the Chesapeake Bay Bridge from Washington, D.C., and five hours south of New York City. Or you can fly to Salisbury, Maryland, from Washington, D.C. (U.S. Airways, $150 round-trip; 800-428-4322).


GETTING AROUND: Captain Jason's Freight and Passenger Service will take you and your kayak from Crisfield, Maryland, to Smith Island ($10 per person, $5 per kayak; 410-425-4471). To get to Tangier, hop a ride on the daily local mail boat, also out of Crisfield ($10 per person, $10 per boat; 757-891-2240).


WHERE TO STAY: On Tangier Island, guests skip oyster shells from the porch of Shirley's Bay View Inn, built in 1904 (doubles, $75; 757-891-2396). The Inn of Silent Music in Tylerton, one of three villages on Smith Island, provides bicycles gratis (doubles, $75; 410-425-3541).


GETTING OUTFITTED: For the Bay islands, Survival Products in Salisbury (410-543-1244) rents kayaks for $40 a day. To kayak the Virginia islands, you can rent your vessel at SoutheastExpeditions (877-225-2925; www.sekayak.com) out of nearby Cape Charles for $45 a day.