What Cold-Water Swimming Taught Me About Mindfulness
It's not just a momentary mood booster, but a reminder of what we're capable of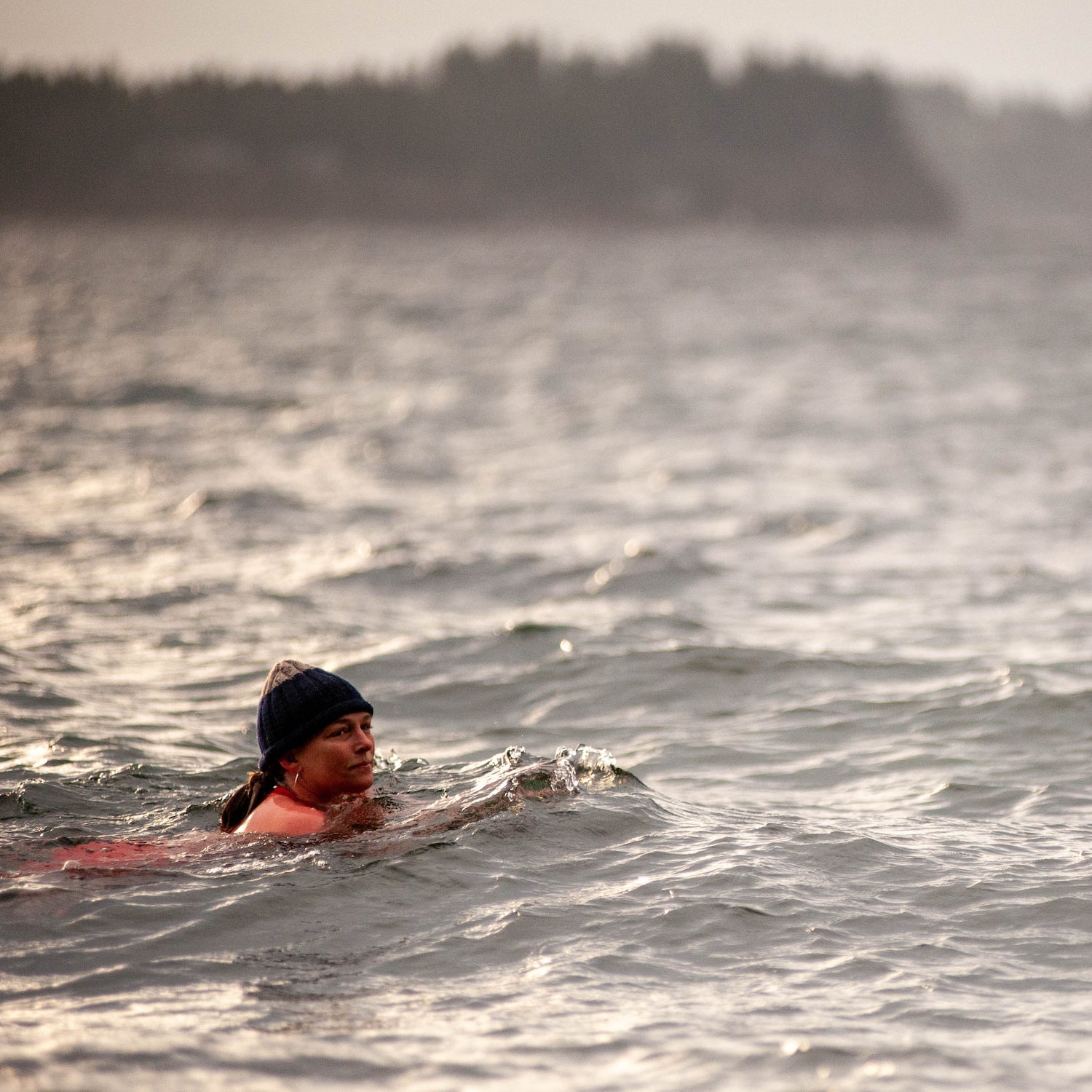 Heading out the door? Read this article on the new Outside+ app available now on iOS devices for members! Download the app.
It's another gray Pacific Northwest winter morning. The kind where the water and sky blend together into one, imbued with a raw, wet cold that seeps into your bones. I could be sitting inside drinking coffee, but instead I am getting ready for a swim.
At the edge of the bay, my wool tights come off, neoprene booties on. I pull off my bulky wool sweater and toss it on the barnacle-covered rocks, leaving me standing in only my red swimsuit and hand-knit wool hat. I shiver in the morning air, just slightly above freezing. I didn't bother bringing a thermometer for the water. I don't need a number to tell me that it's cold.
This moment is the hardest: standing and waiting, looking out over the saltwater, wondering how I will ever get in. For a brief moment I consider going back inside where the coffee is. This hesitation could be all consuming if I let it.
Every part of my brain is telling me not to get into this water. I lean into the physicality of the exercise instead. Breathe, step forward. Knowing I can push past my resistance gives me a boost of confidence.
I step in, up to my ankles, and then my calves. I walk further, submerging my thighs, and then the really hard part: my belly button. My face contorts with the spike of cold. I know that the sooner I can get my shoulders under the water, the easier the whole endeavor will be. Yet there's a part of me that likes to stand here for a few seconds, with half of my body exposed to the winter air, half of it submerged. There's an intensity to this "before" moment, as if I am hardening myself to the task ahead. I'm feeling the cold, I'm paying attention. I hear the wings of a seagull fly over me.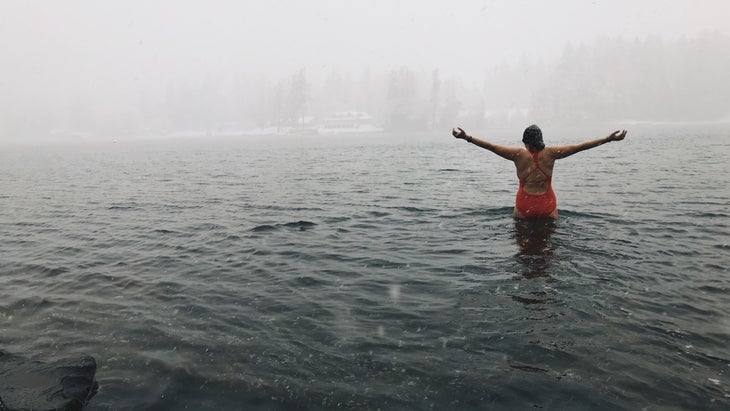 I know it's now or never. I put my palms together and breathe out. I push my whole body into the saltwater and focus on my breath, swimming through those first 30 seconds of intense chill. I keep my head above the water and move my arms and legs in a breaststroke. The water feels prickly, an incessant sting. Eventually the sensation softens and an overall layer of cold surrounds my body, like a shield. Every inhale keeps me aware of where I am, every exhale another moment of overcoming the temperature.
I keep breathing.
---
Last winter I got into a cold swimming habit, taking daily dips in the Puget Sound near my home on a small peninsula west of Tacoma. For the past couple of years I had a tradition of going into the water on the first of the month every month, but last winter, what had been a monthly tradition became a daily ritual. I would go to the water, often in the dark of the morning, before diving to work. I have never considered myself a swimmer, but I have always wanted to be in the water, and there was something about the cold that kept me returning. As a writer and an artist, I quickly realized that these daily dips were becoming a part of my creative process too. They made me more present, more aware, and they often provided much-needed clarity.
I wasn't the only one who embraced cold-water swimming last year. Winter is always a darker, slower cycle, but this one came hand-in-hand with the uncertainty of a global pandemic. Many of us craved something that would push our worries aside, make us feel like we had a little bit more command over our lives.
"This last year, people have had no control," says Gilly McArthur, a climber and cold-water swimmer based in England's Lakes District. "Restrictions made people seek other avenues to get a little control back."
I walk further, submerging my thighs, and then the really hard part: my belly button.
For me, that meant dipping into the saltwater by my house throughout the entire winter. I started reading essays about other people doing the same. There were roundups of the health benefits cold water could provide, films about people for whom cold water had become a lifeline, a story about a woman treating her depression with weekly swims.
My Instagram feed morphed into mostly a collection of other wool-covered heads bobbing in the water. I read the book Wintering by Katherine May and found myself nodding at her description of her body post-swim: "… the blood tingles in my veins for hours afterwards, as though I've been infused with some magnificent serum." What I read confirmed what my body already knew: this challenge of getting into cold water made me feel good, mentally and physically. It was making me more mindful, more present.
My regular dips and swims had also serendipitously made me part of a winter swimming group: the Outdoor Swimming Society's Zeno Swim Club. Launched in the winter of 2019, the virtual swim club was named after Zeno of Elea, the founding father of Stoicism, a philosophy rooted in pushing through pain and hardship. To be a member required a personal commitment to swimming at least once a month through winter, and an embrace of discomfort. "In a year that has presented perpetual challenges, one thing is clear: we're all Stoics now," I read on the OSS website. "Maybe not all in cold water—yet—but we have all mustered fortitude in the face of adversity."
Over 35,000 Instagram posts use the hashtag #thestoics alongside images of people around the world taking on the discomfort of cold, winter water and finding fortitude in the process. The cold water clearly gives us something that we can't find elsewhere.
"Whatever stress or worries you have, you have to leave them once you're in that water because you're just about surviving this intense, tactile sensation."
Katharine Montstream, who founded her own group, is also one of those people. She had been bitten by the cold water bug while swimming in Vermont's Lake Champlain a few years ago, but in the face of the pandemic, found that last winter the practice served her more than ever. She began going in the lake daily, and others began taking notice of her ritual. "After a while people were like, 'When are you going? Are you going to do that again?'" She started an email list, dubbed Red Hot Chilly Dippers, which quickly grew from 17 to 150 members. Throughout the winter, they swam together frequently, breaking the ice with sledgehammers on particularly cold days. Once, they swam at night during a full moon. "We get in, and we cannot stop laughing," says Montstream of their regular sessions.
In a time when many of us are seeking more paths to mindfulness, a plunge becomes the vehicle for bringing a hyper focus to the now. "When you get in water that cold, you have no choice but to just be present in that moment with yourself and the people that you're there with," says Puranjot Kaur, an open water marathon swimmer who is a part of the local group Cold Tits Warm Hearts in Maine. "It just kind of wipes away everything else."
That's the magic of the cold water, and what keeps many of us coming back. Montstream agrees. "Whatever stress or worries you have, you have to leave them once you're in that water because you're just about surviving this intense, tactile sensation," she says.
Mindfulness is both being aware of the present moment and acknowledging the moment without judgement. Instead of resisting or complaining, you practice acceptance, McArthur explains. To help with that, when she takes people swimming and they ask how cold it will be, she tells them the "C-word" isn't allowed. "It's just an experience, it's a felt sense," says McArthur. "Just observe what's going on but try not to label it, and it will pass."
Overcoming the intensity of cold water also brings an indescribable joy. It's not just a momentary mood booster, but a reminder of what we're capable of. This cold water lesson is pertinent to our bodies but also for our minds. "It's applicable to other places in life where you come to something that seems really difficult," says Kaur. "Your body remembers that experience of swimming. You're building resiliency, you're building grit."
---
This year presented more challenges than just the pandemic. In the spring, very close family friends who live on the same body of water that I do, and who I had known my entire life, were murdered. A lot of the year was spent in a fog. While I hadn't identified that loss as the initial reason for getting into the water, I can see how giving myself a daily reminder of my own resilience had been an essential part of my ongoing healing process.
For a few moments a day, the fog lifted, and submerging myself in the cold water was a way to find myself again. It was what got me through the winter. Whether it's grief, sadness, frustration, anxiety, or just craving stillness that brings us there, as McArthur says, "all swimming does is just pour us back into ourselves."
It's not just a momentary mood booster, but a reminder of what we're capable of.
The mind-body connection may be why the water calls to us in moments of darkness. Both Kaur and Montstream have noted that many of the swimmers in their communities use the practice as a means of emotional healing. "Everyone has some kind of a challenge or a story that they're bringing to the water: a lot of trauma survivors, and people who have gone through really intense experiences," says Kaur.
Montstream has seen the same thing, noting the many people in her group who have struggled with grief and depression. Whether it's the water, the sense of community offered by gathering together on the cold shores, or a combination of both, their practice has been an opportunity "to help them smile again," says Montstream.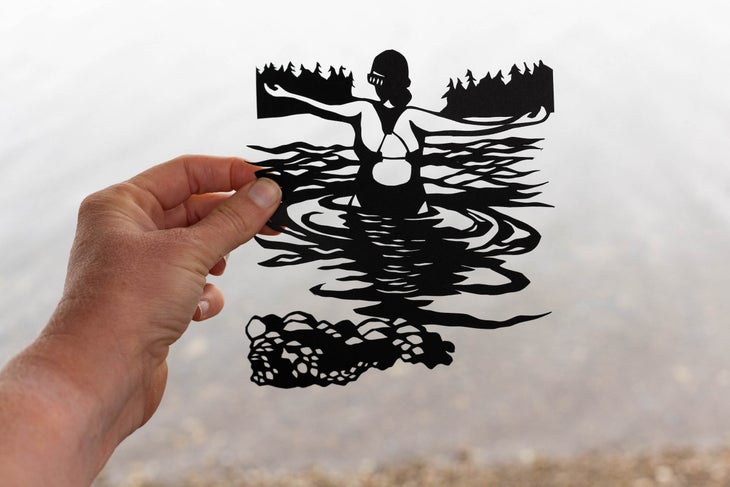 As the season wore on, I kept getting in. Late winter gradually shifted into early spring. The wool hat came off, and soon thereafter the neoprene booties. Eventually spring turned to summer. Inspired by the camaraderie cultivated in other groups, I asked a few local women if they wanted to swim with me. I figured if we started in summer I could get them hooked enough to keep going in the colder season.
In the Puget Sound, the water is never really that warm, and even with summer air temperature, it was a newfound challenge for some. We're women of all ages, and we go every Tuesday morning at 7 A.M. Some days the water feels warm, and others it's on the verge of prickly again, a reminder of that winter adrenaline rush. These days there are brown and orange maple leaves on the beach, rainy clouds on the horizon. Some of us swim out into the bay, some of us tread water and chat. We all laugh. As we towel off and change into our clothes, there are a lot of smiles. We talk about how we're already looking forward to the following week. This routine has become so cherished, I know that we'll continue as we cycle back into the darker, slower months.
Over the past year, swimming has been a constant reminder of some inevitable truths: the seasons will shift, the water will change. So will I, so will my emotions. But I can depend on that feeling of donning my swimsuit, sinking into the water, washing everything away, and beginning again.
Want to become less scattered and more focused in your life? Check out our Master Class: Meditation online course on Outside Learn, where Outside+ members get full access to our library of more than 50 courses on adventure, sports, health, and nutrition.
Lead Photo: Luc Revel