Consumed
Whitewater kayaker Hendrik Coetzee had decided to call it a career after a decade of first descents on the wildest rivers in Africa. The river's most feared predator had a different ending in store.
Heading out the door? Read this article on the new Outside+ app available now on iOS devices for members! Download the app.
The lone African explorer drags his kayak ashore and begins to collect firewood from around the little beach on the left bank of the White Nile. It's April 10, 2007, and the day's descent of some of the continent's most powerful rapids has worn him to exhaustion. But he can't sleep. Not without fire. He's also careful not to stray beyond the jungle's green curtain—this is Uganda's Murchison Falls National Park, after all, home to the world's densest populations of hippopotamus and Nile crocodile, one an extremely territorial 4,500-pound vegetarian with six-inch dagger tusks and the other a voracious 12-foot-long opportunist.
The explorer is Johannes Hendrik Coetzee, 32 years old, five feet eleven, with a thick build and a receding hairline shaved to skin. He's a former South African Defence Force medic and a giant in the world of whitewater exploration, having organized and led a historic source-to-sea descent of the Nile in 2004. Though he's charismatic and charming, the kind of guy who changes the gravity in any room he enters, he now prefers to travel alone. Four elite teams have descended Murchison's two-day section of Class V water before now, and Coetzee was on three of them. But nobody had ever tried it solo before this trip.
Now he sparks his fire in the quickening equatorial dusk, a lonely prick of light in a nearly 1,500-square-mile "chunk of untamed African savanna bisected by the mighty river Nile," as the park's literature proclaims. Below him, the river drops ferociously over a roughly 30-mile stretch before abruptly reaching the unrunnable 140-foot Murchison Falls itself, at the edge of the Rift Valley escarpment. The only humans this deep in the park are the rebels of the Lord's Resistance Army, which controls the right bank of the river and has, since 1987, been attempting to replace the Ugandan government with a strict Christian theocracy.
Hendri, as he's called, is an obsessive chronicler of his adventures. He takes mental notes that he'll later type into his laptop journal. Across the river, a big storm that's filling the sky is approaching. It's still far off and I sit and watch the lightning until it reaches me.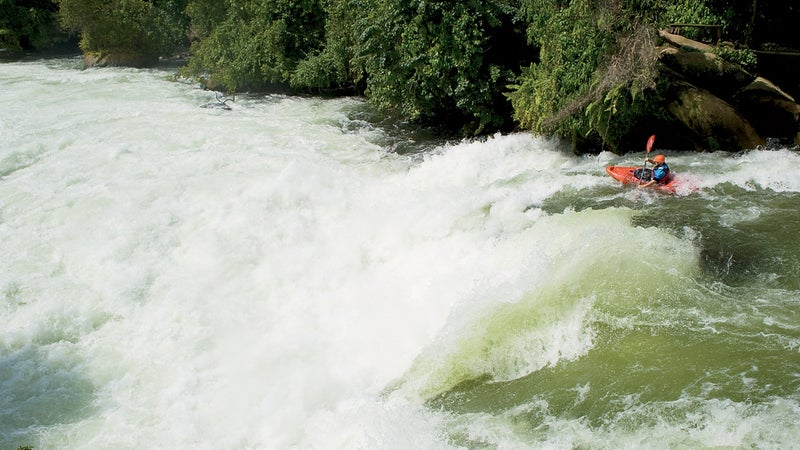 Barefoot as always, he feels vulnerable, but not afraid. I ask myself, Are you ready to die? I give it some serious thought. I believe I am. I look back on my life, and I feel satisfied.
He slides inside his bivy bag and falls asleep. During the night I am aware of the rain at times, of water inside the bivy. I'm a sitting snack for anything that likes meat, but I never fully wake until I feel the approach of dawn.
Coetzee unzips his bag, packs his boat, and slips back into the barreling 20-foot standing waves and terminal ledge holes. His Fluid-brand creekboat is seven feet three inches of plastic sealed with a neoprene skirt that locks over the cockpit rim and snugs around his rib cage. Coetzee balances through the tumult of 80-degree water in part with forward momentum, like a skier, but mostly by heaving his 195-pound frame, forehead tucked behind his leading elbow, into wall after wall of unrelenting chaos.
Then calm—but not safety. The eddies and banks are as dangerous as the rapids. The river is so narrow that I have to worry about the flat dogs on both banks.
The "flat dogs" are the crocodiles. Statistically, hippos may be the most dangerous animals in Africa, known to bite a man in half as the penalty for trespassing. But they can be summoned to the surface with a loud slap of the paddle and then avoided. Crocodiles are stealthy and indiscriminate, charging fearlessly at anything resembling a meal with only their eyes above the water. On Coetzee's 2004 Nile expedition, one launched itself out of the water at a crew member sitting on board a raft before the team hammered it back with paddle blows.
And so it is this time. I felt it before I saw it. A croc had managed to sneak within 50 feet of me. It was already time for plan B: throw a decoy. I had kept my helmet on my deck for just such an emergency, hoping that I wouldn't have to test this flimsy theory. Mid-stroke I lob the helmet. A few seconds later I look back; the croc is still coming hard, but at least it's a race. From my experience it seems that crocs have a short sprint speed. It gave up the chase shortly thereafter and swam toward my helmet.
Two hours later, Coetzee reaches the pool above the massive falls. He dodges a pod of hippos and climbs up the left bank to safety. His best friend and mentor, Peter Meredith, is there waiting for him high on a hill overlooking the river.
Coetzee is glad to be done, but he'll later write that he felt no relief. In the larger sense, he hoped that this audacious solo would cure him of his obsession with huge risks. But even as he peels off his gear, the itch is returning. Coming down off his "missions," as he calls them, Coetzee's restlessness and uncertainty have begun veering into depression. "For me it's not so much the bad times as the in-between times that are hard to stomach," he would later write to a friend, "when my life seems like a compromise not worth making."
He'll be back on the water again soon.
---
The British colonial towns of Victoria Falls, Zimbabwe (population 36,000), and Livingstone, Zambia (population 110,000), straddle the Zambezi River where it plunges some 350 feet over Victoria Falls and makes two nearly 180-degree cutbacks through a legendary Class V gorge. In the 1990s, the two cities formed a transnational tourism hub that rivaled adrenaline hot spots like Interlaken, Switzerland, and Queenstown, New Zealand. The gorge featured outfitters for bungee jumping, heli-tours, skydiving, and, most prominently, the world's most coveted stretch of guided whitewater. South African Peter Meredith had just started as the rafting manager for Safari Par Excellence in 1997 when 21-year-old Hendri Coetzee, fresh out of a year in the army, arrived looking for adventure.
"A friend came to me and said, 'I've just met this awesome guy. You should come meet him,'" says Meredith, now 42 and on an extended spiritual quest in India. "Let's grab him, and we'll do a sundowner on top of the gorge," the friend said.
Coetzee, who'd landed a job as operations manager at a helicopter sightseeing outfit shortly after arriving on the Zambezi, projected an infectious energy. He listened carefully and spoke clearly, fully engaging Meredith, who'd also served in the military. "There was an intensity about him," says Meredith. "Confidence shone in his eyes, and he had an easy and intelligent sense of humor." Coetzee, like Meredith, played chess and sought out pop philosophy books like Robert Pirsig's Zen and the Art of Motorcycle Maintenance and the eccentric novels of Tom Robbins. "In a half-hour I'd offered him a job," says Meredith, "despite the fact that he'd never been on a river in his life. It was unheard of. Generally, you'd never hire someone for a Grade V river until he had at least five years' guiding experience." Meredith's boss took a bit of convincing but ultimately relented. A month later, Coetzee was calling strokes for clients on one of the world's most difficult commercial rafting runs. It was like walking into Everest Base Camp having never worn crampons and suddenly guiding people to the summit.
He was also learning to kayak. "We taught him to roll in a swimming pool and then put him in the river," says Meredith. Another South African, Steve Fisher, 34, a top pro, recalls Coetzee as an extraordinarily aggressive novice. He'd found the thing he was truly good at—and he attacked it. Whitewater kayaking at an elite level requires extreme athleticism and an ability to keep both fear and risk in check. Early on, it was only this last skill that seemed to elude Coetzee.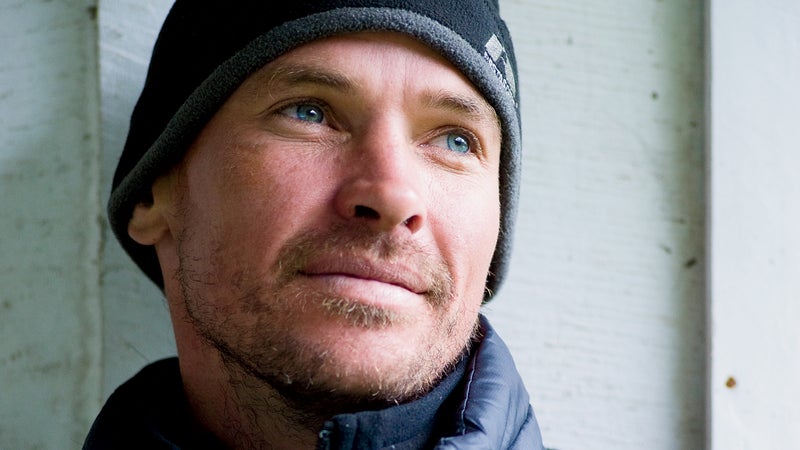 "He was a bit too eager," says Meredith. "He was really talented, but I had to hold him back." On one commercial trip, while the rest of the guides and clients portaged the rafts along the bank of a Class VI rapid called Number 9, Coetzee, without telling anyone, ran it in his kayak. "He barely made it through and thought he was the bee's knees," says Meredith. "He had more balls than brains at that stage. I told him that if he did it again, he was going to get fired."
According to Coetzee's mother, Marie Nieman, her son had always been both fearless and attention-hungry. Coetzee was born in 1975 in the small town of Ottosdal, in South Africa's North West province, two years after his sister, Charlene. In seventh grade, underdeveloped for a 12-year-old and suffering from a rash, he pinned a photo of himself to the school notice board along with a note: LOOKING FOR GIRLS—ANY GIRLS—BETWEEN THE AGES OF 10 AND 14. "He had all this stuff all over his face," says Nieman. "It was just a terrible photo."
Coetzee's father, Henk, was a major and an intelligence officer in the South African special forces, stationed along what's now the Namibian border with Angola. During the South African Border War, the family lived in the town of Oshakati, where they came under artillery fire from Soviet-backed Angolan forces on at least one occasion. In the manuscript of his unpublished memoir, Coetzee recalled the strange thrill of the bombardments.
When the explosions began I would crawl … under the bed, as instructed. My young ears delighted by the adventure of it all. This way I got to fight in the war just like my dad.
In 1986, Henk moved the family to Pretoria in time for Coetzee to start high school, which he found boring except for drama classes and theater productions. Shortly after he graduated, in 1993, Coetzee's parents divorced, partly because of the emotional toll of Henk's military service. "The war definitely changed [Henk]," says Charlene. "He'd seen things that nobody should see."
Nieman remarried about a year later, adding to the immediate family two stepbrothers and a stepsister, all close to Coetzee's age. Coetzee took off, spending a year on a kibbutz in Israel, then came back and ripped around on his motorcycle for a while before Henk helped him land a job with a tourist outfitter deep in the Namibian desert that took clients into the villages of primitive tribes. Henk made the long drive to the desert with his son in the fall of 1995 and, when Coetzee returned, encouraged him to join the military. Later, father and son drifted apart, though they never lost touch, and Coetzee would come to think of the Namibian experience as the beginning of his manhood.
---
Coetzee established himself on the Zambezi in 1997 and 1998, and during his time off used the cachet of his experience on the river to land jobs as a raft guide and safety kayaker in whitewater meccas like Norway and West Virginia. "He was simply not interested in making lots of money," says Celliers Kruger, the owner of South Africa's Fluid Kayaks, one of Coetzee's two sponsors. "He didn't even take all of the free boats he was allowed according to his agreement with me. He owned very little apart from books and a laptop."
In late 1999, after hearing stories of an epic stretch of whitewater on the upper reaches of the Nile that was bigger than anything anybody was kayaking at the time, Coetzee made his way to Jinja, Uganda (population 87,000), at the outlet of Lake Victoria. There, the Nile slides over a series of channelized cataracts that produce some of the world's biggest warm-water rapids.
A couple of rafting outfits had set up shop in Jinja, and Coetzee called Peter Meredith, who was still on the Zambezi. "He said, 'We need to guide in Uganda,'" says Meredith, who showed up two weeks later.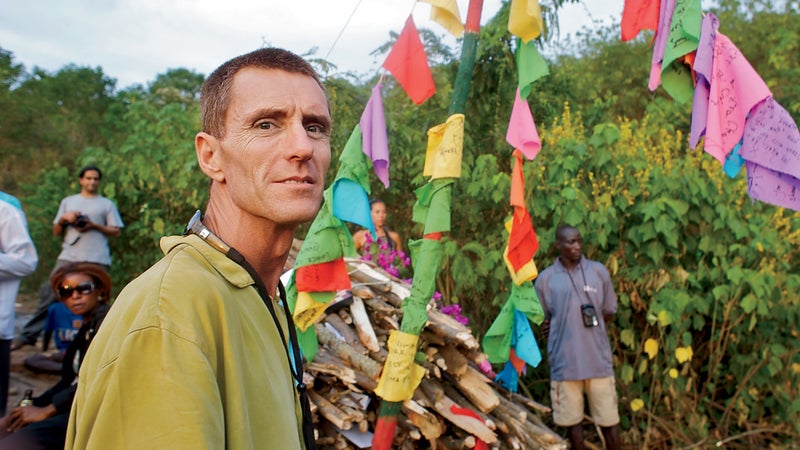 Coetzee and Meredith spent two years working for a company called Adrift. Along with other well-known South African paddlers, like Steve Fisher, who arrived in 2002, and Dale Jardine, they gave the area a reputation as kayaking's North Shore—the ultimate proving ground for both freestyle paddlers, who were developing new aerial maneuvers on the Nile's outsize standing waves, and river runners, who charged into roiling Class V drops. Coetzee claimed first descents on some of the more difficult rapids, including one called Dead Dutchman and a forbidding series of recirculating ledges on the right side of Itanda Falls. "I still don't run the right side of Itanda," says Fisher. When top American pros like Rush Sturges, Tyler Bradt, and Brad Ludden came to town, it was often Coetzee who showed them the ropes.
The Nile high season ran from May to August, and when it was over Coetzee would pick up and head to the next swelling river or just go on walkabout. During one break, around 2001, he stole away to Mombasa, Kenya, and began a solo trek south along the empty coast, carrying a small backpack, intending to walk 1,500 miles home to South Africa.
About two weeks into the journey, he stumbled upon a remote coastal lodge in what is now Tanzania's Saadani National Park. Among the guests was Jonathan Yevin, a magazine writer and a popularizer of luggageless travel. "This dude just wandered off the beach," Yevin recalls. By then, Coetzee had walked 200 miles. Yevin invited him to dinner with the lodge's owner, Costa Coucoulis, who couldn't believe that Coetzee had simply appeared out of the wilderness. "We sat at the staff table, and Costa opened this special bottle of wine," says Yevin, who would correspond with the explorer for years. The next morning, Coetzee walked back into the bush.
---
The rock garden is a sprawling strobe-and-gel-lit outdoor nightclub attached to the posh Speke Hotel, on Nile Avenue, in the center of the Ugandan capital of Kampala. It's the sort of place where locals and expats sweat into the early morning dancing to American music from the eighties. Coetzee and his Jinja paddling friends frequently made the hourlong drive to Kampala to let loose. It was on one of these excursions, in late 2002, that Coetzee first met Juliana Buhring. At the time, the encounter must have looked like just another hookup to Coet­zee's friends, but it was the beginning of a surreal courtship between two people on a similar search for meaning.
As Coetzee would later describe it in detail, Buhring, a striking then-21-year-old German national living in Kampala, was standing with her back to the Rock Garden's VIP bar. Coetzee, who'd taken ecstasy that night, lingered at the edge of the shadows nursing a Red Bull and vodka. Their eyes met and Coetzee held her gaze. They walked toward each other until their faces were only inches apart.
"You can't keep your eyes off me," said Buhring.
"And you are just dying to kiss me," Coetzee replied. She took his hand and led him into one of the dark corners of the club.
"We were like two magnets," Buhring says. At last call, rather than ruin "the perfection of the moment" by asking for each other's phone numbers, they simply parted ways.
They crossed paths again, by chance, at a New Year's Eve house party in Kampala that same year. "He walked straight up to me and kissed me," says Buhring. "We hooked up in the car park."
After that, they saw each other from time to time, and Coetzee took Buhring on a commercial raft trip down the Nile. "We were always like two wanderers, and whenever we passed it was like no words were ever spoken and we were together in that moment," says Buhring. "It was only later that we actually started to talk about why that was."
Meanwhile, Buhring was keeping a secret, leading what she describes as a double life. She'd been born into the notorious Children of God cult and endured a torturous upbringing, forced into sex acts with the group's elders and with other children and sent into the streets to beg for money. Buhring, who traveled through 35 countries while with the group, says she "was just in the process of leaving the cult" when she met Coetzee. Later, in 2007, Buhring and two of her sisters, Celeste and Kristina Jones, recounted the abuse they'd suffered in their bestselling memoir, Not Without My Sister. "I've always managed to separate my life in the cult and my life outside it," says Buhring. "I was never a believer."
She and Coetzee kept up their itinerant romance until 2004, when Buhring finally broke away from the Children of God. After that they lost touch, and in 2006 Buhring left Kampala for good. But while they were apart, Buhring maintains, "we knew what each other was thinking, even across time and space."
---
In early 2004, Coetzee set off on the most prominent expedition of his career, a four-and-a-half-month source-to-sea rafting trip down the Nile with Peter Meredith. The adventure was the first in a string of increasingly bold projects that would define the rest of his life.
Coetzee and Meredith had spent the better part of the previous year organizing the trip and convincing the Sudanese government, as well as its enemy, the Sudanese People's Liberation Army, that allowing paddlers to cross through a war zone would be an act of peace.
Meredith and Coetzee met up with four other expedition members on Lake Victoria and set off onto the outflowing White Nile. The most challenging aspect of the journey turned out to be internal politics. The team included a cameraman, a doctor, a South African oarsman and mechanic named Frazer "Bingo" Small, who co-owned Jinja-based outfitter Nile River Explorers, and Kiwi expat Natalie McComb, an overland tourist-truck driver and logistics whiz whom Coetzee knew from Jinja. Coetzee and Small were almost immediately at war with each other.
"Hendri was the most experienced on the water but maybe needed more experience organizing people," says Small.
"Hendri was the youngest," adds McComb, "but he was insistent on being the leader, to such a degree that he was not taking advice from his elders."
Though Coetzee came across as brash to his teammates, he was aware that he was a big part of the problem and later reflected on his shortcomings in his journal. My untested idea of leadership consisted of letting the team decide, until I thought they were wrong. If their being wrong threatened, in my opinion, the safety or objectives of the expedition, I then overruled them. I figured that as leader they would then follow me. Turns out I knew little about leadership and even less about my group.
When the rafts reached Sudan, Small "bailed," according to Meredith. Small now downplays the conflict and says he had plans to meet his family in Cairo. Either way, tensions eased and the friendships mended.
Despite the arrangements with the government and SPLA leaders, who were observing a cease-fire at the time, the expedition suffered a close call with a government gunboat in the flatwater of Sudan. To limit their time in the area and avoid detection, the team floated 24 hours a day and didn't use any lights at night. The gunboat, which could have easily mistaken them for rebels, happened upon them in the dark.
"We tried to be quiet and hoped they wouldn't notice us," says Meredith, who didn't know whose side the boat was on. "But they did. We heard rifles cocking in pitch dark. We could see them, because they had lights, but they couldn't tell who we were." The soldiers never attacked.
In the end, only Meredith and Coetzee completed all 4,130 miles from Lake Victoria to the Mediterranean. (McComb was with them at the end, but she'd skipped the Murchison Falls section.) They finished a few weeks after a less ambitious but better publicized source-to-sea expedition down the 3,200-mile Blue Nile, led by American Pasquale Scaturro, and were largely ignored by the media. The little coverage they did receive focused on the controversy caused by Coetzee's billing of the trip as the "first-ever source-to-sea Nile expedition." The claim was quickly contested by supporters of American John Goddard, who in 1951, along with two Frenchmen, had traced the course of the river using cloth-shelled folding kayaks. Goddard, now in his mid-eighties and living in Los Angeles, had published a story about the adventure in the May 1955 issue of National Geographic, which Coetzee discounted due to Goddard's 125-mile portage along the Murchison Falls area.
"We were forbidden by the Ugandan authorities," says Goddard, citing the kind of bureaucratic block that remains a major obstacle to explorers in Africa. "Their bottom line was: We don't have the resources to look for your bodies." During the trip, he shot a 13.5-foot crocodile with a borrowed gun. In one of the National Geographic photos, Goddard is wearing the reptile's severed head like a helmet, his smiling face, tongue stuck out, encircled by the jaws.
Coetzee eventually recognized the audacity of Goddard's journey and came to see him as a kindred spirit from another generation. He reached out over e-mail to set the record straight. "I have given the Nile issue a lot of thought over the years and have concluded that I was wrong," he wrote Goddard in 2009. "If someone comes along and does the few rapids I missed, will it then make him the first? You deserve the title of first descent." Like so many other people Coetzee met through circumstance, Goddard became a friend and stayed in touch.
Coetzee's Nile conquest, which was featured in a 2005 National Geographic documentary film called The Longest River, was the kind of résumé piece that could have made him into a river-running celebrity who gets paid to travel the world. But the infighting and first-descent controversy had soured him on big-time expeditions. Rather than step into the spotlight, he shrank from it.
---
Coetzee's next adventure was a turn inward. While continuing to live in Jinja, he completed a degree in psychology through a distance-learning program at the University of South Africa in 2007 and began considering a Ph.D. thesis that would explore the link between the euphoric states he was experiencing on the river and similar feelings described by the devout.
"It is now clear to me that these peak experiences are gateways to something bigger and more powerful," he wrote to one professor, "though I hesitate to use the word God."
"Hendri and I were always looking for answers," says Meredith, "which was probably one of the things that helped forge our bond. His adventures became a tool for exploring himself as much as the rivers."
It was during this period of reflection that Coetzee started running the more dangerous rapids around Jinja alone, often at dusk. Other paddlers wondered whether he had a death wish. After his solo Murchison Falls run in 2007, Coetzee's mother had repeatedly encouraged him to settle down. Instead he set his sights on an unprecedented solo descent of the Congo and its tributaries, calling on John Goddard, who'd paddled the river shortly after descending the Nile, for advice.
Beginning in the spring of 2009, with little more than his kayaking gear and a change of clothes, Coetzee spent five months paddling an enormous section of the Congo, the world's second-largest river by volume. The trip, which he funded himself for $4,000, was everything he'd hoped for—"the mission of my life," he later wrote—but it began in frustration as he waited for his shipped kayak for six weeks in Kisangani, the third-largest city in the Democratic Republic of the Congo (DRC), some 1,300 miles up the river. As always, it was this "in-between time" that caused him the most anxiety. He would later describe his feeling to friends in an e-mail: "The amount of self-doubt, loneliness, hope­lessness I felt sitting around day after day in a hotel room watching my money float away. The only thing that saved me was writing."
When he finally got on the water, he was exalted by both the rapids and the wilderness. "Nights were spent on sandy beaches with a campfire surrounded by jungle, water, and sky," he wrote. "The Congo has the worst reputation in Africa, but I think that's unjustified. It's the heart of Africa, but it's not the heart of darkness."
Coetzee was told by locals that the long stretch of flatwater down to Kinshasa was inhabited by the Ngombe tribe, alleged cannibals who had reportedly killed and eaten two Belgian canoeists in 1989. To avoid the danger, he boarded a commercial commodities barge for the three-week voyage downstream. Each night, when the barge tied up along the bank, Coetzee would slide his kayak into the river and paddle in the darkness to maintain his fitness.
After a few nights without trouble, he was floating about 400 yards upstream from the barge when he heard a piercing scream. It was a war cry. In the moonlight he saw six dugout canoes, each roughly 20 feet long and powered by four standing Ngombe tribesmen holding long wooden blades like stand-up paddleboarders. He recounted the incident in his memoir.
Screaming angrily they charge at an angle that will cut me off from the barge. In perfect unison the men bend double, throwing their body weight onto long thick paddles. The distance between us is closing fast.
Coetzee realized he couldn't outpaddle the canoes, so he charged them like a running back, breaking their line. The paddlers simply spun about on their boats and began chasing him down as he raced back to the barge. Coetzee screamed for help from the passengers on the barge's deck, who'd just finished their evening church service. As the dugouts closed in, the men closest to him swung their long blades within inches of his head. Several blows thudded heavily against his stern. Soon the canoes overtook Coetzee, and a tribesman lassoed him from six feet away with a nylon rope. He was caught.
"Kimya, kimya!" he yelled, using the Swahili word for "calm." The men stopped swinging at him but tied another length of rope to the rear grab loop on his kayak and began towing him upstream.
"Sir, I have friends on the boat. I want to go back to them!" Coetzee shouted, this time in English. When one turned and yelled something at him, Coetzee rubbed his thumb and first two fingers together, making the universal sign for money.
The canoes stopped. One man stood over him, bending down, screaming unintelligibly, spittle flying, while a pregnant woman in another boat egged the man on. The hesitation was enough, though. In the distance, perhaps 300 yards away, shouts came from the barge as it steamed toward them, spotlights blazing.
When the barge arrived, a boy on board reached over and attempted to untie Coetzee's bonds before being slapped away by a warrior. Finally, the two sides reached an agreement. Coetzee was untied, and barge passengers pulled him aboard, kayak and all.
Coetzee later asked what the tribesmen had been demanding. A passenger told him, "They were saying, 'This is our white guy.' They were going to eat you." For the remaining two weeks of the barge trip, Coetzee stayed on board.
And yet somehow Coetzee still hadn't faced the most daunting part of his expedition. Unlike most rivers, which go flat near the sea, beyond Kinshasa the Congo drops more than 900 feet in its last 300 miles. Livingstone Falls and the Lower Congo Rapids produce 20-foot-wide whirlpools and exploding boils. The water is unnavigable in a large vessel, but a kayaker can bounce through.
Before setting off on this final stretch, Coetzee wrote a letter to his mother and left it with American scientists working in Kinshasa, with instructions for it to be mailed if he disappeared. Then he pushed off into a series of rapids hundreds of times more powerful than the biggest sections of the Colorado River through the Grand Canyon.
---
Coetzee came off the Congo drained and lonely. Instead of filling him with insight, the epic trip had left him empty. In September 2009, as if she knew what he was feeling, Buhring sent him a Facebook friend request from England after being out of contact for five years.
"We started up exactly where we left off," she says. Their long-distance connection quickly grew intense. Through e-mails, texts, and Skype video chats, they found common ground in existential dilemmas and a passion for literature. In one note, Buhring compared Coetzee to the warrior figure in Brazilian novelist Paulo Coelho's The Fifth Mountain, who "suffers at indifference and becomes desperate with loneliness. After all this has passed, he licks his wounds and begins everything anew." Coetzee shared passages from Nietzsche and the Holocaust survivor Viktor Frankl, who believed in finding meaning through extreme suffering. "Hendri always thought there was nobody else like him," says Buhring, "but we were the same."
Coetzee was staggered to learn of Buh­ring's past through her book, and he asked her for advice on a memoir he'd begun writing. She picked at his armor, forcing him to explain his increasingly dark thoughts. "I would be lying if I said I have never thought of suicide," he responded. "I do not fear death. I don't think I will ever take my life in any conventional way … [G]oing on an expedition never to come back is, however, another matter." He also explained the paradox of the hypersocial solo paddler. "I am always alone," he wrote. "Even in crowds of people I consider friends, I watch myself and them like a spectator … Almost everybody bores me."
Within three months of reconnecting, though they still hadn't seen each other again in person, Buhring and Coetzee began to imagine a future together. Coetzee told her about Peter Meredith's transformation after meeting a woman he truly loved. "What they have is the real deal," he wrote. "It gives me hope, that happy endings are possible."
"Hendri didn't believe in marriage," says Buhring. "Neither of us do. But he wanted a companion to grow old with. He had this fantasy of being 70, lounging around reading the paper and me playing with his toes." Still, despite making almost daily contact with Buhring throughout the spring of 2010, Coetzee never told anyone about his feelings for her. More seriously than ever before, he contemplated retiring from exploration and launching an adventure inner-tube tour company in Jinja.
That July, he received an e-mail from American kayaker Ben Stookesberry with the subject line "Congo 2." Stookesberry, a 32-year-old Californian, and Chris Korbulic, 24, of Gold Hill, Oregon, two of the world's most talented expedition paddlers, were quietly planning to run the tributaries of the upper Congo River that Coetzee had skipped the previous year. There was only one person qualified to lead them. "He had the keys to the Congo," says Stookesberry. "I approached him with a great deal of respect."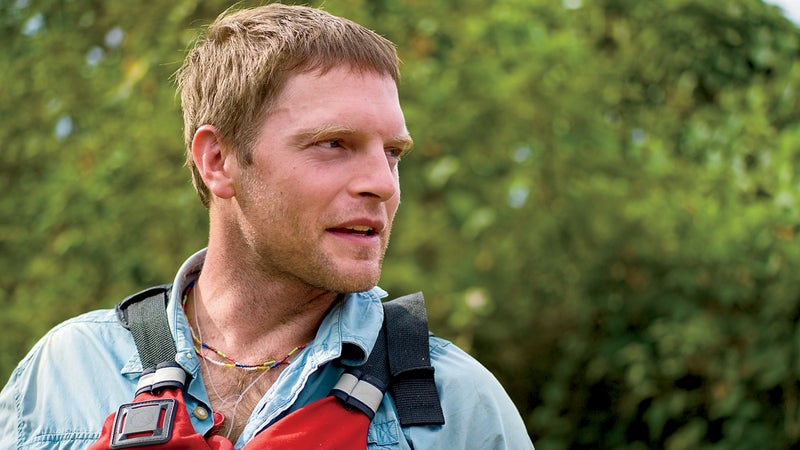 Coetzee didn't take the bait at first, writing back, "My focus has shifted a bit in the last year. I don't have any plans for epics, but I would be happy to help you with advice or contacts."
Coetzee quickly suggested a detailed itinerary. They'd start out in Uganda, warming up on the same section of the White Nile through Murchison Falls National Park that Coetzee had paddled solo in 2007. The rest of the plan included the Ruzizi River, which forms the boundary between the DRC, on the west, and Rwanda, on the east, with a string of Class V rapids that would be popular with expert paddlers were it not the front line of a smoldering war. After that, they'd take a water-taxi ride across Lake Tanganyika, home of Gustave, the 20-foot male Nile crocodile that has achieved mythic status as the killer of some 300 people, and put in on the outflowing Lukuga River.
But as Coetzee pored over the trip's details for several days, he found himself organizing an expedition he didn't want to miss. Suddenly he was offering his service as a paid guide. "I would love to paddle with you as much as this role affords me and 'guiding' when needed," he wrote to Stookesberry.
A few weeks later, Coetzee wrote to Buhring about his plans. "He made it clear that this was going to be the last expedition," she says. In October, Coetzee purchased a piece of property on the Nile. Soon after, Buhring bought an open-ended ticket to Uganda for New Year's Eve, though she never really believed Coetzee was done with his adventure. "It's like he knew his time was short and he had to fit one more in."
---
To be a kayaker in Africa is to be constantly warned that the rivers are too dangerous—too many lethal rapids, too many angry hippos, too many hungry crocodiles. Like John Goddard and others before them, Coetzee, Stookesberry, and Korbulic had simply come to terms with the risks.
The new team did, however, have one serious misunderstanding of the small rivers that feed the upper Congo. The general rule in Africa is that alpha predators are still no match for men with guns, meaning that crocodiles and other monsters are at their most menacing in protected areas, where they can't be shot. For this reason, the team took particular care in Murchison Falls National Park, which is notorious for its aggressive animals. But on the Lukuga River, which is sporadically settled, "wildlife was never really one of our primary concerns," says Stookesberry.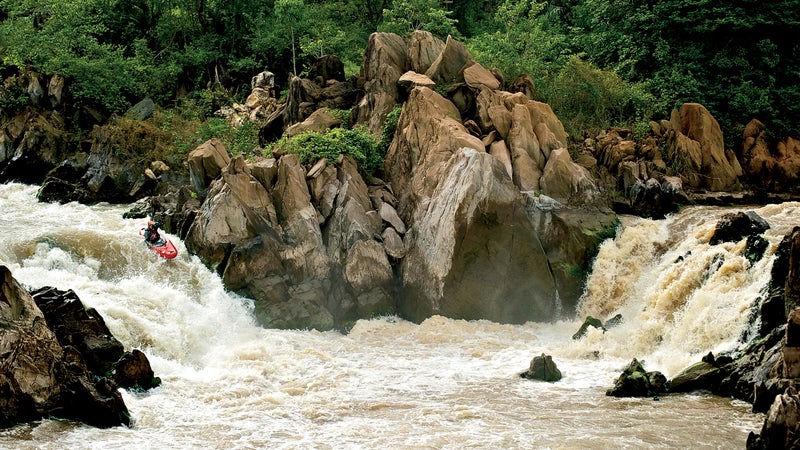 What the team didn't realize was that years of bloody skirmishes in the region had likely boosted the Lukuga's crocodile population. Many of the bodies of the estimated 5.4 million killed during 15 years of fighting have been dumped into rivers, where the reptiles developed a taste for human flesh and grew to enormous sizes relative to the waterways.
The expedition, which was sponsored by outdoor-clothing maker Eddie Bauer and covered regularly by this magazine's Web site, was to last two months, from the end of October through Christmas. The team had contacted the nonprofit International Rescue Committee (IRC), which helps refugees rebuild in war-torn countries, for help with logistics. In return, they'd report back on the status of remote villages. Whether or not the paddlers had official permission from the Congolese government to run some of the rivers remains a bit fuzzy.
They began the trip in late October. After two weeks on the White Nile and a week exploring the Rwenzori Mountains, they crossed overland by minivan into the DRC at Goma, bribing the border guards with an extra $850 to accept the visas they'd already paid $550 for at the Congolese embassy back in Uganda. Their access point into the Ruzizi was at a hydroelectric dam just below the city of Bukavu. The Rwandan soldier who stopped them as they drove up to the dam briefly considered the colorful kayaks strapped to the roof and their outlandish request—to run rapids that must have looked to him like certain death—and turned them away. They appealed to a number of government officials without success. Still, in a posting on the blog he'd created for the trip, Coetzee seemed undeterred. River exploration in central Africa was always going to involve some bending of protocol, and the line was looking as blurry as ever. With a new dam proposed and the area likely to remain on a political knife's edge, we realized that this might be the last chance anyone gets. That and we really, really wanted to. … Desire overtook common sense again.
They scouted the lower gorges on rented motorbikes and made a plan to evade the guard at the dam and slip into the rapids. As they locked their spray decks into place and pushed off from the bank, they noticed people at the power station watching them. Coetzee filed another post reflecting on the moment. I was surprised at how easily we decided to run the first drop and then see what happened … My mind was spinning with the decision, the repercussions and the consequences, but strangely, inside it felt right.
So we went.
---
After completing the Ruzizi without incident, the paddlers spent the night of December 5 at an IRC guesthouse in Kalemie before putting in on the Lukuga. They drank Tanzanian waragi—local moonshine—and Coetzee smoked cigarettes while he regaled the two Americans with some of his father's hairier stories from the war in Angola.
"He revered his father," says Stookesberry. "He told us the adventures that we were getting into, and even what he had gotten into in southern Sudan, were nothing compared to what his father had faced."
Stookesberry and Korbulic went to bed, but Coetzee stayed up. In Italy, Buhring "had a weird feeling" and logged into Skype, even though Coetzee had told her he'd be completely out of contact. "He was there waiting for me," says Buhring.
In an hourlong text chat, they typed out their plans to reconnect on New Year's Eve in Uganda, where Coetzee would pick Buhring up at the airport in Kampala
HENDRI: The energy between us is going to be something to behold …
JULIANA: Hell, I can feel you halfway across the world …
HENDRI: … If ever there was incentive to survive a mission.
JULIANA: Please come back in one piece. I need all of you …
HENDRI: And you shall have it …
JULIANA: Safe journey my river god.
---
Late on the first day on the Lukuga, Korbulic spotted a 12-foot croc on the bank—bigger than anything they'd seen thus far on the trip. Coetzee quickly grouped the team together and laid out the protocol. They'd have to stay tight and pay attention to the banks. If anybody saw a croc, they'd accelerate as a group and try to outrun it before it got too close.
That night, the team stayed downriver of the village of Niemba, where they'd asked locals how the IRC could help them. Clean water and education were the first answers, but then, says Stookesberry, "a small fellow looked us straight in the eye and said that they still had a major problem, and that's crocodiles." Over the past 20 years, 125 people had been taken from the area.
It took the team two more days to complete the rapids.
---
On the clear, sunny afternoon of December 7, the river reached a hard 90-degree left-hand turn they'd seen on Google Earth. Stookesberry lagged behind after that last rapid and then noticed Coetzee signaling him forward. Korbulic had just seen three or four small crocs—"three-foot little guys"—slip into the water, so they grouped up and paddled hard. Stookesberry was leading on the left, Coetzee in the middle and slightly behind, and Korbulic on the right. "We were so close that Chris had to pay attention to Hendri in order to avoid clinking paddles," says Stookesberry.
They were about 250 yards farther on, in a channel less than 200 feet wide, when Korbulic caught a flash of motion in his peripheral vision, off the left side of Coetzee's stern and directly behind Stookesberry. He turned and saw a gaping pair of jaws arcing cleanly out of the water and towards Coetzee's body.
"Hendri yelled, 'Oh my God!'" recalls Stookes­berry. "I thought it was a joke. It was the intonation—it wasn't a scream; it wasn't desperate; it was this weird statement of fact, of reality. I turned and saw this massive fucking crocodile—bigger than anything we'd seen—and I didn't understand how something that big could have come out of that river without us having any inkling."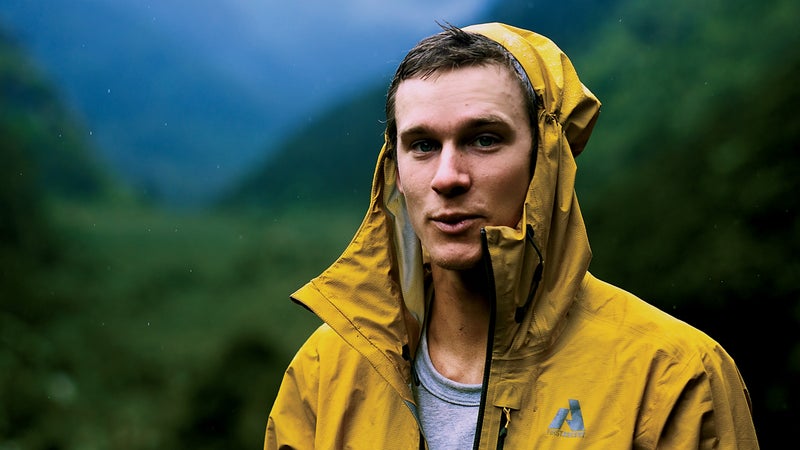 The croc locked onto Coetzee's left shoulder and pulled him under. "The kayak was all turmoil," says Stookesberry. "It was impossible to tell what was happening below. Chris was about two feet away, and I was about four feet back. Before we could even react, the kayak almost completely submerged. When it came back up, it rocked slightly to reveal an empty cockpit. "It didn't seem real," says Korbulic. "We paddled for our lives."
Unlike the surface-swimming crocs that the paddlers were accustomed to, this one had attacked from the depths, rising silently like a trout, then striking specifically at the human form. The entire episode lasted ten seconds, and they never caught another glimpse of either Coetzee or the croc, which, based on the approximate length of its head, was at least 15 feet long. A croc of that size, some 2,000 pounds, would have taken Coetzee to the bottom of the river, life jacket and all, and rolled him there until he drowned. He'd likely have lost consciousness in the first few seconds as the beast clamped down on his chest and neck with 5,000 pounds of pressure per square inch.
"Once we saw the croc, it was …" Here Stookesberry nearly breaks down in the retelling. "God, I lost all hope in that instant."
The two paddlers raced downstream for a mile, into the village of Kabeya Maji, where the locals initially ran from the frantic white men who'd suddenly appeared out of the river in helmets and thick vests. Stookesberry and Korbulic begged desperately for a motorboat to take them back upstream to look for Coetzee. They explained—using broken French and their arms extended in the universal sign for crocodile jaws—that their friend had been taken. But Kabeya Maji has no boats. The locals had given up on water travel after seven of them had been snatched overboard by crocodiles since 2006.
Twenty minutes later, with the entire village of several hundred people amassed on a bridge over the Lukuga, Coetzee's boat and paddle floated into view. His water bottles and kit were still neatly tucked into the center beam, and neither the boat nor the paddle showed any marks. It was as though he had been plucked from it by the hand of God.
---
In Italy, less than 24 hours later, Buh­ring logged on to Facebook and noticed something about Coetzee in her news feed—"some kind of tribute." She checked his blog, and condolences had been posted as comments on the page. "I asked one of his friends, 'What the fuck happened to Hendri?'" she recalls. The friend sent her a link to a news report. "Then I went to pieces. I stayed in my house for two days and cried. For the first week I held out hope that he would come crawling out of the river somewhere."
On the 31st, as planned, Buhring flew to Kampala's Entebbe airport. After clearing customs, she entered the mob of drivers and porters, tears hidden behind dark glasses, and hired a taxi to Kampala. "Although I knew it was ridiculous," says Buhring, "I still looked for Hendri's face among the crowd waiting outside."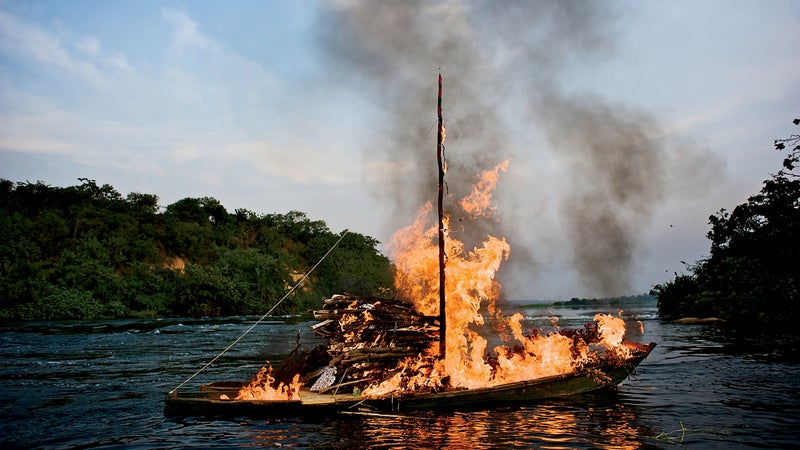 Pete Meredith and his wife, Leyla, had also come back to Uganda. He'd decided to carry on Coetzee's business, Zen Tubing, and settle in Jinja.
Stookesberry and Korbulic faced a tribunal in the Congo investigating the incident before being allowed to leave the country. They spent a week in Jinja with Coetzee's friends before returning to the States.
Coetzee's remains were never recovered. On January 7, Meredith, Buhring, Korbulic, Nieman, and around 200 of Coetzee's friends gathered in Jinja for a memorial. They placed written messages to him in a wooden raft, then set it ablaze and floated it into Itanda Falls.
Before he left for his last trip, Coetzee had e-mailed the 300-page manuscript of his memoir to Buhring, Meredith, and several others. He also left behind thousands of pages' worth of private journals, blog entries, essays, e-mails, Facebook posts, and chat logs. Taken as a whole, these documents portray a man who never did overcome his compulsion to pursue life by risking death. But in one passage, written shortly after his solo down the Murchison Falls, he appeared to understand it.
I need to believe that there is more to this world than what we know. I need to believe there is magic out there. I cannot believe these things blindly, though, and maybe that is why I had to do this mission—to prove to myself that we can do things which are bigger than ourselves. I needed to walk through a minefield to feel protected