Big-Wave Surfers Are Making SUP Cool
A few years back, a contingent of prominent pro surfers took up stand-up paddleboarding in spite of its reputation as a leisure activity of lesser wave riders. Can they convince the curmudgeons the sport deserves respect?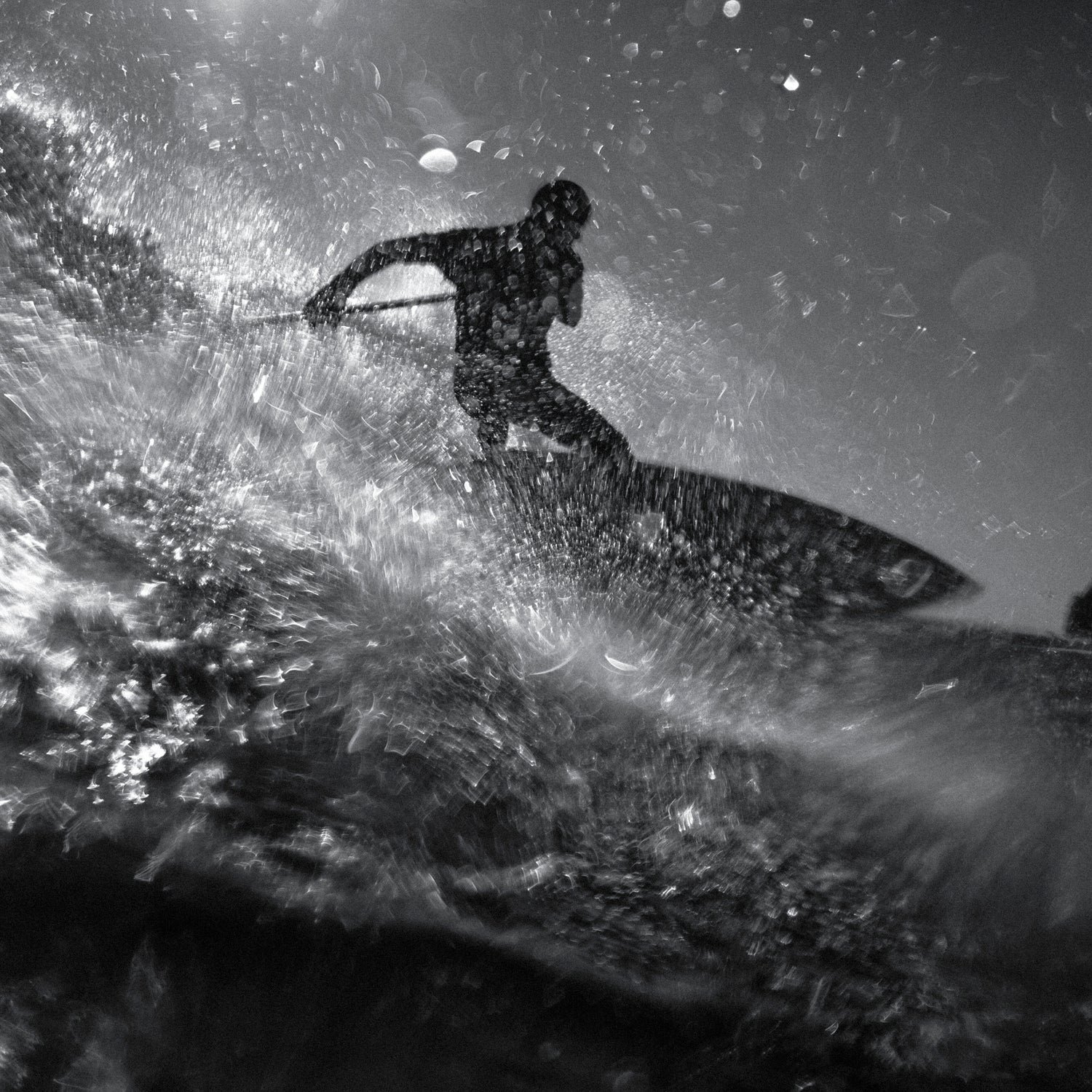 Robert Zaleski/Stocksy(Photo)
Heading out the door? Read this article on the new Outside+ app available now on iOS devices for members! Download the app.
On August 27, 2014—a day surfers would later call Big Wednesday—Laird Hamilton was recorded carving sweeping lines across the face of a perfect 12-foot wave near Malibu Pier. His style, as always, was mesmerizing, but it was the fact that he was J-stroking through double overhead surf on a hulking paddleboard that raised eyebrows. The most exciting moment came at the end of the ride when Hamilton "shot the pier," threading his 10-foot-plus board through its pillars at high speed. A few waves later, he did it again.
Since stand-up paddleboards were first popularized two decades ago, the bulging foam planks have become associated with old men and young kooks—"custodians," they're derogatorily called by cynics, due to their sweeping paddle motion—picking off ankle-swipers in knee-high surf. But in the last few years, some of the best surfers in the world have proven that SUPs are good for something else: charging the biggest waves on the planet. "It's just a more efficient way to be in giant water and in control of big boards," says Hamilton, who regularly does eye-popping things on his paddleboards. "It gives you a legitimate advantage."
"I'm surprised there aren't more people pursuing big-wave stand-up," Hamilton adds.
"There's really no money in big-wave stand-up paddling."
The best known big-wave breaks already have stand-up ambassadors: Raimana Van Bastolaer at Teahupoo in Tahiti; Kai Lenny, the 24-year-old wunderkind out of Maui, at Jaws; and Jeff Clark, the Godfather of Mavericks in Northern California, who has been paddleboarding in monster surf there for about eight years. "I paddle out into the gnarliest peak on the planet," Clark says, "and my equipment is on par with what I want to do."
Despite the cohort of heavy hitter devotees, however, stand-up paddleboarding remains an activity derided by surfers the world over. In 2014, surfers tried (and failed) to ban SUPs from Honolulu's lineups. Browse the digital pages of any surf blog or magazine and SUP jokes are unavoidable—"Forgive Me, Lord, for I Have SUP'd" reads one recent headline. "[S]tand up paddle boards, roller blades, segways, cross fit, vegans, all things the world could do without," posted one surfer in a forum on big-wave paddleboarding. 
Why the acrimony? According to Hamilton and other leading big-wave paddleboarders we talked to, it's a problem of mindset and marketing.
Surfers are a conservative, defensive bunch and, as Hamilton points out, most of the people into stand-up are novices. That makes it easy for hardened surfers to dismiss the custodians crowding their lineups. Furthermore, SUPs are big and unwieldy—cargo ships in a sea of small skiffs—and getting domed by a 12-foot board is significantly more dangerous than taking a shot from an errant short board. (Another factor that compounds the traditional surfer's irritation: a SUP's huge berth lets riders catch waves significantly earlier and many paddleboarders take advantage, effectively hogging the waves.)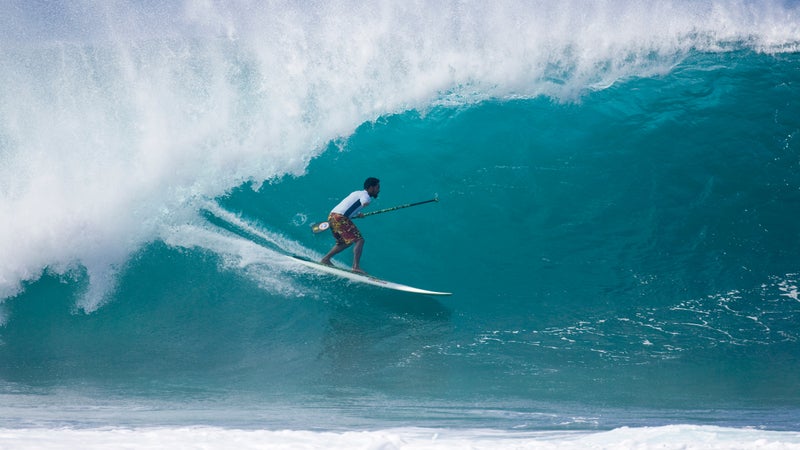 "I think it comes down to arrogance," says Haley Fiske, one of the handful of surfers who regularly tackles Mavericks on a SUP, on why prone surfers refuse to pick up paddleboarding. "It's like, 'All people on paddleboards are kooks and therefore they'll never be as good as me.'"
Kai Lenny laughs when I ask him about this debate. "I've had this conversation with a lot people," he says. Lenny looks at it like this: prone surfers don't realize how effective of a tool a SUP can be. Like Hamilton, Lenny is a genuine waterman. He excels at surfing and at SUP, and has won championships for his SUP surfing and long-distance SUP races, too. To watch him surf Jaws is a masterclass in riding big waves—regardless of board type.
"When you're already standing up, you can take off on waves much later, you can really stall and put yourself in more critical positions," he says. "When it's windy and surfers get spray in their face, you're above all that. When you have a paddle in your hand, it acts like a crutch. If you hit chop and you're going to fall, you can put the paddle in the water and catch yourself. And you can give yourself one more stroke to catch the wave or use it to pivot the board around the paddle."
Lenny says being up high also lets him see waves materializing further out, allowing him to get into position earlier. "When people see me paddle toward the horizon, they immediately start following now," he says.
In terms of market forces steering surfers away from SUP, the multibillion-dollar surfing industry revolves around traditional prone wave riding. So if you want to get sponsored, you need to stick to the discipline that's getting the most attention and exposure. "A lot of these guys, myself included, are trying to figure out how to make a living doing your passion," Hamilton says. "And that means you kind of have to participate in the system."
Fiske, who knows the crowd of Mavericks riders well, agrees. "If you want to be a pro and you want to get sponsors, you've got to follow the money," he says. "There's really no money in big-wave stand-up paddling."
Lenny, for his part, doesn't worry why he's the only person at Jaws on any given swell trying to paddle into 30-foot waves standing upright. "The only thing I am surprised and perplexed about is why nobody else would want to do it—it's so much fun," he says. "I almost feel bad for people who shoot it down. You have no idea, dude!"
Lead Photo: Robert Zaleski/Stocksy