Up a Creek? What California's Drought Means for River Sports
Record low snowpack in the Golden State means lower streams and, sadly, fewer opportunities to fish and paddle.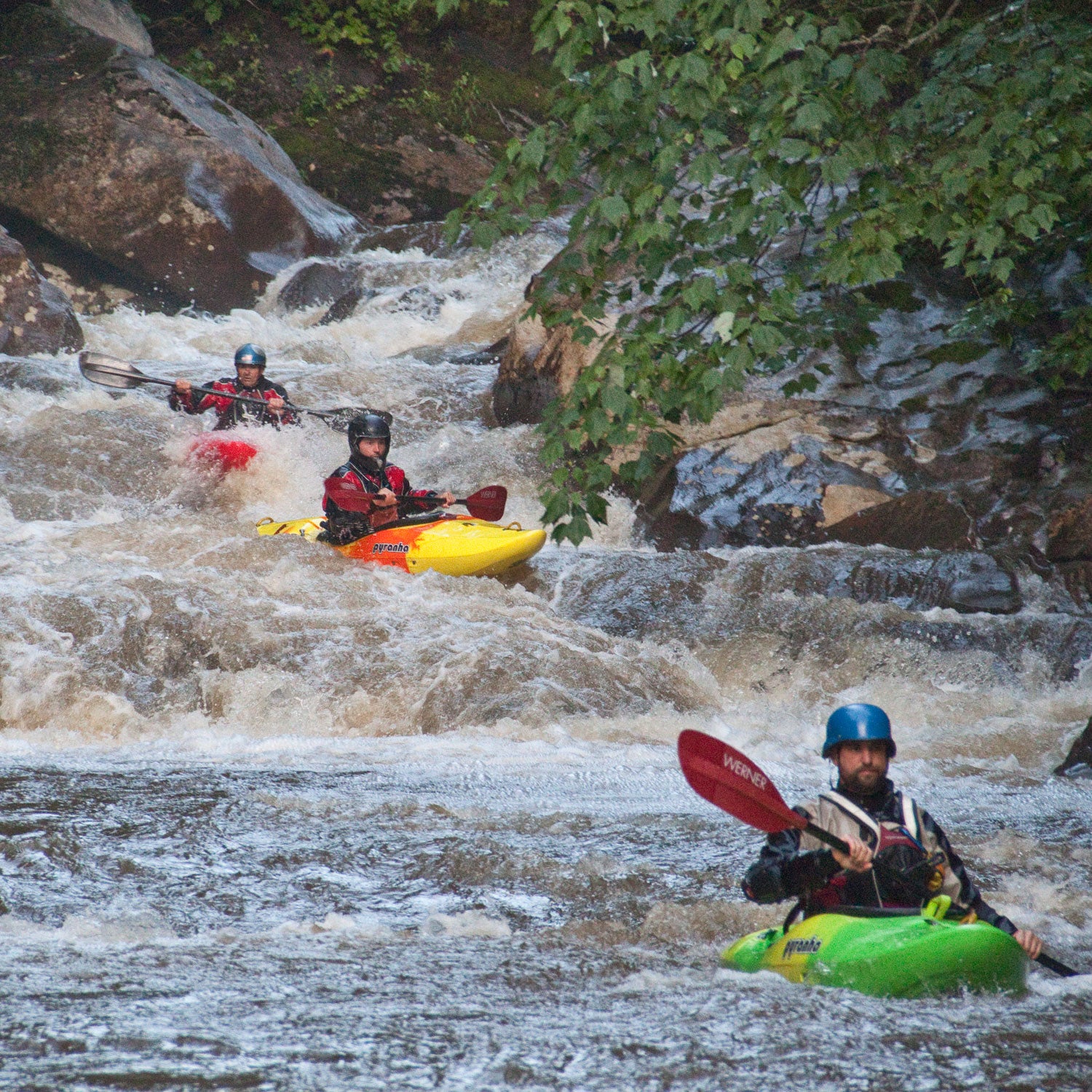 Heading out the door? Read this article on the new Outside+ app available now on iOS devices for members! Download the app.
Snowpack in the Sierras is critical to the state's water supply—it's also the feedstock for California whitewater. But this winter's snowpack was virtually non-existent, with water content at just 5 percent of the historic average. This would be bad any year, but as it punctuates year four of an historic drought, it marks a major crisis. Farmers and wildlife are bearing the brunt, of course. But the outdoor recreation industry is also taking a hit. Here's what you should know before making plans on the Golden State's waterways this summer.
By Paddle
The Kern River, the southernmost destination for rafters and kayakers, is not much of an option this year. Conditions are so bad that the 50-year-old Kern River Festival, an annual whitewater race of SUPs and kayaks, was cancelled for the first time in many years. Flows on both the upper and lower sections are low. It's so bad in the lowest stretch of river that Darron Nilsson decided to shutter his business, (unfortunately named) River's End. 
"I doubt anyone will operate on the lower Kern," he says. "Right now, nobody could get down the channel we [normally] raft." You could do it in an inflatable kayak or hardshell kayak, Nilsson says, but demand for those is generally so low that it doesn't make economic sense. People want the rush of muscling through whitewater, he says. "I would not want first-timers to think that this [flat water] is what we have to offer."
Further upriver on the Kern, where the water flows are a bit better, outfitter Sierra South is offering limited rafting trips starting next month and is renting inflatable kayaks right now. Seeking a silver lining, Nilsson says the extraordinarily low water downriver will allow for some decent river snorkeling this summer.
Further north, the Merced River is only running well enough for what Bob Ferguson, owner of Zephyr Whitewater Rafting, calls half-day family trips, which are more mellow rides down the river. Even those will be ending soon as Yosemite's thin snowpack dissipates, Ferguson says.
Other free-flowing rivers, such as the Kings River, are basically no-shows this year.
But on the dam-controlled Tuolumne River you can still find whitewater despite the drought. Ferguson says the dam releases ensure flows of about 1,200 cubic feet per second (compare that to the current 600 cfs on the nearby Merced right now) and Class III and IV sections are reliable until late summer. It's a similar story further north, on the American River. Scheduled dam releases will mean at least four days each week of good flows on the Class II and IV Middle Fork for most of the summer, and the Class III South Fork will be flowing at 1,200 cfs five days a week, says Scott Scheu, operations manager for Mother Lode River Center.
In addition to the drought itself causing problems for rafting outfitters, the perception of the drought is also hurting business, Scheu says. Would-be customers, not understanding that flow on the American River is regulated, don't even bother exploring the rafting options, he says. Last summer business dropped 13 percent for American River outfitters from the year before.
"Drought is a hard thing for us to deal with because we're not in the same predicament that people expect us to be in," Scheu says. In other words, Scheu and his fellow guides would really love to take you down the river this summer.
By Rod
Drought hurts anglers because it hurts their prey. Low water and high temperatures put stress on prized trout and salmon species and, as a result, their numbers can take a dive.
Last summer, high water temperatures linked to the drought, combined with "incidental hooking" of fish, led to the loss of nearly the entire population of brood stock Chinook salmon on the Sacramento River, explains Roger Bloom, environment program manager for the California Department of Fish and Wildlife. That forced the agency to close a 5.5-mile section of popular fishing on the river to anglers this summer. The closed area, just outside Redding, covers most of the salmon's spawning grounds and is just downstream from a dam.
Sam Davidson, communications director for the California chapter of Trout Unlimited, says most guides understand the necessity of the closure but many feel its benefit to the fish will be minimal because that same stretch of water will not be closed to motorized watercraft. "Those guys go wherever they want [on the river] and they'll buzz right over salmon nests," says Davidson.
Bloom says the agency lacks the authority to regulate boat traffic, but could make a strong recommendation that governing bodies do so. 
While the Sacramento River closure is the most significant drought-related closure in the state, it's not the only new step taken specifically to protect fish suffering from lower streams.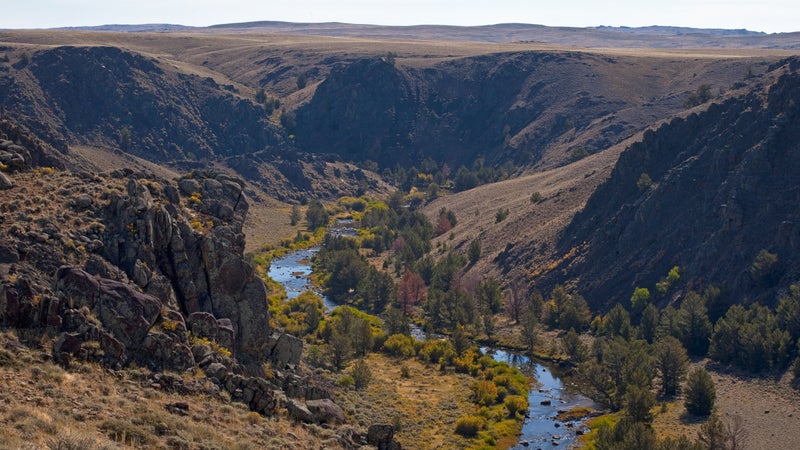 There is a bridge in Tahoe City, spanning the lake's outlet into the Truckee River, that is dubbed Fanny Bridge in reference to the derrières one typically sees driving over it, as pedestrians bend over the rail-guard to gaze down at a school of massive trout that live in the deep pool below. Or rather, that used to live there. Last fall, the water level dropped so low that the river and lake became disconnected, and the pool's dissolved oxygen and overall quality was falling dangerously low for the trout. So wildlife managers, with the help of some anglers from Truckee River Trout Unlimited and CalTrout, decided they needed to step in. 
"Over 20 anglers showed up and 30 fish were caught and moved to the lake," says CalTrout outreach coordinator (and Patagonia fly fishing ambassador) Michael Wier. The fish had been so coveted—but previously off limits—that some of the anglers were shaking with excitement, he says. But the excitement was short-lived. "We're definitely losing fishing opportunities right and left due to the drought—and even if rivers are not closed by law, for the Tahoe area rivers, it's not worth going there and fishing, closed or not," says Wier.
The Department of Fish and Wildlife has made some adjustments to its low-flow fishing requirements for rivers and streams on the central coast—all the details are in the 2015 regulations.
"We've been encouraging anglers to pay attention to water temperature and flows and to make conscious decisions about whether fishing is a good idea, one day to the next," says Davidson. 
On one hand, low water can be a sort of boon for fly fishermen because it allows them to access parts of the river that are normally too deep to safely fish. On the other hand, it can be rather unsporting.
"I look at stream flows and if they reach a certain level I'm just not going to go," says Davidson. "I know where the fish will be. They'll be schooled up." Easy pickings aren't necessarily good ones. "We don't want to insult the place and the fish that live there."
Lead Photo: Jeff Moore/Flickr