The Daily Rally
Ashley Bugge Dives into Her Grief
When her husband died in a diving accident, the writer refused to stop participating in the sport that had brought meaning to both of their lives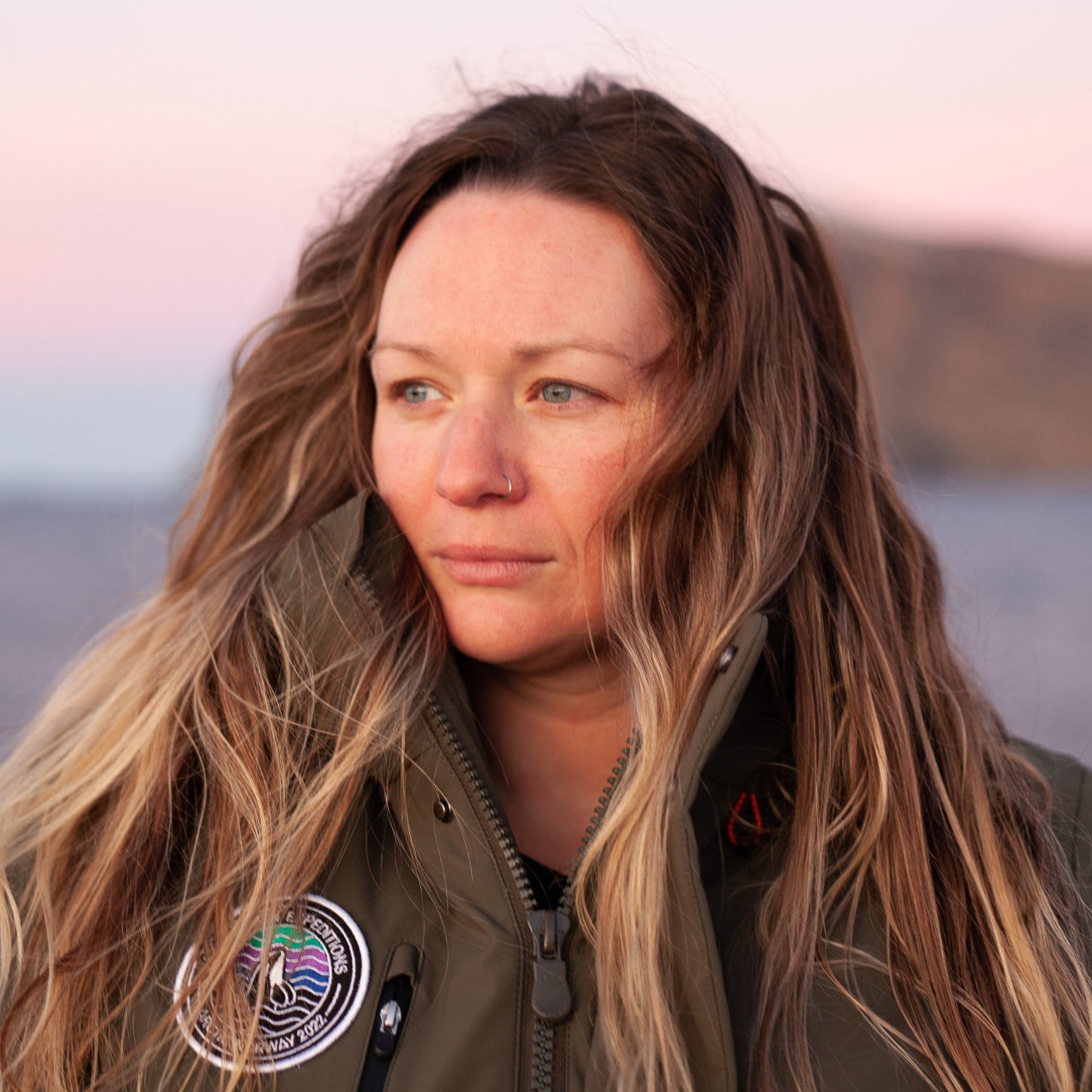 Courtesy Ashley Bugge
Heading out the door? Read this article on the new Outside+ app available now on iOS devices for members! Download the app.
Ashley Bugge told her story to producer Sarah Vitak for an episode of The Daily Rally podcast. It has been edited for length and clarity.
I was at home with my one and three-year-old, six months pregnant.
I got a call from the shop manager, panicked. Saying, "Is this Ashley? Is this Brian's wife? There's been an accident on the boat. Where are you? We're coming to get you."
I just went white. I remember shouting, "No, no, no, no, no, no." The kids are sitting next to me like, "What's going on, Mama?"
I am in my closet in Vancouver, Washington. So the Pacific Northwest. I'm a full-time author, so I write and I do a couple freelance jobs here and there. For fun, I am a master SCUBA diver and I travel on different expedition teams. I just got back from one in Norway swimming with some killer whales and humpback whales.
I'm a military widow. I'm raising three kids, ages four, six, and eight, on my own. Life is very busy.
Brian and I met when I was 19 and he was 20. We were both living in Portland, Oregon. He lived with my older brother's best friend, and they were all in this metal punk band. I used to go to his shows and I was like, Oh, he's kind of cute.
I was home from college and we ended up dating for the summer. We bonded over our love of the ocean. Any chance we got, we would drive out to the coast.
His big plan after dating eight weeks of the summer was, "I'm gonna join the Coast Guard and then we can get married." I'm 19 and I'm like, "Absolutely not. No way. I'm not ready to be married." And so we ended up breaking up.
We went our separate ways. I moved to New York City. He joined the Navy. We both lived very separate lives for 10 years, and then I ended up moving back to Portland. We still had a lot of mutual friends, but we just happened to connect about this band that was coming to town that we both liked. So we ended up chatting, and then he called me one day when I was at work. I went in the break room of the bank that I worked at, and ended up talking to him for over an hour.
I got off that phone call and I was like, I'm gonna marry him. He is still the man that I loved ten years ago. I was not ready then. I'm ready now. I am not gonna let this time pass us by. And we were married 11 months later on the coast in Manzanita, Oregon.
In 2013, which is the year that we got back together, I went up to his house at Gig Harbor. He had this flyer on his refrigerator and it said, "Learn to SCUBA dive, $99." And I was like, "We should do that." And he was like, "I know I've always wanted to dive and I've never tried it." And then, you know, life happens. He kept going on these crazy deployments. I was living in Portland and we had this long distance relationship, but his birthday was in June and my birthday was in August.
And because he was gone for basically those two months, when he came home, we exchanged both of our birthday presents. I gave him this envelope for SCUBA diving lessons, and he gave me an envelope, and he had gotten me SCUBA diving lessons
But, I ended up getting pregnant with our daughter, our firstborn, and so we had to push it off. But in 2014, when we were in Hawaii, we a discover SCUBA dive course. You go down 20 or 30 feet. We surfaced, and we hugged and we kissed and we said, "Oh my God, this is it."
We were hooked after that. So from 2015, we just traveled the world with our kids when we could. We dove all around the world, and that was gonna be it.
He really wanted to learn to cave dive. That was his goal. He found, this class in Honolulu and signed up for it, and took a couple courses. As part of his training, he was learning to dive on a rebreather, which is a very technical piece of diving equipment far outside of recreational SCUBA diving.
There were all these just things that came up along the way that should have been red flags. At any point along the way, we should have said, "This is not a good shop. This is not how things should be done." But when you're excited about something, you don't worry about it.
It was a beautiful, beautiful, sunny hot Hawaiian day in May. That day was his last class for this basic certification. He used to buy this tea tree oil shampoo. I woke up and I could smell that coming outta the shower. So I knew he was in the shower. He came out, we went downstairs, we tiptoed past the kids' rooms, and made coffee. And just talked for a few minutes before he left, made a plan.
Our plan was always that he would text me before he got in the water, and then he would text me when he surfaced. That was our diving plan. Always. I always knew where he was, who he was with. He texted me that he was headed out. It was about eight o'clock in the morning.
My kids woke up, came downstairs. Our big plan was to go to Target for the day to get stuff for the baby. I was six months pregnant, and we were just sitting on the couch getting ready to go. Literally keys in my hand when my phone rang.
We raced through the streets of Honolulu to the hospital without knowing anything other than there had been an accident. I got to the hospital, and waddled my pregnant self across the parking lot, and ran inside and saw his whole dive team there that he had been in his class with.
They didn't know anything, but one of them told me that they had performed CPR on him. That was the first time that I knew there was at least a portion of the morning where he hadn't been breathing, and then it sunk in. I might be finding out that he's dead, that he's not here anymore.
Finally, my doctor and a security guard came out. As soon as I saw the security guard, I knew that that was it. There was no reason for a security guard to come out with a doctor unless they were telling me that my husband didn't survive. And soon enough, that's what they said.
He went out, and he had been trained to turn his oxygen off for the boat ride out, so he did that. He had his brand new camera on him, which he had never used before. The instructor had asked him to take pictures of the class.
So Brian was in the water with his camera, not paying attention to his gear, and basically hadn't turned his air back on before getting in the water. He used up everything he had in his closed loop system, and drowned right in front of his class, and nobody noticed. Eventually his instructor brought him back up, but it was too late.
Later that night, I got a call from the organ donation place. He had been an organ donor, and I had to consent to what they called the harvesting of his organs. I had to go through each organ—his skin, his tissue, his bones, his eyes, everything—and say either yes or no. You can have this, you cannot have this. It was just the absolute worst. It just doesn't get worse than that.
I knew he wanted to be an organ donor, so I knew that that was his wish. It was not up to me. However, he had these piercing blue eyes, and I couldn't imagine him without them. So I said yes to everything below his neck.
At the end of that phone call, they ask, "In the event that anything is able to be used, would you want to be contacted by the donor or the donor family? And I said, "Yes."
Almost a year later, I was preparing to fly back to Hawaii for the one year memorial. I had his remains turned into a living reef memorial, and organized his dive team to all fly to Hawaii, and we were going to lower his living reef memorial onto the ocean floor where he died. As I'm getting ready to fly back to Hawaii, I got a letter in the mail, and my heart just stopped. When I saw it, I opened it, and it said, "From your grateful recipient."
So almost a year to the date of his dying, I received a letter from Alyssa, who was the recipient of his ACL.
I got to read all about Alyssa and her family, and how Brian's donation has changed her life and let her continue to lead this really beautiful, adventurous life of running and hiking and climbing with her three boys. It just kind of went back and forth for a couple of years. I explained who Brian was and his love of diving and travel and adventure, and now she and I have this really beautiful friendship thanks to Brian and this donation, and this really, really, really awful phone call that I got to go through the night that he died.
When she flew to Hawaii to meet me and our kids for the first time, she got to dive to his living reef memorial, and put her hands on him and just complete this weird circle of him and her. We're all at the bottom of the ocean together, and our kids are on the boat above us, and it's just wild and crazy, but also really special.
I don't just miss him as my husband and I don't just miss him as the kids' dad. I just miss him. He was just this really incredible human. That doesn't go away. That's still a minute-by-minute thing. I just miss him.
We can't change the fact that he's not here, but we can use his death as a tool to help us live our best lives. So as a way to honor him, we literally get out there and just live the shit out of life every single day.
In one of his journal entries, he wrote, "I just don't have a bucket list. Tomorrow is not guaranteed and I don't want to waste any time." And that has just resonated so deeply with me. Don't, don't save this for some day. Don't make a plan for your future of this one event that you really want to do before you die. Instead, make the plan of how you're gonna make that happen now.
That's how my kids and I live. We live with no bucket list. We figure out what we want to do and we go after it.
Ashley Bugge is an author who chronicles her life as a young military widow turned polar explorer in her books, Always Coming Back Home and The Ocean is Calling. She's also a master SCUBA diver. You can learn more about her on Instagram @ashley.bugge.
You can follow The Daily Rally on Spotify, Apple Podcasts, or wherever you like to listen. Subscribe to our newsletter and nominate someone to be featured on the show.
Lead Photo: Courtesy Ashley Bugge
Trending on Outside Online