The Daily Rally
Shelby Stanger Rides a Life-Changing Wave
After she quit a stable career to pursue her dream of becoming a journalist, she realized she needed a big break—and found one in the middle of the Indian Ocean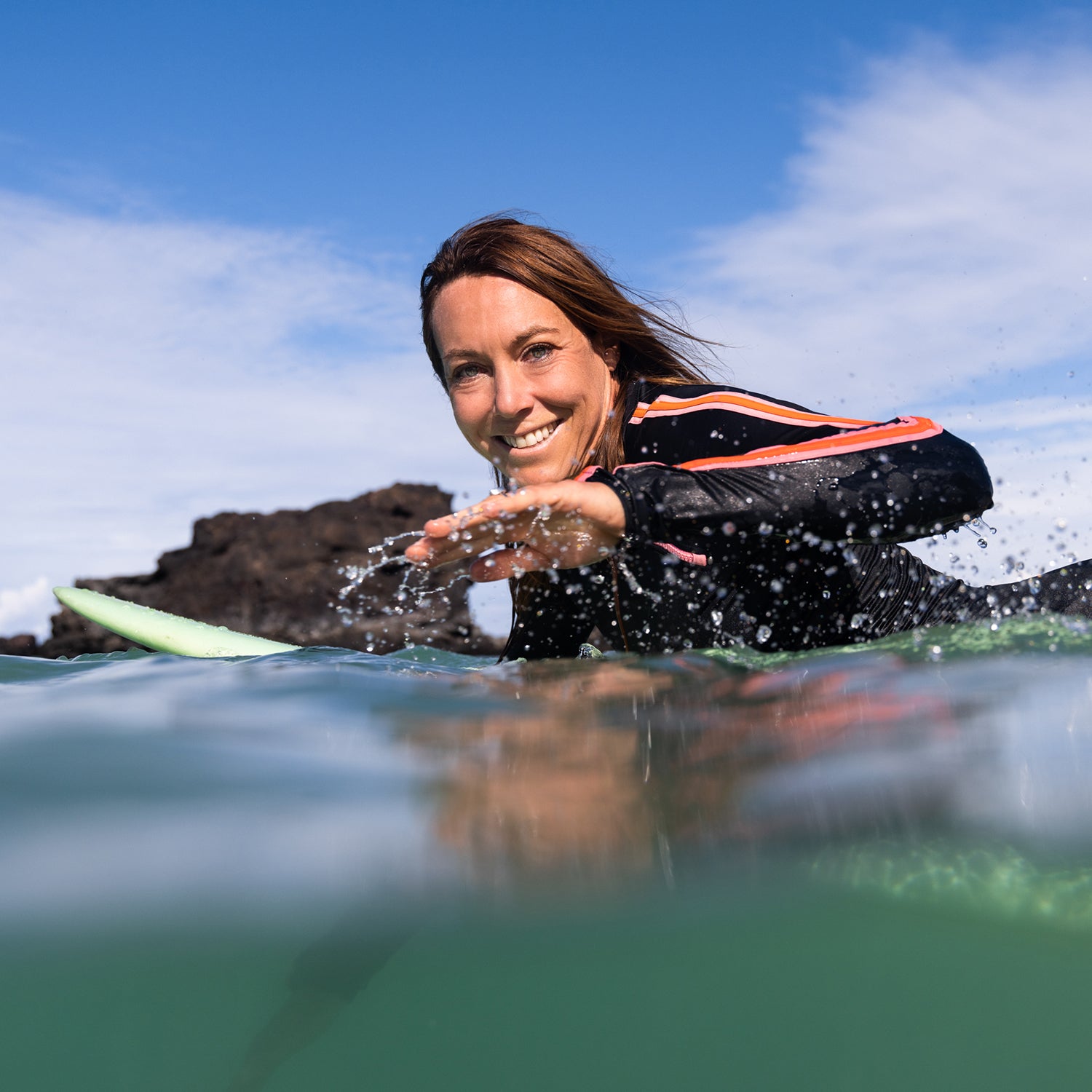 Sarah Lee
Heading out the door? Read this article on the new Outside+ app available now on iOS devices for members! Download the app.
Shelby Stanger told her story to producer Paddy O'Connell for an episode of The Daily Rally podcast. It has been edited for length and clarity.
It's about day four of this surf trip, standup paddle surfing these remote waves off of Indonesia. And I could have played the journalist card, but eventually I had to get out of the boat and actually ride some waves, and I was terrified. I decided to drop in on this one wave, and I really believe one wave can totally change your life. It did for me.
There's definitely nicknames: Shelby Stranger, Stanger Mouse. But people don't use that a lot anymore. Shelby Stanger is a pretty rare wild name itself, so that's usually what I go by.
I grew up in Cardiff by the Sea, California on the beach, and I live one town over in Solana Beach.
I am a podcaster, a storyteller, a people talker. I love people. I'm the author of a new book, Will to Wild: Adventures Great and Small to Change Your Life. I'm a surfer. I'm passionate about helping people improve their lives using nature and adventure. I'm a lover of harmless, debaucherous, joyful, fun.  Someone drew a sand wiener on the beach the other day and I was running and I saw it and it just made me laugh out loud. So I partake in sometimes drawing an occasional sand wiener on the beach, too.
It was 2009. I just quit my lucrative, stable job at Vans to become a freelance journalist, which was definitely not a guarantee. I found myself on a surf trip in the middle of the Indian Ocean with some of the top watermen in the world, surfing these waves that were way out of my league.
I'd never ridden waves like that in my life. These waves broke over sharp coral reefs, with fish below that could rival any aquarium. I was used to surfing on waves that were kind of soft and broke on sand, so the consequences were pretty low if I fell. And I had a lot to prove, not just to these guys, but mostly to myself.
Here I was flailing, trying to keep up with them in these waves where I kept trying to surf and I'd fall. My board was too small, I'd get held underwater, and I was scared.
There was this guy on the trip named Brian Keaulana. He happens to be one of the lead stunt men on all the movies filmed in Hawaii. He's this legendary lifeguard, he's literally linked to Hawaiian royalty.
All of a sudden, Brian and I are the only ones out in the ocean. And we're at this place called Muts, which in Australian slang translates to vagina. It was called Muts because it forms a barrel and there's a hole inside, and whoever named it was disgusting. But despite its sexist name, it was a beautiful left, and I'm a goofy foot. So I was in the right spot with the right guy.
A wave starts coming towards us and it's shaped almost like a triangle, this thing had a big point. And he looks at the wave, he looks at me, he looks back in the wave and he says, "Shelby, you gonna go?"
And I wanted to go. I mean, I definitely wanted to go, but I was terrified. Falling could mean wrecking the surfboard I just borrowed, wrecking my face, or making a total fool of myself, but I just was like, OK, when Brian Keaulana asked you, "Are you gonna go," it really means you better go, or you're gonna be sorry.
So I turned my board around. I pointed it towards where I needed to go. There was no beach. It was just a reef break in the middle of nowhere. And I paddled my little heart out.
The wave picked me up, picked my board up. Somehow I got to my feet and I started zooming at what felt like lightning speed. My fins made an actual hissing sound. I was going so fast. It was sort of like riding a skateboard down a steep hill, and it started wobbling, and I was like, Oh, great. But I kept saying, make it, make it, make it.
I was pretty sure I was gonna fall, but I just had faith, I was like, I'm gonna make it, make it, make it, make it.
Then this wave started to get really steep. So steep that it threw its lip over my head.
I was in the barrel for what felt like forever, but was probably in reality a fraction of a second, and I would normally close my eyes because it's kind of like going down a really steep roller coaster. It's really scary. And you know, sometimes you just close your eyes in those scary moments. But I'm so glad I had them open because all I saw was crystal clear water all around me.
It was just an incredible feeling. I've never seen anything like that, haven't since, and my cells just felt electrified.
Now, after the wave ended, I was like, Man, the only thing that would've been even cooler is if someone had been there to actually capture this wave. All of a sudden a hand rises out of the water with a camera housing, and the photographer for the trip just happened to be in the channel right then. Caught it all on film, and you can see me in this photo. I have the worst style. I'm in poo stance, my butt is sticking out into the air. I'm bent over. It's not what a cool surfer looks like. Most surfers see that wave and they're like, "You weren't really barreled." I'm like, "Whatever."
Everybody knows there's something magical about water hitting water. It's why we go to waterfalls. It's why we go to rivers. It's why we go watch waves break. Scientists have tried to explain why there's some theory about negative ions, but I couldn't really dig up any research that officially proves it.
But I would later interview an older surfer named Mickey Munoz. He's this old, legendary surfer, and he said he once caught a wave so good in Indonesia, he came out the other side 10 years younger. He says the wave literally changed his cells, and I got what he meant finally at that moment. I feel like sometimes we do an adventure and it gives us so much courage, so much stoke, so much thrill, so much beauty, so much awe, that we're changed.
And that wave in some ways really changed me because it gave me courage. I dropped in on a wave that absolutely terrified me. It was so thrilling. And when you do a big adventure, you have that moment forever for the rest of your life, and it'll carry you.
I had been really stuck and scared to quit a job that was perfect on paper and at the height of the recession everybody told me I was so lucky for having. It was the envy of many friends. I had made a lot of pro-con lists about quitting my job to become an adventure journalist, and it never added up on paper. Being an adventure journalist is a really dumb idea, and everybody told me that, but I wanted to do it. I wanted to try it. I wanted to tell stories.
I knew I needed to change my situation. I was just scared.
And so I think that what it taught me was that some things in life aren't gonna make sense on paper, and that sometimes you can't make a decision using a pro-con list. It doesn't always add up. Just like sometimes you're gonna drop into a wave that you think you're not gonna make, and you end up making it.
I could have just stayed on the boat where the only thing that was sure is that I would end up seasick or sunburned. But dropping in, sure, I might've gotten worked, I might not have made the wave, I might've fallen, I might've hit my head, I might've damaged the surfboard. But I ended up catching the ride of my life.
So, go. You have nothing to lose.
It's always better to at least try than to be stuck in fear and not go. And then once we do that out in the wild, we can take that to the rest of our everyday life. It's gonna be a lot of work, but go for it anyway.
Shelby Stanger is an adventure journalist and creator of the Wild Ideas Worth Living podcast. Shelby has surfed all over the world and her new book Will to Wild: An Instruction Manual for Embracing Adventure is out now.
You can follow The Daily Rally on Spotify, Apple Podcasts, Stitcher, or wherever you like to listen. Subscribe to our newsletter and nominate someone to be featured on the show.
Lead Photo: Sarah Lee
Trending on Outside Online