The Daily Rally
Tiffany Duong Refuses to Disappoint Herself
She was a very unhappy lawyer until she took a scuba trip to the Galapagos that convinced her to give up her career and become an explorer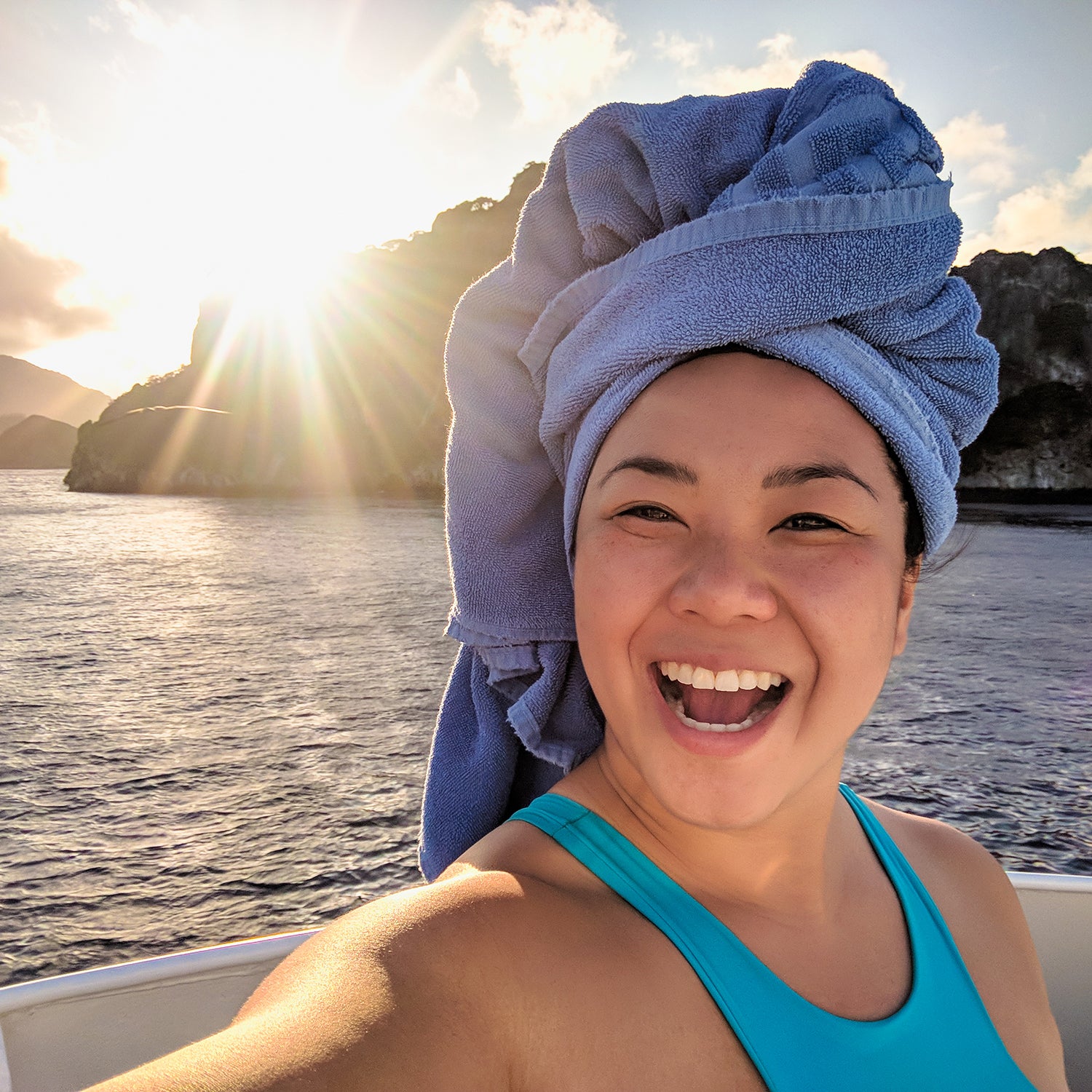 Courtesy Tiffany Duong
Heading out the door? Read this article on the new Outside+ app available now on iOS devices for members! Download the app.
Tiffany Duong told her story to producer Sarah Vitak for an episode of The Daily Rally podcast. It has been edited for length and clarity.
Everyone else is floating away, looking for sea life, pointing things out to each other, and I'm just stuck to this rock. I'm watching them get smaller and smaller. In my head, I'm just thinking, If you don't let go of this rock, you will die here alone at the bottom of the ocean in the Galapagos.
I usually go by Tiff. I live in Islamorada in the Florida Keys. I'm an explorer and an ocean storyteller. I used to be a really unhappy lawyer.
It was downtown Los Angeles in a high rise. Concrete jungle, the whole bit. I was just like, Well, I made this decision to go to law school, which means I'm going to be a lawyer. I am a pretty type-A overachieving kind of person. I was doing really well, but, becoming sadder because success just begets more work.
I remember feeling like I had two personas, my work self and my outside-of-work self. I only felt like the real me for those two hours at the end of the day, or the two weekend days, or two weeks of vacation a year. I just felt really disconnected.
I remember sobbing under my desk at least once a week, and muffling my cries so that my coworkers wouldn't hear it. Then getting back up and being like, Okay, well, got that out. Like a cigarette break. A sob break. And then getting back to work. I was just like a hamster on the wheel, because it wasn't a real possibility to leave. I didn't know there was a way to actually work and like it.
There was one day I was alone at the office working at 3:00 AM on some crazy 300-page contract. And I got an email saying, "Oh, come dive the Galapagos." I was a pretty new scuba diver, and that's an advanced destination. But I was like, You know what, this sucks. I'm just gonna go for it. So I signed up.
Then I kind of forget about it, and the trip comes up. And I'm like, Oh, OK, Well, I guess I'm going. I know nobody going on the trip. It's the first time diving off a ship, off a liveaboard, and internationally. So it's a lot of firsts for me. I am not even interfacing with that because I'm still probably wrapped up in whatever work I left behind.
I got to the Galapagos, and I remember the first night on the water. The ship is sailing out, and I find myself drawn to the bow of the boat. I'm standing there, Titanic-style. There's wind rushing through my hair, the ship is cutting through the water. It's bioluminescent, so the waves are glowing, and then there's dolphins jumping into that, and they're making it glow more. That glow is mirrored by the stars above. So, it just looks like you're floating through glowy space. Then there was a volcano in the distance, glowing. It was out of this world, magnificent.
I just started crying. My soul was like, Wow, you can be happy. There's beauty, and it's so inspiring. And you can still feel it.
It was a lot of feelings, especially coming off of years of trying not to feel. It was cutting into my soul, and life was flowing again. I didn't sleep a single night in my cabin. I actually took my comforter and slept on the deck because I didn't wanna be away from that beauty for even a millisecond.
There was one dive, it's a drift dive. That is, you have to drift with the current, so you don't go to a set spot and sit, but the current takes you and you just let it, because it's way too strong to fight.
I was terrified, because I'd never done a drift dive before; I'd never let the sea just take me. I remember sinking to the bottom of the sea and finding the biggest rock I could find and holding on for dear life. Everyone else is floating away, looking for sea life. And I'm just stuck to this rock, because I was thinking, I'm not gonna trust this. This is too scary.
I'm watching the rest of the group drift away, and in my head I'm thinking, If you don't let go, you will die. You will die here alone. They're getting smaller and smaller, and I'm like, OK, it's now or never. If you don't let go, you literally will be lost.
I was screaming internally. Finally I was like, Ahhhh. And I let go. I didn't even push off or anything, I just opened my fingers slightly and the current took me. The moment it did, all of my fears vanished. It felt like I was flying. It was so light and freeing.
Then I remembered, Oh, we're all actually here because we're looking for whale sharks, we are looking for this magic animal. So we rode this invisible underwater highway, looking for whale sharks. It was the first time I really felt stoke in my life, and I was filled with excitement and joy.
My life has changed from that moment in every way possible. I was wound up and so in control of that life. I had to learn to let go.
I almost didn't get back on the plane to Los Angeles. I was like, I need to have this happiness in my life. I can't keep not feeling. I did ultimately get back on the plane, and as it was landing, I made this vow to myself. I said, Tiff, promise nothing will ever be the same.
Then I was like, OK, I'm gonna hold myself to that.
I went back to work, and within a month, I quit without a plan. I was thinking, We have to figure this out. I just cannot tolerate not feeling alive anymore.
I moved to do a four-month-long diving internship in Islamorada. It's been five years, and I have not left.
One of the things that has helped me the most in this journey is realizing I'd rather disappoint everyone else than disappoint myself. Holding true to that has guided me into many different evolutions of myself since then, and with each one, I feel like I become more authentic and more confident and more real.
You can't always control where life's gonna take you, and if you stop trying to, you might actually end up somewhere better. Just try to figure out your next best step, because from that vantage point, you might see a different path forward, a better one, a truer one. What lies out in the blue might be more magical than what you're leaving behind.
If it excites you and scares you at the same time, it probably means you should do it. Because that internal voice is trying to guide you back to yourself.
Tiffany Duong is an explorer and storyteller. She left corporate law to campaign for our planet. Now, she writes, speaks, and leads from wild places all around the world. Follow her on Twitter and Instagram @tiffmakeswaves.
You can follow The Daily Rally on Spotify, Apple Podcasts, Stitcher, or wherever you like to listen, and nominate someone to be featured on the show here.
Lead Photo: Courtesy Tiffany Duong
Trending on Outside Online