Dangerous When Wet: Learning to Survive Open Water Swimming
Every summer, 50 elite athletes endure a torture test of cold and wet at a tiny island off the south coast of Ireland, where they train to swim the English Channel. The only rules: No wetsuits. Or whining. Matt Bondurant goes deep.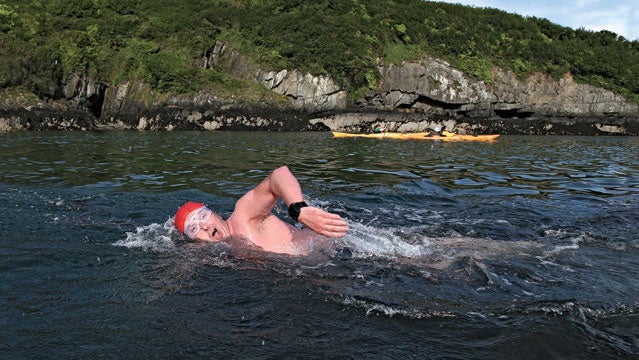 Clare Keogh
Heading out the door? Read this article on the new Outside+ app available now on iOS devices for members! Download the app.
At first, the jellyfish were easy to negotiate. I swam through them, maneuvering like the Millennium Falcon in an underwater asteroid belt. Other swimmers occasionally came up for air, talking and laughing, and at one point I saw our coach, Ned Denison, holding a jelly in the palm of his immense hand, pretending to eat it. Then we hit the wall, and there was nowhere to go but through it. That's when people started screaming.   

Sandycove king Ned Denison, leading the charge.

The author.

Ned Denison.

Barbara Held.

Gábor "the Swimming Hun" Molnár.
It was day two of Cork Distance Week, Denison's grueling training camp for open-water marathon swimmers. Every year, 50 masochistic souls show up to dunk themselves in County Cork's numerous lakes, reservoirs, and rivers, as well as the cold North Atlantic. June in southern Ireland means cloudy skies and icy oceanic winds, with water and air temperatures hovering around 60 degrees. This morning's itinerary was supposed to be relatively easy: a couple of miles down the coast, followed by a short swim up an estuary that feeds into Lough Hyne, a placid tidal lake. After that we'd warm up with hot tea and biscuits.
Denison, a 55-year-old, six-foot-six-inch American with the wingspan of an albatross, had separated us into groups according to speed. I was trailing Barbara Held, 59, a powerfully built retired firefighter from San Diego, trying to stick by her muscular flanks. I quickly lost her in the choppy waves, but a little bit of confusion is guaranteed in open-ocean swimming. We managed to make it to the mouth of the estuary with no major incidents. Then we met the jellyfish.
Most were moon jellies—flat, translucent, dinner-plate-size things that didn't deliver much sting. Occasionally, though, we saw brown, mushroom-shaped creatures the size of buckets, trailing long sets of ribboned, blood-colored tentacles stretching three feet or more: compass jellyfish. Those you didn't want to touch. At first I evaded the big ones and batted the moon ­jellies out of the way, but then the translucent cloud thickened and the spaces narrowed. Soon no amount of twisting and thrashing helped, and I began to feel them along the length of my body. They were like stars in the night sky, endless. Now we started cursing the jellies, the water, Denison, and Ireland with real fury. The desire to get out of it, to get away, was so urgent and powerful that the brain went into primary survival mode: forward, through it, it must end!
Carmel Collins, a sturdy woman from Cork, brushed a large one with her face. The skin on her cheek quickly became raw and inflamed, as if she'd been badly burned; in a few hours it would swell into a row of knobbed pustules. I raised my head at one point to see a grizzled Irishman spitting out pieces of jelly that had caught in his teeth. He gave me a lopsided grin and a thumbs-up sign. Other swimmers were brought to tears, and I remember my own actions with some embarrassment. I writhed on the surface like a harpooned seal and squealed in a voice I've never heard before.
Eventually, we were out of it, moving into the broad, gentle waters of the loch. The jellies became sparse, then disappeared altogether. Swimmers cried out with glorious relief. We went another 500 yards, then hobbled up the boat ramp, where the support truck waited for us with towels, clothes, and hot drinks. Blue lips sipped tea; trembling hands slipped off suits behind car doors. Chris O'Sullivan, a dark-haired, intense-looking 36-year-old who runs an IT company in Carlow, emerged from the water, chattering and trembling, his torso and neck laced with fine red lines.
"How was it?" Denison asked, wearing an elastic Jim Carrey grin.
"Brilliant, beautiful, simply brilliant," said O'Sullivan, smiling and clutching his goose-bump-covered torso. "I'm stung to bits, you fucking bastard!"
SANDYCOVE ISLAND is a small hunk of rock that rises from the sea at the mouth of a set of rounded bays. It's topped with a toupee of grass, which a clan of feral goats feast upon. On a clear day the water is emerald and stunning to look at, and sitting on the stone seawall in the sunshine, you would swear you were on the Mediterranean. The bay side is protected and calm, the ocean side rough and rocky. Doing a lap around Sandycove gives you a sampling of the best of ocean swimming—weedy bottoms and reef sections on the interior, and sea swells and deep water on the Atlantic side.
People come here for one reason: to prepare themselves to swim across the 21-mile English Channel, which is considered the greatest single test for serious open-water swimmers. More than 50 successful Channel swimmers have trained with Denison. The experience is not a pleasant one. Each session lasts between 90 minutes and three hours, with a total distance of about 60 miles for the week—a staggering amount of swimming for anyone, in any situation. The camp culminates with two extreme sufferfests: Denison's infamous (and optional) Total Body-Brain Confusion swim, which is designed to teach swimmers to manage worst-case scenarios, and a six-hour English Channel qualifying event, which is required for those who wish to attempt a crossing. Denison gleefully described the week as a "cold, hard slog," which was something of an understatement.
According to the World Open Water Swimming Association, Denison's annual getaway is the "most brutal, the most unforgiving, the [most] downright dastardly difficult open water swimming camp in the world."
I arrived on a warm Saturday and headed out to Sandycove Beach to meet my fellow swimmers and our fearless leader. It was an impossibly beautiful morning, with the sun shining hard and the sea undulating green and cool. Denison's neck and armpits were slathered with milky white lanolin, a heavy lubricant made from sheep's wool that prevents chafing. He looked like he'd just walked out of a brawl at a Krispy Kreme. He pointed a long arm at Sandycove and the ocean beyond and exclaimed, "This island is magic, and this water is lucky!" Then he added, "It will also break your heart."
A former all-American water-polo goalie at Columbia University, Denison moved to County Cork in 2001 when he married an Irishwoman, Anne O'Leary. (They're in the midst of a divorce.) Over the next decade, working as an IT project manager, he piled up an impressive open-water résumé, swimming around Manhattan and from Alcatraz to San Francisco, and crossing the English Channel in just 12 hours. (Most swimmers take at least 15.) For almost six years, Denison held the world record for the fastest crossing of the notoriously difficult 20-mile span of Pacific Ocean between Santa Cruz Island and the Southern California mainland, and he is one of only five humans to swim across False Bay in South Africa, a 20-mile stretch that's full of great white sharks. Last year he was inducted into the Florida-based International Marathon Swimming Hall of Fame. Denison launched the camp—which costs $52, plus extra for the Total Body-Brain Confusion swim and the English Channel qualifying event—in 2009. He has no trouble filling the spots, personally inviting and vetting each swimmer. Every year he has to turn more people away.
My first invitation came a couple of years ago when I was living in Ireland and researching open-water swimming for a novel I was writing. If you're interested in swimming in Ireland, you know Denison; we were introduced and quickly struck up an e-mail correspondence. This was kind of like receiving sporadic lines of surrealist poetry written by a sadist. Sample missive: "I am testing goose fat as a lubricant today.… Last week I took a full gulp and had to stop to puke."  
Denison and I hit it off. Like him, I'd also come to open-water swimming after a collegiate water-polo career, in my case at James Madison University in Virginia. When he first dangled a coveted spot at his camp, I declined, unsure of my ability to hack it. Then, last year, I reached out again. I've always loved swimming in the ocean, even completing the crossing to Alcatraz, but all my open-water swimming had been in wetsuits, which are banned by the Channel Swimming Association, since they're positively buoyant. And lately I'd found myself blanching at the thought of getting in the ocean at all. I was about to turn 40, going soft. I wasn't sure if I wanted to try the Channel, but I did want to toughen up and go "full togs"—Speedo only. Ned quickly responded: "Get in the coldest water you can find and train, hard."
Now, standing on the beach and looking out at Sandycove, I was surrounded by a phalanx of swimmers in various states of undress. Most were Irish, but there were also a few Americans and Canadians. Just glancing at them, you'd never guess that they were elite endurance athletes. If there is a solid physical characteristic by which to identify long­distance open-water swimmers, it is that they look precisely like your average heavyset man or woman on the way to Target. Being a little heavy is a physiological advantage in a sport that requires you to endure frigid conditions for hours on end, so swimmers often try to gain weight before big events. They are also serious about lubricant, using various oils to prevent chafing in the salt water. My cohorts swathed their thick necks with lanolin while wearing stocking caps, Speedo-style suits, boots, and long coats. 
A middle-aged man named Paul Massey, from Kent, England, pulled off a sweater to reveal a broad, bulging midsection, as if the local butcher had decided to strip down on the quay. Barbara Held, the firefighter, wore a long insulated coat, as did Sandycove veteran Charlotte Brynn, a slender, 46-year-old Kiwi who now lives in Vermont and has been open-water swimming in the frigid lakes there for nearly a decade; she came to camp ten pounds heavier this year. A 30-year-old woman named Lisa Cummins stood by the boat ramp, looking like a bystander who'd come to check out the crowd. Cummins is the only Irish citizen to do a double Channel swim, which is when you go from England to France, touch the beach, and then turn around and swim back. 
On the seawall a swarthy five-foot-eight, 31-year-old man stripped off a shirt to reveal
a Speedo with a Hungarian flag across the ass, as well as a full-color flag tattooed on his calf. His body was covered in tattoos. This was Gabor Molnar, perhaps the best swimmer at camp besides Denison. Molnar moved to Ireland seven years ago and now works in the duty-free shop at the Cork airport. Molnar only dabbled in open-water swimming until he discovered Denison's camp in 2010; since then he's become a Triple Crown swimmer—someone who has completed the English Channel, the Catalina Channel, and the 28.5-mile circumnavigation of Manhattan. Now he refers to himself as "the swimming Hun."
I smugly regarded the heavy coats, caps, and blankets that swimmers brought. A bit much, I thought.  
Then we got in the water. A day later I was borrowing a wool cap from Denison to put on over my own wool cap, sitting in my rental car, heat full blast, trying to unclench my white hands.  
MARATHON OCEAN swimming is a throwback. It's tempting to compare the sport to alpine climbing, but this would be apt only if you scaled Everest without clothes, shoes, and oxygen, and if you had to deal with the real possibility that a yeti might emerge from the snowy depths to take a bite of you. In marathon swimming, you are almost literally naked. With the exception of recovery drinks and a few changes to goggle technology, nothing much has changed since 1875, when the British captain Matthew Webb smeared himself in porpoise oil and breast-stroked across the English Channel in almost 22 hours. You're not competing against other swimmers, just the clock. Wealth and fame are elusive for all but a few swimmers with talents for publicizing themselves, like Lynne Cox and Lewis Gordon Pugh. There is perhaps no greater example of man versus nature in endurance sports.  
When your body temperature drops significantly, it takes time to recover. As the camp wore on, the cumulative effect was especially challenging. Two days after the jellyfish incident, we went for a grueling three-hour morning session in the ocean at Garryvoe, a wind-blasted beach east of Sandycove, where I once again attempted to trail Held, only to have her churn away into the distance. Then I dragged myself to my hotel in Kinsale, napped for three hours, wrapped myself in blankets, and numbly stared at soccer on the computer, dreading the afternoon swim: two hours in the cold, dark River Blackwater in Fermoy. Did I mention it was pouring rain?
I was already shivering when I reached the parking lot. By the riverside, Denison was yukking it up with Molnar, stripped down, his torso smeared with sheep grease. Once we got in the water, though, the swim was relatively easy, thanks to a gentle supporting current. Held bobbed up and down, occasionally taking pictures of the scenery and other swimmers with a waterproof camera she'd stuffed into her suit.
Still, the water temperature felt arctic, thanks to the mounting hours of our suffering. Trying to walk out of a river when you can't feel anything below the knees is both a logistical challenge and a comical sight. After our swim, we staggered up the boat ramp like so many fiddler crabs toward Ned's aging Land Rover, which was packed tight with thermoses of hot water, tea packets, tins of hot chocolate and instant coffee, recovery drinks, protein powders, towels, wool blankets, emergency reflective blankets, hoodies, track-suit bottoms, first-aid kits, GPS equipment, lanolin and other lubricants, socks, biscuits, candy bars, and whole slabs of chocolate cake. We went at the spread like shivering zombies.
Brynn, the Kiwi, approached the food warily, with a gray face. She appeared to have aged since the beginning of the swim. People rushed forward to cover her with blankets. This was her second year at the camp; she was preparing for a Channel attempt later that summer. She looked hypothermic after every swim. You'd think the repeated abuse would cause her to take up something less punishing, like badminton, but she was resolute. "The best lessons are the toughest," Brynn told me later, "and Ned puts together a nasty, unpleasant lesson."
She wasn't the only one suffering. By this point I was eating four meals a day—a full Irish breakfast, fried fish and chips (sometimes twice a day), and an endless supply of fruit, pies, cakes, and biscuits washed down with water and recovery drinks, plus the occasional midnight tray of french fries. If you have trouble continually gorging yourself while training for the Channel, you can waste away in a hurry. O'Sullivan, the 180-pound IT consultant from Carlow, had discovered this the hard way. When he first joined the camp, in 2008, he was burning 8,000 calories a day and taking in just 6,000. He called Denison in despair one night, seeking help. The coach replied, "Go down to the shop, find Ben and Jerry. Eat it. Eat it at night, the last thing you do before you go to bed. Do it every night."  
A RIVALRY SOON developed at camp between Denison and Molnar. The two knew each other well, routinely finishing in first and second place in local competitions. (Denison's grudging praise: "Gabor considers all other swimmers his enemies, in the best possible way.") Still, Denison usually won their races, and one of his favorite tricks was to drag the buoy marking the finish line down the beach, extending both his margin of victory and Molnar's suffering. Not to be outdone, Molnar had recently gained some local fame for completing a race around the island while wearing a "rat thong" swimsuit, which is basically just what it sounds like. Ned called it a "mouse thong."
But there was a serious purpose in all the torment: to teach us to survive in an uncontrollable environment. When you submerge your body in 52-degree water, the shock of it drives your head up. A part of your brain pushes strong signals of self-preservation to the body to at least get the head out of this frigid mess. Your lungs heave for air, and your mouth assumes ludicrous shapes as you gasp in instinctual horror. The pores of your skin tighten, sending screaming messages of pain through your nerve center. You can practically hear your immune system and the body's other natural defenses grind into frantic action.    
Thirty minutes in, if your stroke rate is solid and your heart rate is up, you begin to get comfortable, even euphoric. Imaginary phantasms and hallucinations are common. During his 2009 English Channel crossing, O'Sullivan spent several hours watching World War II–era planes and ships rising up from the dark in ghostly maneuvers. "Earlier that week, I was thinking about all the wreckage that must be on the bottom of the Channel," he said. "It seemed completely natural and real, and was actually quite calming."
Each time I took a stroke in the waters near Sandycove, fully exposing my torso, I began to imagine scenarios in which a marine animal would lunge up out of the deep and clamp onto my rib cage. There was a strange comfort in this realization: you are so vulnerable that if some creature wants to take a bite out of you, there is nothing you can do about it. So you relax, instead reveling in the open nakedness of your body, and in this abandonment of responsibility there is a kind of serenity.
The second hour is when the suffering ­really begins. The extremities go first, the toes blinking out one by one like a string of fading lights in the distance, and soon you can't feel your feet. Then your hands go, and you suffer from "the claw"—a gnarled clenching of the fingers that leaves you unable to take a powerful stroke. As your body temperature drops further, it feels like a slow, convulsive shudder in your core that you can't stop. You want out, badly. If you push past this, you will feel comfortable again, the strongest euphoric feeling yet, like you could swim forever. Soon after that you will be dead.
Seven people have succumbed during attempted crossings in the modern era. The most recent was Paraic Casey, a square-jawed, 45-year-old man from Cork who was at camp with me. A veteran of Cork Distance Week, he attempted the Channel a month after camp and was just a half-mile from the French coast, his wife beside him in a support boat, when he suddenly stopped swimming. He could not be revived. The official cause of death is still unknown; the family elected not to have an autopsy. Casey is the only camper who has died. Denison was shocked. "It is very common for swimmers to suffer physical pain or to lose concentration," he said. "This was not the case with Paraic. He swam strong, no uncertainty or hesitation, in good conditions." His fate underscored the very real peril inherent in open-water swimming, which is why Denison's camp exists. The Total Body-Brain Confusion swim was designed to confront aspiring Channel swimmers with as many chaotic scenarios as possible—and to teach them to recognize their own limits. At the beginning of camp I thought about signing up, but I decided to bail following the jellyfish incident. I like to push myself physically, but this was a level of suffering I was unwilling to endure.
Instead, I'd haze the poor bastards. A Cork Distance Week ritual holds that TBBC veterans get to hop aboard boats and rattle the rookies who are preparing to swim the Channel. I'd join Denison and Molnar for some aquatic frat-pledge action while Held, Brynn, and about 30 others toiled. (A group of 40 also planned to do the six-hour English Channel qualifying swim.)
On the eve of the TBBC swim, Denison and the crew gathered on a beach at Garrettstown for a "play" session—a break from training. The air and sea temps were in the low fifties, with howling winds that ripped towels out of our hands and flung them across the road into green fields. A wide, sandy stretch that emerges from nowhere, the Garretts­town beach was deserted, save for a couple of kiteboarders. On the shore, the campers stripped down and began frolicking in the waves, body-surfing, riding inflatable rafts, chasing each other in the surf. Maniacal, I thought, as I shivered on the seawall, wrapped in every bit of clothing I'd brought to Ireland.
Denison clambered through the waves like a watery primate, grinning, shouting, gray surf exploding around him. The swimmers began gathering around him as if he were a bonfire. Lisa Cummins used an inflatable raft, Brynn stroked elegantly, a white-lipped smile on her face, and Molnar bodysurfed the pounding waves onto the sand. I slipped out of my coat and shoes, the sand gritty and cold between my toes as I walked toward the water, pulled by Denison's centripetal force.
THE NEXT MORNING, I stood in a small powerboat with Molnar and Denison as we motored alongside Held, who was swimming in the open ocean for the TBBC. Molnar dropped his pants and squatted over the gunwale, and I grabbed his hand to steady him as the heavy swells slammed into the boat. Held plowed through the waves with a powerful stroke, the skin around her shoulders cooked-lobster red, her face the color of old porridge. She'd been in 54-degree water for about three hours, much of that time lost and confused. Her mouth contorted in a Stallone snarl as she breathed. Then Molnar dropped a couple of chocolate-covered biscuits he'd brought onboard between his legs and into the water, simulating an open-air defecation. Held grinned, never breaking stroke.
"I love this part!" yelled Denison, standing at the wheel in a dark insulated trench coat and wraparound sunglasses, smiling into the wind. He zoomed off, looking for someone else to mess with. For nearly four hours, Denison had been choreographing an elaborate fool's errand—breaking swimmers up, telling them to go to various boat buoys, then instructing them to double back or swim in circles. After a couple of hours, he told some swimmers to return to shore, only to stop them a few hundred yards from the beach and direct them to turn around and once again make for the open ocean.  
Maintaining mental focus was the point, and verbal quizzes were part of the play. At one point, Denison asked a camper from Cork if she wanted mayonnaise or ketchup on her chips. She gave him a double thumbs-up and said "Chips!" in a heartbreaking, plaintive tone. Denison asked other swimmers their dinner plans. Molnar called over a baffled group of swimmers, their ashen faces glowing in the dark water, to ask them a question in Hungarian while Denison and I snacked on fresh brioche. Then Denison told a group that the propeller was broken and instructed them to circle the boat indefinitely, until the thing was repaired. So they swam in circles. Then Denison split them up, sending them out at different angles. Alone.
"Swimmers build an open-water toughness only through conquering new challenges as they build up their distances," Denison said. "The TBBC is designed to test them thoroughly." I didn't ask how a tattooed Hungarian taking a dump off the boat figured as a possible occurrence during a Channel swim. Denison knew what he was doing.
"Keep swimming!" he bellowed into the wind as a set of floating eyes looked up quizzically. "Swim! Don't stop! Don't let me see you bobbing around like a seal! Put that head down and go!"
They went on. And on.  
After some time, people had to be helped aboard the boats. Nobody quit, it's just that Denison saw something he didn't like. Rattling teeth, skeletal faces, lack of verbal response. A couple of hours in, we were seaward of the island when Denison decided to pull Brynn, who kept bobbing like a seal. We threw her a water bottle, and her clawed hands struggled to hold onto it. We shouted instructions, questions, but she only stared at us, white faced, expressionless, and so we cut the engines and Molnar and I pulled her over the transom. We covered her body with towels, and I poured hot tea from a thermos. I thought she might be angry with Denison, or upset in general, but she only grinned and gratefully accepted the drink with rattling hands.
Then Denison gunned the engine and we thundered off, pursuing other pods of swimmers who were disappearing over the horizon, our captain pointing his long arm into the sun, yelling, "Forward, goddamn it, swim!"
Matt Bondurant (@mbondurant) is the author of The Night Swimmer. This is his first story for Outside.
Trending on Outside Online