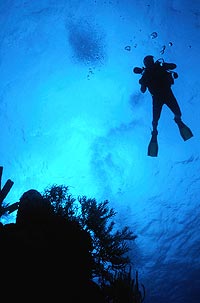 Heading out the door? Read this article on the new Outside+ app available now on iOS devices for members! Download the app.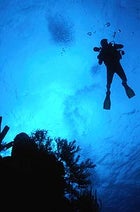 Feeling blue: a diver descends onto the reef off Belize
Q: My two friends and I are trying to find the cheapest way possible to make it down to Belize to do some scuba diving. We will sleep on the beach if necessary. Can you give us some ideas on how to find the lowest rates?

— Lori Routh, Long Beach, California



Adventure Advisor:

A: There's no getting around it—Belize ain't cheap, especially when you compare it to the rest of Central America. But there are a few things you can do to minimize the sting if you're flexible with your schedule and are willing to give up luxuries like hot water, conditioned air, and the occasional lobster dinner.

Start by visiting air ticket consolidators that specialize in rates to Latin America. Exito Travel (877-768-1313, www.belize-airtravel.com) and Your Travel Service (888-877-9131, www.yourtravelservice.com) can get you to Belize City for well under $500.

The best beach bargains can be found on Caye Caulker, which is the laziest, mellowest, least glamorous of the islands within close proximity to the hemisphere's largest reef. Beach camping here is a no-no, but you'll have little trouble finding a bare-bones cabana for $7 or $8 per night. For the cheapest eats, there's a grocery store on Middle St. But the 50-cent chicken tostadas at Syd's (just up the street) can hardly be considered a splurge.

All of the dive shops on Caulker are regulated by the government, so the difference between a pricey operator and a less pricey one usually comes down the age of the equipment and maybe the experience of the dive master. Obviously, that doesn't apply to the guy you meet on the beach who is lugging a couple of rusted-out air tanks and a beat-up BC. But you can be confident that any legitimate dive shop meets certain safety standards.

One last note: Keep and eye on the Placencia area, which was hit hard this year by hurricane Iris. When the rebuilding is complete, you're likely to find some "Welcome Back!" packages that make even higher-end vacationing downright affordable.