Euro Surf 'n' Turf
You could traverse Europe by motorcoach and Eurail, but the sightseeing's better by board, bike, and boots.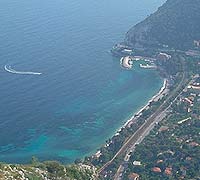 Heading out the door? Read this article on the new Outside+ app available now on iOS devices for members! Download the app.
Surfing in the Bay of Biscay, France

The southwestern corner of France has garnered renown for its chateaux, noble wines, phallic baguettes. But for surfers, this elbow in the Atlantic is most revered for wedging peaks, stand-up tubes, and, um, bronze bosoms. Get out of Paris by midnight with your board bag overloading a rental Renault, ply your eyelids with gas station-vending espresso, and you're surfing in Hossegor by 8 a.m.


From Soulac-sur-Mer to Saint-Jean-de-Luz near the Spanish border are nearly 50 surf spots. Known as Aquitaine, this 170-mile stretch along the Bay of Biscay is characterized by conifer forests and sea oat-reinforced dunes, as well as the thumby beach breaks that beckon surfers.
The three main wave magnets along this strand are Lacanau, Hossegor, and Biarritz. Each offers a distinct slice of French culture with a hint of Miki Dora attitude. Lacanau, northwest of Bordeaux, is best known among surfers for the Lacanau Pro, a surfing competition held here in late August that attracts pros from around the world. This normally sleepy hamlet goes Richter when all the heavies are in town. If you don't get too worked in the lineup, you can mosh till the wee hours with its throbbing discotheques.


Hossegor, 100 miles to the south, is where to go for power and tube time. It has a mellow, Cape Hatteras vibe and is known for the deep bathymetric trench of its coast that funnels in the swells. Eighteen miles farther down the coast, Biarritz blends Old World architecture and ambience with a new-world Euro surf scene. Grande Plage is where it all goes down and, for you loggers, serves up longboard-friendly surf.


While the Bay of Biscay gets year-round waves, late summer and early fall are peak season, when water temps reach the mid to upper 60s (a spring suit provides ample neoprene). Be aware that tidal swings can be severe—the surf can go from flat to firing in a matter of hours.
Coast-to-Coast Walk, England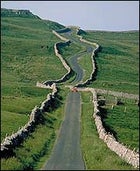 You start by standing on a bed of quivering mud, the Irish Sea lapping at your hiking boots as you perform the ritual "boot dipping" that walkers traditionally undertake before setting off on England's Coast-to-Coast Walk. In a country that is mad about walking, the Coast-to-Coast is the grand price: a 193-mile ramble that starts in St. Bees on the Irish Sea and goes clear across the Lake District and North Yorkshire to the North Sea at Robin Hood's Bay.


The route is a memorable melange of moss-covered stone walls, fields of Swaledale sheep, and impeccable villages and hamlets. As you cross hills and dales and swollen streams, you'll become a master of mud in all its guises. You'll pass stone farmhouses where Border collies yap a greeting and wander through cow pastures, all of which will of course justify drowning a pint or two of Old Peculier at the end of the day. Then tuck yourself in at one of the cozy inns or B&Bs along the way.
You can do it yourself or contact an outfitter like Coast-to-Coast Packhorse, who'll book the inns and tote your bags for 15 days for about $1,176 per person. But for those who don't have the time or the legs to handle the entire walk, The Wayfareres has put together a six-day, 85-mile version using van transfers in three strategic places. Purists may balk, but it still adds up to a lot of walking. For $2,290, the company provides all meals, van support, moleskin, and seven nights lodging that ranges from the ultra-comfortable to Fawlty Towers stand-ins. Don't be surprised if your boots let off steam while you dip them in the North Sea.


Contact Coast-to-Coast Packhorse at 011.44.17.683.71680 or www.cumbria.com/packhorse; The Wayfarers at 800.249.4620.
Mountain Biking, Spain

If crisping like a patata frita on the Costa del Sol is not your cup of sangria, why not head 70 miles north to Spain's newly christianed Sierra Nevada National Park? Here you can mountain bike (or hike or climb) the same 11,000-plus-foot Andalusian peaks that World Cub mountain-bike champions descend.


Surrounded by 213,790 acres of high peaks and sprawling forest, riders of all levels can parallel the pros. For beginners, race planners recommend La Ruta Los Neveros 1, an easy 20.3 miles. Starting at the Sierra Nevada ski area, the trail follows wide dirt roads with stunning views of olive groves, cortijos (small stone farmers' cabins), and jagged peaks. Intermediates will enjoy the more challenging Monachil, which runs 14 miles in the shadow of the Sierra's rugged ridgeline and El Lapiz, a towring stone monolith worth a stop. At the end of the road, you can kick back with a cold beverage in the pueblo of Monachil.
La Ruta de Guejar Sierra challenges advanced riders with 12.5 miles of steep, stony trails that rise 3,850 feet. The even more ambitious can embark on the two-day, 30.5-mile tour that starts from the whitewash village of Capileira, perched mountainside among terraced fields cultivated as early as the tenth century. The route climbs 24 miles and more than 1,200 feet, above the sister village of Trevelez, past Laguna la Caldera and the park's highest peaks—Mulhacen, Alcazaba, and Veleta. For 1,500 pesetas (roughly $10), riders receive a one-day guided ride plus a map, bus transport, T-shirt, picnic, and diploma. The two-day trip costs 5,000 pestas (roughly $31). The Sierra Nevada visitor center will rent you a bike for about $6 a day.


Also worth considering is the University of Granada's summer Sierra school. Last year's lineup included Ultimas Tendencias del Mountain Bike, a guided ride and university class with professional mountain-bike trainer Pablo Ruiz, and the more leasurely Flora y Vegetacion del Montana Mediterranea, a course in which students spend class time cycling while exploring the biodiversity of the Sierra Navada.
Hiking the Amalfi Coast, Italy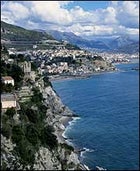 The mountainous Amalfi Coast, an hour and a half from Naples, is better known for hosting vacationing Roman emperors, film starlets, and Ferrari rallies than for rigorous hiking, But gaze upward from a chic resort like Positano and you'll see an impossibly steep coastline that plunges straight into the Tyrrhenian Sea. Hikers go for the Amalfi because it offers some of the most rugged coastal terain in the world: The peaks may be only 3,000 to 4,500 feet high, but they're unrelentingly vertical.


You ascend through well-tended lemon groves and fragrant fields of wild roses and rosemary. Wandering through chestnut groves, you tread on dirt tracks and foot trails that once formed the only connection between the region's still-remote villages. Up the rocky flanks of Monte Lattari or through the Valle delle Ferriere, your rewards are the most stunning views in all of coastal Italy.
By sunset, you've earned a cafe table in the hilltop aerie of Ravello or in labyrinthine Amalfi, a town that looks more Moroccan than it does Neapolitan. Try limoncello, the local lemon-based liqueur—it's the antidote for any pain caused by this alfresco Stairmaster.


Summer is high season here, with rates to match; check out Amalfi's luxurious Hotel Santa Caterina ($191-491 for two to four people, including breakfast), with a seaside pool 500 sheer feet below the hotel, or a charmer like the family-run Hotel Lidomare (doubles, $55-65, including breakfast).