Faking Waves
Kelly Slater and an Australian ­engineer are battling one another to create the world's first shreddable artificial break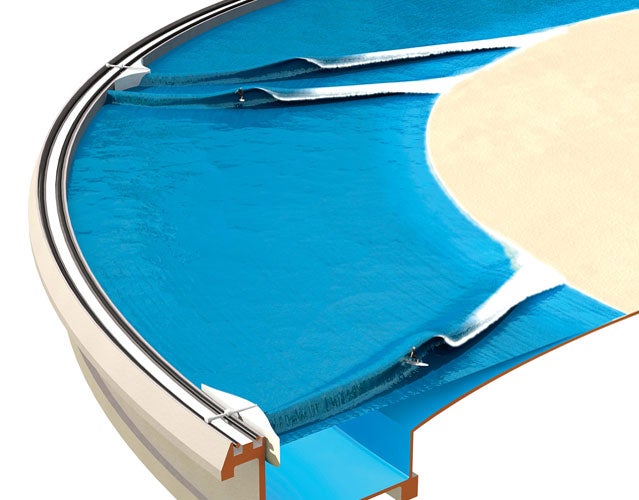 Heading out the door? Read this article on the new Outside+ app available now on iOS devices for members! Download the app.
YOU'D THINK THAT between 2,700-foot skyscrapers, indoor ski resorts, and the Roomba, somebody would have invented a decent artificial wave. But the closest we've come are some knee-high rollers and a standing-wave treadmill, made by FlowRider, which shoots a thin sheet of water up a plastic slope. Surf historian Matt Warshaw likens these to "sex with a blow-up doll."
A robotic arm drives a boatlike hull around the pool's outer edge.

A robotic arm drives a boatlike hull around the pool's outer edge.
Now two men working separately—one an Australian engineer and board shaper, the other the world's most famous surfer—say they're close to breaking ground on nearly identical 300-foot-diameter pools capable of churning out head-high, tubing waves.
In the Los Angeles headquarters of the Kelly Slater Wave Company, the 11-time world champion is busy perfecting a scale model with the assistance of a USC fluid-dynamics professor. A robotic arm at the center drives a boatlike hull around the pool's outer edge. The hull churns up a wake, much like an ocean swell, that breaks continuously toward the shallow center of the pool. Meanwhile, underwater jets keep the water from sluicing around in a circle like stirred tea. The result, theoretically at least, is an endless barreling wave that a surfer could ride continuously around the center island.
"The secret," Slater explained in an e-mail, "is to create a strong swell and have optimal water depth and peel angle once the swell is moving."
The other guy claiming to have cracked the artificial-wave code is Greg Webber, a 52-year-old from Avalon, Australia. Webber's design is nearly identical to Slater's, and the Aussie has already secured research funding and has two investors interested. By the end of the year, he hopes to begin construction on the first Webber Wave Pool in Australia, followed quickly by one in Qatar. (Slater wouldn't offer details about his finances but insists a prototype is almost ready; "It's not a fast process," he says.)
Both men have been cagey about the details of their designs, and Slater's was rejected twice by the U.S. Patent Office for being too similar to Webber's before it was finally accepted last November. The only real difference is the shape of the wake-generating hull: Webber's hull creates two waves, while Slater's carves a single swell that he believes is more powerful. "It's clearly a stronger wave," Slater insists. "[Webber] probably abandoned it because we patented it."
Of course, there's a good chance both men will wipe out. Over several decades, surfers and engineers have repeatedly failed to create truly surfable man-made waves. In 1975, inventor Arnold Forsman patented the Continuous Wave Surfing Facility but never made it work. (Slater and Webber are essentially modernizing his design.) More recently, in 2008, a New Zealand company called ASR posted a video of something called the Wave Box, which fizzled. And in late 2011, a Spanish group uploaded promising footage of knee-high peelers in their Wave Garden pool and hinted at more to come.
Still, Webber and Slater are well funded, their teams include engineering Ph.D.'s, and they came to their designs after years of trials. Webber predicts that one way or the other, quality artificial-wave centers will soon be as common as ski resorts. "Within five years, there will be 50 of these," he says.