The Fight for America's Surf Breaks
With stand-up paddleboarding more popular than ever, surfers—legendary for their sectarianism—have new fuel for their ire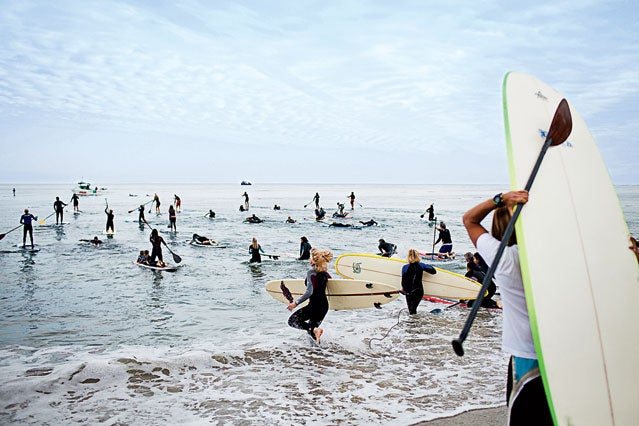 Laura Kleinhenz/Redux
Heading out the door? Read this article on the new Outside+ app available now on iOS devices for members! Download the app.
They're everywhere. Over the past five years, stand-up paddleboarding has mushroomed from a handful of surfers SUPing waves in Hawaii to 1.2 million participants. More than 300 manufacturers have emerged, Costco now sells its own 10-foot inflatable boards, and there are four SUP-specific magazines covering a sport that now includes everyone from whitewater paddlers to people who like to practice yoga on their SUPs.
"It's definitely exploding in popularity," says Avery Stonich, communication manager of the Outdoor Industry Association. One of the primary factors behind the phenomenal growth: SUP is really easy—and fun. Anyone from a grom to a grandma can quickly learn to pilot a board on flatwater, and beginning surfers love the ease of catching waves with a paddle. The only group that's unhappy with the ubiquity of SUPs: surfers.
This isn't surprising. Surfers have a well-deserved reputation for behaving inhospitably. Windsurfers in the '80s, kayak surfers in the '90s, and the new generation of longboarders in the '00s—all raised the hackles of fiercely territorial surfers. Paddleboards are just the latest to inspire it. "They're hazards, inexperienced paddlers invading our waters," says Jefferson Wagner, former mayor of Malibu, California, who owns the town's iconic Zuma Jay's surf shop. "It's just a matter of time before they're banned outright."
In fact, this is already happening. In 2009, Southern California's San Onofre State Beach passed an ordinance ousting SUP riders from all breaks, save for Dog Patch, a mediocre wave best known for its proximity to a nuclear power plant. If a paddleboarder gets within 100 feet of a surfer, he can be cited. They've been booted from other California beaches, too, and surfers from Hawaii to South Carolina are working to implement bans.
One of the ways surfers are framing the dispute is through how SUPs are categorized. In 2008, the Coast Guard ruled that SUPs are vessels. In doing so, it gave territorial surfers concrete grounds to make their case: See, they're not big surfboards—they're something else. The Coast Guard later re-defined paddleboards as swimming aids. But "surfers are still using that ruling to justify kicking us off breaks," says Steve Alan Fry, director of the Human Powered Watercraft Association, a SUP advocacy group.
Even if they can fend off legal battles, the larger problem is perceptual. Bumper stickers depicting Bozo the Clown on a SUP have spread along both coasts. In 2011, the surf-apparel company Rusty—which, ironically, markets clothes to SUPers and surfers alike—ran an ad in Surfer magazine that depicted a shortboarder crushing the head of a paddleboarder. But as the sport matures, so will people's impression of it.
"Droves of surfers are converting to stand-up, including pros," says Joe Carberry, editor of SUP magazine. "With that has come the establishment of new wave-riding etiquette that most paddlers are wise enough to follow."
For all the noise being made about the SUP invasion, the conflict will likely fizzle. Just as the new crop of longboarders a decade ago eventually found their place at the edge of the lineup, so will paddlers. "Every innovation goes through three stages: ridicule, opposition, then self-evidence," says board designer Corran Addison. "With SUP, we're somewhere between the second and third stage."