Finally, a Big-Wave Competition Only for Women
Meet the surfers set to ride moving mountains at the first event of its kind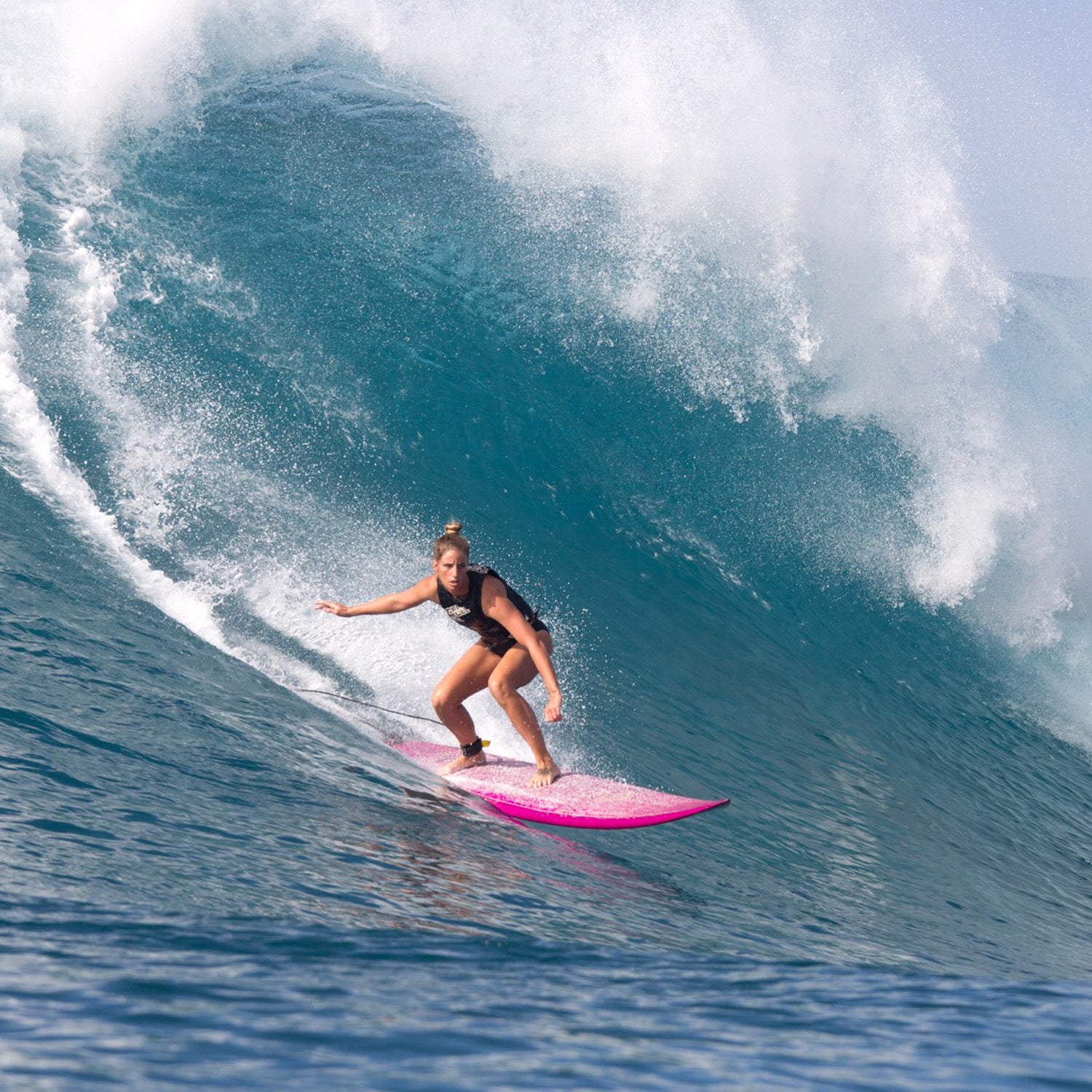 Matt Paul(Photo)
Heading out the door? Read this article on the new Outside+ app available now on iOS devices for members! Download the app.
It was only last November that women were allowed to compete in a World Surf League big-wave event. This fall, they're not just settling for 12 spots in the lineup. The best of the sport will take part in Red Bull Queen of the Bay, the first-ever all-women big-wave competition.
"There's not going to be room for the attitude that girls can't do it or they don't surf as well or as big as the men," says event co-director Wrenna Delgado. "This is a historical moment that will force change."
The event will take place at Oahu's Waimea Bay on a weather-dependent date in October or November. As many as 26 women will compete to be Queen of the Bay, a title honoring the ancient Hawaiian female surfer Queen Ka'ahumanu, who was the first to sit at the table with men. "That's pretty much what we're doing at Waimea—we're eating at the same table as the men," says Guatemalan surfer Polly Ki Ralda, who, at 25, is the event's youngest competitor.
"People talk about the Brotherhood of the Bay, about the Eddie [which also takes place at Waimea Bay] and the big-wave surfers of the world, and they only mention the men," says Hawaiia-born surfer Emily Erickson. "It will be great to show them what's up."
Waves at Waimea Bay can reach about five stories, or 50 feet, and weigh hundreds of tons, making it one of the most prestigious spots in big-wave surfing. No matter the location, big-wave surfing comes with serious risks: Erickson has just recovered from a severe knee injury surfing Jaws, Maui's colossal wave. Brittany Gomulka of Hawaii was out of action for seven months this year after blowing holes in both eardrums during a big-wave wipeout. Ki Ralda once cracked her skull riding a big wave, leading to memory loss. All three women will participate in Red Bull Queen of the Bay.
"Big-wave surfers' brains have a different chemistry from everyone else's," says Silvia Nabuco of Brazil, who, at 51, will be the oldest competitor.
Others invited to compete include esteemed surfer Keala Kennelly; Sarah Gerhardt, the first woman tow-in surfer; notorious big-wave charger Bianca Valenti; and big-wave champion Paige Alms. Anyone could walk away with a piece of the prize purse, the size of which depends on sponsorship. (Red Bull currently supports part of the event, but organizers hope to find additional sponsors.) "We wanted it to be an inclusive contest," says Delgado. "It's a very fair playing field." Judges will score the surfers for their style, giving more points to those who commit to and complete the largest waves, not to those who ride the most waves.
Mostly, the organizers and competitors hope to show that the talent and passion is already there for women big-wave surfers. "You have to look inside yourself and stay calm in the face of danger," says Delgado. "These women are risking their lives for one of the best rewards: euphoria. It's not just adrenaline. You're at complete peace with yourself and the ocean."
Lead Photo: Matt Paul
Trending on Outside Online