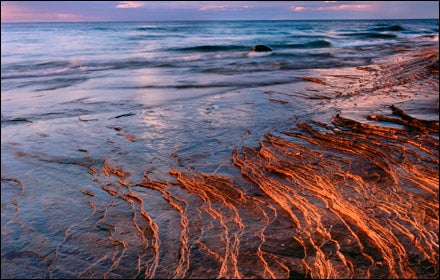 Heading out the door? Read this article on the new Outside+ app available now on iOS devices for members! Download the app.
In Michigan, you're never more than 90 miles from a Great Lake, which is the reason, I suppose, it's nicknamed the Great Lakes State. By those standards, it should also be dubbed the Unbelievably Sick Trout-Water State. The Au Sable, the "Big" and Little Manistee, the Muskegon—there are quality rivers everywhere. But there are also anglers. Avoid combat fishing by hitting the Jordan River, in the northwestern part of the state. It's small water, but the browns grow to impressive size (20-plus inches), and the brookies will go for any beat-up dry fly hanging from your cap. (Grab flies and licenses at the Northern Angler, in Traverse City; 231-933-4730.) Some of the best water is near Graves Crossing, outside Elmira. Just string your rod and fish below the bridge. Grab dinner at Terry's Place, in Charlevoix (terrysof­char­levoix.com). It's stuffy for waders, but the sauteed perch—hey, it's the Great Lakes State, after all—is damn good. Beforehand, shower up at the Weathervane Terrace Inn (doubles, $120; weathervane-chx.com).
Dive Thunder Bay
Sailing in Thunder Bay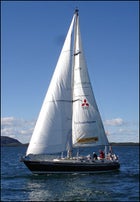 Sailing in Thunder Bay
Lake Superior's notoriously fickle weather, plus a few centuries' worth of shoddy navigation, have turned Thunder Bay into a graveyard for schooners, yachts, and even a Confederate blockade runner. As a result, it's a diver's paradise. Wally Peterson, owner of Wally's Thunder Country Diving (thundercountrydiving.com), has been diving here since 1976 and can serve up coordinates for everything from shallow wood wrecks for intermediate divers to deep, technical dives like the Gunilda, a yacht that sank three miles offshore in 1911 and is still remarkably well preserved. (Thirty-eight-degree water can embalm anything.) Peterson offers diving-certification lessons and guided day trips on Superior (lesson, US$340; trips from US$90). Crash at the Dockside Bed and Breakfast, a restored 38-foot Downeaster docked in Thunder Bay Marine Park (doubles, US$118; sailsuperior.com). Ask nicely and captain Gregory Heroux will take the inn for an evening sail.
Minnesota Multisport
Boundary Waters Canoe Area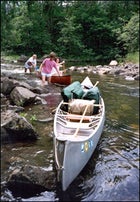 Boundary Waters Canoe Area
Minnesota may have 10,000 lakes, but it's 1,000 miles from the nearest coast. Luckily, there's Lake Superior's North Shore, an area featuring jagged peaks, short, powerful rivers, and access to a 31,000-square-mile fresh­water ocean. Bring every piece of gear you own to Tettegouche State Park, 60 miles northeast of Duluth. In a hiking mood? Lace up your boots for a seven-mile round-trip trek to Palisade Valley Overlook (trail information available at the park's ranger station; 218-226-6365). Looking to climb? Break out the ropes and 'biners on Palisade Head, a headland rising 200 feet above Lake Superior; there are dozens of 5.10-plus routes up the cliffs. Kayaking? Got that too. Rent a boat from Sawtooth Outfitters, in nearby Tofte ($50 per day; sawtoothoutfitters.com), and paddle five miles from the marina at Silver Bay past Palisade Head to the mouth of the Baptism River. When you've had your fill, the 47 lakefront rooms at Cove Point Lodge (doubles, $128; covepointlodge.com), in Beaver Bay, are a good place to recover.
ODE: Huge Statues
In no other part of the country do the World's Largest Paul Bunyan statues, giant musky statues, and six-pack-of-beer statues proliferate the way they do in the Great Lakes region. They are beacons born out of the Field of Dreams presumption: Build it large enough, and close enough to the road, and someone just might come. They reside in out-of-the-way towns like Pequot Lakes, Minnesota (fishing bobber), Ishpeming, Michigan (chain saw), and Mercer, Wisconsin (loon). They're protected as historic landmarks and adopted as symbols of community spirit. But that's not why I love them. I love them because they make me picture the eureka moment down at the pub in Vining, Minnesota, when someone said, "You know what this town really needs? A giant square knot," and then set to it. —Ryan Krogh
Mountain-Bike Wisconsin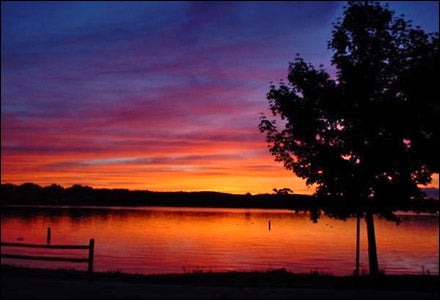 Does it bother me that some of my friends think it's schmaltzy? Or that the greatest song about an American shipwreck was actually written by a Canadian? Or that I can't name one other song by Gordon Lightfoot? No, uh-uh, and nope. Nothing bothers me about the song except its length. It's six and a half minutes long. I wish it were 12. When I listen to it (which is often, in the car, alone), I want to stand defiantly in the face of a raging storm on some rocky outcropping. I want to grow a mustache. Or, because I look terrible with a mustache, round up all my buddies from Wisconsin, head out to one of the warm and welcoming bars that dot the Northwoods, and get schnockered. –SAM MOULTON
My home state is pretty flat. Except where it isn't. Like in Kettle Moraine State Forest, which, thanks to a 10,000-year-old glacial grudge match, is downright hilly. I grew up cycling in the state forest's Northern Unit, but the Southern Unit, with more than 30 miles of mostly singletrack, is the best place for knobby tires. My favorite ride: "Blue," a ten-mile singletrack loop with just enough switchbacks and rock gardens to keep things interesting. Like all of the trails here, it's hard-packed and fast—and popular. But while these trails do see heavy use, they're also in great shape, thanks to meticulous upkeep. Backyard Bikes and Ski, in LaGrange, Wisconsin, 1.5 miles from the main trailhead, rents single-speeds, 29ers, and full-suspension rigs (from $30 per day; backyardbikes.com). Rent a cottage at Scenic Ridge Campground, on nearby Whitewater Lake (from $120; scenicridgecampground.com).
Sail Georgian Bay
Sailing on Georgian Bay

Sailing on Georgian Bay
There's a reason yachties flock to Lake Huron's Georgian Bay: It's considered the best cruising water in the world after the Caribbean and the Mediterranean, thanks to 30,000 islands, consistent wind, and deserted beaches. Hikers flock to Killarney Provincial Park's La Cloche Mountains in the same spirit: The three-billion-year-old range offers undulating hiking through pine forests that rise out of red granite. Straddling these two geographic superlatives is Killarney Mountain Lodge, a classic fifties-era resort. Sign up for the property's guided day trip to 1,800-foot Silver Peak, which includes a boat ride, canoe paddle, and trek to the highest point in the La Cloche range. Sailors: Book a day on the Stormy Night, a 46-foot sailboat docked at the lodge. The trip includes a stop on a remote island for a swim. The 46-bedroom lodge offers two-person cabins and hotel-style rooms. Go with a cabin (from US$150; hiking and sailboat day trips, $90 per person; killarney.com).
Canoe Algonquin Provincial Park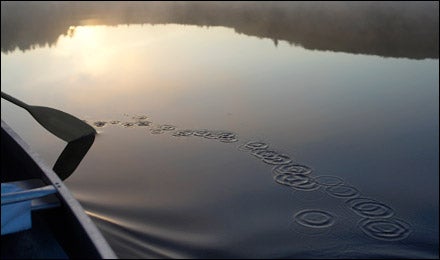 It would take a lifetime to explore Ontario's Algonquin Provincial Park—the area, three hours north of Toronto, has 1,500 lakes and nearly two million acres of forest. But since you don't have that kind of time, head directly for the park's remote western portion. The easy way to explore: Let Algonquin Outfitters design a guided canoeing-and-hiking trip based on your preferences (US$75 per person per day, plus a $200 daily guide fee; algon­quinoutfitters.com). The more interesting method: Score an entry permit through the park's Web site for access point 3, on Algon­quin's western edge (US$11; ontarioparks.com), and paddle and portage eight miles to Little Trout Lake. Pick one of the lake's two islands, throw up your tent, and go Tom Sawyer underneath towering white pines. Algonquin Outfitters will set you up with a canoe rental, plus food and all the requisite camping gear (from $65 per person per day).
Paddle Pukaskwa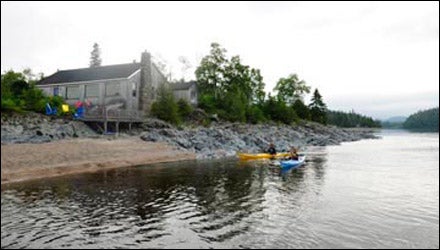 With sandy beaches and sheltered coves, the Apostle Islands National Lakeshore, on Lake Superior's southwest shore, is a welcoming place to launch a sea kayak. The opposite side of the lake? Not so much, especially the coastline of Canada's Pukaskwa National Park. It's just as pretty but far more rugged, meaning it's harder to find a friendly beach if you get in trouble. Only a handful of kayakers paddle under its steep cliffs every summer, and there isn't a single road for the entire length of the park's 50-mile coastline. In other words, it's one of the wildest places to paddle in North America. You'll want to savor it, like Naturally Superior Adventures' guided eight-day trip does (US$1,560; naturallysuperior.com). Because the trip averages a relaxed nine miles per day, there's plenty of time to poke around. Which is a good thing: From red-and-orange-striped basalt formations to woodland caribou on Otter Island, there's a lot to see. Start and end your trip at NSA's Rock Island Lodge (from $95; rockislandlodge.ca), near Wawa, Ontario. It's the only hotel in the area with rooms overlooking the lake.
Trending on Outside Online