Fly Right
Trophy trought and salmon are only part of the catch at these luxe western lodges.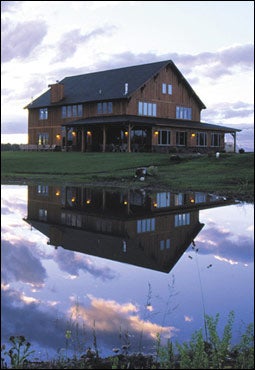 courtesy, Gallatin River Lodge
Heading out the door? Read this article on the new Outside+ app available now on iOS devices for members! Download the app.
Some hardcore fly-anglers may scoff at booking a lodge for any reason other than its trophy waters and veteran guides. But pull off a pair of dank waders after a long day of roll-casting to indifferent salmon and suddenly you'll appreciate the chef's training in Europe and the blaze crackling in your room's fireplace. Here are six North American operations that, despite their remoteness, have built their reputations on matching superb fishing with the finer things in life.

The Gallatin River Lodge, Montana
Plenty of outfitters around Bozeman can put you on to hungry trout, but not many can tell you whether the Caymus Special Selection or a '96 Château Malescot would better complement your grilled bison. That's the kind of attention to detail you'll find at the Gallatin River Lodge, a 350-acre ranch ten miles west of town with frontage on the famed Gallatin River and more than 100 wine selections.

THE FISHING » It's difficult for fly-fishers to pull themselves away from the Gallatin's rainbows, but those who head east to the spring creeks south of Livingston are rewarded with up to five insect hatches each day. In July the three creeks—DePuy's, Nelson's, and Armstrong's—produce clouds of mayflies called pale morning duns, which draw monster rainbows to the surface.

THE DIGS » Built from recycled barn wood and bridge beams, the six-suite lodge is surrounded by manicured lawns, horse pastures, and views of the jagged Spanish Peaks. And for rehabbing that creaking casting arm, each room comes with a Jacuzzi.

Access and Resources Doubles $2,280 for five nights, guide included. 888.387.0148, www.grlodge.com

Henry's Fork Lodge, Idaho
Take a close look at the Henry's Fork Lodge, in southeastern Idaho's Island Park, and it's clear the architect was a fly-fishing fanatic. A heated mud room for drying up soggy waders is in the main lodge, and each guest unit comes equipped with rod racks and custom windows—perfect for viewing the Snake River as it flows past.

THE FISHING » Two miles from the lodge, the Henry's Fork flows wide and flat through Harriman State Park. About a week after opening day (June 15), green drakes—big, pea-colored mayflies—start hatching, allowing anglers to sight-cast to 20-plus-inch rainbow trout.

THE DIGS » From the back porch of this 14-bedroom cedar lodge, you can gaze over the three-million-plus-acre Caribou-Targhee National Forest as you e-mail a fish story—using Wi-Fi Internet access—before heading to the dining room for grilled Dijon rack of lamb.

Access and Resources $320 per person per night, plus guide fees; 208-558-7953, www.henrysforklodge.com

The Lodge at Gold River, British Columbia
Every fly-angler dreams of standing with a two-handed steelhead rod on the banks of one of rainy Vancouver Island's coastal rivers. Set in the middle of the island on the Gold River, the lodge uses boats, planes, and helicopters to access some 40 surrounding drainages.

THE FISHING » When spring rains swell the island's rivers, steelhead leave the salt water in nearby Nootka Sound and surge upstream, where they're taken by fishermen all summer. Later in the season, the lodge's helicopter pilots will drop you off on remote gravel bars after you've scanned the wilderness streams for schools of wild Pacific salmon.

THE DIGS » The heart of this nine-room classic log structure is its anglers' bar, set under an enormous hearth built from Gold River stones and overlooking the tea-colored trout waters that flow past the front door.

Access and Resources Doubles, $450, plus guide fees; 888-777-5060, www.yellowdogflyfishing.com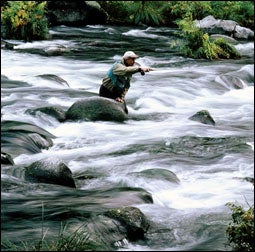 Elk Creek Lodge, Colorado
Shank a cast to a feeding cutthroat at remote Elk Creek Lodge and the only ones to notice will be your guide and maybe a few mule deer. Fifteen miles from Meeker in the northwestern corner of the state, the lodge is set against the Flat Top Mountains on 20,000 acres of working ranchland and miles and miles of private trout streams.

THE FISHING » Just a few minutes away is a mind-blowing ratio of trout to people, with a daily maximum of 22 anglers wading 20 miles of private water on Elk Creek and the south fork and main branch of the White River.

THE DIGS » Built in 1988, the 11-suite lodge sits at almost 7,000 feet, at the mouth of a spectacular alpine valley. In the antler-adorned log dining room, past menus have included everything from Kobe beef to sushi.

Access and Resources Doubles, $4,500 for six nights, guides included; 970-878-5454, www.elkcreeklodge.net

Clearwater House on Hat Creek, California
Strict regulations keep bait fishermen off these five northeastern California rivers and spring creeks, which makes them full of trout. Set in the heart of this underrated trout country is Hat Creek's Clearwater House, a beautifully restored farmhouse about 70 miles from Redding that's been the state's premier anglers' inn for 25 years.

THE FISHING » Clients can learn a tip or two from owner Dick Galland, who spends most of his free time drifting nymphs in boulder-strewn Pit River or tempting huge rainbows on crystalline Fall River.

THE DIGS » Sit on the sun porch of this 90-year-old seven-guest-room lodge and gaze at Burney Mountain as chef Noelle Wright dishes up fresh, seasonal specialties like grilled beef tenderloin in a local blackberry-wine sauce or a Middle Eastern/tropical fusion like her curried chicken with mango chutney and couscous.

Access and Resources $360 per person per night, with guide; 530-335-5500, www.clearwatertrout.com

Bristol Bay Lodge, Alaska
Arrive at Bristol Bay Lodge, 350 miles southwest of Anchorage on Lake Aleknagik, and you won't even have time to enjoy the view of the Wood River Mountains. That afternoon you'll be casting for silver salmon in the lodge's home waters, the Agulowak River.

THE FISHING » The guide staff relies on three DeHavilland Beaver floatplanes to shuttle anglers between six different rivers. One day you'll cast to 50-pound king salmon fresh from the Bering Sea; the next you'll throw flesh flies to the ten-pound rainbows that follow the migration and feed on dead spawners.

THE DIG » Bristol Bay Lodge is the latest purchase by Shackleton International, a British company that's bought six of the planet's plushest fly-fishing lodges. Despite being accessible only by boat or floatplane, this 17-bedroom guest lodge still finds a way to indulge its clientele, pampering them with fresh veggies, home-baked pastries, and plenty of steaks.

Access and Resources $4,995 to $6,550 per person per week; 509-964-2094, www.bristolbaylodge.com
Casting a Wider Net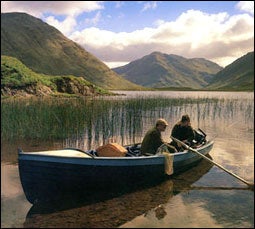 Turneffe Island Lodge, Belize » Cast to massive tarpon in crystal-clear, mangrove-lined salt creeks or wade the expansive turtle grass shallows for permit. Or just relax. This private 14-acre island, accessible only by boat or seaplane, has eight cabanas ringing the southern edge of the white-sand atoll, located 30 miles off mainland Belize. $1,870 for three nights; 800-874-0118, www.turneffelodge.com

Delphi Lodge, Ireland » The UK is to fly-fishermen what Yosemite's Camp 4 is to big-wall climbers: the modern birthplace of their sport. This 170-year-old country house situated about 75 minutes northwest of Galway is one of the finest salmon-fishing operations on Ireland's wild west coast. About $1,640 to $2,300 for six days; 011-353-954-2222, www.delphisalmon.com

Ponoi River Company, Russia » During full-moon tides, the thumb-shaped Kola Peninsula is home to the heaviest Atlantic salmon runs on the planet. Fish the endless Arctic daylight and return to a luxury wilderness camp, complete with grilled farm-raised reindeer, a fire lit in your wall tent's stove, and Finnish down pillows on the bed. $4,950 to $9,950 per week; 800-245-1950, www.frontierstravel.com

Pez Raton Lodge, Venezuela » During the Caribbean's June-to-November hurricane season, storms run east to west before cutting north and shutting down the bonefishing—unless you're blissfully south of their path, on Los Roques, an archipelago 80 miles north of Venezuela's mainland coast. Set in a national marine park, the Pez Raton Lodge is an eight-room posada for anglers. $3,195 for seven nights; 800-245-1950, www.frontierstravel.com
Dead In the Water?
The Counter-Enviro Power List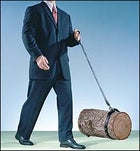 It's not unusual for hostile outsiders to bash the environmental movement, but lately mainstream enviros have faced a far more painful sort of attack: the kind that comes from within.


Leading the charge are Michael Shellenberger, 33, and Ted Nordhaus, 39, two political strategists who caused a firestorm last October when they released a 36-page manifesto called "The Death of Environmentalism." Their thesis: that the movement, "with all of its unexamined assumptions, outdated concepts and exhausted strategies," is facing a crisis of irrelevance. In their view, environmentalists haven't seriously updated their thinking in 30 years and are failing to effectively address the most pressing challenge of the day, global warming.


Considered scandalous by many old-guard greens, their work drew fire from Sierra Club executive director Carl Pope, who denounced it as "unfair, unclear, and divisive." But Shellenberger and Nordhaus aren't backing down. "Let's face it: Right now, the GOP is trouncing the environmental movement," says Nordhaus, an Oakland, California–based pollster. "It hasn't helped that our leaders are mostly literal-minded wonks."


Shellenberger, the executive director of an El Cerrito, California–based political organization called the Breakthrough Institute, says his group hopes to reenergize the environmental movement—partly by leaving the old mistakes of environmentalism behind, and partly by learning from strategies used by conservatives. He and Nordhaus have signed a deal with Houghton Mifflin to write a book detailing their political values and vision.


Also sounding the alarm: Adam Werbach, 32, the wunderkind who at 23 became president of the Sierra Club and who pronounced environmentalism DOA at a December 2004 speech in San Francisco. Over the past few years, Werbach says, he's felt like "a hospice worker trying to make the last days of environmentalism as painless as possible." Today he runs Act Now Productions, a company that creates media campaigns for progressive clients. Werbach hopes to inspire a movement that focuses on progress, not just problems. "Americans are aspirational: They dream of making things better," he says. Environmentalism will be meaningful again, he argues, when it does more than just paint nightmares.