How to Raft the Grand Canyon
The ultimate guide to rafting the Grand Canyon including how long it takes, whether you need a permit and how much it costs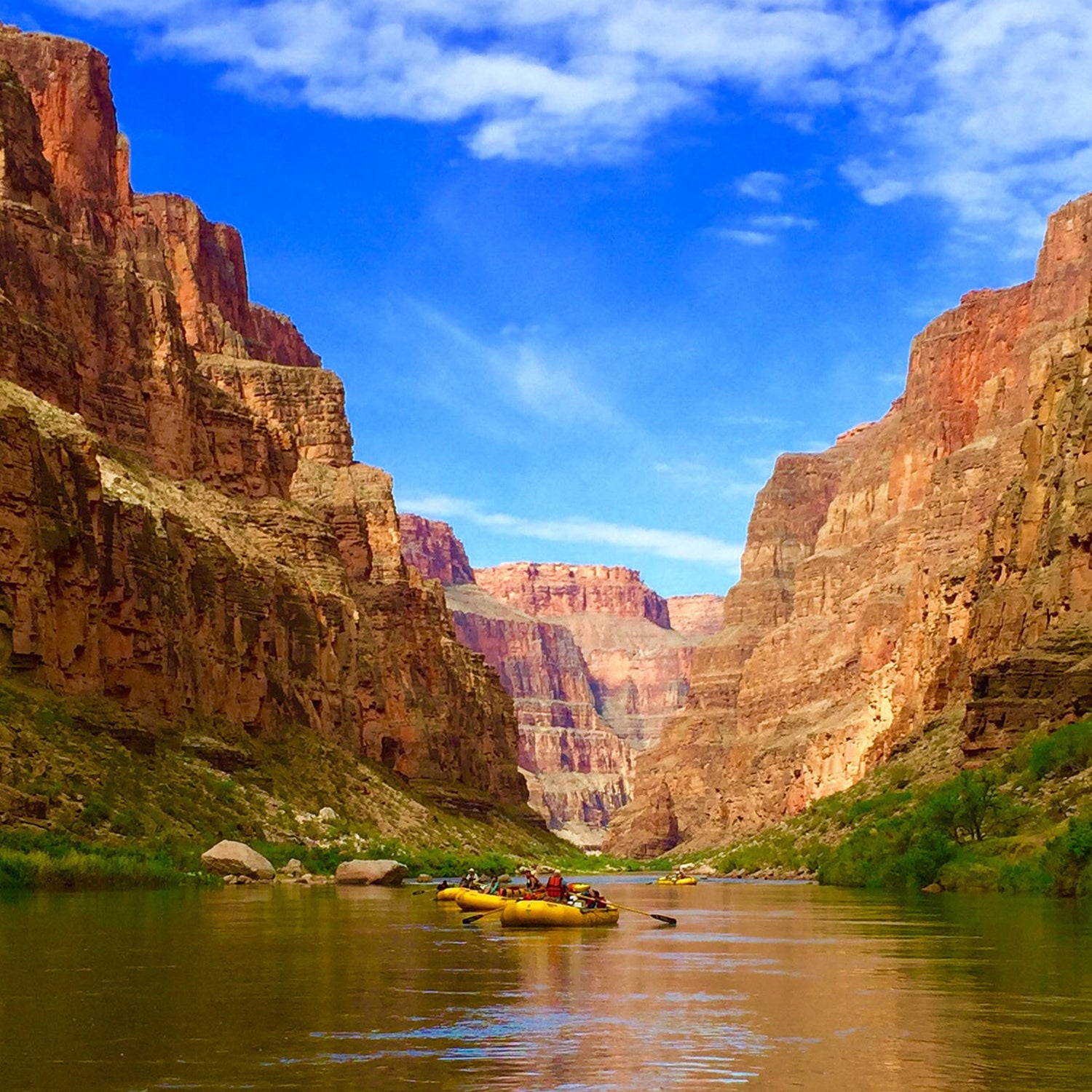 Kent Gubler
Heading out the door? Read this article on the new Outside+ app available now on iOS devices for members! Download the app.
Rafting the Grand Canyon is a bucket-list trip for many people and a spectacular way to fully experience the beauty, solitude and unique environment of this natural wonder. Along your rafting trip, you'll have opportunities to stop and do hikes to Ancestral Puebloan sites, see waterfalls, swim in turquoise waters and spot wildlife like bighorn sheep. The Colorado River extends for 279 miles through Grand Canyon and attracts approximately 22,000 visitors per year, mostly on commercial raft trips.
How Long Does It Take to Raft the Entire Grand Canyon?
Depending on how fast the river is running, how many stops you make to camp alongside this 279-mile stretch of river and if you have motorized rafts or oar boats, rafting the entire Grand Canyon can take anywhere from 7-18 days. The fastest way to raft the Grand Canyon is with motorized boats that can cover the distance in about 7 days, depending on how many stops you make. For those in oar boats, plan on between 15-21 days.
To raft the entire Grand Canyon, you'll put in your boats at Lee's Ferry, which is located 42 miles south of the Glenn Canyon Dam in Page, Ariz. Until Navajo Bridge was built in 1929, people had to cross the Colorado River by ferry at Lee's Ferry. While a new wider bridge was built in 1995, you can still walk across the Historic Navajo Bridge.
From there, you'll spend the next 60 miles in Marble Canyon, a beautiful place that stretches to where Little Colorado River meets the Colorado River. With gorgeous towering cliffs, this canyon is home to so many wonders. There are Ancestral Puebloan storage granaries in Nankoweap Canyon. Even 12,000-year-old remains of the extinct Harrington mountain goat have been found here, as well as ancient figurines that are more than 4,000 years old. This canyon is actually part of Grand Canyon National Park.
Your first whitewater rapids will be Soap Creek and Badger rapids. Soap Creek is at mile 11. After you leave Marble Canyon, you'll reach Hance Rapid, the first Class 8 that you will encounter. Located at mile 76.5, it's one of the biggest rapids on the Colorado, with the largest single drop (30 feet). At mile 87.5, you'll raft past Phantom Ranch, an iconic set of historic cabins and dormitories with a canteen that you can only reach by boat, by foot or by mule. Pull over to walk to the Phantom Ranch canteen to mail a postcard from the heart of the Grand Canyon.
Some of the biggest rapids of the trip follow, including Crystal at mile 98 (with its large holes in the center of the river), Sapphire, Turquoise and Ruby rapids. However, you'll navigate the infamous Lava Falls rapid at 179 miles, and it's really big and some would say, scary. It's a 9-10 on a scale of difficulty with 1 being easiest and 10 most difficult. It's a really technical rapid with steep drops and large waves like the Big Kahuna (yes, it is named) that can flip a boat.
At mile 225, you'll be at the starting point for shorter "Diamond Down" rafting trips through the Hualapai tribe's section of Grand Canyon. You'll probably see Haulapi River Runners' signature blue motorized boats fording the rapids.
You'll finish your trip at Pearce Ferry 279 miles from Lee's Ferry. Years ago, Pearce Ferry used to be located in Lake Mead's Pearce Bay. But drought has shrunk water levels in the lake. Today, Pearce Ferry is along the fast-flowing Colorado River.
Do I Need a Permit to Raft the Grand Canyon?
A permit is included in all guided commercial trips, so if you signed up to go on a guided trip, you don't need to worry about the getting a permit.
For private groups, rafting the Grand Canyon is only allowed by permit obtained through the National Park Service or, on the lower section, via the Hualapai tribe since 109.4 miles of the lower section is on their land where the Hualapai Nation meets the Colorado River. Private groups may apply for a permit through the park's annual lottery system. For more information go to  www.nps.gov/grca/planyourvisit/weightedlottery.htm
To get a permit from the National Park Service, you need to create a user account if you don't already have one here. Then, you'll log in to fill out a lottery application. Keep in mind you will need to list both the trip leader and the Potential Alternate Trip Leader (PATL), both of whom need an account in the system for your lottery application to be processed. In 2022, there was a $25 fee for the application. In 2022, the lottery opened on March 1 and closed March 3 at 12 p.m. MST. You can log into your account to find out if you got the dates you selected, but you will also be notified by email. There are additional river permit costs that you will pay if you get selected in the lottery.
An important thing to know is you can't just apply for this lottery without at least one person on the trip for the entire time having significant experience running either a previous Grand Canyon river trip as a boat operator in command or participated as a boat operator in command on a river of similar difficulty.  The selection of boat-operators is the responsibility of the trip leader.
If you plan to pull over on the stretch of the river where the Hualapai Reservation meets the Colorado, you will need a permit. Anyone found on the Hualapai Reservation where it meets the Colorado River who doesn't have a valid camping permit may face serious penalties, including impoundment of all river and camping gear, arrest and prosecution in Hualapai Tribal Court. To buy a Hualapai Nation river camping permit, call the Hualapai Nation Game and Fish Department at 928-769-2227 or 928-769-1122 or by email at hualapai.rafting@hualapai-nsn.gov
This 279-mile stretch is wild, with no developments of any kind except for the off-the-grid store and lodge at Phantom Ranch mid-way through the trip. River trips involve primitive backcountry camping on river beaches and being blissfully removed from the bustle (and all electronics) of urban living.
How Hard is Rafting the Grand Canyon?
Rafting the Grand Canyon is difficult and requires serious river experience for those leading the rafting trip. The Colorado River through Grand Canyon encompasses 160 sets of rapids that are so unique and generally difficult to run that they have their own rating system. While other rivers follow a whitewater rating system of I-V, Grand Canyon rapids are rated on a scale of 1-10. Some of these rapids are extremely difficult to run unless you are a very experienced river runner who has run similar-sized rapids in the past successfully. Unless you are traveling with people who are experts at running highly technical whitewater, plan to hire a commercial outfitter with seasoned guides.
When is the Best Time to Raft the Grand Canyon?
Most commercial trips run between May and October, with the peak demand months being June, July, and August. This makes sense because summer is the time most people want to be on a river. However, it is the hottest time to be in the Grand Canyon with temperatures that soar to more than 100 degrees. You'll want to be aware of heat-related illnesses if you go in the summer.
Go in fall or spring to avoid the crowds and triple-digit summer heat. Private trips often go in winter when more permits are available.
How Much Does a Grand Canyon Rafting Trip Cost?
All commercial outfitters authorized by Grand Canyon National Park to run trips are required to meet certain safety and environmental regulations.
Since the National Park Service only allows a fixed number of river visitors through Grand Canyon each year, spots on commercial trips are limited and typically fill at least one or two years in advance. Trip lengths and cost range from $399 for one-day rafting adventure with the Hualapai River Runners to $6,700 and up for a 18-21-day trip running the entire Grand Canyon. Modes of travel vary from motorized rafts to oar-powered boats to wooden dories. You'll be camping alongside the river as there are no hotels, with the exception of Phantom Ranch, along the way.
A one-day rafting trip in the Grand Canyon is run by the Hualapai River Runner Guides. It's a great way to raft the Grand Canyon without having to commit to a multi-day trip. The first 12 of the 40 miles are filled with fun rapids, and you'll pass interesting landmarks like where several of John Wesley Powell's men abandoned the river trip down the Colorado River, never to be seen alive again. The remaining miles you'll motor though flat water.
Hualapai River Runners guided rafting groups depart from Peach Springs, Ariz., on Historic Route 66 from the Hualapai Lodge by bus, driving for a an hour down to the river's put-in spot. You can either raft to a take-out spot where a bus will greet you and return you to Peach Springs. Or you can raft to a helicopter landing spot after lunch where you will take a helicopter up to the top of the Grand Canyon, at Grand Canyon West. While up there, you'll have a chance to walk the SkyWalk, a glass horseshoe-shaped bridge over the Grand Canyon, as well as see cultural dances and interpretative exhibit panels on Hualapai life past and present.  From Grand Canyon West, you'll return to Peach Springs via bus.
Along your rafting trip down the Colorado River with Hualapai River Runners, your guides will give informative narrations on Hualapai cultural history. Their motorized rafts are designed specifically for traversing the Colorado River.
Booking Your Trip
Deciding to take a river trip through the Grand Canyon is easy. Most people with a sense of adventure and a love for the outdoors, dream of such an experience: We imagine clinging to a raft as it bucks and surges its way through wave after wave of frothing brown water; we envision sleeping on a beach surrounded by the canyon's sheer walls with a narrow strip of stars twinkling overhead; or we picture ourselves clamoring over rocks and up around waterfalls through a twisting side canyon. It sounds idyllic. The tricky part is making that dream a reality.
Sixteen companies offer guided trips through Grand Canyon National Park. On average, these companies have been in service for 34 years, so you can't really rule out one for its lack of experience. Furthermore, all licensed outfitters are held to the highest safety and environmental standards set by the National Park Service, so you can rest assured that every company will provide you with a safe, environmentally responsible trip.
So how do you decide? You can narrow down your choices by considering what you personally want out of the your experience. You may be interested in the cruising luxury of a motorized-raft trip: the size of these big boats soften the power of the rapids and motors allow you to move faster down the river. Or you may want to get wet and paddle your own craft on a kayak-supported expedition. You can spend as few as three days on the river or as many as 19. Your trip may focus on natural or human history; or you might want to explore the canyon with your camera under the tutelage of a professional photographer. Some companies use wooden dories to navigate the river, others have a flotilla of paddle rafts, oar rigs and inflatable kayaks.
To filter through all your options, the best place to start is at the Grand Canyon River Outfitters Association website: www.gcroa.org. This site provides a summary of all the licensed commercial outfitters in the canyon with links to their individual websites, so it's the perfect place to see what kind of trips appeal to your specific goals and needs. Trips fill up quickly so you should try to sign up as early as possible to secure your dates. Sometimes this means more than a year in advance. If you are looking for something sooner, you may be able to fill a spot at the last minute however, so it's worth contacting the outfitters to see if there have been any cancellations.
Here are some criteria to look for: Type of river craft (motorized rafts, oar-powered rafts, paddle rafts, or kayaks), the length of trip, activity focus (hiking intensive?), theme (natural history trips, photography, music, geology, etc.), time of year (weather, water levels, temperatures) and special considerations (trips for seniors, physically challenged, families, etc.).
Tips and Tricks for Rafting the Grand Canyon
There are some definite tricks to staying comfortable and happy on rafting trips through the Grand Canyon. Protect your skin. Lotions and sunscreens are essential, but only go so far in preventing the ravages of sun, heat, water and sand. For your feet, what you really need to do is wear dry shoes and socks when hiking. Don't look to your guides for inspiration. Their feet are toughened by months on the river, so just because they choose to walk to Thunder Falls in their flip flops doesn't mean it's a good idea for you to do so. Keep your feet as dry as you can. When you get into camp, take off your river shoes and allow your feet to air out. If you have a pair of neoprene socks, you can wear those under your sandals when you are hiking or in the raft. You may not win any fashion contests, but the neoprene will keep your sandpaper-like sandal straps away from your delicate skin.
As for the rest of your body, keep slathering on the sunscreen. Better yet, wear a long-sleeved loose-fitting cotton shirt. White or other light colors are best, even if they end up rather brown at the end of the trip. You can douse your shirt in water to keep cool and the full cover works better than sunscreen in preventing burns. Wide-brimmed hats are also essential. Make sure your hat, and your sunglasses, are attached to you with a strap, otherwise, you are likely to lose them in the first rapid you encounter.
What to Wear During a Grand Canyon Rafting Trip
You don't need much on a Grand Canyon trip if you go during the warm or hot season: a couple of t-shirts and one or two pairs of nylon shorts, one pair of long pants, one fleece sweater or jacket, one or maybe two bathing suits, rain gear, toiletries, a book, sunhat, a small towel, and a few miscellaneous items. Think about bringing clothing that dries quickly, is loose and comfortable, and doesn't show dirt, because regardless of how often you jump in the river for a bath, your clothes are going to be permanently brown by the end. Pants are a good idea for the evenings. If it gets windy, you'll be happy to have something to protect your legs from the sting of blowing sand and to offset the chill of cool evening temperatures.
Temperatures can be cold especially when a storm rolls through. If the weather is good, you need little more than a fleece jacket to throw on in the evening, but if it is rainy, you'll probably want some kind of insulating layers to put on under your raincoat. Bring a down parka for cool nights and mornings. Talk to your outfitter and find out what temperatures are expected during your trip. It's hard to fake a warm layer out of multiple bikini tops, so be prepared for the worst-case scenario by bringing a few warm and waterproof items.
Lead Photo: Kent Gubler