Holoholo Hawaii
You'll hit more surf than pavement on this 250-mile pleasure drive around the Big Island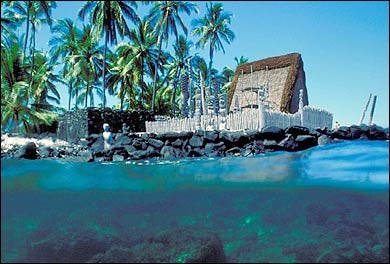 Heading out the door? Read this article on the new Outside+ app available now on iOS devices for members! Download the app.
The biggest of the Hawaiian islands—all 4,000-plus square miles of it—gets bigger all the time, thanks to Kilauea's regular spouts of volcanic activity. The ever-increasing real estate means there's more room to roam on the ultimate multisport Big Island road trip: a six-day, 250-mile route that starts and ends on the west coast in the surfer town of Kailua-Kona and circles the island counterclockwise. Get ready for a lush new location—and a matching adventure—each day. With eight of the world's 13 climate zones here in one place, you'll do it all: surf 75-degree ocean swells, hike to rainforest waterfalls, and scramble up snowcapped alpine terrain. Warning: Once you start this circumnavigation, you may not want to stop circling.
holoholo, hawaii, the big island


DAY ONE: Holoholo (the islander term meaning to ramble for pleasure) to Kahalu'u Beach, just south of Kailua-Kona and a leisurely 20-minute drive south of the Kona airport on Route 11, for a two-hour lesson with the Hawaii Lifeguard Surf Instructors. With three breaks, there are enough waves here for everyone from beginners to pros. I paddle out with a natural-born surfer: a huge, old green sea turtle the size of my coffee table back home. My instructor, Sandy Kamaka, a veteran surfer girl with 28 years of experience, shouts approvingly, "He looks like a real ali'i!"—a Hawaiian chief. Kahalu'u's waters teem with other undersea life—parrot fish, eels, sea urchins, wrasses—making it an ideal snorkeling spot, too. The breakwater shelters the southern part of the bay, allowing easy access to calm waters, warm tide pools, and a thriving coral reef, while also creating the five-foot waves on the park's north side.

Tonight, live the high life on 32 acres of lush Kohala Coast oceanfront at the Fairmont Orchid Hawaii, about an hour north of Kahalu'u Beach on Route 11. The 540-room resort wins points for location, location, location—plus its unique one- to three-day outrigger canoe program. Learn to paddle traditional Hawaiian watercraft and experience the culture of the state sport with some of the island's most accomplished paddlers.
DAY TWO: You'll barely get behind the wheel today, driving less than ten miles south on Route 11 to the town of Captain Cook. Watch the local fishing boats trail home just before sunset, when you'll swim with massive manta rays in the waters off the Kona Coast, perhaps the best place in the world to see them. The largest mantas here, with wingspans of 16 feet, feed on vast amounts of plankton, which are attracted to bright lights placed on the ocean floor by scuba divers. Jack's Diving Locker takes divers and snorkelers on sunset charters. For snorkelers, the view from above is just as striking: streams of bubbles dancing among schools of glittering fish and, more often than not, the silhouette of a hungry manta swooping by. If the main attractions don't show, there are plenty of competent understudies: long, translucent-yellow trumpetfish, and green sea turtles snoozing in a coral cave.

Bunk tonight at the funky 16-room Manago Hotel in Captain Cook, near the Kealakekua Bay Marine Sanctuary. A popular hangout for soldiers during World War II, Manago is still a favorite for clean, affordable rooms; the coolest by far is the Japanese room, with tatami mats, traditional screens, and an ocean-view balcony.
DAY THREE: As you round the southern tip of the island on Route 11 and head up the eastern coast, there's an unmistakable change in climate: Cloud cover rolls in and rain is likely. You're approaching Hilo, one of the wettest U.S. cities, with an average annual rainfall of 126 inches. Before you get there, stop at Hawaii Volcanoes National Park. All paved park roads are open to bicycles; pedal Crater Rim Drive, a moderate 11-mile loop that circles Kilauea's summit caldera and craters, through rainforest and desert terrain. Make scenic stops at Halema'uma'u Crater (the storied home of Pele, the Hawaiian volcano goddess), half-mile Devastation Trail (where you'll find a stark cinder cone and fragile forest still recovering from the 1959 eruption of Kilauea Iki), and Thurston Lava Tube (get an inside view of the plumbing behind a lava flow). An unpaved evacuation route, Escape Road, is open to mountain bikers when conditions are safe; consult park rangers at the Kilauea Visitor Center for maps and updates. From Thurston Lava Tube, the well-kept dirt road is a fast descent that crosses a 1973 lava flow to arrive at the Mauna Ulu parking lot, with an 800-foot elevation change. To connect back to the starting point for a 12.5-mile loop, take the Chain of Craters Road to Crater Rim Drive.

Three miles in from the national park entrance is Namakani Paio campground; free campsites are available on a first-come, first-served basis, or you can rent one of ten simple cabins. If you want an expansive breakfast spread of homemade coffee cakes, eggs Benedict, and exotic jaboticaba berries and rambutan, spend the night at Carson's Volcano Cottage, a mile and a half from the park.
DAY FOUR: Continue north about an hour to Hilo, where Route 11 becomes Route 19, and stop for a kayak excursion off the Big Island's unofficial capital. Fronted by black-sand shores, banyan trees, and picturesque green parks, Hilo has a small-town feel that's reminiscent of old Hawaii. The Hilo Bay coastline is laced with sheltered coves, inlets, and beach lagoons where you can paddle in for a closer look. Hawaii's trade winds usually approach from the northeast and dump precipitation on the windward side of the mountains (i.e., squarely on Hilo). The result: out-of-control papaya trees and blooming ginger by the roadside. Don't miss Hilo's impressive farmers market on Wednesdays and Saturdays. Another place to refuel: Wilson's by the Bay, for the best shaved ice.

At the meticulously restored historic Shipman House Bed and Breakfast Inn in Hilo, the ripe array of apple bananas, pineapples, and liliko'i (passion fruit) growing in the backyard also make welcome appearances at the morning table.
DAY FIVE: For stellar hiking, head 34 miles from Hilo to Mauna Kea—at 13,796 feet, its summit, often snowcapped, is a prime location for world-class observatories. Up top, you'll find unparalleled views of Haleakala Crater on neighboring Maui. The approach begins on Saddle Road between Mauna Kea and Mauna Loa, the island's two largest volcanoes. Hawaii Forest & Trail runs summit tours at sunset with naturalist guides and some of the world's best stargazing. You can also take a more adventurous route up Mauna Kea on your own, but bring plenty of water and warm gear—after all, this is where you'll find Lake Waiau, Hawaii's only alpine lake, fed by snowmelt. The trek to the summit from the visitor center, at 9,300 feet, makes for a strenuous 16-mile round-trip.

At day's end, return to your digs at the Shipman House. Sit back on a wooden rocker and browse century-old travel books beneath towering palms.
DAY SIX: Continue northwest on Route 19 to rugged, isolated Waipio Valley, on the windward side of Kohala Mountain, for incredible vistas and a return to a verdant, prehistoric Hawaii—you'll need a four-wheel-drive vehicle to access the 2,000-foot vertical cliffs, waterfalls, and mile-long gray-black beach. The trip is a thriller: The one-lane road down to the "Valley of the Kings" has a 33 percent grade in some places (you'll make the whopping 1,000-foot descent in less than a mile). Or Na'alapa Stables lets you explore the area like a paniolo, or cowboy—on horseback. The Waipio River, rainforest, and taro fields cover the valley, also home to the Big Island's tallest waterfall: the earth-shaking, 1,300-foot Hi'ilawe Falls. Then, if you can bear to tear yourself away from all this beauty, take your wheels down Route 19 to the Kona airport and fly back to reality.

DAY ONE: The pros at Hawaii Lifeguard Surf Instructors (808-324-0442, www.surflessonshawaii.com) offer two-hour lessons for $115 and five-hour classes for $165. Doubles at the Fairmont start at $399 per night; outrigger training sessions cost $75 for one day, $150 for three (800-845-9905, www.fairmont.com/orchid).

DAY TWO: Evening charters with Jack's Diving Locker (800-345-4807, www.jacksdivinglocker.com) include two dives and dinner for $105 (snorkeling, $75). Doubles at the Manago Hotel start at $68 (808-323-2642, www.managohotel.com).

DAY THREE: The $10 entrance fee per car at Hawaii Volcanoes National Park (808-985-6000, www.nps.gov/havo) is good for a week. Rent mountain bikes and racks from HP Bike Works in Kailua-Kona (808-326-2453, www.hpbikeworks.com) from $35 a day. Cabins at the Namakani Paio campground are $45 a night (reserve through Volcano House, across from the Kilauea Visitor Center, 808-967-7321, www.volcanohousehotel.com). Doubles at Carson's Volcano Cottage start at $110 (800-845-5282, www.carsonsvolcanocottage.com).

DAY FOUR: In Hilo, rent kayaks from Aquatic Perceptions Multi-Sport Tours (808-935-9997, www.multi-sport-hawaii.com) for $20 a day; a shaved ice loaded with sweet red adzuki beans, ice cream, and two flavors of syrup at Wilson's by the Bay (224 Kamehameha Ave., 808-969-9191) will set you back about $2.25. Doubles at the Shipman House Bed and Breakfast Inn start at $169 (808-934-8002, www.hilo-hawaii.com).

DAY FIVE: Summit and stargazing tours with Hawaii Forest & Trail (800-464-1993, www.hawaii-forest.com) cost $155 and include a hot picnic dinner.

DAY SIX: Na'alapa Stables (808-775-0419) leads two-hour rides for $75 per person. Most companies won't insure rental cars on Saddle Road. Harper Car and Truck Rentals will, for a price—four-wheel-drives start at $100 a day (800-852-9993, www.harpershawaii.com).