How the Grand Canyon Speed Record Was Broken Twice in Three Days
Over the weekend, paddlers descended on Arizona to break a 33-year-old speed record on a 277-mile stretch of the Colorado River. Their efforts may herald a flurry of new attempts in the Grand Canyon.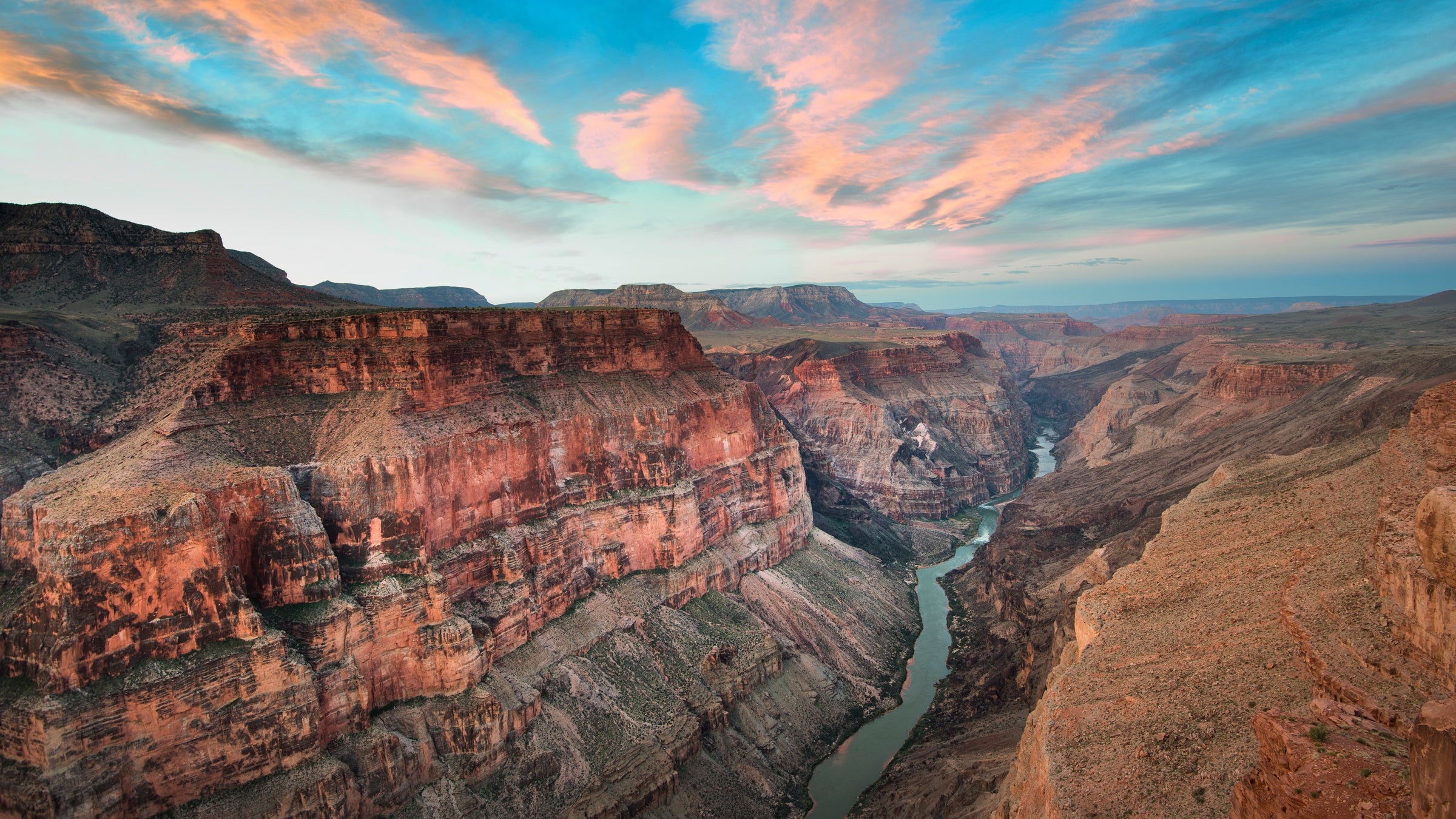 John Fowler(Photo)
Heading out the door? Read this article on the new Outside+ app available now on iOS devices for members! Download the app.
The record for paddling the 277.1 miles of the Colorado River through the Grand Canyon, from Lee's Ferry to the Grand Wash Cliffs, stood for 33 years, until last Thursday afternoon when it was broken by a formidable team of expedition kayakers. By Sunday, however, the record was lowered again, this time by a solo paddler who managed to do so despite a few mistakes that could have cost him more than just time.
The 1983 record of 36 hours and 38 minutes was set by a trio of veteran river guides who rowed, illegally, in a wooden dory called the Emerald Mile. They switched off at the oars around the clock and rode the crest of a historical flood that brought 72,000 cubic feet of water per second (cfs) down the canyon. The feat didn't receive much attention until 2013, when Kevin Fedarko's award-winning book about the journey, The Emerald Mile, sparked the interest of a new generation of paddlers. Prior to the book, it's safe to say that the record wasn't highly sought after, likely due to the difficulty of obtaining permits and the fact that most people who do obtain them aren't looking to race past the canyon's beauty (though it's unclear exactly how many paddlers have gone for the record since 1983).
Relative unknowns Ben Orkin and Harrison Rea set out to break the record last January—the time of year when it's easiest to score a paddling permit—and nearly did, but lost an hour and a half when one of their kayaks needed repairs below Crystal Rapid. Despite experiencing flows of between 10,000 and 17,000 cfs, and the need for repairs, the duo missed the record by just an hour and ten minutes. How they were able to come close to the record with a fraction of the flows that carried the Emerald Mile is simple: a kayak is much faster and easier to maneuver than a wooden dory.
"I'm never going back. But then, I said that last year, too."
So when last week, on January 20, expedition kayakers Ben Luck, Ryan Casey, and brothers Matt and Nate Klema launched their boats at 4:30 a.m. at similarly lower flows, they figured that setting a new mark would require traveling an average of 8 miles per hour and avoiding swims or other mishaps. Incredibly, Matt finished Thursday in 35 hours and five minutes, shattering both the Emerald Mile's time (by more than an hour and a half) and the motorized record of 35 hours and 43 minutes, set in 1993.
Once they got off the river, however, they began hearing rumors that Orkin, 25, had returned for a second shot, this time alone. Unable to locate him on Friday evening at Lee's Ferry, Ben Luck sent Orkin an email, reading: "Wanted to let you know that a group of four of us put in on Thursday and completed the river in 35 hours. Just felt like you should know. Best of luck out there." Orkin received it at 12:30 a.m. on Saturday, preparing to launch. He had had no idea that anyone else had been gunning for the record, but was grateful for the message.
Orkin launched his Epic 18x sea kayak by nearly-full moon at 2:30 a.m. with 36 Clif Builder's bars for fuel. By the time he reached the notorious Lava Falls at 11:30 p.m. Saturday night, he was on track to beat Klema's time by a half hour. Charging into Lava, he flipped upside down near the top, but in the exhaustion of paddling nonstop for 22 hours, he rolled his kayak completely over. Rather than struggle in the big, pushy waves, he decided to conserve energy by waiting out the rapid upside down and rolling up in the calmer pool below. Instead, his kayak was pushed to the right shore and trapped in the heaving current in front of a house-sized boulder called Cheese Grater rock, one of Lava's most significant hazards. He tried to wait for the surge that pushed him downstream, away from the rocky shore, but after several beats underwater, chose to bail out of his kayak. "This isn't the ideal scenario," he remembers thinking.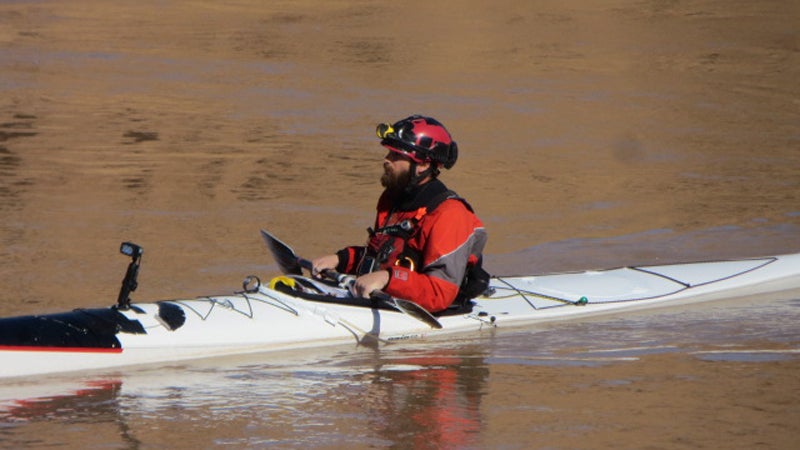 Worse, he'd left the relief zipper on his drysuit open, and the suit began filling up with water, dragging him under. He closed the zipper and, exhausted and struggling through the 46-degree water, tried to push his kayak to shore. Three times the river dragged him away from land, around the big eddy, until he was finally able to latch onto a tamarisk bush at the waterline. He'd survived and kept his equipment, but by the time he lurched ashore, emptied his boat and drysuit, and got back underway, he figured he had lost 45 minutes.
Nonetheless, Orkin paddled through the early hours of Sunday morning under moonlight, exceeding his 8 miles-per-hour pace, and somehow finished the run noon Sunday, notching a time of 34 hours and two minutes, besting Klema by 57 minutes. At the take-out, his father and a friend had to help him to shore and remove his drysuit. Reached by phone on his way home Monday, Orkin said he believes the record will fall again, possibly soon. "I left almost an hour in the canyon with my swim," said the Denver native. "I've heard rumors of three more attempts in the works for February and March."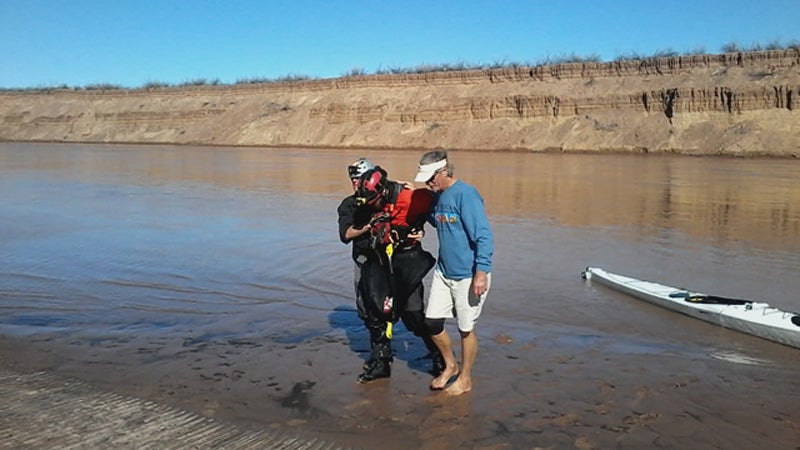 If that's true, then the Grand Canyon speed record may soon be ratcheted downwards in much the same way as what occurred on El Capitain's Nose route a decade ago: between 2001 and 2012, the Nose record fell 10 times, nearly all to the same half-dozen climbers.
It will be interesting to see if the mark begins to attract paddlers from across the spectrum. Whitewater competition professionals like Dane Jackson and Rush Sturges probably have the drive and incentive to lower the record, while the fitness level of wave-ski racers who compete regularly on hundreds-of-miles-long courses in South Africa and Hawaii might usher in a whole new paradigm, assuming they possess sufficient whitewater skills. It's not out of the question. In a kayak, the Grand Canyon rapids are relatively easy to navigate—just Class IV.
Orkin is thankful that Luck and his crew sent him the heads-up email. "It must have been a hard decision for them," he said. "I'd hate to be in their position, having worked that hard and ended up 50 minutes slow." Orkin replied to the email, congratulating the team on breaking the Emerald Mile record, and inviting them to try the record again. "I'm never going back," Orkin said. "But then, I said that last year, too."
Lead Photo: John Fowler