How to Pilot a Canoe in Whitewater
On our life list of must-learn talents: pilot a canoe in whitewater.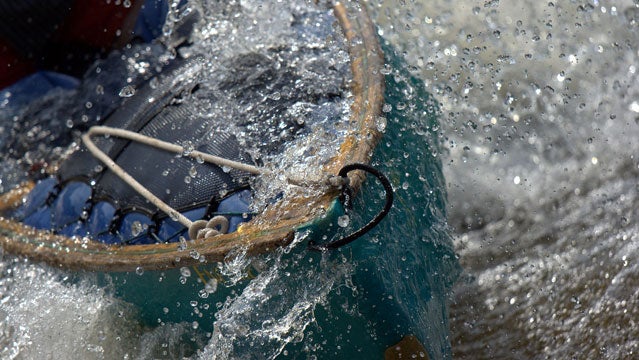 muppetofdestiny via Flickr(Photo)
Heading out the door? Read this article on the new Outside+ app available now on iOS devices for members! Download the app.
Back in the 1990s, on North Carolina's famously crowded Nantahala River, my buddy Luke and I were among the rare canoeists on the water. I fondly recall plowing our tandem Dagger Ocoee into the brightly colored kayakers bobbing in eddies. "God damn," I remember one guy remarking. "I only shoot ducks out of those things!" That's the beauty of a canoe. You can stroke them in flat-­water, load them with weeks of supplies, and, if you know what you're doing, shoot them down some pretty serious whitewater. A few pointers on the latter:
1. At a minimum, you and your partner should be able to catch eddies and peel out in swift current. At least one of you should have a rock-solid low brace. Not familiar with these terms? Take a class (paddling.net/schools).
2. Prep the boat. Make sure your "painter" (bow and stern) lines are ready to self-deploy. If you dump, these are what you'll use to grab and land your boat.
3. Stow away all loose gear and make sure the boat is well balanced, both fore-to-aft and side-to-side.
4. When scouting rapids, look for the sneak route, especially if you're running the rapid "open" (with no spray deck). You've got your food and clothing on board, so you're not looking for the most exciting line.
5. Plan your moves early. A fully loaded 17-foot canoe doesn't pivot like a playboat.
6. Slow down. Talk your way around obstacles. Learn how to back-ferry above rapids to get a better read on the situation.
7. Punch it. Speed equals safety. When you hit the pile, the bowman needs to lean forward—and dig in!
Lead Photo: muppetofdestiny via Flickr