Island Hopper, Island Hiker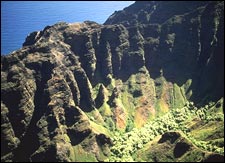 Heading out the door? Read this article on the new Outside+ app available now on iOS devices for members! Download the app.

Behind the green door: Waimea Canyon on the island of Kauai
Q: My husband and I are going to Hawaii for three weeks in October (mostly for hiking, kayaking, and snorkeling). We were thinking of spending some time on Kauai and the Big Island. How many days does it take to hike the Na Pali Coast? Can you suggest a few day hikes in Waimea Canyon? How about in Volcanoes National Park?

— Isabelle Bigras
Montréal, Canada



Adventure Advisor:

A: Of the three areas you're considering to visit, it's hard to pick an absolute must: all are uniquely beautiful and doll up hefty servings of diverse Hawaiian landscape. Plus, heading out in October means you'll be visiting on the cusp of the winter tourism boom while the summer flux of visitors will have waned. In other words, expect temperatures in the 70s, blue skies (though the rains will start picking up), and trails to yourself.

The Big Island is the motherlode of Hawaiian hiking. Hawaii Volcanoes National Park (808-985-6017; www.nps.gov/havo) has roughly 150 miles of trails that wind through lush tropical jungles near sea level or over barren lava moonscapes near the top of 13,677-foot Mauna Loa. The Mauna Loa Trail is a grueling but rewarding 36-mile, three- to four-day round-trip hike that starts at 6,667 feet at the end of Mauna Loa Road. The trail wanders past two cabins where hikers can crash for free; just bring a sleeping bag, pad, cooking supplies, and clothing for any type of weather, including snow. Hike 7.5 miles and about 3,400 feet to the first cabin, Red Hill, which has eight beds but plenty of floor space. Hike another 11.6 miles and about 3,600 feet to the Mauna Loa cabin, which has 12 beds and is situated along the crater rim with spectacular views over the clouds and across the three-mile-wide caldera. If it's just a day hike you're after, try the seven-mile round-trip Halema'uma'u Trail near the Volcano House Hotel.

The Kalalau Trail on Kauai's Na Pali Coast is perhaps Hawaii's finest hike. You'll hike steep ravines overlooking 4,000-foot cliffs spilling into the cobalt Pacific and, if you wish, ogle naked people. The Garden of Eden setting of this rugged band of coast just brings out the best in our prelapsarian urges. Count on at least three days to hike the 22-mile round-trip from Haena to the Kalalau Valley, where you'll want to spend at least a day camping on the beach. You'll need to get a permit from Hawaii State Parks ($10 per person per night; 808-274-3444; http://www.hawaii.gov/dlnr/dsp/dsp.html). Problem: Backcountry permits are typically all gone as far as one year in advance.

Lastly, Waimea Canyon. Some hikers say hiking here can be somewhat frustrating as you typically come to Hawaii to be near the water. There can be barely a drop here. But one trail worth checking out for the spectacular views across the mile-wide canyon is the Kukui Trail, which runs for 2.5 miles down the west side of the canyon. From the bottom of this trail, you can then catch the Koaie Canyon Trail where you might just find a swimming hole or two. For more information, call the Department of Land & Natural Resources (808-274-3433).