It's All Bueno
A wave off Rincón isn't the only wild ride in Puerto Rico. Here's an action primer on the island's untamed side.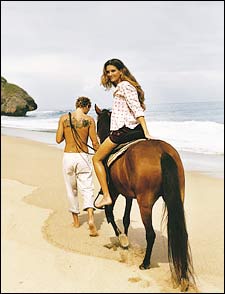 Heading out the door? Read this article on the new Outside+ app available now on iOS devices for members! Download the app.
WHEN GIVING DIRECTIONS, Puerto Ricans tend not to use street names, preferring instead to go with landmarks like "the old ceiba tree" or Las Tetas de Do–a Juana ("Do–a Juana's Breasts"), the 2,700-foot twin peaks near Cayey, in the south-central part of the island.
Access & Resources
CLICK HERE
for the 411 on the active aspects of the island's untamed side.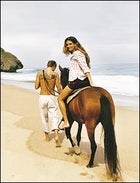 P.R.'s wild side
This habit stems from decades of inadequate road signage. And while the signs may have improved, old habits die hard. So on a recent two-hour drive from San Juan to Isabela, in western Puerto Rico, while I was searching for a horse stable run by Tropical Trail Rides, I happened upon a man gardening under a glorious flamboyant tree and I braced for the worst. Fortunately, the hospitality of rural Puerto Ricans, or jibaros, tends to match their disdain for conventional direction-giving. "Follow me," the gardener said, jumping into his pickup truck.


Puerto Rico, a U.S. commonwealth since 1952, has a population of 3.9 million. Luckily, more than a third of them live in the San Juan metropolitan area. Compared with other parts of the 3,435-square-mile island, the west—a loosely defined region running from Isabela, in the north, to Gu‡nica, in the south—has always been a place to find a little breathing space, and since the fifties it's been a secret closely guarded by savvy Puerto Ricans and a handful of American surfers. What initially lured the gringos hasn't changed: a 70-mile coastline with prodigious waves that backs up to varied terrain, from the lush pine, teak, and mahogany forests that blanket the Cordillera Central to the arid Arizona-style desert.
Start your tour with the 20-mile drive from Isabela south to Rincóe;n, a stretch that offers some of the best surfing in Puerto Rico. From there, travel 14 miles south to the port city of Mayagüez, the largest town on the west coast, then 23 miles south to the calmer waters of the Caribbean Sea, where you'll find sublime snorkeling off Cabo Rojo. When you reach the Cabo Rojo National Wildlife Refuge, just south of town, mountain-bike a trail network among thousands of migratory birds, then cap it off with a swim in the nearby bioluminescent bay. If you're not already aglow, this dip will do the trick.

Horseback Riding
Rico <I>Suave</I>
Can't get enough of Puerto Rico's deserted beaches and world-class surf?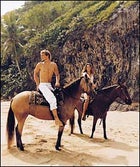 Easy riders; taking a tour of Survival Beach, near Rincón
THANKS TO MY green-thumbed friend, I finally found Tropical Trail Rides, where owner Craig Barker, a transplanted Californian, was waiting by the barn alongside a sturdy corto fino horse, my first ticket to riding the wild west.
Barker saddled me up and I departed with a small group from Shacks Beach, a beloved surfer's spot in Isabela, and rode to a trail where we trotted under the shade of an almond forest. We emerged three miles west, at the fabulously deserted Survival Beach, a wide stretch of sand backed by 150-foot cliffs.
After galloping along the beach, we climbed the craggy cliffs to a point where our guide, Jessica, balanced precariously on a rock outcropping as she pointed out the channel where humpback whales run in the winter. Fifty feet above us was the fence surrounding the former site of Ramey Air Force Base, a key Cold War staging ground for B-52 bombers and now a commercial airport and U.S. Coast Guard base. As we headed back toward Isabela, we stopped at an empanadilla stand on Route 4466, where I inhaled a few bacalaitos (codfish fritters). My bill, with coffee: $2.
Tropical Trail Rides (787-872-9256, www.tropicaltrailrides.com) charges $35 for a two-hour guided ride. Villa Montana (two-night packages for two start at $382, breakfast included; 888-780-9195, www.villamontana.net), a few hundred feet west of Tropical Trail Rides, has 54 villas on its 30-acre site.
Surfing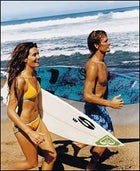 En route to the waves of Rincón
IN 1968, PUERTO RICO hosted the World Surfing Championship in Rincón, putting the west coast on the map for wave riders. "Puerto Ricans long ago became used to seeing crazy Americans out here," said Casey Moul, a surfer who moved to Rincón from Rhode Island in 1983 and is now headwaiter at the town's luxurious 52-room Horned Dorset Primavera Hotel. "Rincón is a very friendly place."
So are its waves.
The most popular surfing beaches—Tres Palmas, Sandy Beach, and Maria's—are scattered around Rincón's Punta Higuera Lighthouse. The best breakers are typically eight feet, and water temperatures hover around 80 degrees.
Surfers with disposable income will want to splurge and stay at the Horned Dorset. The Mediterranean-style hotel, which seems better suited to Monte Carlo, sits on an unnamed 20-foot-wide beach that extends for miles. It recently added 22 duplex villas cantilevered into a cliff, but the original 30 rooms are only feet from the lapping waves. Daily rates at the Horned Dorset (800-633-1857, www.horneddorset.com) start at about $600 for doubles, including breakfast and dinner.

For those not on the splurge plan, try the Rincón Beach Resort. The 120-room red-tile-roofed hotel and its swimming pool front a wide, sandy beach—nesting grounds for leatherback and hawksbill turtles. The owners smartly avoided beachfront lighting, which can be fatal to the turtle hatchlings. Doubles at Rincón Beach Resort (787-589-9000, www.rinconbeach.com) start at $160.
For surfboard rentals, sales, and info on where the best waves are breaking, call Playa Brava Longboards and Coffee House, in Aguadilla, at 787-890-2189.

Mountain Biking and Hiking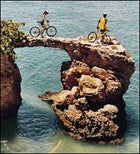 Endo: Singletrack meets sea near Cabo Rojo
MOUNTAIN BIKING gathered steam in Puerto Rico in the mid-eighties and has developed into a full-fledged local passion under the auspices of La Comisión Mountain Bike de Puerto Rico (www.cmtbpr.com). The group organizes a few dozen races between March and October, mostly on western trails. Preferring to pedal at less than race pace, I hired Hilda Morales, of AdvenTours (787-530-8311, aventura@coqui.net), to organize my ride. She in turn hired local field biologist Emilio Font-Nicole to guide me by mountain bike, foot, and kayak through the Combate region, which includes 1,836-acre Cabo Rojo National Wildlife Refuge.
We started out near the 1,249-acre salt flats of Cabo Rojo, biking past the crystallized edges of the flats and into the refuge, whose guests include thousands of migrant warblers that stop here on the way from Alaska to South America between September and December. Piping plovers, yellow-shouldered blackbirds, and brown pelicans—all endangered—also use this as a stop. We rode about eight miles along flat trails blazed by the U.S. Civilian Conservation Corps in the thirties and came upon the remnants of a train track laid more than a century ago by the American Railroad Company. Conservationists are lobbying legislators to incorporate the track into a proposed 100-mile mountain-bike trail network.


Leaving the refuge, we rode up the steep rocky paths surrounding the Cabo Rojo Lighthouse, which sits on dramatic limestone cliffs carved by pounding waves. From the lighthouse, we rode down to the horseshoe-shaped shore at Bah'a Sucia ("Dirty Bay")—which is anything but—and took a cleansing dip.
That evening, I drove 20 miles east of Cabo Rojo to Gu‡nica and the Copamarina Beach Resort (doubles start at $165; 800-468-4553, www.copamarina.com), a plush 106-room hotel, with two miles of sandy beach connected to the public Cana Gorda Beach. The resort is adjacent to the 11,000-acre Gu‡nica State Forest, which contains 25 miles of hiking trails.
The Wheel Shop (787-255-0095), in Cabo Rojo, rents mountain bikes for $20 a day. AdvenTours' Hilda Morales can arrange guided biking, hiking, kayaking, and bird-watching trips. Half-day bike tours are $78 per person; half-day kayaking tours are $63 per person; and a full-day combination runs $107.

Snorkeling and Scuba Diving
Access & Resources
GETTING THERE: American Airlines (800-433-7300,
www.aa.com
) offers six direct flights a day from Miami and New York to San Juan's Luis Muñoz Marín International Airport. The island's public transportation isn't always reliable, so consider renting a car. Budget (800-472-3325,
www.budget.com
) has an office at the San Juan airport. A midsize will run you $47 per day, $242 per week.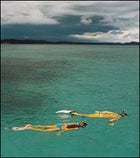 Flippering out near La Parguera
THE FAMED 20-MILE-LONG Parguera Wall, five miles offshore from La Parguera, is one of the best dive sites in Puerto Rico. The Wall, which is 500 feet deep in places, sprouts with black coral and is a hangout for moray eels, barracuda, stingrays, and sharks.
Not crazy about the idea of becoming shark bait, I decided to snorkel instead. I set out with Captain Angel Rovira, owner of Parguera Divers (787-899-4171, www.pargueradivers.com), for a three-hour tour to Enrique and Media Luna reefs. We sped about 15 minutes out in his 30-foot Island Hopper. The water was choppy, but visibility was at least 30 feet, enough to catch glimpses of blue tangs, grunts, and damselfish.
The most magical underwater experience near La Parguera, however, is swimming in its bioluminescent bay at night as millions of single-cell organisms called dinoflagellates cause the water to shimmer and glow when agitated. Do your part and head down to La Parguera's docks before the sun sets and find a driver who will take you out in his skiff (about $5 per person) so you can take a swim and turn on the glitter.
Parguera Divers charges $33 per person for a three-hour snorkeling tour and $70 for a half-day scuba trip (two-tank dive), $85 with equipment.

Vieques: The Boom Is Over
I'M ABOUT 20 MILES off of Puerto Rico's east coast, lying on an unnamed and empty beach on the eastern end of the island of Vieques. After kayaking 45 minutes to get here, I decided to spend some quality time with my towel. A year ago, this would not have been possible.
When I lived on Vieques in 1998, the beach I'm lying on—along with two-thirds of the entire 21-by-six-mile island—was locked up behind a chain-link fence. In 1941, the U.S. Navy built bases on both ends of Vieques, relocated thousands of locals, and began using the eastern tip for bombing practice. When a stray bomb killed a civilian in 1999, the contentious issue of the Navy's presence flared into protests and civil disobedience.
Last May, the Navy relented and left. The fences came down and 17,100 acres of former Navy land were turned over to the U.S. Fish and Wildlife Service to create a national wildlife refuge. We suggest you get yourself to Vieques now, before the calm after the munitions boom is replaced by the crowds of the commercial boom. A word of warning: Heed the signs indicating that unexploded ordnance may be in the area.
The best way to experience the island is to base yourself in one of its two towns—Isabel Segunda, on the north side, or Esperanza, to the south—or at one of two rustic lodges tucked back in the hills among the banana groves, Hix Island House ($175-$260 per loft; 787-741-2302, www.hixislandhouse.com) or La Finca Caribe (doubles, $80; 787-741-0495, www.lafinca.com). You'll want four-wheel drive, but don't be surprised if your rental's gas gauge doesn't work—just embrace Vieques's don't-sweat-the-details vibe and get on with experiencing these newly reopened spaces.
** The East End
There are two main attractions on the east end—Red Beach and Blue Beach—both of which can be accessed via the Garcia Gate, 2.5 miles northeast of Esperanza.
To get to Red Beach, drive 1.5 miles east of Garcia Gate until you see a turnoff to the right. A mile down the road, you'll see a peaceful one-mile-long cove with silky sand and gentle waves. Or if you prefer to ditch the car, guide Karl Husson, from La Dulce Vida, in Esperanza, can escort you there via a 2.5-mile muddy mountain-bike ride on singletrack that spits out onto Red Beach ($65 per person; 787-617-2453).
A mile past the Red Beach turnoff, the road ends at Blue Beach, a mile of sugar-white sand meeting turquoise ocean. Bonus: Three-acre Isla Chiva lies 200 yards out in the bay. Swim to its western side and you'll find a reef swarming with puffer fish and barracuda.
** The West End
Wilder than the beaches on the east end, the 1.5-mile Green Beach is accessible only through the Green Beach entrance, eight miles west of Isabel Segunda. Drive two miles along the paved road and bear right at the fork. Once it becomes dirt and bends south, all the turnoffs for the next mile will take you to Green Beach. To up the adventure ante, drag your rented sit-on-top into the swells and paddle south a quarter of a mile around a rocky spit to cruise over shallow coral-encrusted canyons swarming with yellowtail snapper. Follow the coast south until you find a two-story boulder sitting in the surf: At its base you'll see a set of sandy baths that fill up with ocean water. Pick up kayaks at Aquafrenzy, in Esperanza ($40 per day; 787-741-0913).
** Getting There
Fly from San Juan on Vieques Air Link ($69 one way; 787-741-8331). Rent a car from Steve's Car Rental in Isabel Segunda ($45 per day; 787-741-8135).