Jack Out of the Box
America's multiplatinum surf troubadour rides his dreams like a North Shore break. His secret? If you love what you do, life and work can both be a rip.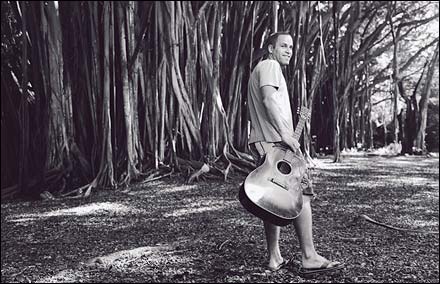 Heading out the door? Read this article on the new Outside+ app available now on iOS devices for members! Download the app.
MORE THAN 5,000 COLD, WET FANS stood in the April mud and rainy darkness at the Beale Street Music Festival, on the banks of the Mississippi River in Memphis, chanting, "We want Jack! We want Jack!" You'd think this would be manna to a folk-rock god, but, sitting on a sofa in a backstage trailer, Jack Johnson had other ideas. "Music is a secondary thing in my life," he told me.
Some may say that huge success accrues only to the single-minded. But as I followed Johnson, 30, on tour from Memphis to New Orleans and beyond, it was clear that putting music second—actually third, behind his family and the ocean—has a lot to do with how a surfer from Oahu's North Shore who claims not to be a "real singer" has, since 2000, produced three platinum albums, selling more than four million CDs in the U.S. alone. His latest album, In Between Dreams, which debuted in March, streaked to number two on the Billboard chart and by June had already topped more than a million copies.
Johnson may be a bona fide star, but he's an unlikely one. He is not disaffected. Nor is he lovelorn, angst-ridden, or tattooed. His wardrobe consists of loose-fitting jeans, T-shirts, flip-flops, and boardshorts. He wears his hair buzzed, as if he can't really be bothered with hair at all. Women think he's hot—"That's a good-lookin' man," a fan said to me as we walked by on a New Orleans street—but Johnson, who's about six feet tall, has no strut or swagger.
Instead of pop culture, he'd rather talk about Kurt Vonnegut or hunting feral pigs in Hawaii (with a knife and a lot of courage). But he and his band, which consists of bassist Merlo Podlewski, 35, drummer Adam Topol, 39, and, on piano and accordion, his old friend Zach Gill, 30, have become headliners at Bonnaroo and other festivals. In addition to his albums, Johnson recently recorded songs for a forthcoming Brian Grazer–Ron Howard feature film of Curious George. In early August he launched a 35-city tour of the U.S. and Canada, drawing mostly sold-out crowds of 10,000 or more. His popularity has made him new friends like Ben Stiller and earned him a couple of houses in prime locations on Oahu's North Shore and near Santa Barbara, California.
By every conventional measure this is a rocket trip to the A-list. But Johnson prefers to call his rise "an amazing chain of events." While he's not exactly wrong, his wild ride has been less a matter of serendipity than proof that the seeds of luck can fall on fertile ground if you follow your destiny and don't lose your soul, something Johnson has done by keeping salt water in his blood and refusing to forget his roots.
JOHNSON NEVER IMAGINED stardom. Born on Oahu in 1975, he grew up in a house with Banzai Pipeline in the front yard. Johnson's father, Jeff, an old-school surfer, had moved to the island with his wife, Patti, from Southern California in the sixties. Their front porch quickly became a hangout not just for Jack, his two older brothers, Trent and Pete, and their friends, but for some of the best big-wave surfers in the world, including Gerry Lopez, Derek Ho, and Laird Hamilton.
Johnson began to surf before kindergarten by kneeling on the front of his dad's board. Music came later, in his teens, when he picked up a guitar and a few licks from beach-party jam sessions. In high school, he sang and played guitar in a goofy punk band called Limber Chicken.
But riding the breaks always came first. He entered Pipeline Masters, a premier pro event, at 17. A week after the contest, a wave tossed him onto a reef and left a meatball where his face used to be. Johnson's karma being what it is, he healed quickly, using the recovery time to improve his guitar skills just before he took off for the University of California at Santa Barbara, where he played in a party band and studied film.
After graduating in 1997, Johnson did camera work and made soundtracks for independent surf films in locales from Ireland to the South Pacific. While recording instrumental music for the films Thicker Than Water and September Sessions, he put together a CD of his own music. Emmett Malloy, a filmmaker and amateur surfer from Los Angeles who is now Johnson's co-manager, introduced the singer to J.P. Plunier, Ben Harper's manager and producer. Plunier was looking to set up an indie label, Enjoy Records (now Everloving Records), and wanted Johnson as his first artist. The resulting 2000 album, Brushfire Fairytales, has since sold some 1.8 million copies.
Before his albums went platinum, Johnson's gigs were like vacations. Johnson, Topol, and Podlewski would travel in a van to clubs and college campuses, play, hang out, skateboard around town, see what there was to see. It was an easy vibe, and Johnson's laid-back, melodious lyrics reflected that.
"Adam and I used to play at this place in L.A. sometimes," he recalls, "and I met this musician backstage and she said, 'Oh, aren't you sick of playing these clubs? I can't wait to get up to the next level.' She was so anxious to play bigger venues that she was totally out of the moment. I thought to myself, She actually thinks she's going to go somewhere from here?"
Then one day in 2001, while eating a burrito at Illegal Pete's, in Boulder, Colorado, Johnson got a phone call from Malloy. The sales of Brushfire Fairytales were climbing. Malloy told him that Universal Records wanted to sign the band, and they were talking serious money.
"We had a lot of pride as this independent band," Johnson says. "We were probably too full of it. They were offering an amount of money we'd never thought we'd get. But I remember telling my friends, 'Let's just say no. Things are going so good.' "
Five minutes later, the phone rang again. The offer had been doubled. Johnson said no again.
"It was so fun!" he recalls. "It tripped them out."
Johnson wasn't playing games: He and his buddies truly didn't care if they hit it big. Life was good. "It's not like we were some great businessmen," he says, laughing.
He finally signed in 2002. But Johnson could say no, and enjoy saying no, because he didn't define himself as a musician or an entertainer. He still doesn't.
He's a waterman.
HAVING GROWN UP in a family and a culture built around the ocean, Johnson has remained grounded through a combination of simple living and adventure. Among the surf crowd, the term waterman has become an honorific, like the Spanish patrón or the Japanese sensei. Surfing does not make you a waterman. Neither does a good tan or playing the ukulele or having a house at the beach.
Johnson's father, Jeff, is the waterman archetype. Now 61, the semi-retired contractor, who still surfs almost every day, has a history of fearless experimentation in the water. Back in the seventies, he and a friend, Flippy Hoffman, inadvertently helped usher in the era of tow-in surfing by using a small outboard fishing boat to tow buddies riding an outrigger canoe into a 20-foot wave.
"I looked up to my dad," Johnson says. "It wasn't that he was big on rules or punishments; it was more like you knew you didn't want to disappoint him."
Pro surfing and making films were attempts by Johnson to preserve his waterman lifestyle while still making a living. Johnson admits he wouldn't have been able to survive financially if it hadn't been for his wife. He met Kim, 30, at UCSB during his first week at school. She was a double major in math and art and had a carved beauty and an energetic social conscience inherited from her grandfather, a progressive minister, and her grandmother, the director of a program that taught reading and English to recent immigrants.
After graduating from UCSB in 1997, Kim and Johnson traveled around Europe in a VW van, spent time in Hawaii, then set up house in Santa Barbara, where Kim earned her master's in education and became a high school math teacher. They were married in 2000 and now have a one-and-a-half-year-old son.
"Kim supported me as I traveled the world making surf films while she was on a teacher's budget," Johnson says. "That's the cool thing, to have somebody around I know and trust."
Johnson no longer needs Kim's income, but he relies heavily on her role as co-manager and her unflappable presence. When drunken girls in the New Orleans audience flashed their breasts at her husband, she cracked, "Hey, there's a child present!" When a huddle of girls on the street stop him for a picture, she never worries about the attention going to his head.
"Not at all," she says. "I suppose I might if he started to like the attention, but he doesn't. Besides," she laughs, "giving him shit is his brothers' job."
Back in Hawaii, the three Johnson brothers and their families live within a mile of the North Shore family homestead. "We're all such mama's boys, we couldn't stand to move away," says Johnson.
Once a waterman, always a waterman. But now Johnson is a waterman with money and cred. "I never really dreamed of being in a position where I had responsibility," he says, "but I wanted to do something positive with the attention I was getting."
So Johnson found a cause: the environment. "I was a nature boy growing up," he explains. "Being out in the ocean all the time, hiking, camping, taking canoe trips with my dad—that's where it all comes from."
In 2004, Emmett Malloy's cousin Chris, a surfer who is sponsored by Patagonia, introduced Johnson to Patagonia's One Percent for the Planet campaign, in which businesses promise to donate 1 percent of their net revenues for environmental causes. Johnson signed up—the first entertainment-industry heavyweight to do so.
He also trys to run an eco-sensitive tour, using biodiesel fuel for vehicles when possible and employing a recycling coordinator to organize bins and drop-off points at venues. He plans to offset carbon emissions generated by his current tour by buying renewable-energy certificates from NativeEnergy, a Vermont-based outfit.
Two years ago, Johnson and Kim started the Kokua Hawai'i Foundation, which has raised $250,000 to fund an educational program to teach Hawaiian kids about the islands' ecology and ways to preserve it. To support the foundation, Johnson and Kim sponsor the annual Kokua Festival on Waikiki, which features arts, music, and educational activities.
But Johnson is clearly uncomfortable talking about his stance as an environmental role model. "I'm not preaching," he says, "I'm just trying to set an example for anyone listening to my music."
This is Jack Johnson's struggle: how to be a star and still be Jack Johnson. He wrestles with this every day. The more he sees of America's celebrity culture, the more he thinks, This is not what I want my life to be like.
"I don't want to sound like some burned-out pop star," he tells me when I call for an update on his tour. "It's not like I want to give it all up and disappear. But I don't want to be at the same level I'm at now—I miss the surf trips to Australia and Indonesia too much."