Kiwi Becomes First to Solo Kayak the Tasman Sea
After nearly 40 years of attempts by multiple people—and at least one mysterious disappearance—Scott Donaldson became the first person to paddle alone across the 1,400-mile stretch of ocean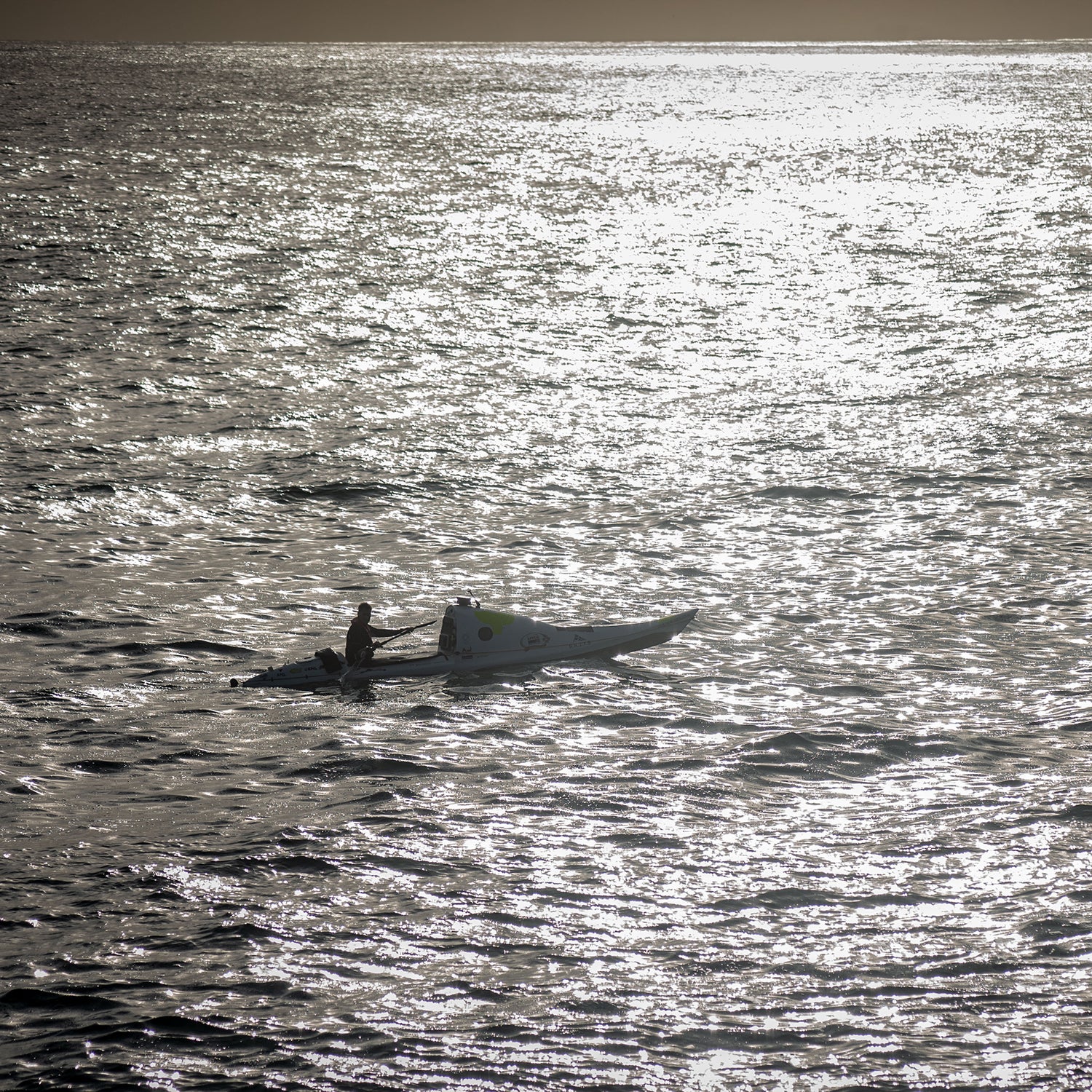 Heading out the door? Read this article on the new Outside+ app available now on iOS devices for members! Download the app.
The Tasman Sea, which stretches 1,400 miles between Australia and New Zealand, is one of the most unforgiving stretches of nautical terrain in the world. Part of a belt of ocean known as the "Roaring 40s" after its latitudinal coordinates and violent weather, it's a place where international shipping containers get tossed like pool toys, Antarctic storms whip up 30-foot waves, and gale-force wind and rain can shred sailboats' canvas into confetti. At least a dozen experienced sailors have simply vanished into the Tasman in recent decades, some during organized races.
Kayakers have been trying to cross the sea alone since the 1980s. Well after humans trekked solo to both poles, summited Everest without oxygen, solo kayaked across the Atlantic and Pacific oceans, swam unsupported from Cuba to the United States and otherwise accomplished any number of feats of bravery and athleticism, a solo kayak crossing of the Tasman remained out of reach, seemingly beyond the limits of human strength and ingenuity.
The person who came closest was Andrew McAuley, an Australian who was just 30 miles from New Zealand's Milford Sound when his kayak began taking on water in early 2007. He radioed for help, but by the time the Coast Guard tracked down his boat, it was too late: His body was never found. A National Geographic film about McAuley concluded that crossing the Tasman alone in a kayak was simply "impossible."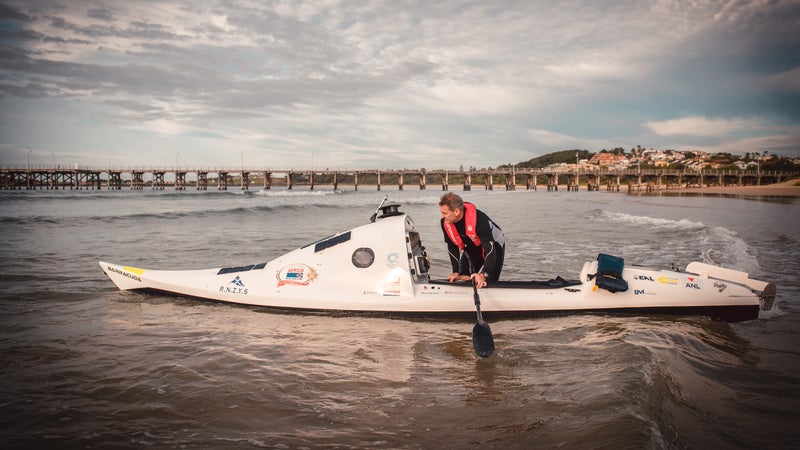 At 8:30 p.m. on July 2, though, in the darkness of a southern hemisphere winter, a 48-year-old sports coach from New Zealand named Scott Donaldson scraped onto a beach in New Plymouth, New Zealand. Exactly two months earlier, he'd set off from Coffs Harbour, Australia in a custom-built, carbon-fiber, 20-foot-long kayak. After being helped ashore—his legs wobbly, beard grizzled with salt, looking not unlike Tom Hanks in Castaway—Donaldson admitted with classic Kiwi understatement that it was "kind of epic."
"It was bloody hard work," he added later. "I'm knackered."
---
Compared to crossing the Atlantic, where the waves generally roll in one direction, Donaldson says crossing the Tasman is like paddling in a washing machine, with waves coming from three directions at once. A lifelong competitive swimmer and triathlete, he decided to solo the Tasman to raise money for research on asthma, which he and his eight-year-old son both suffer from. But he was also drawn to the challenge—not just of tackling harrowing seas in a two-foot-wide boat, but of figuring out the logistics and gear and navigation needed to achieve one of the world's last great feats of paddling.
His first attempt, in 2013, was aborted after just a few days. He tried again in 2014, and after nearly three months at sea, was rescued by helicopter just 50 miles off the coast of New Zealand, his boat battered and satellite phone soaked from a brutal storm.
By this point, a team of kayakers had already crossed the Tasman, as had several rowers, two of them solo. But kayaking is a different beast than rowing, and long-distance kayaking without a partner is uniquely difficult. Unlike rowing, in which you use your whole body to pull the oars toward you with the assistance of two fixed fulcrums, the act of pushing a kayak paddle through dense salt water has no mechanical advantages. It is "an absurd form of long-distance ocean travel," the journalist Elizabeth Weil writes. "All the big muscles in the body are useless." The muscles that are used—your lats, deltoids and triceps, mostly—get worked to exhaustion, while your leg muscles atrophy and your feet, thighs, and buttocks sit in pools of salt water that chafe the skin nearly raw.
On solo trips, that physical suffering is augmented by the challenge of staring at an unbroken, seemingly unmoving horizon for weeks on end, with no companionship but your own thoughts. Water, Donaldson says, is "all you see." The author Paul Theroux summed it up this way: "…The sea was a monotony of doldrums interrupted by windy periods of nightmarish terror. No desert was ever deadlier or more tedious."
Donaldson set out for a third go in May 2018, choosing to paddle at the start of winter to avoid summer cyclones. Like McAuley, he kayaked west to east, taking advantage of the region's westerly winds. Unlike McAuley, who had taken a southern route, Donaldson chose a more northerly path, with slightly calmer waves but more erratic currents.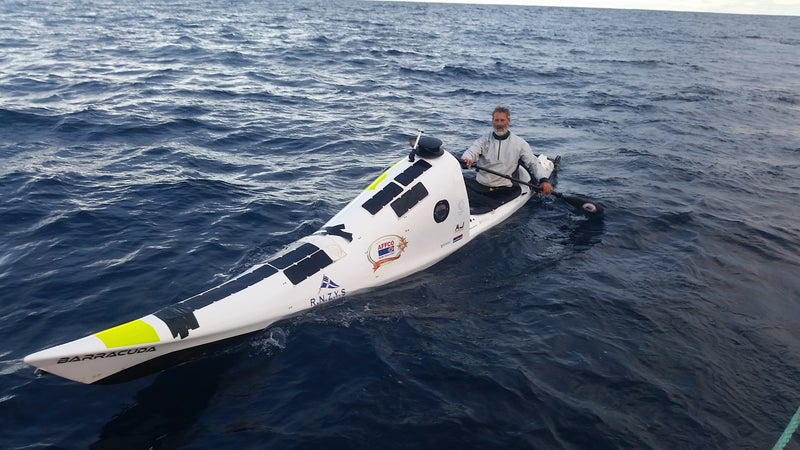 On good days, he paddled for 16 hours straight, averaging more than 20 miles a day. On bad days, when the wind was too strong to make forward progress, he paddled in circles or was blown backward. Other times he was forced to take shelter in a tiny covered cockpit, "basically trapped," he says, until the weather turned. On those days, it would've been easy for his thoughts to turn dark; to focus on the wind blowing him off course or worries about friends and family back home. Sleep was difficult. Although the kayak is designed to right itself should it roll over, lying down in a storm required a constant dance of bracing against the waves.
By the end, Donaldson's boat was patched with duct tape. An eight-foot shark had chomped on his rudder. He'd gobbled antibiotics to ward off skin infections caused by the constant wetness, and had lost 35 pounds from his already athletic frame. Yet as much as he wanted to see his wife and son, Donaldson took his time covering the last 50 or so miles to New Zealand. In its own way, life at sea was "pure." There was a simplicity to it that he wanted to relish for just a bit longer.
As he paddled the final stretch in darkness, a flotilla of kayakers appeared to lead him ashore. Fireworks exploded overhead. For a brief moment, they illuminated the first sight Donaldson had seen in 62 days that wasn't sky, water or his own boat: some 2,000 people who had turned out in the rain to welcome him home.
Lead Photo: Rob Wright