Killer Abs
Divers do the damnedest things in pursuit of Northern California abalone—like poaching, drowning, and getting gobbled up by great white sharks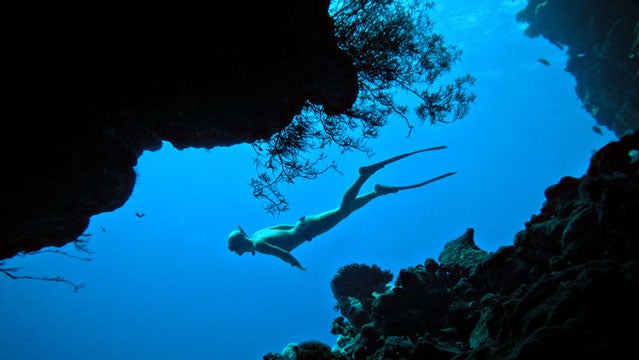 Heading out the door? Read this article on the new Outside+ app available now on iOS devices for members! Download the app.
RANDY FRY'S LUNGS BEGAN TO BURN as he swam along the ocean floor on a fading breath, 15 feet below the Pacific's murky surface. The water was frigid and dark, and Fry was making one of his first freedives in nearly a year. As carbon dioxide built up in his bloodstream, the 50-year-old Californian craned his neck toward the sunlight and kicked hard. When he finally broke the surface, he took a huge gulp of air and basked in the glorious afternoon.
northern California sharks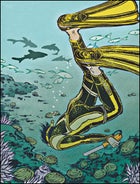 Illustration by Yuko Shimizu
Fry and his friend Cliff Zimmerman, 58, had dropped anchor in the cove at Kibesillah Rock, a Godzilla-size offshore sea stack ten miles north of Fort Bragg, California. The two men, diving buddies for 30 years, had chosen Kibesillah because the waters around it teem with a rare, much coveted delicacy: a saltwater mollusk called Haliotis rufescens, commonly known as red abalone.
So far they hadn't found any of the huge "abs" that Zimmerman had promised—a trophy specimen, shaped like an oblong plate, measures ten inches across—and Fry was getting antsy. As the two men bobbed in their wetsuits, three feet apart, Zimmerman turned to him and said, "The big ones are right below me."
Fry smiled, bent at the waist, and disappeared into the olive-green water.
Seconds later, Zimmerman watched in horror as the green churned red. He felt the buoyant push of something enormous; then, only a foot away, the dorsal fin of an 18-foot-long, 4,000-pound-plus great white bulged to the surface.
Zimmerman swam as fast as he could to his 30-foot boat and radioed for help. Within minutes, three helicopters and three boats had arrived to start a search, but they didn't find Fry's decapitated body until the next day, August 16, 2004. His head washed up a full two and a half weeks later, two miles away.
Though Zimmerman had watched Fry plunge into oblivion, he still dives for abs, and he'll tell you without hesitation that his friend "died doing the thing he loved best."
Which is a little strange, considering that Randy Fry died hunting snails.
NORTHERN CALIFORNIA'S abalone season runs for seven frenzied months, April through November (with a July respite to ease fishing pressures), and will see, on average, four diver deaths. Over the last two seasons, at least 11 divers have perished, out of some 30,000 licensed participants—a per capita death toll nearly three times that of skydivers and more than 30 times that of climbers.
By law, an ab diver is a freediver—to avoid having too many people show up, state regulations forbid the use of supplemental oxygen, so survival in the water depends on skill, a quarter-inch-thick wetsuit, and a hearty lung capacity. That isn't always enough.
Mark Messmer, a 31-year-old expert freediver from Sonoma County, became the sport's most recent fatality last September, when he drowned in less than 20 feet of water near the town of Jenner. In May 2005, 54-year-old Bay Area resident Sonny Lee also drowned, but as an autopsy revealed, he may have been knocked out after getting smashed against rocks by the surf. In November 2004, Dr. William Krupski, a San Francisco surgeon, was celebrating his 57th birthday with an ab dive near Mendocino when a rip current swept him out to sea. His body was found six weeks later, on a beach 200 miles to the north.
So what are people dying for? Aesthetically, an abalone isn't much to look at—it's a barnacle-ridden kelp eater. Gastronomically, it's one of the best meals you've probably never had.
Abalone holds a delicate, unique taste—not as chewy as calamari or as sweet as a scallop. "What does abalone taste like?" says Cliff Zimmerman. "It tastes like abalone." There's nothing fishy about it, and you can bake it, grill it, or eat it raw. The best method is also the simplest: slice it thin, dip it in flour, egg, and bread crumbs, and flash-fry it in olive oil with garlic. Fresh from the ocean, though, abalone is tough, like a new catcher's mitt, and tenderizing calls for creativity. One popular method sounds almost criminal: Take a two-by-four wrapped in a pillowcase and pound the slime out of it.
The red abalone, the largest of the world's 60-plus species, historically ranges from southern Oregon to Baja California. It was collected commercially in Southern California until 1997, when a combination of factors, notably gross overharvesting, forced the state to close the fishery. Against the counsel of state scientists, a limited commercial fishery may reopen at Southern California's San Miguel Island in the next two years, thanks to a controversial ruling issued last December by the California Fish and Game Commission.
Because the North Coast fishery has been solely recreational for decades, the red abalone is the healthiest of the state's seven species, though today its range is mostly limited to waters north of San Francisco Bay. The richest zone lies along the coastlines of Sonoma and Mendocino counties, where there's still an ample, if unquantified, population. Here, divers can stick their heads underwater in remote coves and see a bottom littered with abalone. Many poachers do the same and see a seafloor covered with cash.
Abalone bring in big money. The California Department of Fish and Game estimates that, every year, 264,000 abalone are taken legally by recreational divers, who inject more than $12 million into quaint North Coast communities like Jenner and Gualala. It's believed that an additional $250,000 worth of abalone is poached annually. With farm-raised abalone fetching $75 per pound, selling two pounds of wild abalone meat is as simple as walking into a San Francisco restaurant and offering up a snail.
The CDFG estimates that it catches only 5 percent of all poachers, but, even so, it has made some spectacular busts. In 1994, the agency broke up a poaching ring that had stolen 20 tons of abalone, shipping it as far away as China. In 1999, the CDFG's Special Operations Unit completed a six-month sting that led to 16 convictions. A group of Bay Area poachers had pulled up as many as 1,200 snails each, with some clearing $80,000 to $100,000 every season.
In May 2004, the agency nabbed sea urchin fishermen Kurt Ward, 45, and Joshua Holt, 36, with 468 red abalone—at least $23,000 worth—in the hold of Ward's boat in Mendocino County. The recreational abalone diving limit is 24 per season; these two had hauled out ten years' worth in an hour, and Holt admitted that "it wasn't the first time."
The bandits served a year in prison for felony conspiracy. Ward, a longtime commercial diver, maintains that he was only trying to feed his family and that the CDFG has greatly underestimated the health of the resource. "There are millions and millions of abalone on the North Coast," he says. "California is lying to the people about how many are out there."
Nancy Foley, 46, the CDFG's chief of enforcement, sees things differently. She calls Northern California "one of the last [red] abalone stands," adding that the CDFG is ill equipped to protect the population. The agency's jurisdiction includes California's entire 1,100-mile coastline and extends 200 miles out to sea, but it has only 21 game wardens dedicated to coastal surveillance.
"We need some help," says Foley. "It's a battle we're not winning."
WHILE THE HUNGER for abalone can lead to crime and death, a more common outcome—as I saw during opening weekend last April—is unbridled stupidity. Scores of ab divers were waddling into massive seas near the Sonoma County town of Ocean Cove, many not seeming to care about that day's 14-foot swell.
"We get plenty of knuckleheads out here," said Kirby Booth, 48, one of 15 binocular-toting search-and-rescue volunteers who joined a dozen other state and county officials to keep watch as the season got started.
"These divers give up mowing lawns for the weekend, drive 150 miles to the coast, and by God they're going ab diving, come hell or high water," he said.
Some years are worse than others. Old-timers still talk about opening weekend of the 1994 season, which saw 20-foot waves and ten rescues before noon. During the 1995 opener, Roger Rude, a 52-year-old retired lieutenant with the Sonoma County sheriff's search-and-rescue team, watched two men walk right by him and straight into the ocean while he unsuccessfully gave CPR to a young man who'd just drowned.
The 2005 opener was relatively quiet, despite the heavy conditions, but the sheriff's team kept itself busy buzzing the coast, 200 feet up, in Henry 1, its $2.5 million Bell 407 helicopter. As we whirred over yet another wave of people heading out to sea, 36-year-old pilot Paul Bradley explained the drill.
Usually a rescue entails clipping a deputy—known as a "meatball" or "screaming teabag"—to the belly of the bird, dragging him through the air on a line at 60 miles per hour, and plopping him into heaving, 15-foot-seas to pull out a struggling diver. "Most of the time," said Bradley, "the divers are either too far out past the break to get back in, or they're already dead."
With Bradley and the crew flying overhead, I went to Stillwater Cove—a favorite ab spot north of Ocean Cove. I watched as a trio of tattooed oil-refinery contractors from the Bay Area joked, "We're fishing for shark, and we're the bait!" Nearby, a candy maker from San Carlos watched a wave explode against a rock, looked at his buddy, and sighed, "Well, we're going to get beat up." They went in anyway.
A FEW DAYS LATER, I decided to join the delirium. As a certified dive master, I'm comfortable in the ocean, but I was plenty nervous, even though seas had dropped—to ten feet. The National Weather Service had issued a small-craft advisory. Diving for abalone in these conditions looked about as appealing as jogging in a hurricane.
Fortunately, my guide was Jack Likins, a 61-year-old retired Mattel executive and ab diver of 43 years, who boasts of owning "one of the largest collections of Barbie dolls you've ever seen." A former college water-polo player, the six-foot-two, 210-pound Likins looked at me sternly as the waves bashed in. "I wouldn't even think about going diving today if you weren't here," he said in his sandpaper voice.
Likins is part of the sport's North Coast nobility, an abalone grand master. His diving gear is worn and ragged—not shoddy, but well used. His ab iron—a flat, 14-inch crowbar designed to pry the snails off rocks—was made from the hardened steel of a leaf spring salvaged off an old Buick. The license plate on his brown 1949 Chevy pickup reads ABLUNY.
"I wanted to get ABALONE," he explained, sounding a little more distressed about the plate than might seem healthy, "but it was already taken."
Likins dives for trophy abs—snails ten inches in diameter or larger, which can feed seven people. (The largest ever taken was 12.3 inches across.) Most ab divers consider themselves lucky to find one or two ten-inchers in their lives; Likins has 58 trophy shells, dried, scrubbed, scoured, lacquered, and mounted, either on his wall at home or on display at Jay Baker, Gualala's community hardware store. (The Barbies stay packed in a dark corner of the garage.)
"We'll be lucky to find any abs today," Likins said as we shuffled into the surf. Fifty-two-degree water slinked down my wetsuit. I kicked toward deeper water, took a big breath, and dove.
Down, down, down—three hard kicks straight at the seafloor. A four-foot roller broke through the cove, pushing me to shore. Then the wave sucked out, toward the open ocean, dragging me with it. Sand and kelp and pieces of shattered sea urchin floated around. My mask smashed into something. The bottom. Time for air.
After 20 seconds of getting trashed, I was winded. Likins, more than twice my age, bobbed peacefully on the surface—Yoda in rubber. He looked at me, smiled, and said, "You've got to relax. Go with the ocean. If it surges, let it take you. When it lets up, go for the bottom. But you need"—another four-foot roller plowed through—"to relax."
Thirty minutes later, Likins brought up an 8.5-incher. I hadn't even seen an ab. Back on land, he handed it to me and said, "I figured you'd want something for your efforts."
I TOSSED THE SNAIL on ice and, a few hours later, grabbed a seat on the sun-drenched deck of the Stewarts Point Store. This 138-year-old, two-story building ten miles south of Gualala is a local landmark, held together by rotting beams and rusty nails. It's one of only a few shops for 21 miles along Highway 1's cliffs and hairpin turns. That afternoon, a group of county deputies and I sat out front drinking sodas, listening to a man who can justifiably call this place home court.
Archer "Arch" Richardson, 59, leaned over a railing and smoked his third cigar of the hour. His great-grandfather bought the store in 1881, and it passed down through four generations until Arch sold it in 2004, after 20 years, to his cousin.
During his tenure, Arch used to keep a body bag behind the counter. He would whip it out when tourists came in during a heavy swell to buy permits or ask about coves. He'd shake his head, pull out the plastic corpse carrier, and ask them, "Have you ever seen the inside of one of these?"
No, the tourists would say. "Well," he'd reply, "you're not going to when we put you in it, neither."
Sergeant Eric Thomson, 40, of the sheriff's search-and-rescue team, knows all too well what happens when divers ignore Arch's advice. "The big danger is the temperature of the water and its remoteness," he offered. "It's not like Los Angeles or Huntington Beach, where you can swim onto the sand if you get in trouble. It's steep trails. People are parking their cars a half-mile away and hiking. There are a lot of rocky shores and not a lot of exits."
It's this same remoteness, Thomson said, that makes poaching so easy. Beaches are hard to patrol because they're often hard to get to, and harbors are few. "You get some commercial boat, an urchin boat, and they're not getting enough money for urchin," he said. "Well, they can send a diver down and pull up 300 abalone—"
"Why take silver when you're looking at gold?" Arch interjected.
"Then they drive down to San Francisco and pull up to a dock," Thomson continued, "and who's going to stop them there?"
Arch chomped his cigar and turned to me. "Go to Chinatown and see how long it takes to get in a bidding war over an abalone," he said. "See how much you can get. Don't sell it—you'll get arrested. But it'd be a hell of a survey."
The next day, I drove 100 miles south to San Francisco and did just that. Arch was right. In only an hour, cluelessly going door to door in Chinatown with the ab on ice in a Tupperware container, I found three interested restaurateurs, one of whom offered me $90 on the spot. No wonder Fish and Game officials feel overwhelmed.
A MONTH LATER, I drove back up the coast to ab-dive at Kibesillah Rock. The locals told me I would be the first to try it since Randy Fry died there nine months before. This wasn't surprising, given that the only way to get there without a boat involves a long walk across private property, followed by a 100-foot rappel down a crumbling cliff.
The approach alone is enough to keep most people out, but Kibesillah is a legendary place—remote, spooky, and beautiful—and I wanted a taste. Facing the Pacific at cliff's edge, with the rolling Redwood Empire at my back, I remembered something Cliff Zimmerman had said: "There are lots of things with goddamn teeth around here. Mountain lions and bears in the hills, sharks in the water." I grabbed the rope, slid down the cliff, and dove Kibesillah alone.
The water was murky, even in the deeper sections at the mouth of the cove. Though it was a sunny May afternoon with a mild wind, a storm had passed through earlier in the week, so the runoff, combined with choppy seas, made searching for abalone difficult. I dove to the bottom and played benthic braille. I bumped into something round and hard, slipped my iron under it, and pulled up . . . a rock.
For the next hour I was an aquatic yo-yo—down, search, up, repeat—with no abs to show for it. And then I thought of Zimmerman's last words to Fry: "The big ones are right below." I turned my back to the shore and started kicking out toward the rock where Randy Fry made his final dive.
I took a deep breath and pulled myself down a cloak of kelp, scouring the rock with my hands until I hit the round, familiar feeling of an abalone. My lungs began to burn, but as I popped off the ab, I wasn't thinking about that.