Swimmer Laurin Weisenthal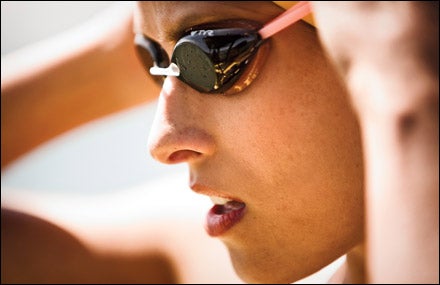 Heading out the door? Read this article on the new Outside+ app available now on iOS devices for members! Download the app.
Putting off med school to train for the English Channel swimming record? Now that's a gap year. San Francisco-based Laurin Weisenthal, 25, who helped her Harvard swim team win an Ivy League championship and break into the NCAA's top 25, plans to make her attempt at the 25-mile, 58-degree crossing from Dover, England, to Calais, France, this September. She'll have to do better than 7:25 to beat current women's-record holder Yvetta Hlavacova, of the Czech Republic. Weisenthal plans to fuel herself with Gu, jasmine tea, and baked potatoes—but no wetsuits allowed.
Outside: How'd you start open-water swimming?
WEISENTHAL: My grandfather is a lifetime swimmer. He's 96 and holds a lot of age-group world records. We were members of Fountain Valley's Los Caballeros Sports Village. I joined the team when I was six and walked up to the coach the first day and said, "I want to be on a Wheaties box." She said, "You got a little ways to go, but sure."
Are you fast enough to break the record?
At first, breaking the record wasn't even in my head. I was like, Dude, I just want to swim the Channel. But I have this ability to get on a pace and stay on it. Steven Munatones, the guru of open-water swimming, told me he thought I could do it in under eight hours. Cutting 35 minutes off that? It's just training and mentality. And whenever you have a goal, training is easier and more fun.
Fun? Swimming in frigid water sounds miserable.
You have to both physically and mentally adapt. Exposing the body to repeated cold increases your brown fat. White fat is the stuff that makes people look bigger and bulkier. Brown fat surrounds the internal organs. Brown fat is more related to muscle than white fat. It's got mitochondria in it. Mitochondria are the cells that make ATP. ATP is energy, and making it generates heat.
Does knowing that make you feel warmer?
It's kind of like a confidence builder.
What about the body grease?
In theory, it's supposed to keep you warmer. I've tried using Vaseline, and it doesn't really insulate. It helps with chafing, though. Some Channel swimmers have used lanolin, which, I think, is sheep's fat. It reeks.