Leaping Tiger, Drowning River
The world's greatest Communist supereconomy needs all the power it can get. The devil's choice: Keep burning dirty coal, or tap into Yunnan's crashing rivers for clean, cheap electricity. With dams rising up all around, PATRICK SYMMES joins a team of Chinese and American rafters as they outrun the concrete on a wild descent of the Yangtze.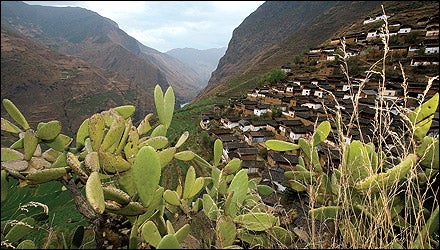 Heading out the door? Read this article on the new Outside+ app available now on iOS devices for members! Download the app.
BEFORE WE CLIMB INTO THE BOATS, Jim Norton tells a story that he calls "Four and a Half Billion Years in Twenty Minutes." This basically consists of forming the sand on the bank of the Yangtze River into the outlines of India and China, then smashing the two countries together with his feet. The result is a miniature version of the 13,000-foot-high mash-up known as the Tibetan Plateau. Patty-caking his way around the edges, Jim raises the Himalaya, Pamir, and Kunlun ranges, closing off three sides of this, the roof of the world.
Yangtze River, China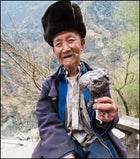 Traditional medicine for sale in the Yangtze's Tiger Leaping Gorge
Yangtze River, China

Jim Norton mans the oars on the Great Bend
Yangtze River, China

Below Haba Xue Shan mountain, near the Great Bend put-in
The village of Baoshan

The village of Baoshan, 800 feet above the Yangtze
What's a drop of water to do but flow east? Four of the planet's greatest rivers—the Yangtze, Salween, Mekong, and Irrawaddy—exit Tibet the only way they can, dropping off into southwestern China's verdant Yunnan province, or, in the Irrawaddy's case, Myanmar. Add hundreds of millions of years of tectonic grinding—Jim does this with his hands—and the result is what he calls Yunnan's "train wreck of geography," a bent and fractured landscape where all four rivers twist and reverse themselves, each divided from the next by 20,000-foot ranges of sandstone and limestone, flowing through a choke point just 56 miles wide. Tibetans call this spot the Mother of Waters: One in 12 people lives downstream from this narrow passage. Not one in 12 people in China, or one in 12 in Asia—one in 12 people on earth.
Clean-shaven and with the rounded shoulders of a longtime river guide, Jim, 34, molds and lectures, hurrying through Tibetan geology, Sichuan morphology, Burmese hydrology, and the human andbiological diversity that has arisen over millennia in this crenellated, inaccessible region. Roughly the size of Germany, Yunnan is a hothouse of 20 endangered animals and 6,000 rare plants, containing everything from snow leopards and golden monkeys to 70 percent of the herbs in the Tibetan apothecary. This bounty is nominally protected by a series of reserves and proposed parks the size of WestVirginia, a joint initiative of the Chinese government and the Nature Conservancy called the Yunnan Great Rivers Project. But conservation is a delicate business here: Wild rivers produce as much hydropower as biodiversity, and China is starving for cheap electricity. Jabbing one long finger into his ankle-high model, Jim marks where the Chinese government plans to build a massive hydroelectric dam. Then he does it again: another cut with his finger, another dam. And again. And again. And again.
"Not dams," Jim clarifies, his fingers trailing in the dirt, "but entire suites of dams, along with your standard sweep of insults, like road building and deforestation." Twelve or more dams are planned for this river; 13 more, including two that have already been built, will cascade down the headwaters of the Mekong, with still more on the Salween and Irrawaddy. That's just the beginning: Some government officials estimate up to 100 more in coming decades.
Jim wraps up his lesson in the advertised 20 minutes, and then kicks his sand creation into the river. The granules are starting a considerable journey, for this is the third-longest river in the world, and known by many names. Up in Tibet they call it Tongtian Ho, "the Way to Heaven." Here in Yunnan, it tumbles past us in a low, wintry torrent called the Jinsha Jiang, or "Golden Sand River." Seven hundred miles downstream, where it passes through the floodgates of the still-rising Three Gorges Dam and into the superheated valleys of China's lowlands, it is the Chang Jiang—the "Long" or "Eternal" river. Only after it passes Shanghai, 3,900 river miles below its source, does this water become the Yangtze, "Son of the Sea."
I put my toe in the verdigris water for the first time. Cold, for a sunny day in the tropics, but the river is snowmelt and we are at 8,000 feet. Just upstream is Tiger Leaping Gorge, a black thundercloud of Himalayan rock seemingly split in half by God himself. Every schoolchild in China knows the beauty of this impassable river canyon, its rock walls rising from frothing waters straight up into the clouds. Even here, on a gravel beach a mile downstream, the violence of the water's passage rattles the air. Although the gorge is a World Heritage site, protected by UNESCO rules, thefirst dam will go right at its top.
In 1986, a group of Chinese adventurers decided to preempt any foreigners and make a first descent of Tiger Leaping Gorge. Two teams of paddlers launched into the Class VI+ rapids; nine men died. A small museum upstream celebrates their heroism and shows their demented craft, a capsule made from two airliner-style rafts lashed together and covered with spare tires. What the Chinese learned from this highly publicized triumph is that whitewater rafting can be fatal.
That's why we're putting in below the gorge. Our group of 21 Chinese and American clients and guides push and strain at five rafts, launching into the flicking current. Below us, the river is swallowed by the 300-mile Great Bend, a passage through rugged mountains, seldom-visited villages, and 12,000-foot walls that is China's answer to the Grand Canyon. We'll run 128 miles, drop a thousand vertical feet, and float Class IV rapids that may soon be submerged.
Organized by Mountain Travel Sobek, ours is by no means the first commercial float down this stretch of the Yangtze—whitewater explorer Richard Bangs led the initial commercial trip down the Great Bend in 1987—but it's part of the first explicit attempt to create something enduring from this vanishing resource, the fruit of years of effort by Jim and his fellow guides to demonstrate a sustainable alternative to some of the dams. Of course, they'll have to paddle hard to outrun this wave of concrete: Although the dams are currently under review in Beijing, Yunnan's Communist Party secretary, Bai Enpei, insists that almost all will be built.
We slide down into the first rapids and are enfolded by rising walls. Time, and the river, are running.
CHINA IS THE ASTERISK at the end of every conversation about the environment. Fifty years after Chairman Mao's Great Leap Backward, much of the People's Republic is purged of nature, an eroded, beaten landscape of pilfered mountains and exhausted paddies, with dried-up rivers in the north and murderous floods in the south. The same size as the United States but with an additional billion people, China is battered by deforestation, coal mining, pollution, acid rain, and trash dumps, which together have devastated 50 percent of the country's land in the past half-century. Ninety percent of its grasslands are degraded or facing desertification; the country already has seven of the world's ten smoggiest cities; 400,000 deaths a year are linked to air pollution; and there are more than 2,000 reported environmental accidents a year. Pan Yue, the doomsday-slinging deputy minister of Beijing's own State Environmental Protection Administration (SEPA), has predicted an onslaught of 150million "environmental refugees" in coming decades, and estimated that pollution costs the Chinese economy 8 to 15 percent of its GDP a year.
Now, voracious demand for almost every commodity on earth is turning the Chinese environmental crisis into a global one. America is, of course, still consumption enemy number one. But in the next 25 years, China, which, like all developing countries, is not subject to the Kyoto Protocol, will spew five times as much CO2 as Kyoto is currently projected to save. Together with India, it will account for 70 percent of the world's projected increase in coal consumption. China has already become the second-largest producer of electricity in the world (behind the U.S.), but that is nowhere near enough: Though the Chinese use almost ten times less electricity per capita than Americans, China is adding the equivalent of one Sweden to its electric grid every year, with total energy use expected to triple over the next 25 years. Despite tight mileage restrictions, 1,000 new cars hit the streets every day just in Beijing, and the country could add more than 100 million vehicles to the planet by 2030. With the scale of it all, the exponential growth of its population and middle class, projections made one week are obsolete the next. Five years ago, Beijing ordered a 20 percent reduction in sulfur dioxide emissions; they actually went up 27 percent. The country's water-pollution index rose 3.7 percent in the six months surrounding my visit in February 2006, and last October, the Yellow River actually ran red from contamination.
It's not as if China's government isn't trying. Beijing is desperately struggling to learn from the mistakes of the United States and other developed nations, with leaders like President Hu Jintao often speaking more candidly about global warming than officials in Washington. Since 2003, Premier Wen Jiabao, China's economic leader and the greenest of its technocrats, has pushed the switch to a green GDP that deducts the cost of environmental destruction from calculations of profit and growth. Under this math, the economy expanded just 7 percent last year, not the 10.5 percent on the books.
But electricity has to come from somewhere, and as Chris Nielsen, executive director of Harvard University's China Project, a multidisciplinary study of energy and the environment, puts it, "For now the major options are basically ugly versus uglier versus ugliest." China currently gets 82 percent of its power from "thermal" sources, mostly coal and some 7.4 million barrels of oil a day. (The U.S., by comparison, consumes about 20 million barrels.) Solar and wind power won't go far in the short term—demand is outpacing the spread of the technology so fast that the price of solar is actually rising. And even if China keeps adding nuclear reactors to the nine it already has, as it plans to do, that alone won't satisfy the nation's appetite.
So what's left? Water. China has more hydropower capacity than any nation on earth, but even with 22,000 dams and counting, it has tapped only about 20 percent of its potential. (The U.S., with 6,575 dams, has tapped about 80 percent.) The Chinese are determined on this issue. The Yangtze's notorious Three Gorges Dam was pushed to completion ahead of schedule, despite a massive global attempt to thwart it, and by 2008 will be the world's largest electricity-generation station. Yunnan, with 80 percent of China's total hydro-power capacity, is next.
China confronts a devil's choice: clean, essentially free hydropower that drowns the wild valleys of Yunnan, or massive expansion of its use of oil, nuclear power, and sulfurous coal. Even worse, China could make no choices at all, and simply do both ugly and uglier, strangling its rivers, burning its coal, and lighting nuclear fires across the landscape.
"The road ahead is long and pretty unpleasant," Nielsen says. China could turn itself around, he points out. It would merely require avoiding or relocating the worst of Yunnan's dams; converting hundreds of planned low-tech coal plants into closed-cycle systems that sequester carbon, a controversial technology in itself; and simultaneously transforming this immense country, with itshundreds of millions of impoverished subsistence farmers, into the world's first entirely green, sustainably capitalist Commie supereconomy. And it would have to perform this "socio-political-intellectual-economic miracle," as Nielsen puts it, overnight.
WAY BACK in the 20th century, when I stumbled into Yunnan for the first time, I was drunk on sunshine, free love, and two months of third-class rail travel. Here, pressed against the borders of Myanmar and Tibet, in the land the Chinese call "South of the Clouds," I first saw why topography is destiny. After the chaos and heat of the Chinese lowlands, Yunnan was a cool, verdant escape, its green valleys carved by kinetic waters.
Eighteen years later, I feel once again as if I've entered a Taoist scroll painting. Amid long verticals of cloud-kissed peaks and twisting rivers, our five tiny rafts and 21 puny humans flow in harmony with nature, seeing that rarest of things in China: nothing. Shooting north all afternoon in perfect silence, in canyons without people, villages, or electric lines, we jiggle down through fast, easy wave trains, six of us Americans managing the 16-foot paddle raft with immensely tall, goateed guide Willie Kern chanting instructions from behind. The rest are distributed across bigger rafts while guide Jed Weingarten forges ahead on a cataraft, running safety on rapids. The day begins with one good jolting set of rapids and ends with another, called Baptism.
The sun vanishes from these canyons early, so we beach in midafternoon and set up camp and build a driftwood fire. Among the Americans are four Californians—Davo, Des, Roger, and Owen—who've come along with their friend Joe, a vacationing Mountain Travel Sobek guide, for what may be a last shot at this part of the Yangtze. We've also been joined at the last minute by a brother-sister-cousin trio, Jay, Elissa, and Chad, who were traveling through Kunming, the provincial capital.
Our American guides have been running commercial trips on the Yangtze and the Mekong since 2005. Jim hatched the idea in 2001; his father, conservation advocate Ed Norton, had moved here in 1998 to help set up the Nature Conservancy project. Realizing the area's whitewater potential, Jim called two fellow guides to run exploratory trips down the Yangtze, Mekong, and Salween in 2002: Willie, 34, a Vermont-bred kayaking genius who was on the Outside-sponsored first descent of Tibet's Upper Tsangpo Gorge in 2002, and Jed, 32, a grinning, curly-haired photographer and kayaker who speaks admirable Mandarin. (Outside sponsored a 2003 documentary on their efforts, The Yunnan Great Rivers Expedition, narrated by Jim's brother, actor Edward Norton.)
Rounding out our crew is a fourth guide, 32-year-old Californian Ben Fadeley, and two Tibetan guide trainees in their thirties—barrel-chested Yeshi Dorje and lean Tashi Phuntsok—collectively known as the Tibetan Freedom Unit, or the ToFUs. That's as opposed to the SWaFUs, the most important guests on the trip—three young members of a new ecotourism faculty at Southwest Forestry University, in Kunming: park-systems expert Li Xiaolong, a.k.a. "Dragon"; Chen Hai, a skinny, hyperactive lecturer in green tourism; and adventure-sports guest lecturer Duan Lian, who wants to be called "Mr. Exercise." (Using a handheld electronic translator, Li Xiaolong, a calm and chubby 33-year-old with fluent English, hoots as he shows me that their names actually mean Dragon and Exercise.)
Late that night, sleeping heavily on the sand, I'm awakened by a shouted exchange in Mandarin. The SWaFUs are zipped inside one of the tents, in heated discussion. It isn't until the next morning that we learn what it's about. The Chinese professors are worried that, even though this rafting trip has been run successfully five times since 2005, it is illegal. No one has obtained permission from … well, maybe from the National Sports Bureau in Beijing—they aren't sure.
The SWaFUs aren't exactly mutinying, but, like everyone who tries to mount an expedition here, they've been intimidated by China's arcane, overlapping bureaucracy, which traditionally charges Western outfitters exorbitant fees for one-time descents. The Chinese police, for example, have stopped the guides at put-ins and take-outs all over Yunnan, once demanding $80,000 to let Jed and some friends put in on the Irrawaddy. (They left.) The short-term response is to smile, wave, and keep floating. The long-term plan, another goal of these Mountain Travel Sobek expeditions, is to set up a more orderly system of permits.
I'm sharing a ride with Dragon and Mr. Exercise on Willie Kern's raft. During a long, tame drift, he lets biceps-laden Mr. Exercise, who also works as a mountain guide, practice on the oars, which gives him a chance to huddle in the back with Dragon. Willie explains, again, the official permits they do have, on both the local and provincial level, and, more important, the group's guanxi—connections. Through Ed Norton and the Nature Conservancy, the guides have forged close ties to provincial and Beijing officials. Jed, with his Mandarin, has made contacts throughout Yunnan. And Willie, as a Patagonia ambassador, brings a measure of Western exposure.
Foreigners, Willie explains to Dragon, are merely a demonstration technology: As more local guides learn the trade, Chinese companies will lead trips, build boats, and provide services. Chinese clients will follow. When Chinese people are actively invested in protecting these rivers, some of the dams may be prevented, and the whole business of getting permits and running trips will become easier. Willie calls this the "Nepal model," after that country's transition from foreign to local whitewater outfitting in recent years. In 25 years, he explains, American rafters will be gone from Yunnan, outcompeted by Chinese rivals.
This new constituency is already appearing. Universities across China have sprouted clubs for travel, ecology, and mountain climbing. Adventure sports have taken off, and companies that once merely assembled outdoor gear for American companies are beginning to design, build, and market for themselves. China's rising middle class has time and money for leisure activities, and the arrival of the Olympics in 2008 is turning attention toward sports like mountain biking and kayaking. Outside itself launched a China edition in 2006.
Dragon is one of these new Chinese, young enough to see the river as a lure, not a threat. After Willie's patient talk, he sets down his rebellion to take up the sweeps and gets us through the next rapids, albeit backwards.
LOOKING DOWN on the river provides a different perspective from being on it. In the days before the rafting trip, I made a three-day traverse of the high trail through Tiger Leaping Gorge with an American friend, Bret Sparling. After seven years in China, often earning his living as a drummer in cover bands, Bret spoke flawless Mandarin and even understood the mystifying reversed tones of the Yunnan dialect. Walking beside him opened a door to the only people never consulted about dams: the peasants they displace.
Dressed in a white Tibetan cowboy hat and carrying little more than a copy of the Tao Te Ching, Bret was an indefatigable hiker. The trail carried us thousands of feet above the Yangtze, its roar reduced to a background whisper. Hawks rode the thermals below eye level; across the river, the walls of rock mocked our eyesight, stretching from the Yangtze itself to the top of 18,359-foot Jade Dragon Snow Mountain, often lost in clouds.
Despite the impossible terrain, we found tiny villages hidden in the folds of the hills, where farmers worked terraced rows of wheat and black pigs rooted in slop buckets. Dotted along the trail were more hamlets, each with a simple guesthouse used by the dozen foreign trekkers we met each day. (Dragon would later tell me that the high trail, with its local tourism infrastructure, was China's single best model of sustainable ecotourism.) The first hostel was run by a tough little Yunnanese man married to an Australian woman who ran her own guesthouse down the trail. As Bret worked on a translation of the Tao, with its injunctions to bend to the flow of water, the proprietor filled my ear in his strong Down Under English with tales of "Beijing police" who threatened local people for protesting the dam. These national police—plainclothes officers of the Public Security Bureau, he suggested—had walked through the gorge just a few days earlier, forcing everyone with a computer to register it. Local police routinely intimidate the few dam critics. Yu Xiaogang, the founder of the Yunnan-based NGO Green Watershed, was briefly detained while canvassing locals about the dams in Tiger Leaping Gorge. When another activist died of a heart attack, lying next to his wife, our host saw the death as a Beijing plot.
"You must know China," the man said in a stage whisper late that night. "China has a way to make you dead. China can give you a car crash, or send a robber to your house."
Hiking out at dawn the next morning, we found a sign in the middle of the trail:
STRICTLY FORBIDDEN TO GRAZE ANIMALS, CUT WOOD, CLEAR FIELDS, START FIRES
Beneath that it read, in bold:
AGAIN STRICTLY FORBIDDEN TO GRAZE ANIMALS
Beneath that was a man grazing 60 goats. He made us guess his age first (60), and then admitted that he paid no attention to the government's sign, which had been there for only five months. He shared the news that matters to farmers—plums were up, peppers down—and pointed to his forbidden animals. The goats belonged to his daughter, and were literally her college tuition. It was a routine Chinese trade-off—trashing your local environment to climb one step out of poverty.
When he heard I was rafting the Yangtze, he asked why. "That's not exciting," he said, peering at the whitewater thousands of feet below. "That's crazy."
The trek expired 18 miles later in Qiaotou, a dusty township of truck stops and seedy bars, where Yi women in enormous black hats prowled the market for bargains. The innkeeper's wife lived here, a tall and feverish yin to her husband's small, paranoid yang. She sold me a lunch of pork and rice, with a side of condemnation for the "cynical, conniving, and corrupt" Chinese government. If Qiaotou were flooded, the nearby areas wouldn't necessarily benefit: Electricity is usually shunted off to big cities, leaving many places poorer than before, according to a 2006 study by the Central Party School, the Communist Party's own think tank. And I already knew that the main company behind the dams, Huaneng Power, was run by Li Xiaopeng, a son of former premier Li Peng, the "butcher of Tiananmen Square," a man with enormous guanxi.
"The only thing that can stop [the dam] is big guns from outside China," she told me.UNESCO wasn't enough; global green groups had to raise a stink. So far, that hasn't happened: Unlike those threatened on Chile's Futaleufú, the Yangtze dams are virtually unknown to foreigners.
The scale of China's dam fever, and the hidden arrangements of deal making, came into focus that afternoon at a scenic overlook by the river. A caravan of five black SUVs pulled in, escorted by policemen. Eighteen men in ChiCom mufti (dark suits, cell-phone holsters, knit sweaters) dismounted and unfolded a large map. Although I couldn't read the characters, it was easy enough to read the topography: It was a map of the reservoir that will be created by the dam just above Tiger Leaping Gorge, flooding twenty-odd miles of river, displacing 100,000 people, and burying the best fields in the region. These were the engineers and subcontractors who would be profiting first, and most, from the dams's construction.
There was a fun moment when I stepped forward and, through a translator, insisted that they identifythemselves and answer questions about the dam. It was a rout: The engineers rolled up their map so fast they ruined it, and then ran for their cars, screaming, "No. No! NO!" amid blaring sirens, their SUVs peeled out of the parking lot so fast they kicked up gravel.
JIM NORTON HAD been the first to warn me that "Western constructs" about environmentalism were useless in China. Pristine wilderness doesn't exist. National parks have hard borders only on maps. The Nature Conservancy's Yunnan Great Rivers Project, for example, includes five "action sites" totaling 25,000 square miles: the rugged Gaoligong Mountain Range; Laojun Mountain and its golden monkeys; the Lashi Lake watershed, high Tibetan habitat for the black-necked crane; Shangri-La Gorge, with its red pandas and rare plants; and the Meili Snow Mountain Range, including 22,241 foot Kawagebo Peak, Yunnan's tallest summit and one of the eight sacred mountains of Tibetan Buddhism. Still, 3.1 million people live inside those boundaries, farming, tending goats, or denuding forests for firewood.
Conservation here requires exceptionally delicate balance. The Nature Conservancy has made poverty alleviation one of its central missions here, installing fuel-efficient stoves, building bamboo houses, and setting up biogas generators (manure tanks) that could help local people use less firewood. In theory, this helps them grow their way out of a damaging subsistence economy.
But even that may not help, warns Alan Rabinowitz, executive director of science and exploration at the Wildlife Conservation Society, in New York. "This whole concept of helping wildlife by helping the people is patently absurd," says biologist, who set up protected zones across the border in Mayanmar. China's Yunnan—unfavorably—to a stand of trees in Central Park, he proclaims, "There's not much left to save!"
Rabinowitz believes that TNC may have taken on too much, mixing multiple projects to protect snow leopards and monkeys, herbs and orchids, watersheds and forests. But TNC started ambitiously in Yunnan and has already been invited by Beijing to go bigger, designing a similar conservation plan for the whole country. "If you take on too large a landscape, too big a project," Rabinowitz warns, "in the end you save nothing."
But TNC has little choice. Its main partner, Yunnan's provincial government, wants dams, economic growth, and protected areas, all at once. So TNC has advocatedalternatives—"micro-hydro" projects, conservation, education—without explicitly battling the dams. Despite the difficulties, Ed Norton, the former TNC senior adviser, believes the Yunnan Great Rivers Project will endure, because it is aligned with existing Chinese plans and because the driving impulse behind it is Chinese. Everything in China is changing every year, the conservationist reminds me; in the end foreigners are advisers, with little influence beyond "the power of our ideas."
That hasn't stopped green groups from trying to save China from itself. In addition to the big players—TNC, Conservational International, and the World Wildlife Fund—at least 2,000 foreign and Chinese environmental groups are registered in the capital, with more setting up shop every month. The Chinese require that outside NGOs be sponsored by a "mother-in-law" agency. It often takes years merely to register the paperwork; even then, only a small "demonstration project" might get approved, with officialssetting up parallel groups known as GONGOs (government-organized nongovernmental organizations) that suck up much of the same funding.
Life is even harder for Chinese greens. The Communist Party allows only strictly local projects, and prevents national membership. People skirt that issue by organizing around local personalities—crusading journalists like Hu Kanping of China Green Times, or photographers like Huo Daishan of the Huai River Guardians, both of whom have used exposés to rally the public to the defense of the environment. Chinese citizens already stage tens of thousands of local protests, drawing at least four million people a year. Two months before my arrival last February, police shot dead three villagers during a land-use protest in Guangdong. In November, police secretly executed a protester imprisoned for killing a policeman in a 2004 riot against the Pubugou dam, which would displace 100,000 people in Sichuan. When 40,000 villagers and farmers battled police for two days at one factory site, SEPA minister Zhou Shengxian warned his government colleagues that environmental issues were becoming a "blasting fuse" that could set off a social explosion.
What China needs is not a green Mao but "a normal system, i.e., a system," Ma Jun told me. Ma, the author of China's Water Crisis, a 1999 book that Edward Norton (the actor) compared to Rachel Carson's Silent Spring in Time magazine last April. Ma, a poetic 38-year-old with a Yale fellowship behind him, laid out a sparkling vision for me (complete with PowerPoint display and selections from Taoist poetry) in a gleaming Beijing hotel lobby. The real problem in Yunnan, and China, Ma argued, isn't environmental but political. "It is about transparency," he insisted, "disclosure of information, letting people know what is going on, letting them see what is happening to them."
Ma, like other Chinese greens, has skirted the environmental restrictions by establishing a for-profit consultancy rather than an NGO, pushing the idea that technology can still allow the country to develop without despoiling itself completely.
"We can leapfrog," he said, "just like in telecommunications." Energy-efficient lightbulbs, still uncommon in America, are everywhere in electricity-starved China, at one-sixth the U.S. cost. Though solar prices are rising, China is scaling up production of solar panels, which have already made Shanghai businessman Shi Zhengrong into the country's richest man, with assets estimated at $2.2 billion. Even the humble business of recycling paper has earned Hong Kong's Zhang Yin $1.5 billion, making her the richest woman in China. Over the next decade, earth-friendly technologies like wind turbines and smokestack scrubberswill also slide toward a "China price."
Green initiatives are sprouting up everywhere. The 2008 Beijing Olympics aims to be carbon neutral. Sustainability guru William McDonough is designing recyclable cities through the joint China-U.S. Center for Sustainable Development. Chrysler is manufacturing tiny, fuel-efficient cars. But with millions of impoverished people desperate for jobs, energy, and consumer products, these foreign projects can be buried under sprawl and smog, theme parks in an age of brute force.
Still, there's no denying that a profound shift is taking place: Chinese and American entrepreneurs are pushing the smoke-spewing dragon in a new direction.
Here's hoping red is the new green.
YOU SHOULDN'T DRINK the water in China. My biggest chance comes on day three of the rafting trip, near the northernmost tip of the Great Bend, where a landslide pinches the Yangtze into a frothing chute called Judgment Day. The river accelerates, hits a jagged wall, spits right, and then tumbles left down a boulder-strewn exit.
In West Virginia, this "feature" would be labeled Class IV, but Willie pours scorn on the rapid. "Class III, Class III," he chants as we stand atop a slick boulder in an ice-cold rain, scouting. The crew is miserable after hours of gritty paddling into headwinds and spitting rain, our toes marinating in chilled Yangtze. From atop the boulder, Willie calls for a vote: Do we want the safe ride, down the river's right side? Or the sexy trip straight down the frothing middle?
Davo and Des, the California river rats, blurt it out: "Middle! Middle!"
I say nothing. Elissa says nothing. Owen and Roger, waiting back in the raft, can't hear him over the rapids and don't say anything. It's a perfect Chinese democracy: one fearless leader, two yes-men, and four obedient masses.
Willie spurs us into the current, and we slide sideways down a 50-foot tongue of river, smooth as jade, and then pivot to face a freight train of standing waves. We are sucked down, buried, and thrown out of the foam three times, and all come down in the boat but one.
Owen is overboard, partly; his head and torso are underwater, his feet kicking in the air. Des grabs a leg. Four of us paddle hard for the right. We bounce off the wall anyway, sweep right, and paddle hard to the left, Owen admiring fish the whole way. Finally we pull him in. But as Owen comes in, Des goes over. Again the legs wave, and Des rights himself, grinning. We drop into an eddy to await the next victims, the boat full of laughter.
You'd think the river was suddenly ten degrees warmer and the sun had come out.
We spend that night, like the rest, on the powdery banks of the Yangtze. I've taken to throwing down my sleeping bag wherever Mr. Exercise pitches his little blue assault tent. We can't communicate, except in the ways that matter, and I help him wrestle with the buttons on his GPS unit, which he keeps sealed in a condom, the Chinese drybag. (The signal is usually blocked, but we can't tell if it is the canyon or the rubber.) Mr. Exercise is the only SWaFU with wilderness cred. Despite his jokes—he teaches the Americans to shout "Wo cao!" during big drops without explaining that it means "Fuck me!"—he is making a careful study of the rafting business. Through an interpreter, I ask if he is ready to become a guide. He answers with a humble "Mei you." No way.
"We formed a concept of real rafting this time," he explains. "But we need to experience more. It is the same as mountain climbing. You have to learn the techniques, like reading the water and the weather." The voluble Chen Hai, by contrast, nips into the whiskey and announces that he is ready for Class V. As soon as he finds his glasses. Which are on his head.
Two dozen children clamber down from a nearby village, called Three Rivers. The guides call it Three Thieves, since they were robbed during a previous visit. This time the well-behaved children are under the supervision of four mothers in slacks and sandals. They call themselves the Lulu. The SWaFUs, all Han Chinese, are thunderstruck to discover that none of the Lulu speak Mandarin, the national language. Dragon shakes his head. Until today, he thought that "90 percent, at least," of Chinese spoke Mandarin.
Isolated cultures like the Lulu are being fragmented by this rising tide of asphalt and infrastructure. Good roads now rise up to towns at 11,000 feet that were utterly inaccessible during my 1988 Yunnan tour. Back then, a Tibetan settlement called Gyalthang had already been renamed Zhongdian by the Chinese. In 2001, it was rechristened, again, after market research, as Shangri-La. Tourism rose from 20,000 annual visitors in 2000 to 2.6 million in 2005, but any place that calls itself "the real Shangri-La" doesn't know what it is.
Within the Great Bend itself, in the gorgeous town of Lijiang, the tenth-century tiled houses of the Naxi, Yunnan's largest minority, have been converted into souvenir shops and karaoke bars. The Naxi live in high-rises on the outskirts of town. Even Kunming has grown to 4.5 million people, with a science-fiction skyline and malls dedicated to Hermès, Gucci, and Lacoste. Before the trip, I spent days searching out the slabs of warm onion bread that I remembered eating in the Muslim quarter, but the onion bread was gone, along with the entire Muslim quarter. After 18 years, I arrived on the very afternoon that a bulldozer flattened the last row of Arabesque houses.
Still, there are the Lulu, tucked into their own fold of the river. After dinner that night, there is a singing contest around a driftwood bonfire. The children are splendid, of course. Mr. Li, a skinny Yangtze boatman whom Jim and Jed hired after watching him row past on a previous trip, belts out a tragic lament about rivermen and forgotten lovers. And Owen, who works as an actor back in San Francisco, silences everyone with a haunting version of "Raglan Road" that leaves even stoic Mr. Li staring into the fire.
The Lulu children climb back to their village. In the darkness, I hear the guides moving about, carefully checking that all our equipment is still here.
ON DAY SEVEN, I take the oars and drop us through gentle rapids and into an eddy, where our final camp on the Yangtze is on a narrow, windy beach of black sand, backstopped with walls of tiny yellow orchids. The raft behind me is rowed by Tashi, the easygoing trainee, who misses the eddy by 200 yards. "What's the Tibetan word for anticipation?" Jim mutters.
He's in a bad mood. More and more of the tributaries we pass have small dams, connected by high-tension power lines to the karaoke bars of Lijiang. The next morning, when we run the trip's last big rapid—a frothing, 500-yard chute—we get a sphincter-tightening ride down into five big troughs. Like good Taoists, we go up with the water and come down with the water, and are spit out, shivering and elated, into the sunshine.
For Jim, the scenery is only depressing. "I really love that spot," he says sourly. "I'm not gonna love it so much when it's under 160 feet of water." This area, at the bottom of the Great Bend, is scheduled for one of the first dams. On every trip, the guides spot new evidence of gold mining, test drilling for dams, or surveying crews. Since last year a gravel road has been shoved up the valley as far as our orchid beach camp, destroying milesof mountainside.
Jim's pessimism—let's call it realism—doesn't stop him from trying. "I don't have the faintest illusion that we are going to 'save' anything," he says. "People have been coming over with grand plans for China since the Jesuits arrived in the 16th century, and getting sent home with their tails between their legs." The TNC master plan for Yunnan may blow away in the wind, the dams may go up, but, he believes, there are many skirmishes to be won. The 13 dams for the Salween are already being held for reconsideration, and, Jim says, "even if these sections get flooded, perhaps what we get started here could be leveraged in other places, other rivers in Yunnan, Sichuan, Tibet, China."
"At the very least," he continues, "we can create however small an institutional memory of a place that was lost. Could that little bit of discomfort germinate into awareness, even motion? Could the Great Bend become China's Glen Canyon—the place no one knew in the U.S., the heartbreak that continues to profoundly affect the dialogue of conservation?"
His father had told me much the same. "The Chinese are going to build dams, no doubt about it, just as the U.S. dammed the Columbia and the Colorado," Ed Norton said. Despite that, he continued, "we shouldn't write it all off, or say it's hopeless. Look at it from the long perspective. Over the longer haul, we can accomplish something here, and it is worth doing. Is China difficult? Extremely. You bet. Is it worth it? No doubt."
Instinctively, as the final miles of water pass by, we know this. The sun is warm, the paddling easy. In the course of a long week, Dragon, Mr. Exercise, and Chen Hai have become zealous rafting converts, recalculating their ecotourism curriculum and agreeing to serve as "mother-in-law" sponsors for Jim, Jed, and Willie in an educational philanthropy called FLOW, or For the Love of Water.
When we finally start rolling up the rafts, Yeshi and Tashi form a joint venture of their own. They've heard about a rafting race over in Panzhihua, the dreadful steel city where the Yangtze crosses into Sichuan. First prize is 30,000 yuan—$4,000—and the pair borrow some MTS gear and drive down, figuring to clean up.
Panzhihua is a thicket of 1960s steel mills that shroud the twisting Yangtze in yellow and brown smoke, the whole place reeking like Mordor. It is the site of one of China's largest pollution lawsuits, with 6,000 plaintiffs suing over a pair of phosphorus leaks in 2004. Looking to clean up the city's image, if not its air, Panzhihua's mayor built a special rafting facility, a muddy ditch grandly named the Chang Jiang River Rafting Training Base, and sprinkled billboards around town showing handsome Chinese yuppies splashing down through Class II froth. It isn't exactly ecotourism, but the prize money has attracted teams of wannabe rafters from around China, a sign that the Nepal model could be getting some traction.
The course, however, is mostly flat, more of an endurance test than a challenge to the Tibetans' maneuvering skills. In the end, the ToFUs get their butts kicked by some local farm boys.
Maybe there's hope for Chinese rafting after all
ACCESS + RESOURCES
GETTING THERE: From San Francisco, fly Air China (fly-airchina.com) through Beijing to Kunming for about $1,300 round-trip. From there, it's a 50-minute flight to Lijiang, the entry city for trips down the Yangtze or hikes through Tiger Leaping Gorge. PRIME TIME: February through May, or mid-October through November. WHERE TO STAY: Check into the Jian Nan Chun Hotel, in Lijiang's Old Town (011-86-888-5102222). HIKE THE GORGE: Take a bus from Lijiang to Daju and start the trek through Tiger Leaping Gorge, stopping at Sean's Guest House overnight (tigerleapinggorge.com). PADDLE THE RIVERS: Mountain Travel Sobek (mtsobek.com) offers a 15-day rafting-and-trekking trip on the upper Mekong River this April 15–29, starting at $3,090. Its upper Yangtze trips will run February 4–15 and February 18–29, 2008.