Learning to Surf at Age 73
Outside owner and founder Larry Burke takes on surfing in Costa Rica.
Heading out the door? Read this article on the new Outside+ app available now on iOS devices for members! Download the app.
I am in Nosara, a small, sleepy village on Costa Rica's northwest coast, with my wife, Gabrielle, to try something I have only scant experience with and which she has none: surfing.
Which is why we are at Surf Simply, a seven-day intensive surf camp. I found out about this place from a good college friend we call Digger, who had read a story about Surf Simply by Mary Turner, the deputy editor at Outside. Mary said it was the best surf instruction she'd ever gotten, and so did Digger. In an email to me, he wrote that it was the Otter Bar of surfing. That is high praise indeed. I went to the Otter Bar kayaking camp in northern California every summer for ten years to paddle with the company's outstanding guides.
Surf Simply seemed like the perfect way for Gabrielle (who goes by Gabe) to get her feet wet and for me to reignite my anemic efforts at surfing over the years. 
But I'm getting off to a rough start. After a few good waves during the afternoon session our first day, I somehow overlook a couple of kids playing with their mother in waist-deep water. When I hop off the board a little too close to them, the mother scowls at me, her eyes saying, "It's a five-mile shoreline, you jerk, why are you ten feet from us!" Still focused on the tots, I reach down to grab my board when a wave suddenly flips it up into the onshore wind. The board's rail slaps hard into my face, slicing my inside upper lip and knocking out my two front teeth. "What the fuck!" I yell. I had totally forgotten an important part of Surf Simply co-owner and instructor Harry Knight's advice about not letting the board get between the wind, the water, and me.
Luckily, my two teeth are floating in my mouth, so I spit them into my hand before carefully placing them in the side pocket of my board shorts. I feel my lip swelling and the blood dripping down my chin as Gabe and some other Surf Simply guests gather around me.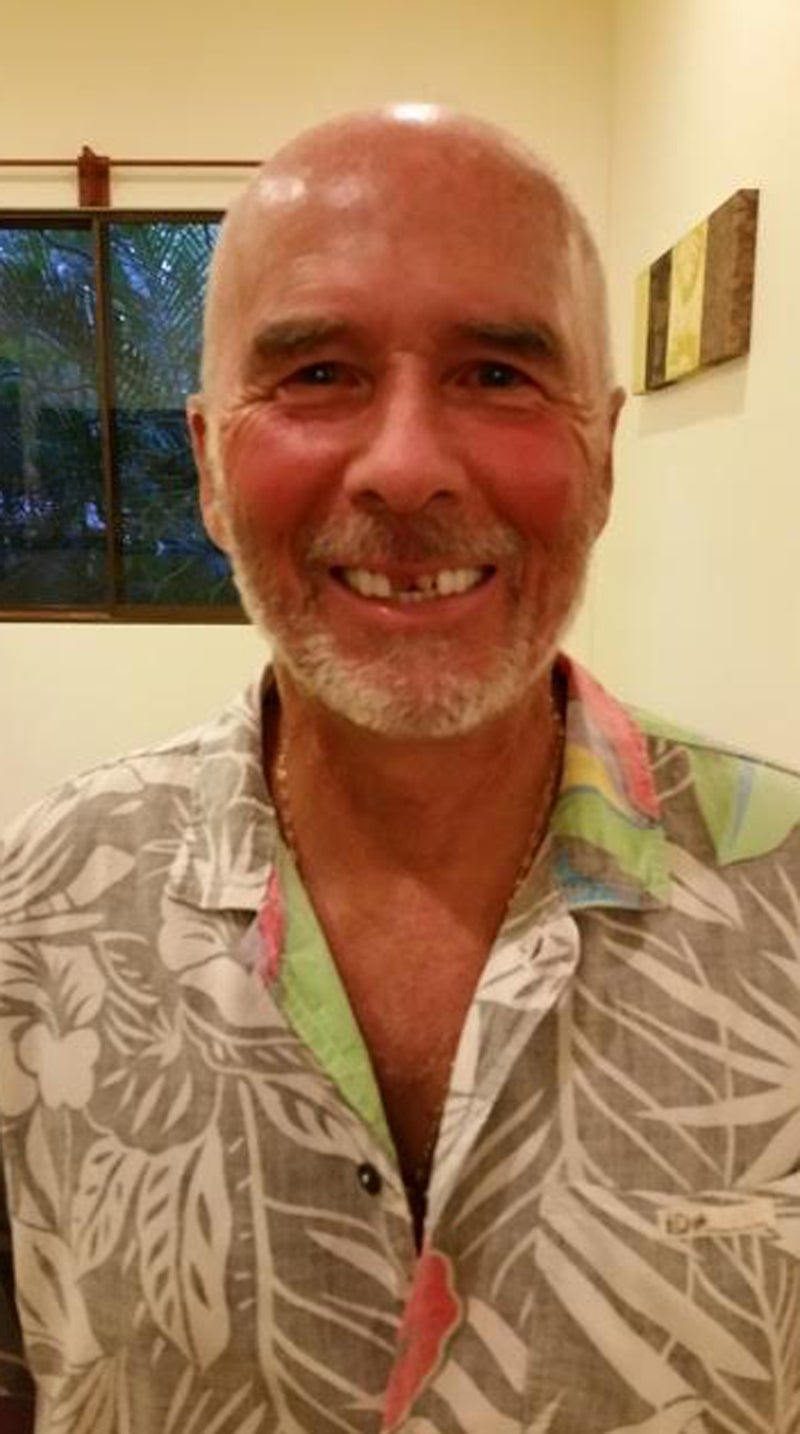 It just so happens a local doctor is on the beach. He takes a look at my mouth and tells me he can stitch up my lip.  "Uh, no thanks," I say. Then Rick, a Surf Simply guest who is an endodontist chimes in. "You'll probably need a root canal," he says. I don't want to do that, either. Finally, Davin, another Surf Simply guest and an ultra-positive guy, offers up something I can get behind: "You look badass, man."
We all head back to the Surf Simply resort for après-surf beers, and I have a chance to check out the damage. I send a photo to my daughter, Frankie, who lives in Los Angeles. She replies, "OMG, is that for real?" She's remembering kayaking at Otter Bar when we would goof around with fake bubba teeth.
My new look shouldn't have come as a surprise. Gabe and I were both a little off balance after a rocky start to our trip, arriving in Nosara a day late and exhausted after a series of canceled flights in Denver on our way here. We missed the first day of surf instruction. I hate missing the first day. Day one always sets the tone and rhythm of a place. You meet the other surfers, instructors, and staff over drinks. Maybe you even get some swag. Best of all, you get introduced to the ocean and surf at the same time as everyone else. You're not psychologically and in reality playing catch-up.
The temperature is 96 degrees when Gabe and I finally arrive at the white stucco archway entrance to Surf Simply. We are immediately greeted by Harry Knight, who has worked with Ru Hill, the inspirational founder and co-owner of Surf Simply, for 15 years, going back to their humble beginnings in Cornwall on the English coast. Harry is six-foot-one, with the tapered, sinewy-strong build typical of watermen. He will be our instructor for the week.
The other ten guests are arriving back at the resort from their first day surfing, pumped with stories of waves ridden, waves missed, attempted poaches, near collisions, and spectacular crashes. Everyone is busy putting their boards in the racks, showering off sand near the pool, grabbing beers from the fridge, and watching surf videos, which play close to 24 hours a day.
Other than John, a savvy car designer from Detroit, Gabe and I seem to be the only Surf Simply first-timers. Other guests include Mark, a ski instructor in Park City and Snowbird, Utah, who has been here seven weeks in the past 12 months. Mike, a private equity investment banker from Boston who grew up surfing on the East Coast and in Southern California, has also been here before. Most of the guests are men in their late twenties to mid-forties and definitely Type A's. Hannah, who has a string of star tattoos running up her spine to her neck, is the only woman other than Gabe, and she is definitely Type A. She is here with her boyfriend, Rick, the endodontist. 
The friendly bantering among the guests suggests everyone has already bonded in the space of 24 hours—which makes me even more aware of having missed the first day.
The Surf Simply team is as special as Digger had reported. They're all genuinely thrilled about being where they are and doing what they do, and it is immediately infectious. The instructors—Jess, Prado, Derek, Asher, Ollie, and Harry, who will soon become "Sir Harry" to us—are big personalities and talented athletes who exude a reassuring confidence. Being in the publishing business I can't help but think they are all magazine cover-worthy.
We settle into our two-bedroom villa with a deck surrounded by palms and tropical vegetation. It feels just right for a tight 12-person dance party while still intimate.
At 6 p.m., we go as a group to the La Luna restaurant on the beach for sunset margaritas, fish tacos, ceviche (caught five minutes earlier), and thin-crust pizzas. The sun is setting brilliantly red over the Pacific as the ocean puts her long day of perfect waves to sleep for the night. It's almost too good to be true.
The next day, the first in the water for Gabe and me, we are up by 6 a.m. After a few shots of espresso, everyone is on the beach with their instructors by 6:30. Harry begins working with us on the beach. We are lying down next to our boards, placing our bellies on the horizontal line of a T we have drawn in the sand. We're going over the stages of getting up and where to position ourselves on the board—not too far forward and not too far back—because inches can make a difference. We're reviewing how to paddle with fingers spread wide for greater efficiency and how to put more energy into our stroke behind our hip. When we're ready to practice popping up, Harry tells us to place our hands on the deck and slide the knee that will be forward between our arms and turn our front foot perpendicular to the board, which isn't easy to do with my damaged knees from years of climbing, skiing, horseback riding, and other adventure sports. Then, with knees bent, we raise up with our arms relaxed and spread like the wings of a bird out over the rails or in an archer's pose. "Look where you want to go," Harry emphasizes, "not down at the board."
Soon enough Gabe, Harry, and I are out in the water to ride the foamy whitewater of waves that have already broken. I'm relaxed and expecting to get up and ride in on my first attempt. Surprisingly, I do, though that will be the last time it feels so natural. It was a bit like winning the lottery the first time you buy a ticket. After that a hormonal cocktail of too much testosterone infused with an overdose of adrenaline would plague me for the next several days.
Meanwhile, Gabe is taking the instruction patiently, step-by-step. By the afternoon session, I'm struggling to implement what I know in my head but cannot seem to translate onto the water.
The third day, on Wednesday, Surf Simply guests have the option to do something other than surf if they'd like. But to catch up on our lost day, Gabe and I spend the morning in the whitewater reviewing technique with Harry, using slight adjustments with body weight in conjunction with the rails to turn, get up, slow down, speed up. I still can't seem to get my mojo going; I need to be less tense in my feet, hands, and shoulders.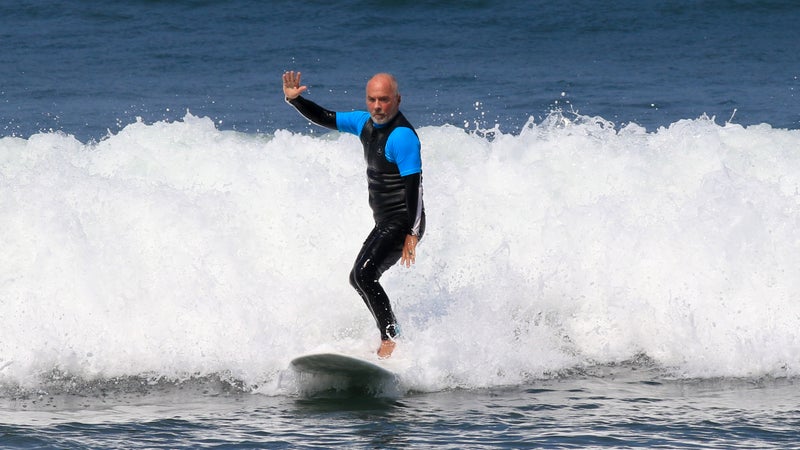 Much of surfing is counterintuitive, like most adventure sports. Because of the years I've spent sailing, windsurfing, kayaking, and skiing, I feel like surfing should come more easily, and so I become frustrated. I keep reminding myself to relax and slow things down, a concept my nature is not programmed for. That and being patient have always been a challenge for me. I need to be both today.
By noon on Wednesday, Gabe and I take a break. My knees and elbows have been rubbed raw from contact with the board and need relief. Daniela, one of Surf Simply's owners and a mixed martial artist offers to drive me into Nosara to see a local dentist named Dr. Laura. After 90 minutes and $300, I walk out of her office with two perfect front teeth in place. 
Later that afternoon I learn in one of the theory classes taught by Jess, the head instructor, that when we are held down by a wave it will seem longer than it actually is. A hold-down is usually not more than three to five seconds, even though it may feel like your lungs are exploding. We do breathing exercises and realize most of us can hold our breath for up to two minutes. It's a much different mental experience when you're getting trashed underwater and must teach yourself to stay calm, Jess emphasizes. She informs us that it is a scientific fact that if a person passes out underwater, our body's survival mechanism closes our throats and won't allow water into our lungs, and that a reserve of untapped oxygen will give us another eight minutes to be rescued. Comforting indeed.
By Thursday, my right shoulder starts to bother me. Luckily, one of the Surf Simply guests has a prescription drug for just this sort of thing. I've never heard of it, but I'll try anything that will allow me to stay on the water with Harry and the rest of our small surfing family. I don't want to miss a second of playing in the 82-degree waves.
I take the little white pill and go to my appointment with Crystal, the masseuse at the resort. The drug kicks in. I'm super relaxed and wrapped in a towel that I can barely hold up. My legs feel only limply connected to my glutes as I weave along a narrow stone path until I arrive at the massage studio. I need to lie down—immediately. How is it possible to get this beat up in the water, I wonder? I doze off within seconds of Crystal beginning her expert bodywork.
Later that day, Gabe questions whether I should go out for the afternoon surf session, but I grab my rash guard, neoprene two-millimeter vest, my one knee pad, and head toward the beach with the rest of the surfers and instructors. Once there, I start waxing my board. Sir Harry asks how my shoulder's doing. "Iffy," I reply. "Good, let's have a go and see how it feels," he says. I catch three or four little waves in a row and grab some water off the right rail and make a slight cut back to the left, a breakthrough for me. Then, while practicing guiding the board to a 30-degree angle, the rail digs into the wave and the board pops up out of the water. I instinctively try to hold onto it, which jerks my right shoulder outward and behind me. After that, I can't reach forward to paddle or press my palms down to stand up. I'm temporarily beached, so Harry takes Gabe to the outside, beyond where the waves break, as I watch from shore.
Gabe is a natural, and I'm convinced that women have a kind of patience and natural ability for some things that men have to learn the hard way. On the waves, just like when we're competing on quarter horses back home in Santa Fe, Gabe is balanced, poised, and patient. She's loving it, and it thrills me to see her having so much fun with a new sport. She is handling the bigger surf very well, riding over the swells and turtle-rolling through breaking waves. She practices throwing the board away should all else not be an option. She is out there paddling around with the better surfers. She picks her wave and paddles to catch it. She does and goes straight down the face. Gabe gets to her knees, ready to pop up, but instead puts her hands on her hips, keeping her knees on the deck and enjoying the ride of her life just where she is. She is soaking up the rush, patient and poised, and then raises her arms like Rocky racing with the wave toward shore. I'm jumping up and down on the beach yelling, "Way to go, honey! AWESOME! OH YEAAAH!"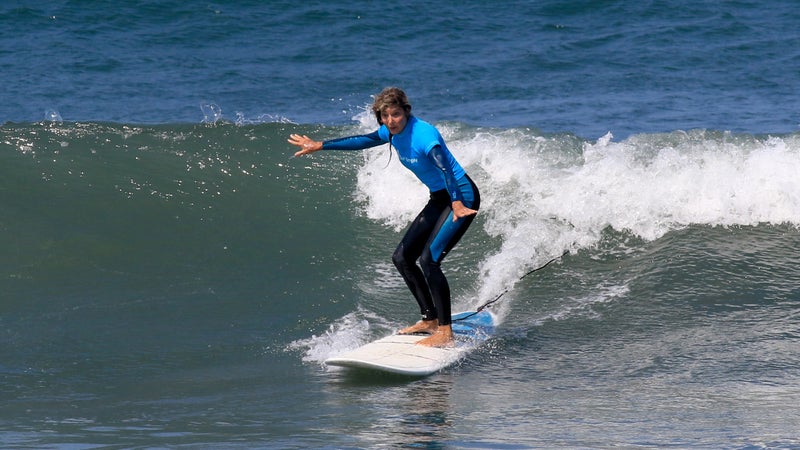 On Friday, I'm anxious to get out on the water early. We'll all be on the outside today while the video crew records our performance. Ru is in deeper water with a large, glass-enclosed camera. The wave sets are delivering six-footers, maybe even a seven-footer here or there, with ten or twelve seconds between them. Nice. The tide is transitioning, and there is a sweet offshore breeze. It's an exquisite day.
I'm catching my breath after the paddle out, sitting back on the board's tail to spin around efficiently when it's time to go. All of a sudden, Harry says, "Here it is. Let's have a go." I line up with the wave and start paddling, a few strokes to get positioned, then harder to catch it. I manage to catch the wave in the perfect spot, just over the breaking crest. I feel remarkably stable. I get to my knees, set to pop up at the top of the face. Miraculously, I get my front foot up on the board where it didn't previously want to go. I stand up, keeping slightly bent at the knees and forward to maintain speed. I remember to look up and toward the shore mark I had set, not down at the board. Damn, I'm thinking, I love this. I ride the wave all the way into the whitewater, not wanting to let go of this feeling for anything. I know in that moment that this is just the beginning.
Gabe is now up on another wave, coming straight down the face as she gets her knee forward between her long arms and patiently stands up. Her forward arm is extended and her back arm is in an archer's pose. She is bent at the knees, being aggressive and looking beautiful, like a real surfer girl having the time of her life.
On my paddle back out, the sun is low and the silvery crests of breaking waves are glimmering when I notice a surfer riding in, bouncing back and forth over the small curling crests. He's on a board no longer than forty-eight inches and shaped like a blunt-nosed snowboard. It's Ru. 
He pops off the tiny board, and as we squint into the sun I tell Ru that Gabe and I will be signing up for another week before we leave in the morning. And we do.
surfsimply.com; from $3,380 per week, all-inclusive
Lead Photo: Surf Simply