As a Trans Woman Sailing Around the World, Storms Are the Least of Her Worries
McKayla Bower's biggest concern: the way she'll be welcomed—or not—in countries openly hostile to LGBTQ+ people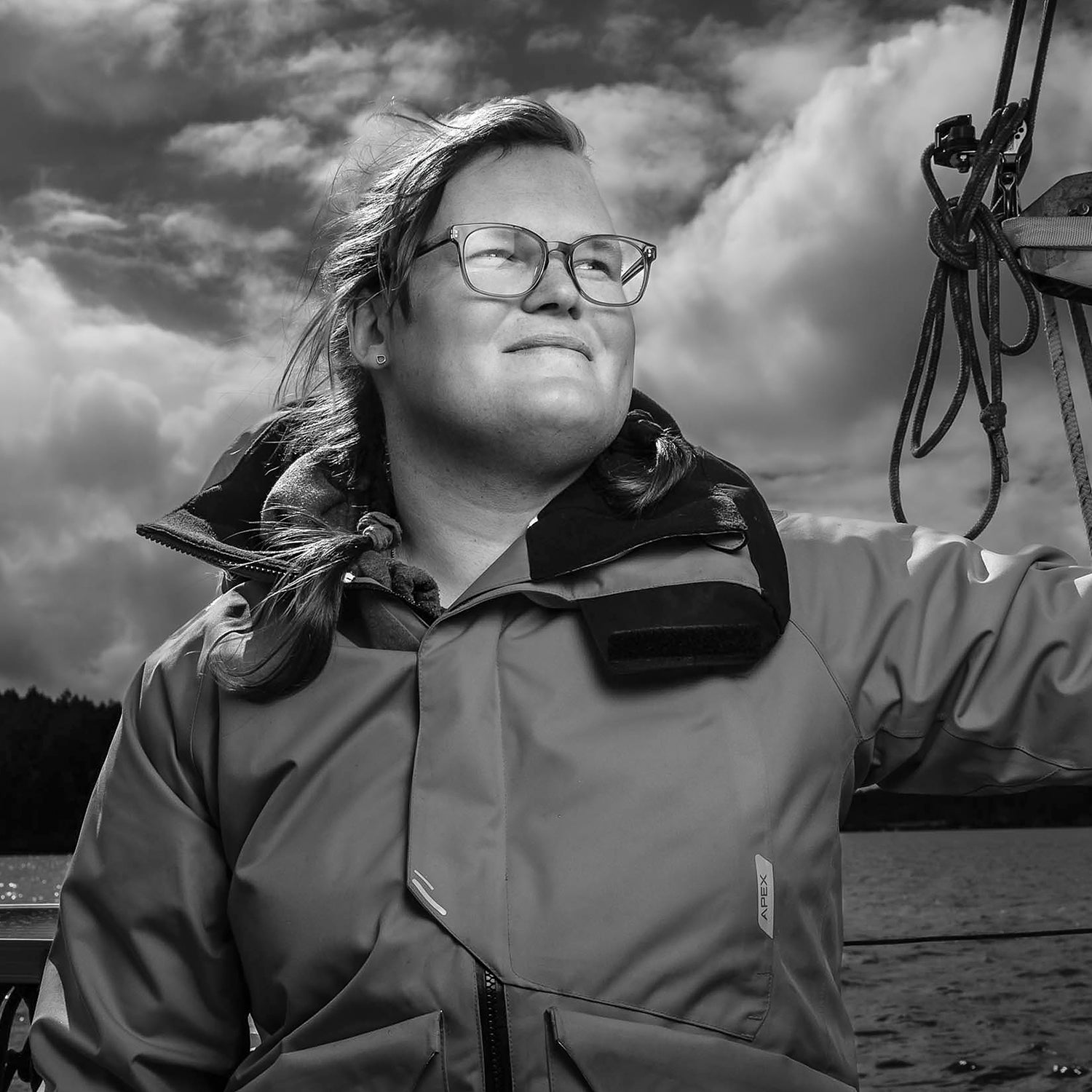 Ian Allen
Heading out the door? Read this article on the new Outside+ app available now on iOS devices for members! Download the app.
In late May 2017, McKayla Bower was ski-touring alone on the Pacific Crest Trail when she started to feel a little spooked. She paused to assess the stability of the Sierra snowpack, which was at a record high, and didn't like what she saw—dense, heavy snow sitting atop a layer of powdery facets.
As Bower turned to retreat, the ground fell out from under her. The avalanche ran several hundred feet down a slope toward a 20-foot drop, carrying Bower with it. The next thing she knew, she was lying dazed on the ground. The impact had snapped her ski pole, but miraculously she had no serious injuries.
"I had this feeling of, I did everything right and this still happens?" Bower says. "You never know when the thing that is going to wipe you out might happen."
The brush with mortality made Bower think harder about her long-postponed decision to come out as transgender, which she did shortly after returning from the trek. "The thing that felt like the real risk was coming out and losing all my friends," she says. "But I don't think I lost a single one."
Bower, now 31, says that going public with her identity—and then starting hormone therapy—was the best decision of her life, empowering her to undertake even bigger adventures. This fall she'll embark on her most ambitious journey yet, an east-to-west solo sailboat circumnavigation of the globe beginning in Panama City. The number of successful solo trips around the world is thought to be in the low hundreds, fewer than the number of people who have gone to space, though there's no comprehensive record. If Bower succeeds, she'll be the first known LGBTQ+ person to have completed the voyage alone.
"My biggest hope is that tons of people will learn about this and feel more confident," Bower says. "I want people to see what happens when they are authentic and real."
Bower is setting sail at a time when trans issues continue to be hotly debated across the United States. The American Civil Liberties Union has identified 491 anti-LGBTQ+ bills at various levels of government, and Arkansas governor Sarah Huckabee Sanders recently signed a bill banning trans people from using school bathrooms that don't match the gender shown on their birth certificates.
"The right has turned transgender people into a villain, a bogeyman," says trans sailor and activist Sabreena Lachlainn, who called off her own planned solo circumnavigation in 2020 because of the COVID-19 pandemic. For her part, Bower says that most of what she's heard has been supportive, but that some of the usual hate has already come her way. "One comment I got on Reddit said my energy would be better spent killing myself," she says. Lachlainn, who knows the politics of all this as well as anybody, says, "I want to hug McKayla at the finish line, because her journey is so important for our community."
Meanwhile, the realm of sports and adventure has also become contested terrain for trans athletes. Last year, swimming's international governing body banned trans women from competing in women's events. In February, after the World Surf League announced that trans women surfers could compete if they maintained sufficiently low testosterone levels, surfing star Bethany Hamilton said that she'd refuse to participate in WSL events if it upheld the policy. In March, World Athletics, which governs track and field, announced a ban on trans athletes competing in elite women's races.
Bower is setting sail at a time when trans issues continue to be hotly debated across the United States.
To reach Panama from her home in Washington's San Juan Islands, Bower will have to sail her 30-foot-long 1977 San Juan Class custom cutter rig, Swirl, for roughly 5,000 miles. To prepare, she spent $35,000 retrofitting the Swirl's interior, doing the carpentry and fiberglass work herself. She plans to sail on a meager budget, funding the trip with earnings from various jobs, including a stint at a bookstore, along with a few sponsorships from private businesses, personal donations, and the $400 a month she receives from her Patreon account.
From Panama City, which is nine degrees north of the equator, she'll set a westerly course toward French Polynesia. "The easiest circumnavigation you can do is around ten degrees north or south of the equator, because that's where the trade winds are," Bower says. From there she'll head for Indonesia, cross the South Indian Ocean to Mauritius, sail to South Africa, traverse the Atlantic to the Caribbean, and, finally, head back to Panama. She estimates that the total length of her voyage—including the trips from the Pacific Northwest to Panama and back—will be somewhere between 35,000 and 40,000 miles. She expects the circumnavigation to take 15 to 17 months.
A lot can go wrong during such a long journey. Climate change has intensified storms and made them harder to predict, and Bower will be racing to beat hurricane season when she reaches the Caribbean. Solo sailing is rife with tragedy: Guo Chan, an accomplished Chinese sailor, vanished in 2016 while trying to set a new speed record for a solo crossing of the Pacific. Susie Goodall made international headlines in 2018 when she was rescued after a storm in the Southern Ocean severely damaged her boat during the nonstop Golden Globe race around the world. While attempting a solo journey from California to Hawaii in 2020, Paralympic rower Angela Madsen died in the central Pacific while performing routine maintenance on her boat.
To prepare, Bower has sailed approximately 5,000 miles over the past three years, much of it in the mercurial waters of the San Juans, where hazards can include large trees known as deadheads that lurk below the surface. "McKayla's been doing her homework," says Karl Krüger, an adventurer who lives at anchor in the San Juans, leads boat charters, and traveled 420 miles of the Northwest Passage on a solo stand-up paddleboard journey in 2022. "She's been working at it, and she's been spending time alone on that boat, sailing around these waters that can certainly dish it up."
There isn't much prep work Bower can do for her biggest concern: the way she'll be welcomed—or not—in countries openly hostile to LGBTQ+ people. While some governments have adopted more progressive laws in recent years, the Human Dignity Trust, a London-based charity that provides legal assistance to LGBTQ+ activists, maintains an online map of countries with restrictive policies. It reports nearly 70 governments around the world that "criminalise [LGBTQ+ people,] fuelling stigma, legitimising prejudice and encouraging violence." During her circumnavigation, Bower will stop to resupply for food and water, forcing her to deal with customs and immigration. "Jakarta scares me, as a visibly queer person," Bower says. In 2022, Indonesia passed a new criminal code that includes an adultery ban, which according to Human Rights Watch could be used as an excuse to step up harassment of LGBTQ+ people in a place where gay marriage is illegal.
Bower's biggest concern: the way she'll be welcomed—or not—in countries openly hostile to LGBTQ+ people.
Bower says that her route leaves her no choice but to stop in Indonesia. "My other option would be Malaysia, which is worse," she says. As of late April, she was still trying to figure out the best place for reprovisioning in the Caribbean. "Most Caribbean countries don't have very friendly queer legislation," she says.
Her parents share her concerns. "I am at least as nervous about how she will be accepted as she does this journey and interacts with people around the world as I am about the physical risk," says her father, Jay Bower, who works as an environmental engineer in Washington. "I don't know which is more harrowing."
But Bower says she plans to "fly under the radar" as much as feasible during the global voyage. "While I am very publicly out in the U.S., I am not showing up in other countries flying my rainbow flag," she says. And she refuses to dwell on potential hassles and dangers. "An unfortunate part of being in this queer and trans community is that we almost have to accept that there are places in the world that kind of hate us," she says. "And I refuse to let that be something that stops me from going on a trip like this. We can't let our fears control us, right?"
Daniel White (@danwhite39) is the author of The Cactus Eaters, a memoir about hiking the Pacific Crest Trail.