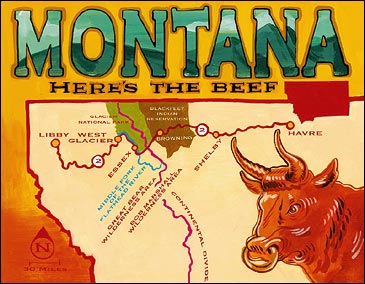 Heading out the door? Read this article on the new Outside+ app available now on iOS devices for members! Download the app.
ROUTE: Havre to Libby, Montana
Tips & Resources
WATCH YOUR BACK and keep your pepper spray handy when hiking: You're in grizzly territory. For more info, contact Travel Montana (800-847-4868,
www.visitmt.com
).
ROADS: U.S. 2
MILES: 354

In Montana, saying you've been up on the Hi-Line is secret code for aimless wandering. This stretch of U.S. 2 parallels (and shares its nickname with) the Great Northern Railway, which was strung just south of the Canadian border in 1887. Montana's portion of U.S. 2 seems to be afflicted with the highway equivalent of multiple-personality disorder: Traveling west from Havre, you run straight as a wire through vast stretches of farmland until the prairie breaks into sagebrush-covered foothills and the Rocky Mountains begin jutting up from the horizon as if the earth were teething. After cutting across the center of the Blackfeet Indian Reservation, you wind through escalator-like foothills, crossing the Continental Divide at Marias Pass, 5,215 feet above sea level. When you begin the descent, with Glacier National Park to the north and the Great Bear Wilderness Area to the south, you're surrounded by one of the biggest chunks of contiguous wilderness in the lower 48.

**ADVENTURE STOPS
Fly-Fishing Mission Lake: Take a shot at huge rainbows on this 750-acre glacially carved lake on the Blackfeet Reservation (off the south side of U.S. 2, just before you hit Browning). The fish strike on dries and streamers from early spring till fall. Though no state license is required, you'll need a tribal fishing license (single day, $20; three days, $30). Visit Cut Bank Creek Outfitters, in Browning, for licenses, guides, and fishing intel. (406-338-5567)
Hiking in Glacier National Park: East of Essex, park at the Walton Ranger Station and hit the Scalplock Mountain Lookout Trail, which switchbacks through thick forests of fir and pine, climbing 3,079 feet in 4.7 miles to the fire lookout. From the summit you can see 9,000-foot glaciated peaks and fingers of conifer forest reaching into alpine tundra.
Rafting the Middle Fork of the Flathead River: Glacier Raft Company, in West Glacier, offers half-day ($40) and full-day ($65) runs on the river's Class II-III rapids. Or horseback in and raft out on a five-day guided trip into the Great Bear Wilderness ($1,500). (800-235-6781, www.glacierraftco.com)

**TOP DIGS
The 37-room Izaak Walton Inn, in Essex, was constructed in 1939 to house railroad workers. It's a Hi-Line classic, stuffed with memorabilia like photographs of train collisions and avalanche disasters. (Doubles start at $108; 406-888-5700, www.izaakwaltoninn.com)

**BEST EATS
For the real taste of the Hi-Line, bite into some Montana rib eye at the Sports Club, a local ranchers' hangout right on U.S. 2 in Shelby. (406-434-9214)

**DON'T MISS
The best time to hit the Hi-Line is the second week of July, during North American Indian Days on the Blackfeet Reservation, with native dancing, drumming, and, if you're really lucky, a demolition derby. (406-338-7521)

**ON THE STEREO
The lonesome pedal-steel symphonies of Japancakes sound just right east of the mountains; across the Great Divide, try Johnny Cash's latest collection, Love, God, Murder.
North Carolina
The Outer Limits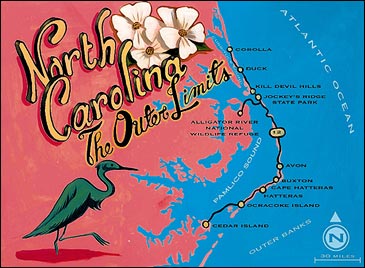 Tips & Resources
CALL AHEAD for reservations for the Cedar Island ferry to Ocracoke (800-293-3779) or you might spend all day waiting in line. For more info, contact the Outer Banks Visitors Bureau (800-446-6262,
www.outerbanks.org
).
ROUTE: Cedar Island to Corolla, North Carolina
ROADS: North Carolina 12
MILES: 130

Driving North Carolina's Outer Banks takes you off the pavement so many times, you almost forget it's there. With the ferries and four-wheel beach access along these barrier islands, the road seems to come and go as often as the tides. When your tires hit the sand-dusted two-lane on the narrow spit of Ocracoke Island (after a two-and-a-half-hour ferry ride from Cedar Island), you'll find yourself surrounded by 409 square miles of sand and crashing sea. To the east, the Atlantic surf breaks against 70 miles of nationally protected seashore. To the west, the indigo-blue waters of Pamlico Sound lap grassy marshes thick with egrets and blue herons. You'll pass through Hatteras and Buxton on Hatteras Island, where cedar-shake-shingled cottages sit on stilts above the dunes, pastel surf shops keep their doors propped open for the droves of summer "dingbatters," and local fishermen in one-dock marinas work off boats with names like Sweet Caroline. Out here, the road is an afterthought to the beach: Expect to get plenty of sand on the floor mats.

**ADVENTURE STOPS
Scuba Diving Diamond Shoals: Some 1,500 vessels have sunk off the Outer Banks. Dive cargo and tanker ships like the Australia and the Northeastern at Diamond Shoals, ten miles of shallow, shifting sandbars off Cape Hatteras. DiveHatteras, in Hatteras, offers charters and equipment rental. (703-818-1850, www.divehatteras.com)
Surfing at Cape Hatteras National Seashore: Cape Hatteras Lighthouse, near Buxton, is a surfing legend known as the Wave Magnet. Annual competitions are held at this left break, where the north and south swells can stir up waves of ten feet and higher. For longboard rentals, check out Windsurfing Hatteras, in Avon, about five miles north of the lighthouse. ($15 per day; 252-995-5000, www.windsurfinghatteras.com)
Windsurfing Pamlico Sound: Throw your board out at Canadian Hole, famous for its steady winds, shallow waters, and throngs of pro Canadian windsurfers (go figure). Four miles north of Buxton, look for a small parking lot on the left side of the road—you'll see license plates from as far away as California and Ontario. Rent a rig at Windsurfing Hatteras, which also offers kiteboarding lessons ($45 per day).
Hang Gliding at Jockey's Ridge State Park: A 420-acre sandbox with the tallest dune in the East, this park near Kill Devil Hills is the perfect launching and landing pad. A three-hour lesson with Kitty Hawk Kites is $85; tandem flights at 2,000 feet go for $125. (800-334-4777, www.kittyhawk.com)

**TOP DIGS
The Sanderling Resort, three miles north of Duck, offers 88 guest rooms plus suites and villas overlooking the Atlantic, as well as a spa and fitness facility. At the 3,400-acre Audubon Sanctuary next door, you can hike or bike the five-mile trail along Currituck Sound, and the resort's eco-center organizes kayak tours to spy the area's 21 species of waterfowl. (Doubles start at $240; 800-701-4111, www.thesanderling.com)

**BEST EATS
Check out the Blue Point Bar and Grill, a swank diner on Currituck Sound, in Duck; hit the deck and order the oyster stew with fresh dill and smoked bacon. (252-261-8090)

**DON'T MISS
Join the pack of humans that gathers weekly to howl with the 100 or so red wolves at Alligator River National Wildlife Refuge, a 15-minute detour west off North Carolina 12. With only 255 of the captive and wild animals remaining in the U.S., the howling is part of the Red Wolf Recovery Project's efforts to teach visitors about habitat protection. (252-473-1131, alligatorriver.fws.gov)

**ON THE STEREO
They don't call them the Outer Banks for nothing. Try the Raveonettes' Whip It On (to get your big-wave courage up), Band of Bees' Sunshine Hit Me (for après-surf barbecues), and Yo La Tengo's Summer Sun (for the sunsets, of course).
Kentucky
Big Holler
Tips & Resources
SOME OF THE COUNTIES in this region never got around to repealing Prohibition, so expect to go through some dry spells during your stay. For travel information, contact the Southern and Eastern Kentucky Tourism Development Association (877-868-7735,
www.tourseky.com
), which serves as a clearinghouse for local tourism boards in the region.
ROUTE: Manchester to Breaks Interstate Park, Kentucky
ROADS: Daniel Boone Parkway, Kentucky 118, U.S. 421, U.S. 119, Kentucky 805, Kentucky 197, Kentucky 80
MILES: 175

This is not the Kentucky of white fences, manicured horse farms, and mint-julep parties. This is the Kentucky of Daniel Boone, Appalachia, and the 3,000-foot Cumberland Mountains, a serrated plateau of sheer ridgelines and deep valleys. The friendly folks you meet will immediately peg you as a "furriner," and any attempt at blending in will be futile at best. Just relax and enjoy the sinuous stretches of narrow two-lane as they wind alongside lowland streams running through what you might be tempted to call gullies or ravines but Kentucky locals fondly dub "hollers." After a few days, you'll know why the local "mountaineers" wouldn't dream of trading places with you, city boy.

**ADVENTURE STOPS
Mountain Biking the Redbird Crest Trail: This 52-mile loop traverses the Daniel Boone National Forest west of Hyden. Strenuous climbs open onto ridgetop vistas, and multiple trailheads let you tackle smaller sections, but watch out for the ATVs and motorbikes that share the doubletrack trails. (Redbird Ranger District Office, (606-598-2192, www.southernregion.fs.fed.us)
Hiking Bad Branch State Nature Preserve: Ten miles southeast of Whitesburg, off U.S. 119, the 7.4-mile High Rocks loop takes you through mixed hemlock and hardwood forest and past the cooling spray of 60-foot Bad Branch Falls as you make your way to the summit of 3,273-foot Pine Mountain. (502-573-2886, www.kynaturepreserves.org)
Paddling Breaks Interstate Park: The Russell Fork River runs through The Breaks, a 1,600-foot-deep, five-mile-long gorge—the largest canyon east of the Mississippi. Come October, when water is released from Virginia's Flannagan Dam, Class IV-V rapids form in the gorge, and playboaters descend en masse. (Breaks Interstate Park, 800-982-5122, www.breakspark.com).



**TOP DIGS
Home to high ceilings and classically furnished guest rooms, the brick Benham School House Inn was built by Wisconsin Steel in 1926 as a school for coal miners' children. (Doubles, $70; 800-231-0627, www.kingdomcome.org)

**BEST EATS
Feast family style at the Wendover Big House, a 1925 log cabin four miles south of Hyden where it's five bucks for all-you-can-eat vittles—biscuits, 'kraut and wieners, corn bread, cole slaw, and sweet tea. (606-672-2317, www.frontiernursing.org)

**DON'T MISS
At Pikeville's Hatfield-McCoy Festival (June 12-15), featuring Appalachia's famous feuding families, you'll find everything from world-class quilts to unmatched banjo picking and clogging. For details, contact Pikeville Tourism (800-844-7453) or www.real-mccoys.com.

**ON THE STEREO
Tune in to "the Voice of the Hillbilly Nation," Whitesburg's WMMT 88.7 FM, for homegrown bluegrass.
Vermont
Like Maple Syrup
Tips & Resources
PICK UP A COPY of the Green Mountain Club's 50
Hikes in Vermont
(Countryman Press) before hitting the road. For more info, contact the Stowe Chamber of Commerce (800-247-8693) or visit
www.letmeshowyouvermont.com
.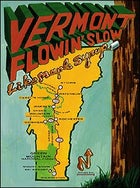 ROUTE: Wilmington to Stowe, Vermont
ROADS: Vermont 100
MILES: 145

Slow it down—way down. Vermont's Route 100 runs the length of this verdant state, through cow-speckled pastures and gently rounded mountains, but we recommend the most New Englandy section—starting in the south, in sleepy Wilmington, and ending in oh-so-quaint Stowe. As you wind through the West River Valley, Gothic Revival homes line up like decorated soldiers along pretty town greens, and locals patiently wait 25 minutes for their poached egg and corned beef hash at Cindy's Restaurant & Bakery, in North Wardsboro. In Black River, the next valley north, the hamlets of Ludlow and Plymouth Union make you question your caffeine addiction, and a ruddy-faced farmer on his John Deere tractor drives down Granville's main street, oblivious to the string of cars behind him. Farther north, in the Mad River Valley, the land opens up to dairy farms and blue sky, and old beaters weighed down by kayaks turn off to catch Mad River waves. Our advice: Just downshift and enjoy the ride.

**ADVENTURE STOPS
Mountain Biking Mount Snow: The 1,700-vertical-foot rise at Mount Snow Ski Resort, eight miles north of West Dover on the eastern edge of Green Mountain National Forest, dishes out some of the most technical terrain in the Northeast. Forty-eight miles of intermediate and advanced singletrack, logging roads, and ski trails crisscross the resort. Call the Mountain Bike & Hike Center for rental rates (802-464-4040).
Swimming at Warren Falls: One mile south of Warren, look for a large dirt pullout on the west side of the road. Before you even break a sweat on the short path that starts on the right, you'll hear the roar of the Mad River. Smooth sandstone ledges around the 25-foot waterfall are perfect launchpads for cannonballing into deep, clear pools.
Hiking Camel's Hump: Set aside a whole day to do this popular 6.8-mile round-trip hike above timberline to the 4,083-foot summit. On the way down, soak your feet in icy brooks and snack on late-summer blueberries. The trailhead is 8.7 miles west of Vermont 100 in Duxbury. For more information, contact the Green Mountain Club (802-244-7037, greenmountainclub).
Fly-Fishing the Winooski River: Local anglers swear there's "wicked-good" fishing in the Green Mountain State. To guarantee a fish fry of 15- to 18-inch trophy trout, tie on an elk hair caddis and cast a two-mile stretch that starts at the Winooski Street Bridge, in Waterbury, and ends upstream at the Route 2 Bridge. Call the Fly Rod Shop, in Stowe, to get the skinny (800-535-9763, www.flyrodshop.com).

**TOP DIGS
The remote 12-room Blueberry Hill Inn, about 20 minutes west of Vermont 100 on Vermont 73 near Goshen, is surrounded by the 20,000-acre Moosalamoo region of the Green Mountain National Forest. Wind down with a lavender salt bath, chef Tim's pan-seared free-range chicken in porcini mushroom sauce, and a hike on 50 miles of trails. (Doubles, $250-$320, including breakfast and dinner; 800-448-0707, www.blueberryhillinn.com)

**BEST EATS
What was the town funeral parlor 100 years ago is now an airy eatery with an old-fashioned soda fountain. Get your sugar fix with a frothy maple milk shake, made with sugar maker Jay McIntyre's Fancy Grade Vermont pure maple syrup, at the Rochester Café. (802-767-4302)

**DON'T MISS
Soar above the Mad River Valley in a two-seat glider or learn how to pilot one solo with Sugarbush Soaring, in Warren. (802-496-2290, www.sugarbush.org)

**ON THE STEREO
Mellow out with A Picture of Nectar, from those inveterate noodlers, Phish, who got their start playing at Nectar's in Burlington.
Wisconsin/Minnesota
Ya, Shore, You Betcha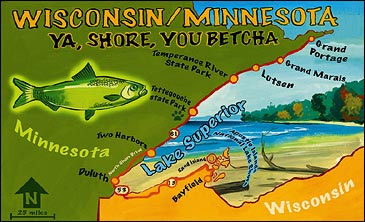 Tips & Resources
YOUR MANTRA is "It's colder by the lake." Be prepared for a 20-degree shift in temperature between inland trails and the lakeshore. For more info, contact Bayfield County Tourism (800-472-6338,
www.travelbayfieldcounty.com
) and the Grand Marais Area Tourism Association (888-922-5000,
www.grandmarais.com
).
ROUTE: Bayfield, Wisconsin, to Grand Portage, Minnesota
ROADS: Wisconsin 13, U.S. 53, North Shore Drive, Minnesota 61
MILES: 236

There's no place like home away from home—probably the reason Norwegians, Swedes, and Finns flocked to the Lake Superior shoreline back in the 1800s. Just like in the old country, granite crags jut out of icy blue water, daisies line the roads, and tall pines sway in the cool breeze. Plus, there's plenty of herring to catch and pickle. A drive along this section of Lake Superior skirts a web of trails for hiking or reaching kayak and canoe put-ins, and there's no end to the Scandinavian kitsch: In Duluth, you'll pass a replica of Leif Eriksson's Viking ship, and in Grand Marais, near the Canadian border, Sven and Ole's Pizza serves the Vild Vun (topped with wild rice). For the drive's "wow" moment, hike to Shovel Point in Tettegouche State Park—big-water views and dense forests are the real stars along this shoreline.



**ADVENTURE STOPS
Sea Kayaking the Apostle Islands National Lakeshore: Paddle four miles off Little Sand Bay, west of Bayfield, to Sand Island, where you can pitch your tent at the full-service campsite near the East Bay dock and explore sandstone sea caves one mile east. Trek & Trail, in Bayfield, offers kayak and equipment rentals, outfitted trips, and sea-kayaking clinics. (800-354-8735, www.trek-trail.com)
Sampling the Superior Hiking Trail: Trek part of the woodsy 226-mile trail that runs from Two Harbors north to Canada. Start in Temperance River State Park, just southwest of Lutsen. Primitive campsites dot the trail, and an inn-to-inn shuttle service is also available. Contact Boundary Country Trekking (800-322-8327, www.boundarycountry.com).
Mountain Biking at Lutsen Mountains: The 1,088-vertical-foot rise at Lutsen Mountains ski resort, 90 miles north of Duluth in the Sawtooth Range, is the closest you'll come to mountains in the Midwest. Downhillers can ride chairlifts to the top of Moose and Mystery mountains, then bomb down 35 miles of rocky singletrack. A $27 pass gives you all-day access to the trails and unlimited rides on the Alpine Slide. Call the Lutsen Mountains bike shop (218-663-7281, www.lutsen.com) for info.

**TOP DIGS
It's Dirty Dancing meets Ingmar Bergman. The grand old Lutsen Resort has been a stronghold on the North Shore since the 1880s. The 31-room lodge sits right on Lake Superior and is all Scandinavian, with hand-hewn beams, massive stone fireplaces, and guest rooms of high-gloss knotty pine. (Doubles, $99-$139; 800-258-8736, www.lutsenresort.com)

**BEST EATS
The rehabbed seventies-diner exterior of the New Scenic Café, eight miles northeast of Duluth, may lack the clapboard charm of a Maine lobster shack, but don't let it scare you off. The remodeled wood interior, graced with local artwork and Great Lake views, is all about ambience and the apricot- and ginger-roasted chicken is divine. (218-525-6274, www.sceniccafe.com)

**DON'T MISS
Two miles north of Two Harbors, on Minnesota 61, you'll find Betty's Pies, home to some of the most decadent five-layer-chocolate, coconut-cream, and bumbleberry pies you'll ever eat. (218-834-3367, www.bettyspies.com)

**ON THE STEREO
Anything ABBA—they sing like the Swedish Chef, and their songs are sunnier than Minnesota boy Bob Dylan's.
Moab, Utah, to Telluride, Colorado
Outlaw Territory
Tips & Resources
THE DRIVE FROM Moab to Telluride gains 4,700 feet of elevation, so prepare for wildly divergent climates. Any piece of gear that layers and wicks comes in handy. Find helpful info at
www.canyonlands-utah.com
or
www.telluride.com
.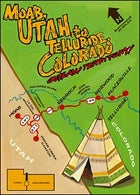 ROUTE: Moab, Utah, to Telluride, Colorado
ROADS: U.S. 191, Utah 211, Utah 46, Colorado 90, Colorado 145
MILES: 132

Sage grows thick in the ruddy valleys beyond the shoulders of these roads—a good thing, since athletic travelers tend to work up quite a sweat en route. I like to cut a small stalk of sage, place it on my dashboard, and hope the herbal aroma chases away the backcountry musk, compliments of my five-days-without-a-wash bike shorts. Then my senses can get back to marveling at this drive's harmonic blend of desert and mountains. The road rises from Moab's red-rock canyons, skirts Utah's La Sal Mountains, drops into Colorado's dry Paradox Valley, crosses the Dolores River, and follows the San Miguel River up to Telluride, in a steep bowl of the San Juan Mountains. As the ubiquitous squiggly-line signs along the road indicate, straightaways are scarce, but revelatory panoramas (and promising trailheads) seem to hide around every corner. No doubt this is some of our nation's finest western scenery, beloved by Butch Cassidy and the Sundance Kid and all who escape to the Four Corners to behave like unwashed outlaws.

**ADVENTURE STOPS
Climbing Indian Creek Canyon: Instead of turning east on Utah 46, stay south on U.S. 191, then head southwest on Utah 211 to get to Indian Creek (a 40-mile detour) for excellent sandstone climbing on spires and canyon walls ranging in difficulty from 5.8 to 5.13. The 5.10 Supercrack is a desert classic. Contact Moab Desert Adventures (435-260-2404, www.moabdesertadventures.com).
Rafting the San Miguel River: Put in at Specie Creek, four miles northwest of Placerville on Colorado 145, and float Class II-III rapids nine and a half miles through a narrow, pi-on-studded canyon to Beaver Creek, a half-day run. Rainy summers can keep the river runnable till September, but the rafting is best before mid-July. Contact Telluride Outside ($65; 800-831-6230, www.tellurideoutside.com).
Mountain Biking in Telluride: Since Moab's summer heat can be intense, save your knobbies for Telluride. Rides here range from mellow converted-railroad grades to a World Cup downhill course. Start with the Mill Creek Trail, a singletrack-intensive loop that takes you from the San Miguel River to steep, winding hillside traverses, all in only 6.4 miles. Back Country Biking rents full-suspension bikes and runs guided tours (970-728-0861).

**TOP DIGS
At the undeveloped Oowah Campground, which hovers at 8,800 feet in Utah's La Sal Mountains, you'll find views of the 12,000-foot summits and the fattest aspen trees you'll ever hug. Hike up the Deep Creek Trail to Burro Pass to watch the sun set behind the Henry Mountains, the last range to be mapped in the lower 48. For more info, contact Manti-La Sal National Forest, Moab Ranger District (435-259-7155, www.fs.fed.us/r4/mantilasal).

**BEST EATS
Named after Norwood's signature mountain, the Lone Cone Restaurant & Saloon follows the unwritten law that eateries named after geologic features shall serve big portions of prime rib and a fine apple pie. (970-327-4286)

**DON'T MISS
At the Bedrock Store, an outpost for travelers in Colorado's lonely Paradox Valley since 1876, admire the decorative barrels of antlers and stock up on a slab or two of honey-glazed beef jerky. (970-859-7395)

**ON THE STEREO
Long-haul landscapes require otherworldly sounds: Go with the Flaming Lips' stellar Yoshimi Battles the Pink Robots and the spaghetti-western strains of Calexico.
Mississippi
Miss. You
Tips & Resources
THE NATCHEZ TRACE Parkway begins in Natchez (mile one), heads northeast, and ends just south of Nashville (mile 444), but since this stretch starts in between and heads south from Tupelo, the mile marker numbers will decrease as you go. For camping info, call the National Park Service (800-305-7417,
www.nps.gov/natr
), and watch your speed—the Trace is heavily patrolled.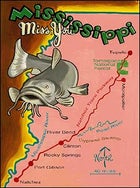 ROUTE: Tupelo to Natchez, Mississippi
ROADS: The Natchez Trace Parkway
MILES: 262

Bisecting the land that brought you fatback and collard greens is one of the only unclogged arteries left in the heart of Dixie, the Natchez Trace Parkway. A leisurely roll south along its sunlight-dappled tarmac constructed on and beside an ancient Native American trading route once used by conquistadores, French trappers, and pioneers will take you through wildflower meadows and a winding colonnade of redbud, dogwood, and magnolia trees. Because the National Park Service maintains the Trace for its historic value, not a single traffic light or convenience store will mar your drive through Mississippi-style wilderness (though there is a lone gas station at the halfway point). A telling mix of sharecropper homesteads and fading antebellum decadence surrounds the Trace, but out here in the fragrant forest, it's just you, a silky-smooth road, and wailin' blues on the stereo.

**ADVENTURE STOPS
Fishing Davis Lake: Remember to pack the rods—your first stop is a quiet fishing (and swimming) hole in Tombigbee National Forest, teeming with catfish, four miles west of the Trace, at mile marker 244. (662-285-3264, www.fs.fed.us/r8/tombigbee)
Hiking in Tombigbee National Forest: The Witch Dance trailhead, near mile marker 233, leads to a hilly six-mile loop over loamy soil in a spooky loblolly pine forest.
Biking from Clinton: The highest point in Mississippi is 800 feet, and it's nowhere near here, which makes cycling the Trace a high-speed pursuit. Take a break from driving and ride about 30 miles south from Clinton to the Rocky Springs rest stop, at mile marker 55.
Canoeing the Pearl River: The lazy Pearl is ideal for a late-afternoon float. Slip your canoe in at the River Bend rest stop, at mile marker 122, and explore this bald cypress swamp where you can quack at the wood ducks and pick your fill of wild blackberries. BYO canoe.



**TOP DIGS
Sip iced tea on the breezy veranda of Oak Square Bed and Breakfast, in quiet Port Gibson, an 11-room Greek Revival mansion surrounded by 200-year-old oak trees. (Doubles start at $105; 800-729-0240)

**BEST EATS
Deep in the sticks, six miles east of the Trace in Montpelier, you'll find AJ's Bar & Grill, an old juke joint that serves up cold suds, hot music, and the best barbecued-pork sammies on the Trace. (662-492-0101)

**DON'T MISS
In Natchez, numb your road-weary bum at the Old South Winery by sampling sweet wines made from the local muscadine berry. Grab a bottle, walk west to the bluffs overlooking the mighty Mississippi, and raise a toast to Old Man River. (601-445-9924, www.oldsouthwinery.com)

**ON THE STEREO
Nothing but old Mississippi bluesmen: Asie Payton, Junior Kimbrough, R.L. Burnside, Robert Johnson, and T-Model Ford. If that gets too old, slide Dusty Springfield's Dusty in Memphis into the CD player and get misty.
California
Going Cali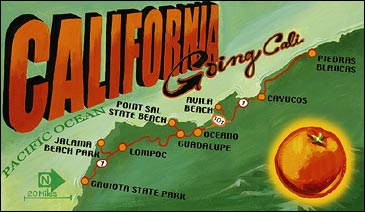 Tips & Resources
TREAT THE SHORT, ugly stretch through Lompoc like a walk across hot coals—the faster you go, the less it hurts. Coastal fog usually clears by midday. For more info, call the Lompoc Valley Chamber of Commerce and Visitors Bureau (800-240-0999).

ROUTE: Gaviota State Park to Piedras Blancas, California
ROADS: California 1, U.S. 101
MILES: 120

Elsewhere on the Pacific Coast Highway, weekenders in minivans are fighting off nausea at every famous curve, traffic is crawling beside a string of crumbling cliffside mansions, and a busload of tourists has pulled off the road, point-and-shoots at the ready. Not here. On this forgotten, slightly inland stretch of California 1, a couple hours north of Los Angeles, you'll zip north unhindered over a roller coaster of green hills. What this road lacks in vertiginous sea cliffs, it makes up for with a huge dose of the original California fantasy: eucalyptus-fringed ranches, enormous blue skies, and no-name vineyards. And it parallels a blissfully undeveloped stretch of coastline where a trip to the beach means a tiny detour down a seldom-traveled side road that's managed to evade the last few centuries of progress.

**ADVENTURE STOPS
Hiking in Gaviota State Park: The 6.4-mile Gaviota Peak Trail takes you to a 2,450-foot hilltop with views of the Pacific, the Channel Islands, and the road you're about to embark on. On the way down, stop at the hot springs (well, warm springs) half a mile from the trailhead. Call the Channel Coast District Ranger Station for more information. (805-968-1033)
Surfing at Jalama Beach: Fourteen miles west of Lompoc lies the farthest point on the California coastline from any highway, Jalama Beach Park, where a summertime south swell delivers head-high beach and point breaks. Windsurfers take over when the standard 15- to 25-mile-per-hour breeze kicks up in the afternoon. Anglers surfcasting for rock cod can buy bait and tackle in the Jalama Beach Store, home of the deliciously sloppy Jalama Burger. (805-736-6316)
Wildlife Viewing at Piedras Blancas: At the Piedras Blancas elephant seal colony, on the coast north of San Simeon, dozens of stout-snouted, refrigerator-size pinnipeds loaf on the sand. Contact Friends of the Elephant Seal to learn more. (805-924-1628, www.elephantseal.org)

**TOP DIGS
Every room at the Sycamore Mineral Springs Resort, in Avila Beach, comes with its own spring-fed outdoor hot tub. A paved bike path out the front door runs three miles west along a sycamore-shaded creek to a calm bay, where you can rent sit-on-top kayaks ($13-$18 per hour; Central Coast Kayaks, 805-773-3500, www.centralcoastkayaks.com). Paddle over a submarine kelp forest, home to extremely social—and harmless—harbor seals. (Doubles start at $153; 800-234-5831, www.sycamoresprings.com)

**BEST EATS
An anomaly in the one-road, fish-'n'-chips town of Cayucos, Hoppe's Garden Bistro has a gourmet California menu that could hold its own in any metropolis. In the 1875 dining room or the English garden, nibble on lemon-cured halibut and mussel ceviche. (805-995-1006)

**DON'T MISS
After 28 years of villain-booing, hero-cheering, and heartfelt honky-tonking, the Great American Melodrama & Vaudeville, in Oceano, is still turning out six weekly performances. (Tickets, $13.50-$16.50; 805-489-2499, www.americanmelodrama.com)

**ON THE STEREO
Mix two parts Best of Burt Bacharach with a shot of Dick Dale. Top off with the High Llamas, and The Long Goodbye, the latest from the Essex Green. Stir.
Nevada
The Loneliest Road
Tips & Resources
PICK UP MORE INFO and the Highway 50 Survival Kit at the White Pine Chamber of Commerce (775-289-8877,
www.elynevada.org
), in Ely. Along with a free state map and some brochures on the history of Highway 50, there's a postcard that can be validated in Ely, Eureka, Austin, Fallon, and Fernley. Fill it out and mail it in for some goofy memorabilia: a free Highway 50 pin, bumper sticker, and certificate of survival signed by Governor Kenny Guinn.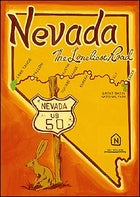 ROUTE: Baker to Lake Tahoe, Nevada
ROADS: U.S. 50
MILES: 412

"Highway 50 is all mine," I tell myself, flooring the accelerator. "I own this road." There's no one around to prove me wrong. Venturing out into its great desolation like an explorer searching for a new route west, I'm adrift in the ephemera of a heavy road trip: Maps and spent coffee cups are piled around me as I trace the old Pony Express Trail across the Great Basin toward the Sierra Nevada. The unbroken sky and the rolling flux of mountain range and alluvial plain have a way of reworking one's perspective. Out here, the world dissipates like a mirage on the hot tarmac, leaving only the open highway and the promise of discovery. "Yeah," my 89-year-old great-uncle harumphed when I told him where I was going, "if you like tumbleweed." I love tumbleweed—but that's not the point. On U.S. 50, travelers can't help but bear witness to their own passing. Like many others before me, I leave a pair of shoes dangling in a lone tree by the side of the road, my name spelled out in rocks on the pale earth nearby. These strange roadside shrines present an existential dilemma: Am I driving this road or is it driving me? Either way, this highway changes you.

**ADVENTURE STOPS
Hiking in Great Basin National Park: Stretch your legs in this 77,082-acre park just outside of Baker. The 2.8-mile round-trip hike on the Bristlecone Trail takes you to an ancient grove of the 4,000-year-old pines for which the trail is named. A mile farther, you can step onto Nevada's only glacier, on 13,065-foot Wheeler Peak. (775-234-7331, www.nps.gov/grba/index.htm)
Mountain Biking Austin Singletrack: The Pony Express traversed this area in 1860, and the ideal mail carrier was an "expert rider willing to risk death daily." The same can be said for pedaling the 11.5-mile Cahill Canyon Run, a rocky single- and doubletrack loop outside of Austin that cuts through stands of juniper and aspen groves in the 11,000-foot Toiyabe Range. Pick up a trail guide at the Tyrannosaurus-Rix bike shop, in Austin (775-964-1212, www.t-rix.com).
Sea Kayaking Lake Tahoe: U.S. 50 takes you to the edge of this huge 1,685-foot-deep lake, but why stop there? Rent a sea kayak at Kayak Tahoe, in South Lake Tahoe, California, and paddle the startlingly clear waters of Emerald Bay. (530-544-2011, www.kayaktahoe.com)



**TOP DIGS
Pull over at the Bob Scott Campground, six miles east of Austin in the Toiyabe Range. Surrounded by piñon pines, this free campground with running water and flush toilets is a favorite way station for mountain bikers, who come to ride the steep ascents and technical downhills of the 8.5-mile Bob Scott Slide Trail. (775-964-2671)

**BEST EATS
In the old silver-mining boomtown of Eureka, grab a double bacon cheeseburger at DJ's Diner, a fifties-style drive-in with booths, pool tables, and a jukebox. (775-237-5356)

**DON'T MISS
The Burning Man Festival, August 25-September 1, is a makeshift city of art installations and creative mayhem where 25,000 revelers congregate to burn "the Man" a 50-foot wooden effigy 77 miles north of Fallon, in the scorched Black Rock Desert. (415-863-5263, www.burningman.com)

**ON THE STEREO
Radiohead's Hail to the Thief for the head-stretching spaces; Neil Young's Tonight's the Night for when it gets really dark.