Musky Hunting
The musky is the alpha male of the aquatic world, feared by children and hunted compulsively by grown men. And, yes, catching one really is worth all the fuss.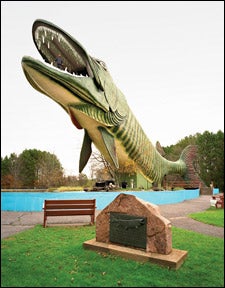 Heading out the door? Read this article on the new Outside+ app available now on iOS devices for members! Download the app.
JIM SARIC NEEDS to catch a musky. The fish is out there somewhere, torpedo-smooth and moody beneath 40,000 acres of slate-gray chop, a prehistoric-style killing machine working the shoreline on a slow, malevolent cruise, sometimes stopping to suspend sniper-still in the murk. The fish knows it can whip anything in the pond and will not be hurried. A musky (muskie in some regions—both short for muskellunge) does not bite until it's good and ready. This makes it tough to catch. "Fish of 10,000 casts," the old-timers call it.
Musky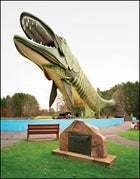 And bite doesn't quite cover it. A musky operates with overwhelming force. Trimmed out like a subaquatic Phantom jet, it leads with a flat snout nestled into a protrusive mandible. As the largest member of the pike family, the fish looks perpetually truculent. When kill time comes, its mandible gapes, unsheathing a jawful of straight-up gatory shivs, perfect for the initial smash-and-grab. In contrast, the roof of the mouth is a twisted thicket of suture-needle teeth, all angled backwards to keep the victim gullet-bound. A musky does not bite. It engulfs, clamps, and then chokes its meal down whole. It has been known to eat ducks, muskrats, and—so they say at the tavern—the occasional dog-paddling poodle.
Jim Saric needs to catch a musky because he is the host and executive producer of the Musky Hunter television show. He's been fighting the wind and waves here on northern Minnesota's Lake Vermilion for two days. He's already landed two muskies for the camera, but he needs one more to fill the third and final spot between commercials. Over the past 25 years, Saric has boated more than 140 muskies exceeding 50 inches in length—the largest weighing 53 pounds. He has won seven professional musky-fishing tournaments. He's also the editor of Musky Hunter magazine and co-author of The Complete Guide to Musky Fishing. He has produced training videos including Musky Hunter Tactics, Muskies at the Next Level, and Precision Musky Presentations. He has numerous corporate sponsors, a $60,000 powerboat loaded with the latest full-color digital gadgets, and—in case you're thinking "Bubba"—a master's degree in hydrogeology.
He will bring all these things to bear to catch that final fish.
And then he will let it go.
WHEN I WAS A KID in the country, we caught panfish for dinner, bass for kicks, and carp for no good reason. We sat on docks and flipped worms at lily pads in the sun. But when talk turned to muskies, we pulled our toes from the water and spoke reverentially of the handful of locals we knew who had caught one. The road past my family's farm led to a lake known for muskies, and every evening around suppertime, a man named Charles Hanson would shoot past in his pickup, boat in tow, bound to hook one. He made that trip regularly for 16 years before he caught his first. "November 10, 1968!" he says. You wonder if he can rattle off his wedding anniversary as readily.
Hanson and several pals started a musky-conservation group and began stocking and creating musky habitat in local lakes. Today, thanks to people like him, the musky population is thriving. "Musky anglers have definitely been leaders in fishery conservation," says Tim Simonson, a fisheries biologist with the Wisconsin Department of Natural Resources Bureau of Fisheries Management. "Voluntary release of muskellunge has grown steadily since the early 1970s, to the point where many avid musky anglers now release every fish they catch." Of the 200,000 or so muskies now caught annually in Wisconsin, all but around 5,000 were returned to the water. (Legally, a musky must be at least 34 inches long to keep.) Quite a switch from the early days. "We used to shoot muskies," Hanson says ruefully. "My buddy had a .38 auto mounted on a .45 frame. You didn't even have to hit 'em to kill 'em…just come close!"
Nowadays the fish are found in 37 states, up from 24 in 1978. "Minnesota is probably the greatest success story," says Saric. "Twenty years ago, half the current musky fisheries didn't exist." He also cites Colorado, Utah, and Washington as states where the fish is gaining ground, and says that musky fishing in Canada is "awesome." The bottom line, according to Saric: "This is no longer the fish of 10,000 casts."
"It's now the fish of 3,000 casts," agrees Patricia Strutz, a musky hunter who owns a guiding service in northern Wisconsin. "But that's still a lot of casts!"
What, then, compels hordes of freshwater Ahabs to froth the waters so? Strutz credits the musky's twin auras of menace and indifference. "They eat when they want to eat," she says. "To have a huge fish follow your lure and then turn away…" And when the tension does break, it breaks huge. "Muskies fight more like saltwater big game," says Strutz. "They jump completely out of the water, dance across the surface on their tails, thrash wildly, and dive beneath the boat."
More than one angler has taken hooks to the face when a musky has risen from the depths, rattled its bony gills, and spit the lure straight back at the boat. "Salmon fight harder," says Richard Minich, author of Becoming a Musky Hunter, "and smallmouth bass are more exciting pound for pound. But who's afraid of a salmon or a smallie? If there's a chance to go fishing generally, I might go. If there's a chance to go fishing for muskies, I go."
"Musky fever is a true addiction," says Strutz. "I've seen grown men shake violently, mumble for ten minutes incoherently, and even cry when they lose a big one."
I caught a musky once—accidentally.
I was young and it was tiny. I released it and failed to contract musky fever. I wonder if I'm immune?
"STEP INTO MY OFFICE!" Saric booms, ushering me off the dock and into his 20-foot 620VS Ranger Fisherman. We're joined by his cameraman, Jim Lucy, and Dick Heckel, who's fishing as Saric's guest. Saric fires the 250-horse Mercury outboard and we roar across the lake to our first stop. Selecting a large bucktail lure—a spinner and hooks dressed with a wad of tinsel—Saric addresses the camera to record one of the many talking points he'll later splice into the show.
"Right now we're fishing yesterday's wind," he says, explaining that early-morning muskies are still patterned on the previous day's weather conditions. A slim, brown-haired man with a direct gaze and matter-of-fact tone, he has a knack for breaking things down.
Saric works his reel hard, horsing the bait back through the water at a steady crank. The rod he's using is fairly flexible and between seven and a half and eight and a half feet long—the combination allows for longer casts and better control—and threaded with a fine, no-stretch braided line capable of holding 80 pounds before breaking. When the lure is six feet from the boat, he dips the rod tip, driving it underwater to stir a figure eight in the water. Muskies are notoriously finicky, more famous for following the bait than taking it. But they can be provoked. The figure eight is a tease intended to trip some primordial neural trigger. Saric estimates that it generates 20 percent of all strikes.
Just as things settle into a groove, Saric says "Next!" and fires up the boat to send us roaring back across the lake. A red line on a dash-mounted LCD traces our progress in real time. The display is linked to a sonar unit containing a map chip tied into a GPS system. Saric can view the underwater topography in three-foot slices and place navigational icons on the screen. When he catches a musky, he'll log the coordinates, length of the fish, lure, weather conditions, wind direction, temperature, time of day, and moon phase. "Muskies are triggered by environmental factors," Saric says. "I'm trying to figure out what fish do over time. Not just where I can catch them but when." Two of Saric's favorite triggers are sunset and moonrise. "They create a 15-minute window of strong feeding," he says. "We know they're going to bite before they know they're going to bite."
We glide to a stop along a new stretch of shoreline. Each time the lures hit the water, a puff of spray hangs in the sunlight. "Next!" yells Saric, and we cut another red line across the sonar screen.
We fish for several hours, buzzing all over the lake. The lures go out, the lures come in. There is the whistle of the unspooling line, the muted grind of the reel, the thump of waves on the hull, the rocking of the boat. "The water's warming up," Saric says at one point. "It was 61.9 degrees; now it's 63.8." The temperature rise can spike a musky's metabolism, which sometimes is all it takes to trip the switch. The conversation ebbs and flows as we watch the water for that swirl, that roll of a slimy back, that flash of a white maw. After so many fruitless retrieves, it's hard to visualize the eruption, but that's what we're in for should the musky decide to get with the script. All morning, Saric and Heckel have been telling musky stories, and not once have I heard the word bite. "They eat those topwater lures!" "That fish just blew up the bait!" "He T-boned it!" "He crushed it!" The air is filled with exclamation points. Not so the water.
"Next!"
THE LARGEST MUSKY in the world is 145 feet long and dominates the grounds of the Freshwater Fishing Hall of Fame, in Hayward, Wisconsin. Entering near the anus, visitors climb the innards of the fish and emerge in the mouth, four and a half stories above the ground. Sometimes people get married between the teeth.
Wisconsin, and Hayward in particular, has long been the epicenter of musky fishing in America. The three top world-record muskies were taken in Wisconsin, and two of those were pulled from the Chippewa Flowage, a 15,300-acre tangle of water and wilderness formed by the installation of a dam in 1923, just outside Hayward. The current record fish—69 pounds 11 ounces and 63.5 inches long—was caught in the Flowage by Hayward local Louie Spray in 1949. Louie lost the crown in 1957 when a New Yorker fishing the St. Lawrence River caught a musky weighing 69 pounds 15 ounces.
However, the Hall of Fame deposed the New York fish in 1992 after analyzing a photograph in which it appeared much smaller than claimed. Not coincidentally, a vocal contingent of the musky world believes Louie Spray's fish is also fraudulent. Among other things, they point out that the man who initiated the disqualification of the New York fish owns a resort on the lake where Louie caught his, and also that he has written a book about Louie's exploits.
Piscatory conspiracy theorists have a lot to chew on. An adversarial report filed by the World Record Musky Alliance (WRMA) features 49 pages of sworn statements, affidavits, diagrams, expert photo analysis, legal opinions, comments from a Canadian crime-scene investigator, and a profusion of professionally worded aspersion culminating in the accusation that the Hall of Fame is covering for its hometown boy. In 2006, it rejected the WRMA report and reconfirmed Louie's record.
There is much at stake. A replica of Louie's musky—the original was lost in a fire—is on display at the Hall of Fame, and the Flowage's reputation attracts customers for area guides, who can charge up to $350 a day. The Wisconsin Department of Natural Resources estimates that musky anglers spend $425 million in the state annually. The average Musky Hunter reader spends nearly $3,500 a year on the pursuit, and that's not including the purchase of boats, motors, and trailers.
When I ask Saric about the controversy, he remains politic but says he fears musky fishing will become like boxing, with different sanctioning bodies keeping different records and anointing different champions. There is only one way to resolve the Hall of Fame dispute: Somebody has to catch a 70-pounder.
BY LATE AFTERNOON the water is busting the sun into a million little twinkles. Still no fish. Saric ties on a lure the size of a squirrel. It's made of fluorescent orange rubber and wiggles through the water like an overgrown salamander. "Sometimes, when things are slow, you have to use a 'shocker' bait to rouse the fish," he says. Not to catch them, he explains, just to raise them.
Heckel has turned to throwing a topwater bait, a buoyant, torpedo-shaped plug trimmed with a silver propeller that spins half in and half out of the water, leaving a trail of tiny bubbles. We're working a small island surrounded by large rocks, many of them barely submerged. It's quiet again. Not much talking. Just the tinny jingle of the propeller blades and the rattle of the treble hooks when a lure is flying, followed by the burbly putt-putt of its return.
"There's one!" I yell. I've been doing my level best to remain the silent observer, but when a big fish rolls just behind and below Heckel's lure, I blurt without reservation. The image stuck to my retina is of a gray-green curve—no head, no tail, just the flank of the fish curling back on itself. Suddenly the day is galvanized. Heckel saw the fish, too, and he's nearly dancing. He flings his bait again. Nothing. But Saric wants to keep working the spot. "The idea that muskies are a 'loner fish' is a myth," he says. "Five, six, seven muskies in the same spot is common. It's like a wolf pack. Maybe you'll get one real big one on its own, but generally they hang out together." After a few more fruitless passes, we move on.
But something has changed. Saric and Heckel both raise muskies on several of our next stops. They don't bite; they just slide behind the lure or—and this puts a catch in your breath—rise into view right beside the boat. Saric isn't worried that they're not hitting. "On a nice, bright day, you'll get a lot of lookers. That doesn't mean you won't get one to come and eat, but the conditions have to be right." He's happy we're seeing these fish. He knows they're there. And when the conditions are right, he'll be back.
For the next two hours, though, the action stops. Then we rework a stretch of shoreline where a fish followed earlier in the day, and Heckel is hollering again. "There's one! There's one!" He figure-eights like mad. "Take a longer sweep!" Saric commands. Heckel extends his stroke, and suddenly there's an explosion. "I got 'im!" Heckel yells. Saric is barking instructions and scrambling for the net. "Bring him around the front! Drive his head down! Drive his head down!"
And then the thing is netted and in the boat. It's a python-bellied lunker. "Whoo!" says Heckel. "Whooooo!"
Moving quickly, Saric measures the fish. Forty-nine inches. Nowhere near a record, but a fine musky nonetheless. Facing the camera, Saric congratulates Heckel and works in a seamless talking point about the importance of returning to spots where you've had follows. Then he looks directly at the lens and says, "Join us next week on a big fish adventure on…The Musky Hunter!"And then the fish is back in the water and we roar off to the next spot. The sun sinks; Saric and Heckel continue to fish. On the horizon, the red lights of a faraway radio tower pulse slowly and ever brighter in the sky. When the rods are finally stowed, night is fully upon us. The horsepower thunders us home and the sonar glows against Saric's face as we cut a final red line through the crisscross day.
THERE ARE LESS INTENSIVE approaches to catching muskies. "I fish out of a 70-year-old boat," says musky guide and row-trolling advocate Dave Schnell. Rather than roar around flinging lures, Schnell and his clients use oar power and mostly trail their lures behind the boat. "Row trolling is quiet, great exercise, and you get a real sense of accomplishment when you row for five hours and then hook into a big fish," Schnell says.
Somewhere between the extremes of Saric and Schnell, you find musky hunters like my old neighbor Charles Hanson. A week after my outing with Saric, Hanson and I push away from the dock of a small lake in Chippewa County, Wisconsin. The boat is small and there is very little gear—not even a depth finder. "On large lakes you fish spots," he says. "Here we can fish the whole lake."
Hanson, whose curly hair turned white long ago, is fishing a bucktail specially constructed to slip through weeds without snagging. He designed the lure himself, but as he points to a tackle box jammed with lures of every concoction, he says, "There's nothing new under the sun…everything's a variation on a theme." His take on all the doodads available to today's musky hunter is equally dismissive. "I used to study solar tables, lunar tables, subscribe to all the magazines, learn all the theories. Now my theory is that the best time to go musky fishing is whenever you can make it!"
For three hours we just drift, fish, and talk. With no TV show to fill, the pressure's off. Finally, Charles looks at the sky, overcast and spitting rain. "Let's fish that first stretch one more time," he says, pointing to the shoreline where we began the day.
It's not the wildest spot on earth: pine trees and brush broken by lake-house lawns and the few docks that haven't been pulled for the season. A few short weeks ago the water was flotsammed with vacationers. Now they're mostly gone, and the only signs of life come from two guys grinding a tree stump.
I was asleep at the switch on the first follow and went to the figure eight way too slowly. A swab of green-gray and then the musky was gone. Forty yards down the shoreline, I have another follow. I figure-eight immediately, but again the fish demurs. Then I hear an exclamation from Charles—the musky is now snapping at his figure eight.
And then nothing. Somehow it missed the hooks. We cover another 40 yards of shore, but nothing happens. Casting toward a boat lift, I misjudge the distance and brake the reel harshly to prevent the lure from clanking into the cross-members. The line jerks and the bait drops clumsily, a vertical knuckleball nearly clipping the dock. It ain't pretty, but I take only two cranks before I feel an electric b-bump-bump-TUG coming up through the line. Like a kidI yelp, "There he is!"
"Set the hook!" says Charles, and I horse the rod once, twice, like I'm pitching forkfuls of cow manure over my shoulder, and then I focus on getting the fish to the boat. Charles is ready with the net, but just when the musky looks as if it's pointed in the right direction, it takes off around the front of the boat and I can hear Saric's voice in my head: "Drive his head down! Drive his head down!" I jam the rod tip into the water, half guiding and half following the fish in as it semicircles the bow. I get my first good look at it now, and the best I can muster is, "Shnikies!"
And then it's in the net. Charles is grinning ear to ear, and me the same. Just goofy with the thrill of it all. When I hold the fish up for a pre-release picture, I can smell it, murky and fresh in the same whiff. It measures 33 inches—nowhere near the legal length—but as it courses away from the boat to fight another day, it is a good place to be: this lake, this boat, this gray musky day.