Nine Reasons to Buy the Malloy Brothers a Beer
How do three guys who get paid to surf the world, shoot movies, and design sweet gear still make you want to pick up their tab?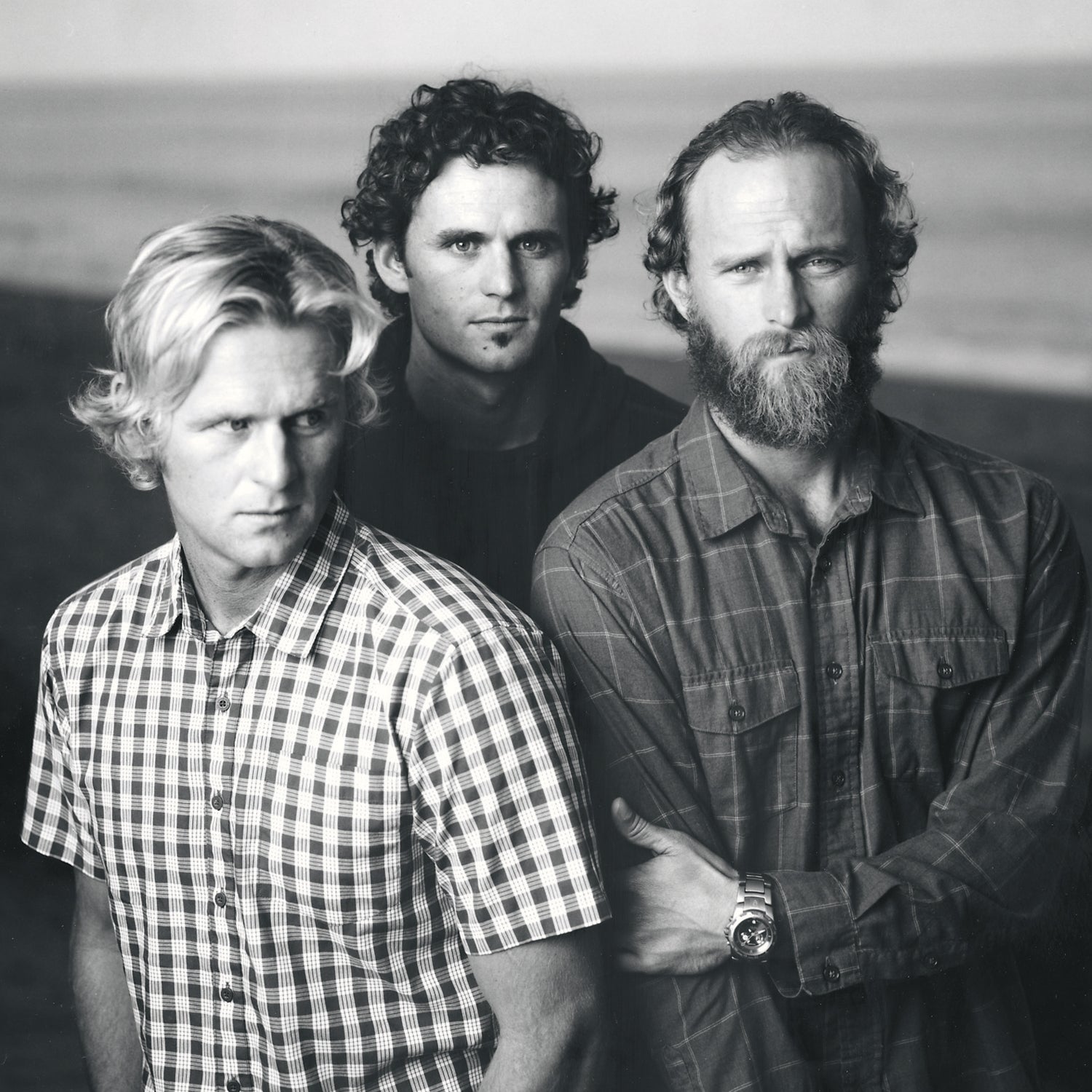 Jeff Lipsky(Photo)
Heading out the door? Read this article on the new Outside+ app available now on iOS devices for members! Download the app.
1. They've Had a Long Day
For the Malloy brothers Chris, 35, Keith, 33, and Dan, 29 going to work means,as Keith describes it, pursuing "the lost art of beinga waterman."
"A waterman," explains Chris, "knows how to swim, surf, bodysurf, paddleboard, spearfish, and freedive but really it's about having a rhythm of life dictated by the ocean's moods."
Which is to say being a waterman is a bit complicated. It can mean inventing new kinds of surf quests, like Keith and Dan's 2004 paddleboard mission along 50 miles of the central California coast. Or making movies with their surfer-artist crew, the Moonshine Conspiracy. Or lending a hand on a commercial fishing boat. Or designing products for their employer, Patagonia.
Take last year. In February, Keith packed up his biodiesel Dodge truck and surfed, climbed, and hiked from Bend, Oregon, to Cabo San Lucas and back again, meeting his brothers along the way for forays into everything from forest onservation to sustainable agriculture, which were documented in a book, Bend to Baja. Then Dan left for a monthlong bullet-dodging, wave-hunting sojourn through Liberia, while Chris went off to scout locations for a surf movie in Chile. In May, all three put together, literally, Patagonia's flagship surf store, in Cardiff-by-the-Sea, California, painting the walls and installing the gear racks.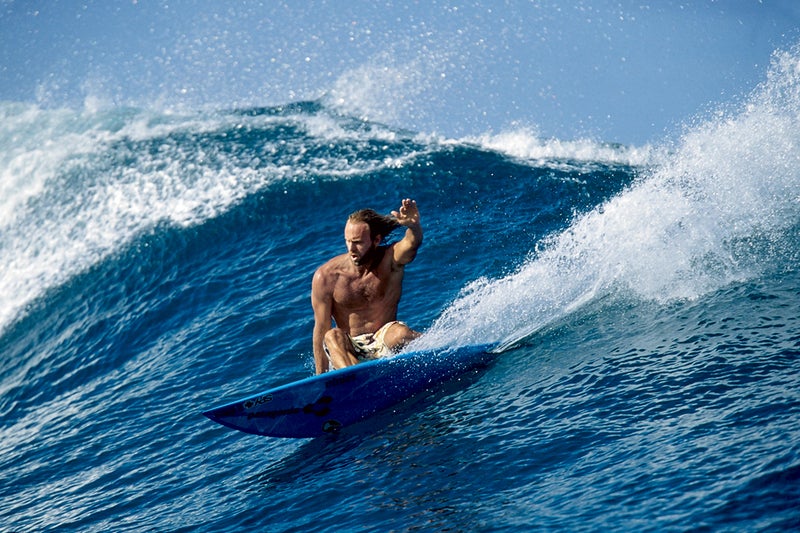 Next, they headed to Indonesia, partly to test Patagonia surfboards but also because the 2004 tsunami had crushed the northern end of Sumatra and the brothers had decided, as Dan puts it, that "the whole damn archipelago had given us so much that it was time to give something back." So they did: $162,000 via SurfAid International, comprising a $150,000 Moonshine Conspiracy donation (equaling the profits from their 2003 Indo-based film, The September Sessions), plus $12,000 from a benefit they hosted with Patagonia. They followed that with two days of labor in a community garden.
By the end of the year, the Malloys had surfed more than 330 days each in a combined 11 countries, including Panama, Fiji, and Micronesia. "Our lives are about perpetual motion," says Chris. "We don't ever sit on our asses."
2. You Owe Them One
Last October, I paddled out into the lineup at Huntington Beach, California, with Dan Malloy. It was a perfect dayof shining sun and overhead dream waves except that we were at ground zero for surfing's hotdogging rude boys. Worse, the 2006 ISA World Surfing Games were just up the way, so the water was ego-to-ego with pro riders.
Which meant the only waves I caught were when Dan blocked for me. Dan was once a competitive pro himself: He won the 1996 OP Pro Junior and placed second in the 2000 U.S. Open of Surfing. The same is true of Keith, who in 2000 was one of just 44 surfers to qualify for the world championship tour. Even Chris, who's always eschewed contests to chase monster waves, once accepted an invitation to the Big Wave Invitational in Memory of Eddie Aikau, on Oahu's North Shore. And yet, one by one, they all dropped out. Dan explained why best in 2002, when his confession that competition was making him "lose my love for surfing" made surf-press headlines.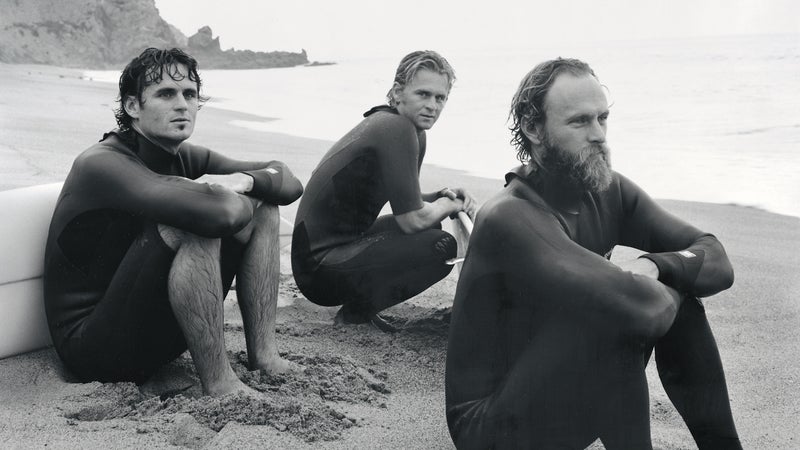 Unfortunately for me, Dan also grew tired of Huntington; after he went ashore, I couldn't even get scraps. Finally, I shoulder-bashed four takers out of the way and sailed down the line. To say I rode that wave with any noteworthy ability would be to ignore the guy to my left pulling a 360 aerial and the guy to my right ass-deep in a tube, but then the cheering started.
"Wow," said the guy closest to me, "that must have been some wave."
"It wasn't that great."
"Well," he said, pointing over my shoulder, "that's Dan Malloy making all the fuss."
"We always need to surf vicariously through everyone else, too," explains Chris. "That's why we quit contests. We'd get so excited for other people, we'd forget to compete against them."
3. They Can Handle It
To understand the Malloy brothers, start with their dad. In the sixties, Mike Malloy held his own at Topanga, the SoCal break famous for fast waves and ferocious localism. He made ends meet laying industrial pipeline. In 1975, he moved his family to a small farm in Ojai.
Mike Malloy is now 59 and runs a cow-calf operation north of Santa Barbara. His toughness is the stuff of family legend. One evening, at Keith and Dan's two-story beachside bachelor pad in Ventura five miles from where Chris lives with his wife, Carla, and two-month-old son, Lucas I was standing next to the outdoor grill with their friend Chris Del Moro when Chris Malloy began arranging the hot coals with his bare hands. When I suggested tongs, Del Moro laughed. "Mike never uses tongs either," he said. "He just reaches in and goes for it. Whenever Dan and his friends do anything hard and painful, they chant, 'Mike Malloy, Mike Malloy, Mike Malloy.' "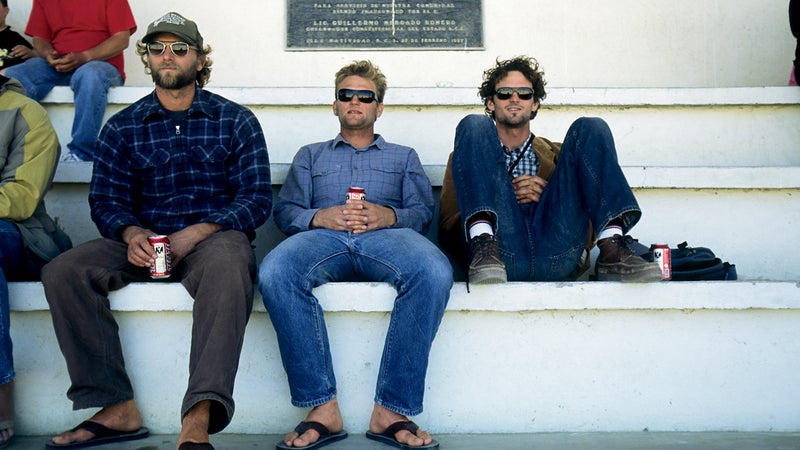 As teenagers, the boys hitchhiked 15 miles to Ventura to surf and spent summer stints in a tepee they built on the beach. When Chris turned 18, in 1990, he moved to Hawaii. "He was unbelievably fearless when he got here," says big-wave rider Shane Dorian. "He went from six-foot California slop to 25-foot Waimea without blinking."
Two years later, Keith followed. In his first week, he surfed a dangerous outer break called Himalayas. In 1993, at 18, Dan went to Polynesia to ride Teahupoo, one of the world's heaviest waves.
Yet as all three boys will tell you, the toughest Malloys are their mother, Denise, and their 25-year-old sister, Mary. Mary was born blind and deaf and with severe cerebral palsy. She requires constant care. "We can go catch 30-foot waves," says Chris, "but then we come home to a sister who can't walk or talk or move her hands without shaking, and a mother who was up all night long with her for the first seven years of her life. You very quickly realize that every day is a gift and that you need to treat it with respect."
4. Because It's a Working Lunch
Early on, the Malloys were a lot like, well, other extremely talented professional surfers. They picked up their first sponsor in 1987, when Channel Islands Surfboards founder Al Merrick gave them a contract for boards and spaghetti dinners. They've come as a package ever since. Their first big endorsement deal was with Billabong, in 1991. When Billabong president Bob Hurley launched Hurley International in 1998, they went with him.
In April 2004, the Malloys jumped to Ventura-based Patagonia. The surf industry was dumbfounded: Why work for a company best known for mountain apparel? "Bob Hurley treated us like family," says Chris, "but we were really tired of the entire Orange County surf paradigm. It's become Hollywood. It's no longer a sport; it's a look."
The Malloys had befriended Patagonia founder Yvon Chouinard in 2000, when Keith bought the Ventura home where he lives with Dan across the street from Chouinard and his wife, Malinda. When he began talking to them about the viability of building out Patagonia's surf line with sustainable, function-first products, Chris recalls, "we told him it would work and that we wanted in."
They've since had a hand in every aspect of Patagonia's surf line, from advertising to the design of the Cardiff store. Inside, you'll find the Malloy-designed 80-percent-non-petroleum-based wetsuit (most are 100 percent petroleum), along with non-Patagonia waterman essentials like spear guns and paddleboards. The apparel includes organic-cotton versions of layers from their own closets, like an overcoat modeled after Chris's old army jacket, and following a typical Malloy notion of what's practical a side-vented shirt that allows you to comfortably hold a surfboard while riding a horse. "Surfing takes work," says Keith. "We're making durable work clothes."
5. It Won't Go To Their Heads
"Look," says Chris, "don't write that we're these do-good humanitarians. Don't write that we're rabid environmentalists. We're just fun-hogging tube junkies. But we've realized we can have all the fun we want and still leave something good behind."
6. They Could Make You a Star
The Malloys started shooting movies in 1999, when Chris and then-unknown musician Jack Johnson borrowed $100,000 from Bob Hurley and along with Keith, Dan, and others started surfing and filming around the planet. They named themselves the Moonshine Conspiracy.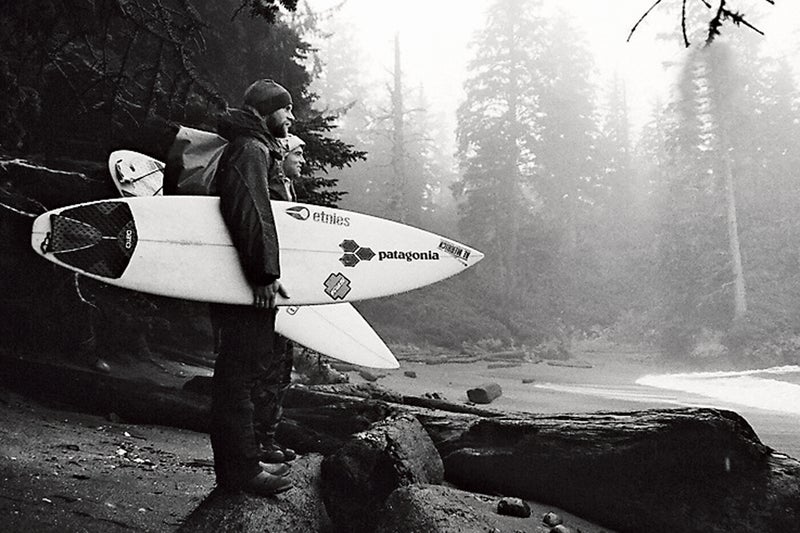 Chris calls their projects "home movies." And they are, featuring scenes from a trip to their ancestral Ireland or shots of friends hand-making guitars. Their first film, 1999's Thicker Than Water, shot on 16mm, felt like a return to an earlier era of subtle, wide-angle surfer storytelling albeit injected with doses of some of the best wave riding ever captured on celluloid. It also sparked Jack Johnson's career the soundtrack was an underground hit. They've released four more films, involving such co-conspirators as Kelly Slater, Eddie Vedder, and Ben Harper.
"Thicker Than Water swung the pendulum back to the right brain," says Surfer magazine editor Chris Mauro. "It was a monumental shift."
7. They Might Tell the Supermodels Story
Usually, they hate to talk about it. In 2001, the brothers appeared in a Vogue shoot on the North Shore. "We didn't try to be in that," insists Chris. "We met the photographer at a benefit for an elementary school. He asked if we wanted to spend the next day rolling around in the sand with supermodels. Dan was single. Keith was single. The surf was flat. Who doesn't want to wrestle with supermodels?"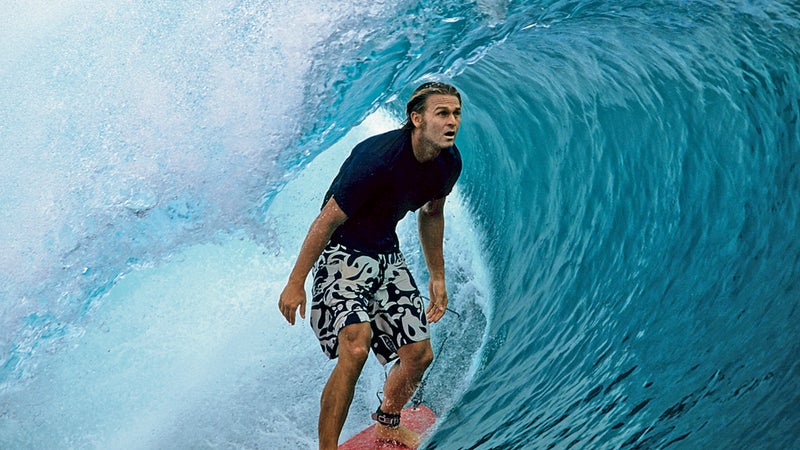 For the Malloys, the answer really does depend on the surf. In 1996, Dan modeled for Ralph Lauren for a few days in New York. But when they asked him to continue on to Florida, a swell was hitting the California coast. He went home.
All three brothers are over six feet and chiseled and surf like demigods. Are they just interchangeable?
Complementary is more like it. Chris, who does most of the talking, tells me about a time all three showed up at a local break and saw a guy they'd had a fight with out in the lineup. "So," he says, "I was thinking about how to logically explain my actions, Dan was worried about how the guy felt, and Keith just said, 'Fuck him, get in the water.' "
8. They'll Talk to You
Not too long ago, Dan smashed his cell phone with a rock. He wasn't angry, just making a decision. His laptop is next. Nine times out of ten, Chris's voice mail is full. If you get through, he might call you back. Keith won't. In 2003, Surfer's Chris Mauro had to convey to ABC that, no, Keith didn't want to be The Bachelor.
9. They'll Drink It
One night before I was to go surfing with the Malloys, Chris called me. "Hey," he said, "if I don't make sense it's because we've been drinking. But I helped my dad move cows today, Dan's been doing a monster surf session, and Keith's gone boar hunting. So I guess dawn patrol is out of the question."
I arrived at Chris's place the next afternoon to find him skinning a leg of the boar Keith shot. He lectured as he worked: how to tease the skin away from the meat; which of his herbs would make the best marinade. For a waterman, Chris spends a great deal of time pondering his backyard. The acre is already home to chickens, ducks, two large German shepherds, and a steer. He recently added a pair of baby boars.
Keith, meanwhile, is launching expeditions to icy, virgin breaks. "British Columbia, Alaska, the east coast of Canada most of these spots are completely unexplored," he says. And Dan's working with surf-film director Taylor Steele on a new movie.
But at the moment, Chris just wants to drive over to his brothers' place to surf and eat. "I don't know if there will be waves," he says, "but we'll get wet, watch the sun set, and cook some food. That'll be good enough for today actually, that's good enough for most days."
Lead Photo: Jeff Lipsky
Trending on Outside Online