Best SUP Spots
The best bays, breaks, lakes, and rivers for learning the world's fastest growing paddle sport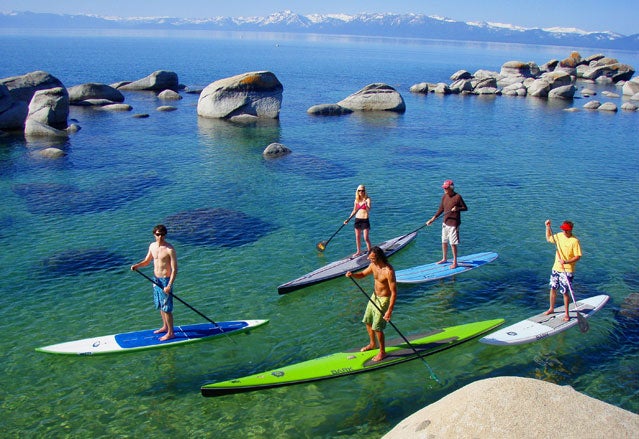 Heading out the door? Read this article on the new Outside+ app available now on iOS devices for members! Download the app.
North America's Top 10 Beginner SUP Spots
From a stand-up paddleboard in Mexico's Banderas Bay, a hundred yards to shore can look like miles, especially when you don't have any idea what you're doing. But that's why I was there with Jeri Grant, a SUP instructor based in Puerto Vallarta. "Just stand up and paddle," she told me, as three-foot waves rolled under my board. Right. Simple, except that I felt about as coordinated as the pelicans lumbering overhead. Still, there has to be something beyond the beginner awkwardness—stand up paddleboarding is America's fastest growing water sport.
Paddleboarding, like surfing, has its roots in Polynesia. It stayed there, more or less, until 2008, when celebrity surfer Laird Hamilton hyped stand up paddleboarding to Good Morning America's four million weekly viewers. More than a million people have started stand up paddling boarding since last year. Despite its unwieldy acronym, the sport is gaining traction in surprising ways. Shops now cater to whitewater junkies in central Colorado and fishermen on Lake Michigan's southern shore. I thought I'd SUP in a place that made the most sense to me: the 86-degree water of Mexico's Banderas Bay.
Per Grant's instructions, I stroked from my knees to gain momentum, popped up on the board, and promptly face planted. Two hours later—I couldn't believe it—I was up and wobbling my way around the bay. By afternoon's end, I surfed a beach break to shore and fell backward into knee-deep water before a family of six. No matter. I still wanted more.
Want to SUP? Here are the top ten beginner-friendly places to paddle in North America.
South of the Border
SUP Puerto Vallarta on Mexico's Wild West Coast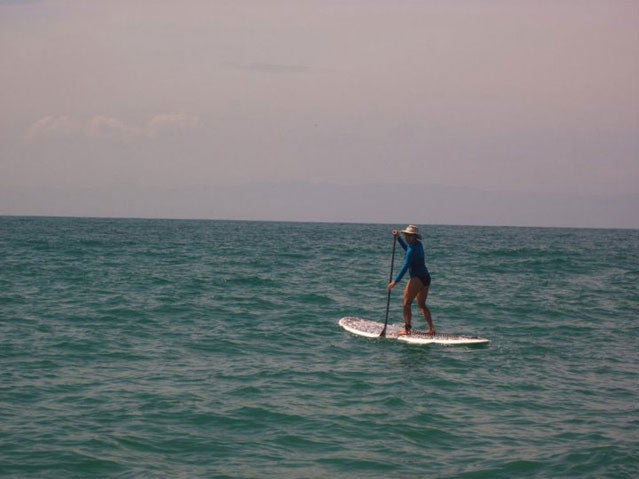 Puerto Vallarta's ideal for stand up paddleboarding for the same reason it's rife with pudgy beachcombers: 86-degree water and the wind-sheltered Banderas Bay. Take a covered boat six miles offshore to Las Islas Marietas, a protected wildlife sanctuary, and spend an afternoon paddling above coral reefs, floating by the arid coastline, and scoping endangered sea birds perched on rock pinnacles. ($90/person w/ boards; pacificpaddle.net)
Yoga Paddling
Yoga on Your SUP in Mission Bay, San Diego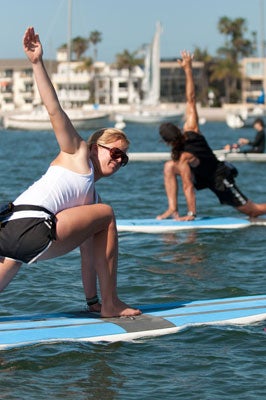 Mission Bay Aquatic Center takes beginner paddlers a hundred feet into San Diego's 4,235-acre Mission Bay and teaches them to downward dog (plus a whole series of yoga positions) on their boards. Bring a sense of humor—it's as fun as it is ridiculous—and expect to swim, which is fine, since the water is 65 degrees in summer. ($39; mbaquaticcenter.com)
Rip Curled
SUP Classic Surf on Half Moon Bay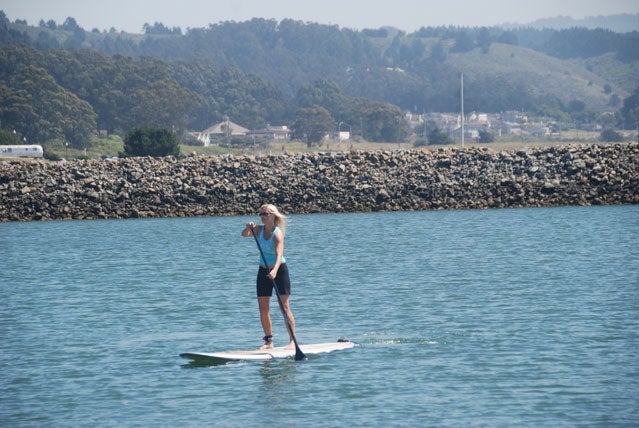 Surf classic waves in California's Half Moon Bay—it's home to Maverick's big-wave surf contest, but that's not the reason you're going—by heading to the bay's northern corner in summer or fall. A steady northwest wind blows in lazy six-foot rights that are perfect for mortal SUP surfers. Rent a board with fins from Half Moon Bay Kayak Co. ($50/day; hmbkayak.com) and beat the crowds by catching the morning high tide, when the wind is gentle and the waves are still glassy.
Desert Multiday
SUP Colorado River Caves and Canyons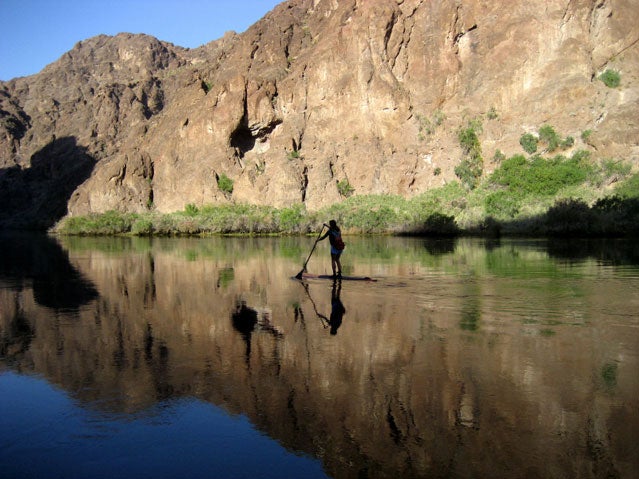 Escape Lake Mead's motorboats and frat boys on Desert Adventure's two-day SUP trip. You'll join four paddlers and a guide at Hoover Dam on the lake's southern shore and paddle 12 miles down the Colorado River's Black Canyon, a 600-foot deep cleft in the basalt of Nevada and Arizona's desert. Camp gear is strapped to boards and nights are spent on secluded beaches. The highlight: paddling to the back of Emerald Cave, a green-water cavern barely big enough for four boards. ($339, all-inclusive; kayaklasvegas.com)
Hot Springs
SUP to Hot Springs on Lake Tahoe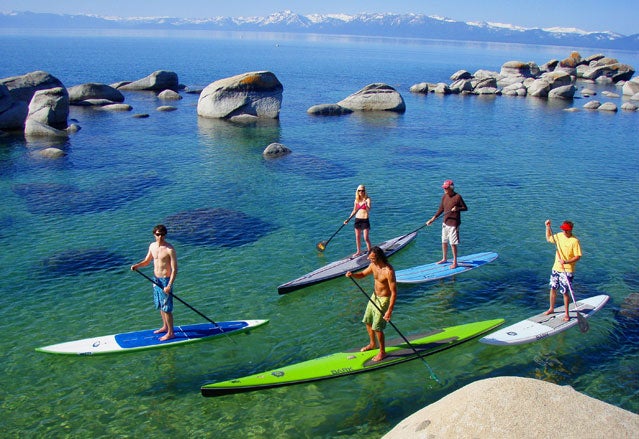 The secret to cold-water stand up paddleboarding? Hot springs, like those on Lake Tahoe's north shore. Pick up boards from Tahoe Paddle & Oar ($90/person guided tour and rental; tahoepaddle.com) and from Kings Beach State Recreation Area, paddle 30 minutes east along ponderosa forest to the granite-rimmed Crystal Bay. On the return trip, stop to warm up by the 120-degree Brockway Hot Springs, a three-pool cascade that warms the lake's frigid waters.
Floating and Fishin'
Fish from your SUP on Minnesota's Lake Nisswa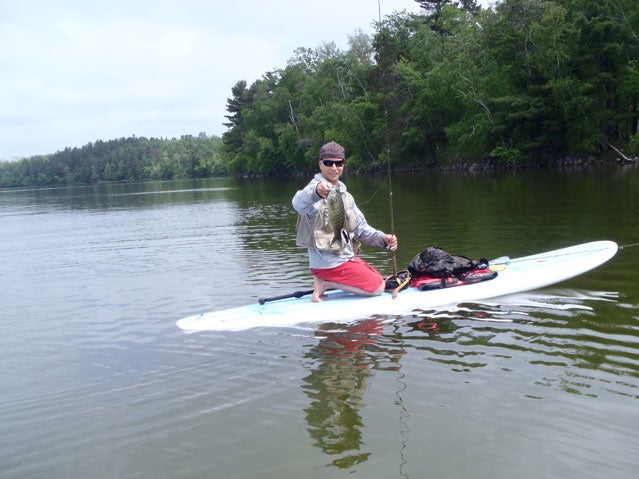 You can SUP on most of Minnesota's 10,000 lakes. The trick is picking the one with the biggest fish. Try central Minnesota's Spider Lake. Rent a board with a rod holder from MN Surf Co ($65/person; mnsurf.com) and paddle three quarters of a mile to the lake's sheltered south shore. Most boats overlook its narrow entrance. But from a board you can fish the cove's pine-lined shallows for eight-pound bass, northern pike, and walleye. Bring your own rod.
Air Time
SUP Downwinders on Maui's North Coast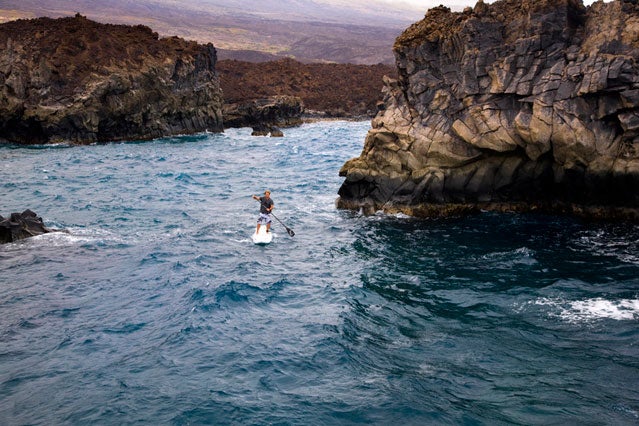 It's not sailing, but with a steady 30-knot wind blowing parallel to Maui's north shore, the eight-mile trip from Maliko Gulch to Kanaha Beach Park will feel like it. Go in October or March, when the waves are smaller than seven feet, and spend a day cruising along the white-sand beaches. Before you go, organize a shuttle—the trip is one way—from Kelly Moore ($10, moorewatertimemaui.com) and rent boards from the Naish Maui Pro Center ($45/day; naishmaui.com).
Island Hopping
SUP Mangroves in the Florida Keys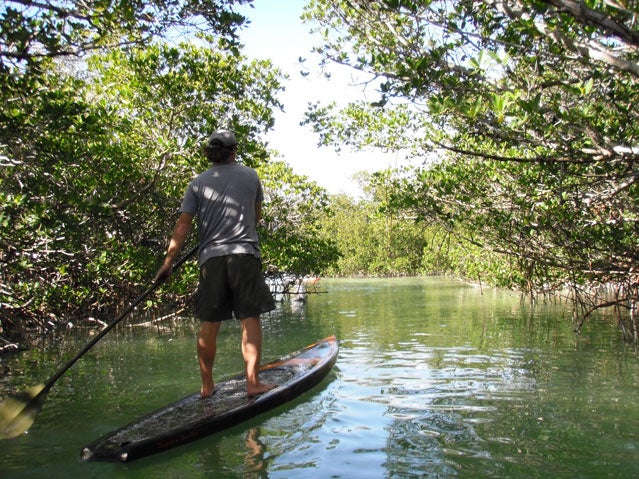 The best SUP trip for wildlife in the Florida Keys is between Stock Island and Key West, the two westernmost flecks of land in the 822-island chain. The mile-long Cowkey Channel tunnels through mangrove forest interwoven with hundreds of tidal creeks and passageways just wide enough to paddle through. Expect to see barracudas, octopus, rays, manatees, and more birds than you'll believe. Rent boards and take a two-hour guided tour with Lazy Dog ($40/person; lazydog.com), launching from their dock in Hurricane Hole Marina.
Rapid Rush
A Whitewater SUP School on California's Salmon River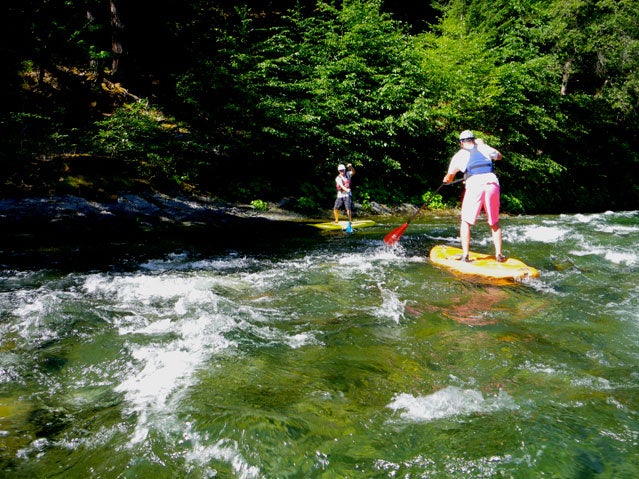 At Otter Bar Lodge's all-inclusive whitewater SUP school in California, beginner paddlers move from flat-water ponds to Class III whitewater in a week. Up to 14 guests stay in the western-style lodge along a Class II section of the Cal-Salmon, one of six rivers within an hour's drive of the resort. Go in August, when the daytime temperatures rise into the mid-90s.  ($1,990 all-inclusive; otterbarlodge.blogspot.com).
Urban Escape
SUP New York's Jamaica Bay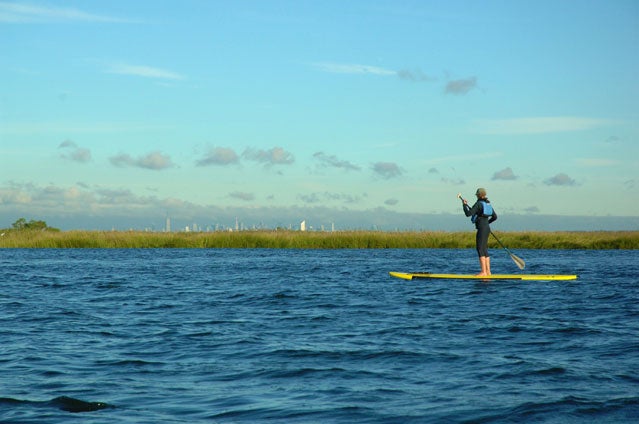 The real beauty of New York's Jamaica Bay is that it's a 90-minute subway ride from Times Square. That you can paddle between grass islands and estuaries within sight of the NYC skyline is just a great bonus. Call Ed Lindh, the owner of New York's only SUP-specific shop, and book a three-mile loop out of Marina 59. Afterwards, stop at Rockaway Beach's Elegante Restaurant for a slice of New-York style pepperoni pizza. ($100/person, nysupshop.com).