Noodling with Oklahoma's Catfish King
Nathan Williams isn't a household name in Oklahoma (or anywhere else for that matter), but to those who take part in the adrenaline-fueled sport that is noodling, Williams isn't just known—he's red-dirt royalty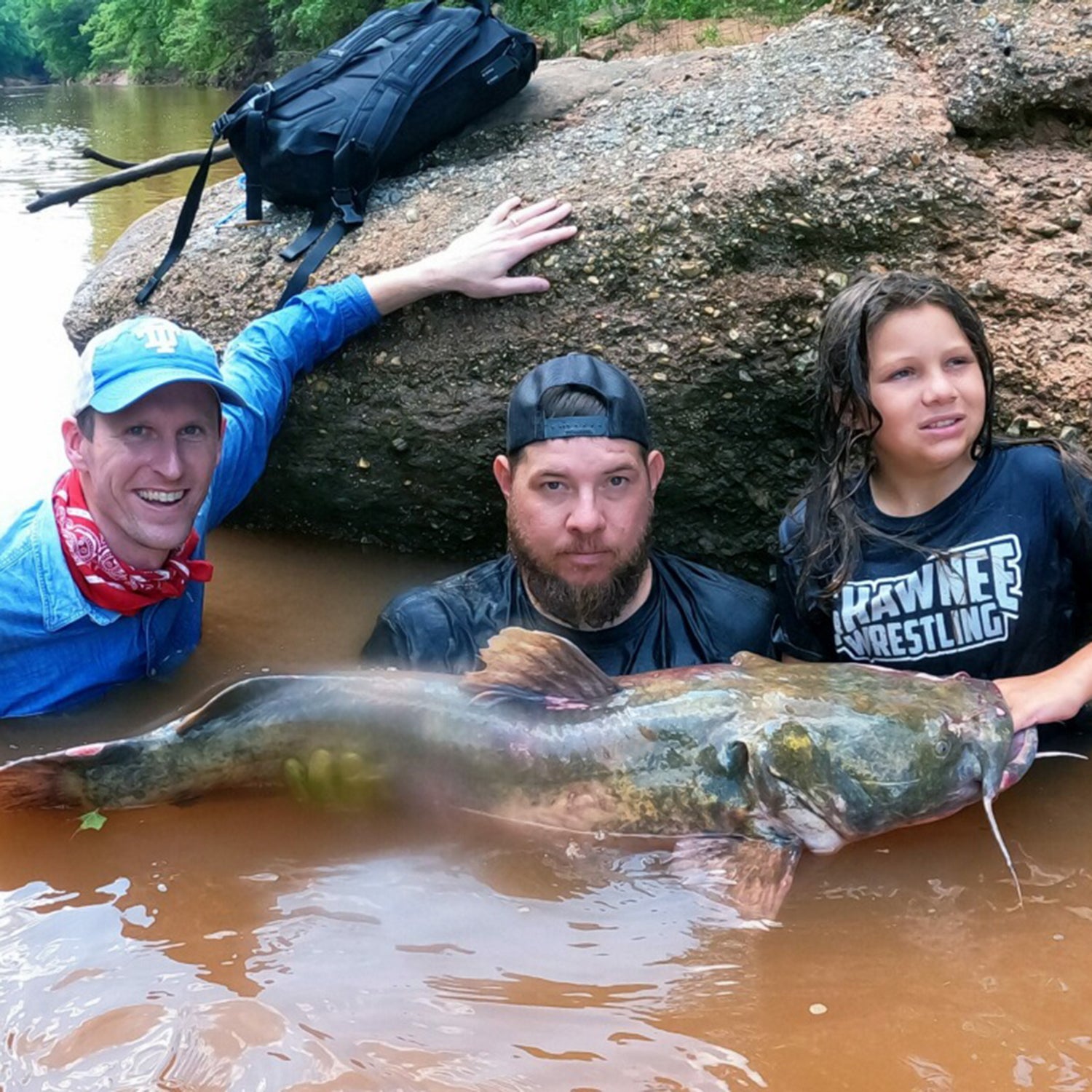 Heading out the door? Read this article on the new Outside+ app available now on iOS devices for members! Download the app.
The day was getting late, and the flathead catfish inside the holding tank secured to the bed of Nate Williams's maroon F-150 was, much like its captor, only getting more stressed out.
It was five o'clock, and Williams needed to get to Wacker Park, 60 miles away in Pauls Valley, Oklahoma, by six for his catfish to be entered in the June 2021 Okie Noodling Tournament, where the grand prize was $2,000. He'd won the tournament three times before, and with bigger fish than the one in his truck. The 85-pounder he'd used scuba equipment to capture in 2019—a tournament record that still stands—netted him a $3,000 payout. There was also the 73-pounder in 2017 and the 60-pounder two years before that. All winners. All caught with his own hands.
Williams's thoughts raced as he idled at an intersection, waiting for a passing train. He had about an hour before the deadline, and a lot could go wrong before then: He could fail to deliver the catfish to tournament officials on time. The fish could die in transit. It could live and just be smaller than he'd estimated—you never know the precise weight until the fish tips the scale. And of course, there was the chance another noodler had pulled out a monster somewhere on the far side of the state.
Finally, the train rumbled on, and he floored it for Pauls Valley.
---
Noodling is an acquired taste. The term comes from the practice of wiggling your fingers underwater like wet noodles to bait a catfish. The fish actually bites your hand, then you fight like hell to catch it. While they call it grabbling, hogging, or handfishing elsewhere in the U.S., noodling is the nomenclature used in Oklahoma.
Three types of catfish are native to the Sooner State: flatheads, blue cats, and channel catfish. Flatheads (often called mudcats) live the longest and grow to be the largest, but they lack the jaw power to do much damage when they bite. Blue cats, however, are a different story. "It doesn't matter if a blue cat is ten pounds or 40 pounds, it feels like somebody slamming your hand in a car door," says Cory Belter, a past Okie Noodling champion. Channel catfish, meanwhile, are small but nasty, with sharp spines on their dorsal fins that can poke through flesh.
Williams, stocky and thoroughly tan with a dark brown chinstrap beard, lives in the central Oklahoma town of Shawnee with his wife, Miley, and three sons: Jayce, 19, River, 13, and Phierce, 11. Williams, who is 35, coaches basketball and teaches middle school geography about 40 miles away in Norman. But his passion is noodling. He competes in tournaments around the state and as far away as Texas, and he leads guided tours for his company, Adrenaline Rush Noodling. His boys have noodled since they were three years old. Phierce estimates that they spend six days a week on the water during spawning season, which runs from May to mid-July, when the fish retreat to their holes, often in pairs, to feed on worms and insects and lay eggs.
The Okie Noodling Tournament was started by Bradley Beesley in 2000 as a conclusion to his student film, an exhaustive documentary called Okie Noodling. Since that first summer, when Norman firefighter Tim Suchy won with a 52-pound flathead weighed in at Bob's Pig Shop, Beesley's homespun competition has grown into the largest noodling competition in the nation. The rules are pretty straightforward. "You can fish anywhere in Oklahoma," says Jaclyn Woods, who has served on the festival-planning committee for five years. "And when you bring the fish in, it has to be alive."
Competitors register in advance—according to city officials, about a hundred do so each year, though fewer than that actually show up to Saturday's weigh-in fish-in-hand. The four award divisions are women's, scuba, natural (noodling without scuba gear), and youth (age 17 and under), and an additional award is given to the noodler who brings in the event's biggest fish. In 2017, Nate won biggest fish, Miley won Noodling Queen—something of a country beauty pageant—and Jayce finished as runner-up in the youth division, which he's won twice.
"There's always a big stink with regard to whether somebody cheated," Beesley said. Festival organizers said that the most commonly reported cheating allegation is fishing outside of state lines or outside of the allotted time frame. Once, at a smaller tournament in Lake Eufaula, Nate exchanged words with some jealous competitors at a bar. They tried to push him down the stairs, he says. His wife stepped in. Jayce got involved. Nate took a rock to the head. "They thought they did something," says Nate, "but it was just one lucky shot." Everyone involved was banned from the next tournament. Jayce entered under his first and middle name anyway, won, and took home the cash prize and trophy before anybody realized the ruse. The Williamses all got a stern talking-to, and the host warned them not to show up the following year.
Due to altercations like this, a few years back the Okie Noodling Tournament instituted what might seem like a rather extraordinary measure for a small-town fishing festival: a polygraph.
"It cuts down on some of the yeah-yeahing that goes on between some of the participants," says Jennifer Samford, the parks and recreation director for Pauls Valley.
---
The mood at Wacker Park was festive. Corn dog trucks, merch tents, and Coors Light vendors catered to families seated in clusters of lawn chairs. Periodically throughout the day, an air horn interrupted the plucky slide-guitar music on the speakers, a signal for spectators to rush the stage to check out the latest weigh-in.
All three of the Williams boys weighed fish before their father. River and Phierce, both barefoot, took turns climbing the stage, their fish hanging limp over their shoulders. Phierce was taller than his catch, though not by much. A guy in overalls yanked several catfish out of the holding tank in the back of his pickup, dropping the biggest into the bed with a sickening thud. Then a long stretch of afternoon passed without anybody weighing fish.
"It was flooded in all these lakes down here. Everybody's having problems," said Tyson Pearson. He was in the lead for most of the day, thanks to a 47-pound fish he'd extracted from a culvert in northwest Oklahoma earlier that morning with the help of his brother, Jake. In a decade of noodling, it was the biggest fish he'd ever caught.
Nate rolled up to the park with just ten minutes to spare. He needed both hands to steady his catch. The crowd hooted and hollered as he laid it on the table for examination. The catfish fought a little while they tagged it and slid it into the bucket used to measure weight. The crowd's cheering quickly turned to awe—the scale read nearly 64 pounds, a bona fide monster. A pair of smoke machines blasted. The winningest noodler in the history of the Okie Noodling Tournament claimed his fourth title.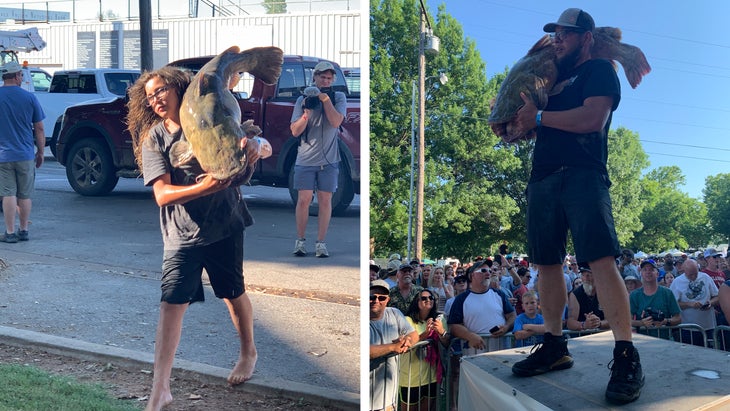 ---
A few weeks after the 2021 tournament, Nate drove to an undisclosed central Oklahoma river with Phierce and his friend Mike Cook, a veteran hobby noodler. He was hungover. They'd spent the night before catching up and playing pool at a bar. "We could strike out, or we could catch ten fish," Nate said as he put away a plate of biscuits and gravy at a Braum's, off the nearby highway. If he's not competing in a tournament or taking out a paying client, Nate's scouting the state for holes. The bigger they are, the greater the potential. "You average maybe a hole a mile if you're lucky," Nate said. Aside from just making the noodling experience more exciting, having several leads on big, reliable holes gives you a leg up come competition season.
At 9:30 A.M., they slid down a riverbank clumped thick with red dirt and into the water, which looked more like a clay tennis court than something you'd swim in. A million cicadas buzzed, amping up the summer heat.
Equipped with just a couple of 16-ounce water bottles, Uncrustables sandwiches, and a pair of GoPro cameras for the daylong expedition, the trio began a seven-mile hike downriver. Nate wore a T-shirt, swimming trunks, and an old pair of diving boots. His calves powered smooth, easy steps. He walked when the water was low, and floated along when it got high. Occasionally, he paused to feel along the banks for holes where catfish could be hiding. Anytime the group encountered a large rock formation or a foreign object—a sunken washing machine, say—they stopped to examine it closely, gathering around in discussion like a group of contractors conferring about a broken pipe.
Recent rainfall had washed out many of the usual mud holes along the river, a fact that clearly annoyed Nate. But he was undeterred. Forty-five minutes later, he and Mike came along their first reliable catfish hole, a rusted-out pickup that was half underwater, half lodged into a thicket of dead branches. Mike took the engine end, Nate took the bed. They both submerged entirely. If it weren't for Nate's baseball cap sitting on the truck, there'd be no sign of their existence whatsoever. Underwater, visibility was zero, and their gloved hands felt around for any sign of catfish—a sudden disturbance in the water, the flick of a fin.
Mike popped back up, clutching a long stick he'd used to poke around beneath the truck. Nate surfaced a few seconds later, asking, "How much farther it goes up there, you think?" Mike couldn't tell. He suggested that Nate grab his legs so he could investigate deeper into the hole. After a few more minutes of poking, prodding, reaching, and working whatever leverage they could produce, they concluded the hole was a bust and moved on.
---
Eventually, they reached a boulder they call Old Faithful. Upon close examination, it appeared to house at least one fairly large catfish. But not for long. Once spooked, a catfish will often blow out of a hole. If the fish makes it to open river, you've squandered your chance to catch it. An experienced noodler, then, will account for that by blocking the exit however they can, sometimes with their body. It's like stopping a living torpedo with your chest.
"It kinda comes under, undercuts all the way down here," Nate said, mapping out the shape of the hole with his hands, "but the better part is up here." Mike jammed the GoPro handle-first into the riverbank and took a position where the hole got biggest, sliding his legs into it while his chest and head remained above water.
Nate slipped below the surface to block the smaller end of the hole. He was under for nearly 30 seconds. At the angle he chose, Mike couldn't quite reach as far as he needed to. They reconvened topside and agreed to try again. Nate went under, Mike scraped out some debris and reached, this time with his left hand, and—whoomf!—a mudcat swallowed his arm up to the elbow. Mike got the fish into a headlock with his right biceps, and Nate slid a stringer through the gills.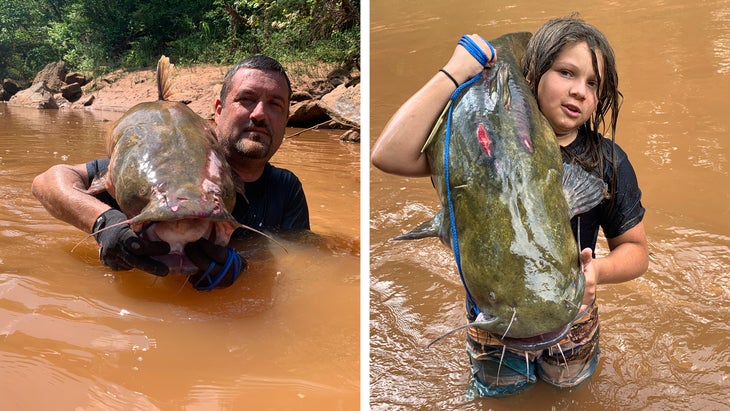 The entire violent affair was over in a few seconds. Ugly as sin, with a fat white scar over its left eye, the mudcat had little divots in its face and chunks of flesh missing above its mouth. It was about a foot wide, mottled green and yellow in color. The underside was white. Its tiny eyes stared dumbly out, and you could see perfectly the little sandpaper teeth that just scraped Mike's hands. Nate estimated it at 30 to 35 pounds, and while excited by its capture, he didn't seem impressed by the size. Mike slung it over his shoulder to show it off for the video, and its gills flared out, revealing red organs.
After some ceremonial photos and a triumphant call to Nate's wife, they let the fish go. Most noodlers catch and release, with the hope that they can catch an older, bigger version of the fish further down the line. Considering Nate's skill in the water, they'll likely meet again.

This year's Okie Noodling Tournament kicks off Friday, June 17, with the final weigh-in taking place the following day.

Lead Photo: Mike Cook