The Old Gear and the Sea
Where do you want to go? Whether you're planning a weekend getaway or a full-blown vacation, Outside Online's Adventure Advisor is here to show you the way.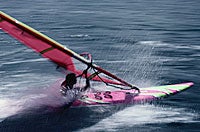 Heading out the door? Read this article on the new Outside+ app available now on iOS devices for members! Download the app.
Q: We are experienced windsurfers who wish to travel to Quintana Roo, Mexico (Cancun, etc). Is there decent windsurfing equipment available anywhere? Our last trip to Playa del Carmen was great, but no one had any windsurfing equipment newer than ten years old.

How low can you go?: ripping it up off Q-Roo
-Jon Muschenheim, Corpus Christi, Texas
Adventure Advisor:
A: The least ancient windsurf gear on the Quintana Roo coast can be rented at Cancun's International Windsurfer Sailing School (98-842023) on Playa Tortuga. That's not to say you should expect new millennium technology— even the best available rentals can sometimes look like the sailboarding equivalent of the abacus. The only sure way to find up-to-date equipment is to ship it there yourself.
Even with sub-optimal gear, you can expect to find some great rides in the bay between Isla Mujeres and Cancun, and (as you already know) between Playa del Carmen and Cozumel. Also worth a try is Cancun's Nichupté lagoon. Even better, escape the massive hotel strips by traveling south to Punta Bete, where you can rent "seasoned" sailboards at Cabanas Capitan Lafite (www.mexicoholiday.com/experience) and have the pleasure of looking inland from the water to an empty, white sand beach.
If you're willing to diversify your adventure options, you'll see why some consider Q-Roo best explored underwater. An easy retreat from the Cancun craziness lies just across the bay at Isla Mujeres, where you can rent snorkel and scuba gear from outfitters who aren't yet jaded enough to resent gringo tourists. Other less-visited ocean hotspots: the reef just off the coast of Pamul, the caleta at Xcaret, and the Yalku Lagoon near Akumal—all top-notch dive and snorkel sites with a minimum of chaos.