The Old Man and the Sea, and the Sea, and the Sea
Adventure paddler Aleksander Doba willed his 71-year-old body and 1,600-pound kayak through a 4,000-mile trans-Atlantic journey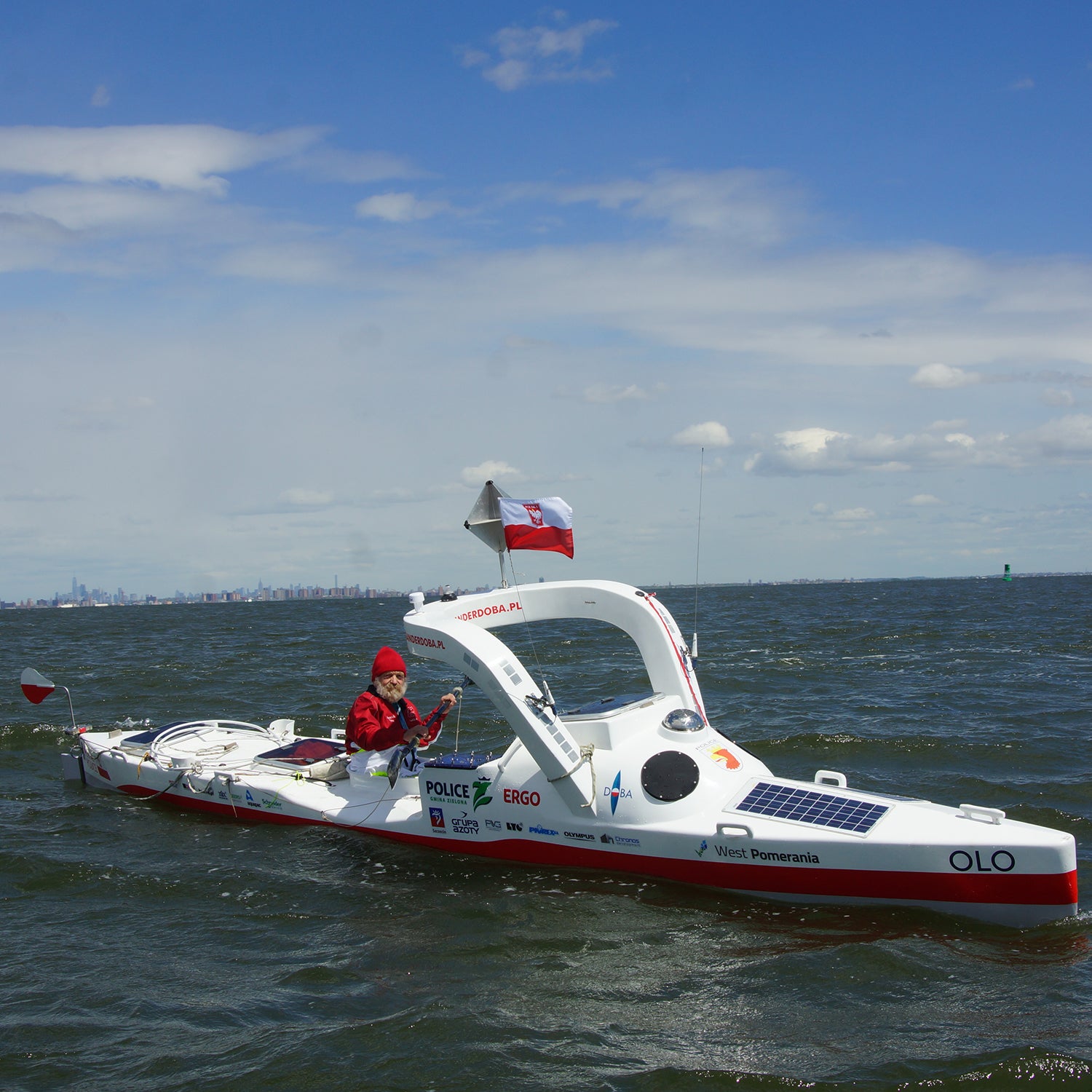 Adam Rutkiewicz(Photo)
Heading out the door? Read this article on the new Outside+ app available now on iOS devices for members! Download the app.
You might ask what the world's most intrepid paddler does for 110 days while kayaking across the Atlantic Ocean solo. He gets naked.
The logic is obvious to 71-year-old Aleksander "Olek" Doba: no chafing, no laundry, and no one to judge you. 
Last month, the perpetually upbeat and determined Polish athlete, who had ignored all sorts of common sense and caution, finished his successful crossing of the Atlantic in a one-man, human-powered boat. Only three other kayakers have ever achieved the accomplishment (Franz Romer in 1928; Hannes Lindemann in 1956; and Peter Bray in 2001, according to Canoe and Kayak), and Doba is the only one to have done it three times. Again: The man is in his eighth decade. "It's not like he's an older guy who set out to climb a hill," says Piotr Chmielinski, a supporter and the expedition's publicist, who himself once kayaked the Amazon River. "Olek decided to cross an ocean."
On May 7, Doba pushed his 23-foot long, 39-inch wide, reinforced fiberglass kayak, named Olo, off the New Jersey seaboard and toward Lisbon, Portugal. The mishaps started almost immediately. First, Olo nearly ran aground close to the Sandy Hook coastline. Man and vessel were towed away from the land, and in the process, Olo—which weighs 1,600 pounds full and has a tiny compartment for sleeping—nearly capsized. Over the next four days, Doba advanced about 60 miles east under his own power before retreating to the Jersey coast ahead of an approaching storm. Onshore, he grabbed a steak dinner and some new compasses. He then re-started the journey on May 16. 
The seasoned adventure kayaker, who over the last 37 years has logged 62,000 water-going miles, including circumnavigations of Lake Baikal (1,200 miles) and the Baltic Sea (2,600 miles), didn't anticipate an easy float trip. On his first trans-Atlantic journey—a 99-day trip in 2011 from Dakar, Senegal, to Acala, Brazil—he endured weeks of stormy weather. During his second attempt—167 days at sea, from Lisbon to New Smyrna Beach, Florida, in 2014—he paddled in circles inside the Bermuda Triangle, then had to stop on an island for boat repair.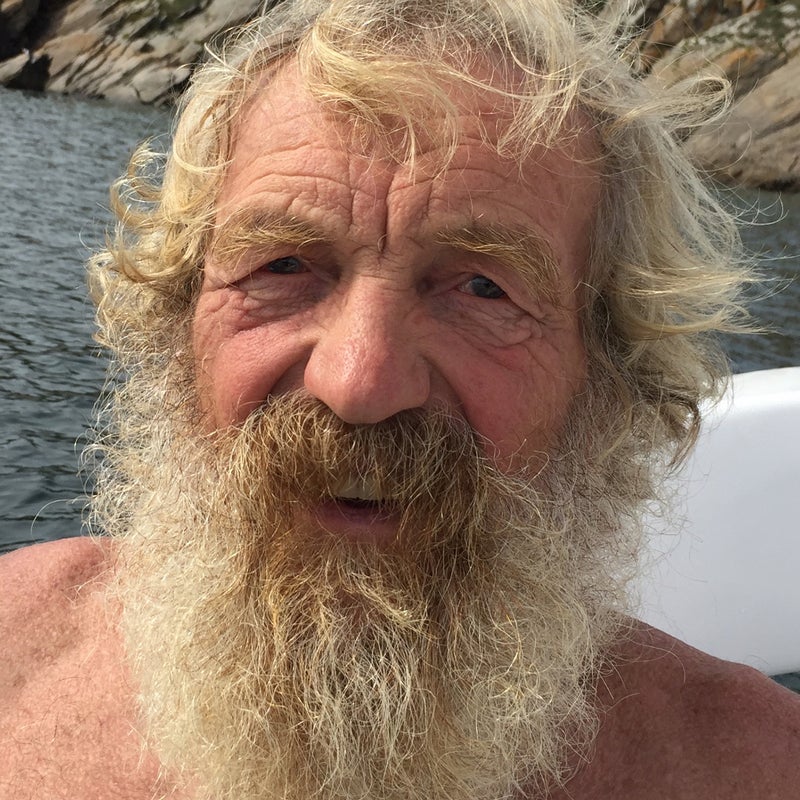 Yet Doba, a retired chemical engineer who skydived, flew gliders, and sailed before he started kayaking, never lost enthusiasm for crossing the Atlantic. "On the water, I never think about dying or that I could die," Doba later told me through an interpreter. "The kayak is very safe."
Doba's team didn't agree. Polish yacht builder Andrzej Arminski, who overbuilt Olo with a keel and superstructure, worried that the kayak might come apart in rough northern seas. He characterized Doba's third trans-Atlantic attempt as "suicidal." Doba's navigation advisor, noting that tricky trade winds can blow west across the ocean, didn't expect the paddler to finish. Yet none of those concerns fazed Doba. "My assumption," says Chmielinski, "is that Olek would prefer to finish somewhere with the sharks than not to attempt his dream."
Sponsors, including Chmielinski, have supported all three of Doba's trans-Atlantic expeditions. Over the course of his adventuring, these patrons have stepped in with a $20,000 kayak fix here, a $75,000 transport cost there. Doba seems to attract sympathy and goodwill precisely because he looks less like Odysseus and more like a down-and-out Santa Claus. "If you're 30-something and stuck in the middle of the ocean, that seems to be your problem," says Chmielinski. "But at 70, Olek is an example to others."
"If you're 30-something and stuck in the middle of the ocean, that seems to be your problem," says Chmielinski. "But at 70, Olek is an example to others."
Doba first tried his third trans-Atlantic crossing in 2016. That May, he paddled past the shadow of the Statue of Liberty with media and a documentary crew in tow, only to encounter unkind conditions almost immediately. Within two days, he'd washed up at Sandy Hook Park. Breaking waves had left the kayak's key electronics equipment waterlogged and useless. A cop—and the owner of a Bobcat-type loader—and Chmielinski helped with the rescue Olo and Doba. Thus his 2017 attempt across the Atlantic was all about redemption. He skipped the Big Apple. Media wasn't invited to the sendoff. "On this trip, I would paddle seven to 12 hours a day," Doba says.
But even after his successful, mid-May reboot, Doba encountered imposing hurdles. One night in early June, Doba tried to sleep through a weather spasm of 40-knot winds and two-story waves. Unfortunately, his airtight, cramped sleeping compartment, nicknamed "the Casket," lacked proper ventilation. Doba was up every 15 minutes opening the hatch for air. By morning Olo's anchor rigging had badly twisted some of the boat's key rudder hardware. Doba jury-rigged the steering system to stay close to course, although he made inconsistent progress for three long weeks. On June 30, he remained over 2,000 miles from Lisbon.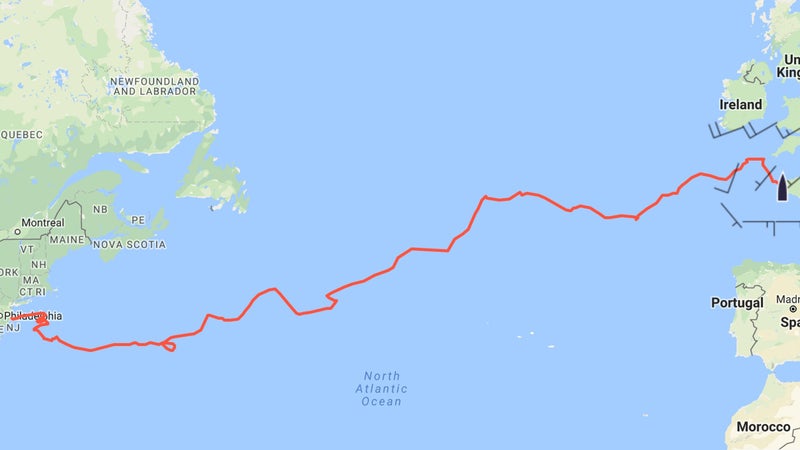 He needed help. Chmielinski looked at rescue efforts costing between $15,000 and $80,000 before the captain of a 600-foot cargo ship bound for Central America took pity on Doba. He plucked the paddler and his boat from the sea and set his crew to fixing Olo. The captain wanted no money. Instead, he tried to insist that the paddler was too fragile to finish the journey. Doba's wife, Gabriela, and other friends agreed. But Doba was insistent. "The ship was sailing to Panama, and I was headed in a different direction," he says. 
Several hours and a hot meal later, Doba and Olo were back in the Atlantic. The assist caused Doba to lose all hope of setting a Guinness World Record for the longest unassisted journey by kayak or canoe. But he remained positive, even when an early August storm punished him with 55-knot gusts and white seas. "I'm always a 150 percent optimist," he says. "Okay, in bad days, I'm 100 percent."
Dining on rehydrated cabbage stew, chicken tikka masala, and pasta with Bolognese sauce (the Olo was armed with desalinators and solar panels), and paddling naked whenever the weather warmed, Doba was blown northeast. On September 3, after navigating a dicey stretch of the English Channel, Olo landed in the French port town of Le Conquet.
He didn't get the Guinness record, but Chmielinski contends that Doba, who achieved his continent-to-continent goal, traveled over 25 percent farther than the 3,000-mile-route might indicate. "There were days where he went 100 miles in the wrong direction," he says. "Two steps forward, one step back."
Doba says that he now wants to spend time paddling with members of his local Polish kayaking association. He hopes to hang out with his three young grandchildren.
But Grandpa Olek's big adventures may continue yet. "I have 29 years to go before I turn 100," says Doba. "My body looks a little old. But inside? My heart and mind are all young."
Lead Photo: Adam Rutkiewicz