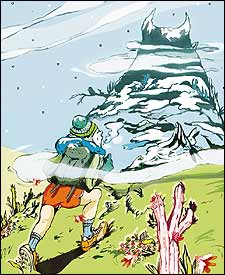 Heading out the door? Read this article on the new Outside+ app available now on iOS devices for members! Download the app.
Q: Do you know of any great alpine backpacking destinations in Baja?
Advice from the Experts
For more wisdom from the Adventure Adviser, and the chance to ask your own questions,
CLICK HERE
.
travel questions answered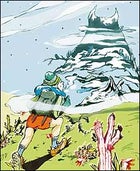 —Cory Whitney, Bar Harbor, Maine
Adventure Adviser:
A: A four-day backpacking trip up Baja's highest peak is a rugged but rewarding adventure. Picacho del Diablo, or Devil's Peak, stands at 10,158 feet and even collects snow in winter—a different world from the sweltering Mexican desert below. But don't expect hand-holding in remote Parque Nacional Sierra de San Pedro Martir (011-52-686-554-5470,
www.conanp.gob.mx/anp/san_pedro_martir/
san_pedro.php, Spanish only), about 100 miles south of the U.S. border and 40 miles inland from the Sea of Cortez near San Felipe. You'll be on your own, so arrive prepared (and register with a park ranger). Go in late spring or late fall and expect a challenging 15-mile hike through mesquite and scrub to Picacho del Diablo's spectacular summit ridge of broken granite slabs (there are four campsites along the trail). You'll glimpse idyllic waterfalls that collect in perfect swimming holes, plus outstanding views of the peninsula.

Q: Can you name a prime surfing beach on the East Coast?
—ANONYMOUS, Pittsburgh, Pennsylvania
Adventure Adviser:
A: The 100-plus miles of coast along North Carolina's Outer Banks are home to a slew of noteworthy beach breaks, with the most accessible in the little town of Buxton. Here, especially in the spring or fall, you'll find head-high waves that jack up into some of the best East Coast rides—as proven by the many surfing competitions held at this sandbar break. Get your bearings at The Pit in Kill Devil Hills (252-480-3128, www.pitsurf.com), a surf shop that doubles as a restaurant.
Q: Where in Iceland can I find hot springs and good hiking trails within easy reach?
—N.C., La Jolla, California
Adventure Adviser:
A: To link up hiking and hot-water adventures, head to the geothermically active area of Landmannalaugar, in southern Iceland. Reykjavík-based Fjallabak leads eight-day hut-to-hut trips among some of the most soak-worthy hot springs. You'll walk from the base of 4,747-foot Mount Hekla, Iceland's most destructive volcano, through the mid-Atlantic rift to the ocean near Thórsmö. Expect to hike six to eight hours a day, free of a heavy pack: A van with supplies meets you at the huts. Distant Journeys, Fjallabak's U.S. reservations agent (888-845-5781, www.distantjourneys.com), charges $1,699 per person, including food and lodging.
Q: Can you recommend a climbing area with a variety of bolted routes and hiking trails?
—Mary Madill, Searcy, Arkansas
Adventure Adviser:
A: Head to one of the South's best climbing spots: the 25,663-acre Red River Gorge Geological Area, in eastern Kentucky's Daniel Boone National Forest (606-663-2852, www.southernregion.fs.fed.us/boone/rrg.htm). You'll find overhanging walls of sandstone riddled with pockets and cracks, and a solid array of beginner routes. The Roadside Crag off Highway 11 has a smattering of 60- to 80-foot-high bolted routes, like the 5.7 C Sharp B Flat. For hiking, check out the 38-mile stretch of the Sheltowee Trace Trail that runs through the forest. It'll take you over ridges and past arches. Another good foray is the quarter-mile climb up Chimney Top Trail, off Chimney Top Road, to the summit of a 150-foot spire overlooking the gorge.
Q: My girlfriend and I want to mountain-bike Moab. Which trails are good for inexperienced but fit riders who prefer scenery over technicality?
—Kip Wilson, Manhattan, Kansas
Adventure Adviser:
A: There's enough eye candy in southern Utah to rot your retinas, and two trails north of town blend easy riding with funky sandstone outcroppings and sweeping vistas. The 13-mile Gemini Bridges Trail is mostly downhill, descending about 1,400 feet along rolling jeep track through southwestern flora like juniper, piñon, and sage. The highlight is pedaling over a pair of the state's ubiquitous arches. On the Monitor and Merrimac Trail you'll get an excellent introduction to slickrock (the classic Slick Rock Trail is better suited to more experienced riders). This route can be short or long; a seven-mile loop under towering red cliffs will give you a taste of riding on the oddly grippy stone. Moab's landmark Poison Spider Bicycles (800-635-1792, www.poisonspiderbicycles.com) runs day trips to nearly any place you'd like to go, for $50 per rider (two-person minimum). Book a trip and you'll get a discount on a full-suspension bike rental ($25).