Plaid and Canvas: The Allure of Lures
Can a keychain make fishing stylish?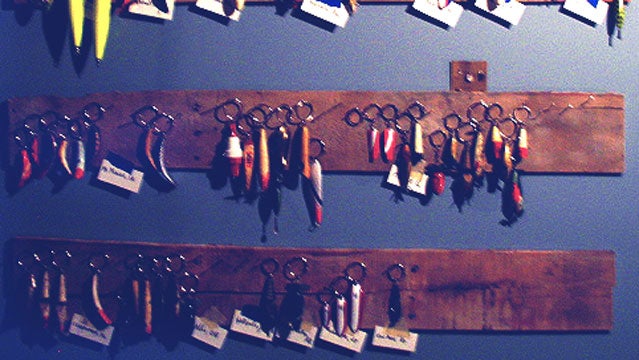 Jason Diamond(Photo)
Heading out the door? Read this article on the new Outside+ app available now on iOS devices for members! Download the app.
If there is a hall of fame for well-dressed men, Rock Hudson is certainly in it. Thanks to his Eisenhower-era New England poster-boy look full of plaid shirts, his leather work boots (that would fetch a small fortune on eBay today), and his arsenal of Thoreau quotes, the 1955 film All That Heaven Allows is proof enough for a unanimous vote by the committee. You might even mistake the film—Hudson as the quiet woodsman Ron Kirby, trying to win the heart of Jane Wyman's Cary Scott—as one long-but-brilliant L.L. Bean commercial.
Another of Hudson's films, the 1964 Howard Hawks-directed comedy Man's Favorite Sport?, gave Abercrombie & Fitch some real, considerable publicity as Hudson played a fishing-expert working for the company. Whether that publicity was paid for isn't known and is beside the point; the A&F of Man's Favorite Sport? resembles today's A&F about as much as a loaf of bread resembles an ice cream cake. In Man's Favorite Sport?, A&F is—just like it was for nearly a century after its founding in 1892—a sportsperson's paradise.
For as stylish as he was—he could make a potato sack look good—Rock Hudson was trying to push a boulder up a mountain in trying to make fishing look fashionable. Which is fine, because that's never been what fishing's about. Sure, there are Greek fisherman caps and the Gorton's Fisherman rocking that yellow rain slicker like a badass, but the whole point of fishing is often to escape the daily grind, to throw on a ratty old T-shirt and sit on a boat or at the edge of a lake for hours, just tossing your line out in hopes of catching something. Yet, while you don't fish to impress anybody with your style, there is something undeniably classic and stylish in a scenic sense about a black-and-white picture of your grandfather fly-fishing on a clear lake with mountains spread across the horizon or the downright Rockwellian image of a father teaching one of his kids how to cast a line just like his own father did so many years before.
There's something generally stylish—not in what you wear, but in what you're doing, in the idea of it all—about fishing, then. So it makes some sense that the thing you use to fish—the lure—is the most stylish thing about it. From the unique design to the evident craftsmanship, there's something undeniably eye-catching about a vintage lure. The only problem: they're always under water. Douglas Smith, though, is trying to change that.
WHEN YOU THINK OF American dreamers and innovators, Edisons, Fords, and other people who invented things that changed the course of the world usually come to mind first. Fred Abrogast didn't figure out how to harness electricity to power light bulbs, and he didn't come up with the idea to mass-produce automobiles, but Abrogast changed the world of fishing when, in 1928 in Akron, Ohio, Abrogast quit his job working for Goodyear Tire and Rubber Company to found the Abrogast lure company. The lures he originally made for himself were suddenly in demand locally, and then not long after, throughout the entire Great Lakes region. The only reason I know this is because an Abrogast lure now rests a few inches away from my desk—except it's been retired from its job of catching fish, and has been turned into a keychain.
Calling them "the final chapter of a sportsman's relic," Douglas Smith, an Indiana native now living in Brooklyn, has been turning vintage lures into keychains and selling them at various locations, like crab shacks and the popular Brooklyn menswear shop Smith + Butler. Going under the name Smitty's—"My Dad and Grandpa were nicknamed Smitty and I secretly always wanted to pick it up myself," he told me—Smith started making the keychains when he noticed his girlfriend's set of keys could use a little more decoration. Unable to find anything he liked, Smith stumbled upon something familiar—"it was a kind of sleek, shiny silver teardrop shaped thing," he said. The keychain he found reminded them of an old trolling lure he used to use. "So I climbed in the back of my truck to fetch my tackle box and, sure enough, and I had about a dozen lures in there. They turned out to be pretty spot-on for keychain size."
Fishing isn't something new to Smith, whose day job is working as a freelance radio producer and journalist. His family used to travel around Smith's beloved Midwest to places with names like Hatchet Lake, Jitterbug Lake, Adventure Lake, and Disappointment Lake. To Smith, there's something here that goes beyond just using fishing lures for keychains because they look cool. The idea behind Smitty's, he said, is more about keeping the past alive by creating something "you can carry around that has had a whole other life before you." When I asked him if there were any specific lures that he likes to use, he rattled off a laundry list, including companies like The Creek Chub Bait Co., The South Bend Bait Co., Paw Paw, Heddon, and, of course, Aborgast lures. Just reading the names of these companies conjures up lazy days spent fishing along the shores of some Midwestern body of water that Smith and countless others grew up around, just hoping to get a bite.
The lures tell stories; from Fred Abrogast's American dream to the people who spent a little bit of quiet time casting the lure in your pocket into a lake or river, never thinking twice about who, where, and how it was made. Ultimately, Smith gives the lures a new reason for being, but also gives a new generation an opportunity to get to understand a simpler time and place; you pick up a Smitty Lure, and you wonder about the people who may have used them, and the waters they may have been cast into.
At the same time, they invite you to reminisce whenever you'd like. Those instant memories are ultimately why Smith, a Midwestern expat who deals with the daily chaos of New York, makes the lures; he knows there aren't millions to be made selling keychains. Instead, Smitty's lures serve as both a quick fix for nostalgia and something that is visually appealing. They look cool, but they also make a person think about being elsewhere: the oceans and rivers of their youth. Something like the beaches on the North Shore of Chicago where my own grandfather taught me how to fish, which, coincidentally are located a few miles up the road from where Rock Hudson himself grew up, long before he was raising the bar almost impossibly high for stylish fishermen everywhere.
Jason Diamond lives in New York. He has a wife, a dog, two cats, and a Twitter account that can be found at @ImJasonDiamond.
Lead Photo: Jason Diamond
Trending on Outside Online